Wannai Kinuho
Comments

0
1,297pages on
this wiki
Wannai Kinuho (湾内 絹保 , Wannai Kinuho?) is a minor character introduced in the Toaru Kagaku no Railgun sidestory. She is an Academy City esper with level 3 aquakinetic abilities[1]. She is often seen together with her friend Awatsuki Maaya.
Appearance
Edit
She has short wavy light-brown hair, she also has blue eyes. Her bust size is large enough for Mikoto to become jealous over, and is the larger between her and Maaya.
Personality
Edit
She is shown to be kind, and is also considerate and forgiving of other's flaws. She is also seen to be respectful towards a senpai, especially towards Mikoto, who she is thankful for saving her[2]. She also has diverse knowledge on swimsuits[3].
Background
Edit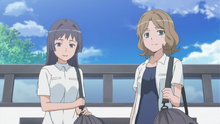 She is a
Tokiwadai Middle School
student, and is part of the swimming team of her school, along with her close friend Awatsuki Maaya. She is also a classmate of
Shirai Kuroko
[4]
. She resides in the
School Garden
dormitory of Tokiwadai, just like Kinuho.
When she just transferred into Tokiwadai, she was harrased by delinquents and was too afraid to do anything, she was however saved by Misaka Mikoto.
Chronology
Edit
Toaru Kagaku no Railgun
Edit
Level Upper Arc
Edit
Main article: Level Upper Arc
She appears alongside Maaya, when Shirai Kuroko and Misaka Mikoto were forced to clean the empty pool as punishment. As members of the swimming team they were supposed to check the pool's filtration system, where she meets Mikoto for the first time since she saved her, she quickly shows her gratitude, and along with Maaya is excited by her presence. She later converses with Mikoto and shows-off her powers over water, where Mikoto says it was useful, this however makes Kuroko upset. They leave but returns shortly, where they witness Mikoto electrocuting Kuroko for being perverted, they leave after they see the awkward situation.
In the manga adaptation, they appear only after defeat of the AIM Burst; however in the anime, they appear before the existence of the Level Upper is even confirmed by the city.
Both Maaya and Kinuho appear again in episode 13 of the anime, where they recruit both Kuroko and Mikoto for a swimsuit modeling photoshoot. After many bizarre situations they are given duties to cook curry, however it is revealed that both of them don't know how to cook curry. They later ask Kongou Mitsuko (who lied to everyone that she can cook curry) to teach them; after suffering many inconveniences, Mitsuko finally told them that she does not know how to cook curry, they are somehow forgiving of her and later ask Konori Mii to help them. They were able to cook seafood curry and were able to become friends with Mitsuko.
Poltergeist Arc
Edit
Main article: Poltergeist Arc
She and Maaya reappear during the
Tokiwadai Midsummer Festival
, where it is revealed that they reside in the School Garden dormitory instead of the dormitory where the festival is being held. They were invited by Mitsuko to enjoy the festival. They later see Mikoto's violin performance.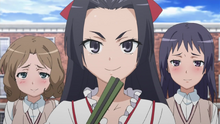 Kinuho later reappears practicing in the swimming pool with other members of the swimming club, Maaya gives her a towel after finishing her swimming and later both state the desire to visit Mitsuko in the hospital she was in (as she was injured by the Poltergeist occurrences in the city).
They appear in the prologue of the anime adaptation, listening on how Mitsuko has apparently solved the Poltergeist Incidents.
Toaru Majutsu no Index
Edit
They appear in the manga during the morning of August 30, just after breakfast. Here, Kinuho tries to get Mikoto's attention but is stopped by Maaya, as she sees Mikoto is in deep thought and should not be bothered (actually thinking about the newest chapter of the manga she is following).
She is a level 3 Hydro Hand, an aquakinesist, so to speak, and it is shown to control small amounts of water in a way to form a miniature waterspout.[5]
In her combination battle with Maaya against Baba Yoshio's robots, it is shown that she requires a body of water to use her powers, and once it is scattered on the ground she will not be able to make use of it.[6] Kinuho can only control four separate clumps of water at the same time, though it is shown she has great difficulty for every clump she tries to control. Furthermore, once she controls water, she can still control it despite being out of her sight, or taken inside a container.[7]
Character Art Designs
Edit
"Boys are frightening..."-Kinuho in a flashback.
"Girls are also frightening..."-Kinuho after witnessing Mikoto's torture of Kuroko.
Footnotes
Edit