Kamijou Touma (上条 当麻, Kamijō Tōma?) is the main protagonist of the Toaru Majutsu no Index series and a recurring character in the Toaru Kagaku no Railgun side stories. He is also mostly involved in the events of the Magic Side.
He is actually a Level 0 Academy City first year high school student. He possesses the mysterious "Imagine Breaker" in his right hand, which is capable of negating all forms of magic, esper powers, and other divine abilities. This even includes his own good luck.
Having a very strong sense of justice, he will help anyone who is in need even if it means putting his life on the line, and will not hesitate to challenge an opponent who is several times more powerful than himself. Because of his willingness to help others unconditionally, he has attracted the affections of many characters in the series, which Himegami Aisa jokes about, stating that his life is like a dating sim where he is bound to unlock more paths to more girls.[6]
Etymology
Edit
On its own, Touma's name spelled in kanji doesn't mean anything special. However, when spelled by others it yields interesting results.
When Touma first meets Kanzaki Kaori she believes his name means (神浄討魔) in kanji as opposed to (上条当麻). Kaori's interpretation translates to One that purifies God and exorcises the Devil[7].
In volume 14, Touma's family name 'Kamijou' (上条) can be translated as The person superior to God (La persona superiore a Dio) (神上) in Japanese. The author's Afterword section also mentions a tantalizing hint on what the difference is between these two possible alternative translations of Touma's name.
Another interesting case is that Touma's given name can be spelled as (透魔), which can be translated as Invisible Demon. This is interesting as Touma wields an incredibly powerful force invisible in his right arm if severed that Fiamma of the Right even feared.
Appearance
Edit
His most striking feature is his spiky black hair, apart from which he looks like an ordinary high school student. It's been mentioned that his spiky hair isn't natural, but was made that way using hair gel after seeing it on a fashion magazine a while back.
His father remarks that Touma looks just like his mother when he is worried about something or is thinking deeply.
Because he resides in Academy City, Touma is often seen wearing his school uniform along with an orange T-shirt underneath it. This applies to both the summer and winter versions of his uniform (though when wearing the summer version he does not button it). Because of his tendency to wear his uniform in such a manner and the fact that he seems to attract trouble, many easily mistake Touma for a delinquent. During certain days like weekends, Touma simply wears a casual shirt and pants.
Personality
Edit
Events in Toaru Majutsu no IndexEdit
Touma is the type that acts before he thinks. He can never just sit around upon seeing someone in a pinch and will go to great lengths to protect or help the person. This he does at great risk to himself, which typically results in him being hospitalized for several days after each confrontation. When fighting seriously against a particularly strong opponent, Touma would usually first declare that he'll "destroy that illusion" of theirs, before actually engaging. He once answered to Himegami Aisa's question about the reason why he saves people: "I don't need a reason to save someone".
It is evident that even when he is in a blank slate after losing his memories, Touma can still display such personality. Touma, however, after losing his memories, now seems to approach people with more caution, carefully choosing what emotion or mood to display when meeting someone he thinks he might know, lest they see through his ruse and exploit him in any way. When Touma meets Stiyl once again after saving Index, he displayed politeness and casualness towards him which made Stiyl suspicious. Touma then realized his mistake quickly and created an explanation for his behavior.[8] Touma also bears no grudge on former enemies, and is willing to help them if they asked for it.[9]
Aiwass commented that Touma is only doing whatever he feels is right and is labeled "righteous" by other people impulsively[10]. He is one who will follow what he believes regardless of what others try to convince him of. In addition, earlier[11] Villian commented Touma is just like William Orville, someone who follows his own ideals no matter what. Though there are differences between the two: William is someone who stays true to his ideals and firmly believes it is the right path no matter what happens, and no matter who speaks against it; while Touma does not have set ideals and therefore can be manipulated into helping other people's plots. And when he does do something wrong, Motoharu describes Touma as someone who will carry that mistake all on his own, along with his own. Even so, he works to correct his mistakes in order to bring a smile to everyone's face at the end of the road, no matter the cost he himself may have to pay.[12]
Even though he is a gentleman who is kind to people in general, Touma will not hesitate to strike female opponents who harm innocents or disrespect life, such as Sherry Cromwell, who was going to start a war between Science and Faith that would result in the death of millions, Agnese Sanctis, who was tasked to eliminate Orsola, Oriana Thomson, who hurt Fukiyose Seiri and Himegami Aisa, or Vento of the Front when she had planned to destroy Academy City and anything related to science to settle her grudge on what happened to her brother in the past.[12]
Despite his righteous and heroic personality Touma occasionally displays poor choice of words which results in him getting bitten by Index, having bolts of lightning thrown by Misaka Mikoto, and creating misunderstandings with the other girls he encounters.
During the World War III, after his first clash against Fiamma of the Right, before leaving, when Touma was questioning Fiamma's actions about how rightful are both, Fiamma dared him to confront Index about his memory loss which left Touma with a down on his confidence, during his fight with Accelerator regained his confidence but the guilt still stays on him.
Events in Shinyaku Toaru Majutsu no IndexEdit
Touma returns to Academy City essentially the same, but has shown to be quite unfazed by threats to his life using supernatural powers, as what happened with Kuroyoru Umidori attacking him in his own bathroom.[13]
However, after the events that transpire later, specifically, after the events that lead to the creation of Science Guardian, and the distortion that occurs in Baggage City, Touma has started to stop trusting people he meet, despising the fact that his actions, such as saving someone are being manipulated into creating more suffering for others' ends.[14] However, during his confrontation against Leivinia Birdway, Touma finally disregards his fears of failure, betrayal, or being manipulated.[15]
Along with this, Leivinia sums up his personality of wanting himself to be put in danger of getting killed instead of other people, having him fight, getting himself hurt, as insanity. Despite her being a person who investigates leaders and charismatic leaders, she cannot understand what drives Touma, whom promptly tells her that he has no reason to abandon people who needs saving in the first place,[16] a clear reference to his "I don't need a reason to save someone" mentality. Moreover, Aiwass' comments on Touma labeled "righteous" by other people is referenced. Leivinia compares him to Aleister Crowley and Laura Stuart, and refers to him as having the seeds to do something indescribably great, which will give him great power if he controls it, or will be disastrous for him if he does not.[16]
Other traits
Edit
As the result of his Imagine Breaker negating his own luck, Touma is unfortunate and often bemoans his situation when confronting an unfortunate situation with his famous catchphrase: "Such misfortune!" (不幸だ!, Fukou da!). However, regardless of his own misfortune Touma believes that he is not regretful for being unfortunate, and states that he rather be unfortunate and help people than be fortunate and be happy and not notice people who are suffering. He states that being unfortunate is his fortune and it would be the path that he continue to walk on.[12] This has somehow fallen out of use in New Testament.
Ironically, despite Touma having several girls attracted to him, he has shown no apparent romantic attraction to them. However, Touma stated that he specifically prefers Dorm manager Onee-san (elder sister) types,[17]as is the case with Kanzaki Kaori when he dreamed of things like her wearing the swimsuit used by Index during the Angel Fall incident[18], and asking a kiss from Oriana Thomson when they first meet[19]. Despite this, Motoharu describes Touma as someone who has strong self-control, and with the case with Index, who often sleeps with him, will not attack girls that are asleep.
A second catchphrase he often says in fights is: "I will kill that illusion of yours!" When he says this, it usually indicates he will win the fight he is currently engaged in. Along with the "Such misfortune" line, this too has fallen out of use by him in New Testament.
Because of his personality, former antagonists in his side of the series such as Stiyl Magnus, Accelerator, Agnese Sanctis, Vento of the Front, Hamazura Shiage, and Lessar became his allies.
Background
Edit
Childhood
Edit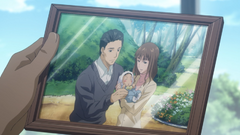 Touma is the son of
Kamijou Touya
and
Shiina
who live outside of Academy City. During his childhood he was often seen as a jinx because of the misfortune that his right hand creates and he called as "The God of Plague" by people around him. Once, a bankrupt and superstitious person blamed Touma for his own misfortunes and tried to stab him, resulting in a TV station hearing about the incident and trying to make a supernatural show based on Touma, as well as releasing images of him without his family's consent. Touma's father sent him to Academy City when Touma graduated from kindergarten as it was a place where many unique and gifted people lived free from superstition and Touma could be free from the kind of things he had experienced back home.
[20]
Life in Academy City
Edit
However, during his time in Academy City as a child, Touma wrote letters to his father, from there, he determined that even in the city of science people still treated Touma differently due to his lack of luck.[20]
During his tenure in Academy City, Tsukuyomi Komoe recalls that he used to be a "naughty boy". It is also during this time that he discovers that his right hand can somehow dispel supernatural powers, specifically the psychic powers used by the students of Academy City.
The current high-school class Touma is treated as a precious person due to all their bad luck being attracted to him. Meaning, they get off lightly from things such as teachers' annoyance at the poor turnout of homework and the like. This is unlike how Touma's life was before he entered Academy City, and raises issues such as Imagine Breaker's power might have been sealed away sometime between him entering Academy City and the present day, seeing how his bad luck affects Touma alone instead of before when it also influenced the people around him.
However, Touma's classmates do resent Touma for one thing – his impossibly good luck at getting girls' attention. This is due to many girls sympathizing with Touma's bad luck, and has gotten to the point where Fukiyose Seiri -the only one who is critical of Touma's lazy attitude to life- is called the 'Girl of Steel Walls' and 'the Girl who is completely wary of Touma'. Many of Touma's classmates say, "Though Touma keeps saying he's unlucky, he has the best position," and joke about if nobody can stop Touma, humanity will end due to him taking all the girls[21]. Surprisingly, Touma still hasn't gotten into a serious romantic relationship even with this kind of female support, possibly due to his friendship with Tsuchimikado Motoharu and Aogami, often joking of supporting Touma to build a harem that covers every type of fetish imaginable[22]. Touma said he'd break Aogami and Motoharu's fantasies on this topic using his Imagine Breaker. Motoharu named Touma's 'ability' to get girls chasing after him without much effort as the Kami-yan disease, and applied this to Stiyl Magnus after hearing about how Stiyl got chased by Tsukuyomi Komoe and couldn't even throw her off easily using the 'Opila' runes. Komoe also once half-seriously said he might have an esper ability (AIM dispersion field) that causes girls to trickle down to him.[23]
Due to Touma being a Level 0, he has to take even more make-up lessons than usual as he does not have the required academic achievements. Though by no means does this mean Touma is not intelligent; as in many occasions he has shown quick thinking in combat. Lessar even outright stated that Touma is extremely smart in some aspects but not others[24]. It is also shown Touma at least has a good grasp on physics, when he calculated the flight path of an HsB-02 flying past.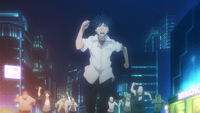 Even before the start of the series, Touma could not ignore someone in trouble and will help people regardless of who they are; this is how he met Misaka Mikoto when she was being harassed by thugs. At first, she was impressed that he was the only one who was willing to come to her aid (even though she could have handled the thugs all by herself). She then became annoyed by him after he accidentally insulted her, resulting in her discharging a powerful amount of electricity on the thugs as well as Touma, though he was unaffected because he used his right hand[25][26]. This became the catalyst that made her consider him someone she must beat. For some time, Mikoto continually stalked Touma demanding him to fight her, even though she was still unaware of the power of his right hand.
Regarding his memory loss
Edit
So far, only a few people know the truth about Touma's memory loss. They are; Heaven Canceler (also known as the 'frog-faced doctor'), Terra of the Left, and Misaka Mikoto after she overhears the conversation between Touma and Terra of the Left in the incident to do with the Document of Constantine[27]. In Volume 20, it is shown that Fiamma of the Right is also well aware of his memory loss and told this to Index via telepathy through the mental link established by the John's Pen control on his hands.
Chronology
Edit
Toaru Majutsu no Index
Edit
Kamijou Touma is a boy who finds himself in a technologically-advanced city called Academy City, having the ability to dispel anything supernatural - including his own luck.
After being chased by a group of thugs for trying to save a girl, he finds himself confronting the same girl, who is actually one of the most powerful espers in Academy City named Misaka Mikoto. We realize that he was trying to save the thugs from her instead and, after enraging the "Ace of Tokiwadai", puts his ability to the test by canceling the esper's signature move, the Railgun.
The day after, his unexpected involvement with magicians would change his life, and ultimately force him into the conflict between magicians and espers.
Index Arc
Edit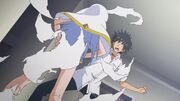 In a chance encounter, Touma meets a person wearing a nun's habit who hangs on the balcony of his boarding house. He later discovers that the nun, named Index, is a magician who possesses 103,000 magical books and that she is currently pursued.
Because of Index's insistence, Touma accidentally destroys Index's robe, and is forced to perform repairs with her robe. Touma then leaves her for school allowing to stay in his apartment. Index turns his offer down, however, because of her current problems with magicians. However, when Touma returns, he sees that Index is badly injured, and one of the magicians of the Church of Necessary Evil, Stiyl Magnus, appears.
Touma confronts Stiyl and manages to protect himself from the magician's spells, all except Innocentius, a being made out of fire which his ability cannot dispel so easily. Index, under John's Pen Mode, advises him to destroy the runes that allows Innocentius to operate, and Touma resourcefully uses the building's sprinkler system to wash the ink from Stiyl's runes, allowing him to easily dispel Innocentius and beat up Stiyl.
Touma leaves Index with his teacher Tsukuyomi Komoe as the only possible person to cast magic. Index manages to heal her wounds with Komoe's help. Days later, Index reveals to Touma that she has no memories from the past year when she came to Japan which starts and an argument prompting to her to run away. While looking for her, Touma is caught in a trap by another magician, Kanzaki Kaori.
Unlike the battle against Stiyl, Touma is at a disadvantage, as Kaori does not perform magic. He is quickly defeated by her, and he demands an explanation for Index's hardships. According to Kaori, she and Stiyl must erase her memories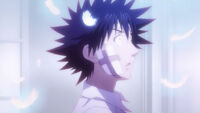 for her to live as Index have the ability to memorize anything perfectly. Touma rebukes them for ignoring Index's feelings on this before falling unconscious.
Three days later, Touma discovers that it nearly time for her memories to be erased. Stiyl and Kaori gives Touma time to say goodbye to Index. However, Touma takes the time to investigate; he then discovers that the Church was lying to Stiyl and Kaori about Index's memories, as the human brain can naturally store 140 years of memories. Touma also discovers the spell that bounds Index's death if her memories are not erased and negates it. Index is then forced into John's Pen Mode, which activates St. George's Sanctuary to destroy them. Kaori and Stiyl aid Touma while Index is using her Dragon's Breath attack which destroys a certain satellite in space.
Touma successfully dispels the spell from Index but loses his own memories after a feather from Index's attack touches his head.
After a night of recovery in a hospital, Touma lies to Index about his memories and tells a certain frog-faced doctor who treated him that even though his memories are gone from his mind they are still in his heart.
Deep Blood Arc
Edit
Touma meets with his friends Tsuchimikado Motoharu and Aogami Pierce and treats them and Index to a meal in fast-food restaurant, there they meet a girl who is wearing miko clothes who is asking for money. Later Touma and Index find a cat which Index calls Sphynx. The cat runs away but then Index notices a spell has been setup and decides to investigate. Touma discovers that it was Stiyl who set the spell up, Stiyl then asks Touma for assistance in rescuing a girl from Misawa Cram school who is being held up by Aureolus Izzard. As it turns out, Himegami Aisa is Stiyl's target, the same girl Touma remembers from their previous encounter in the restaurant.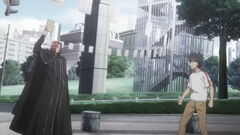 Stiyl and Touma discover that the Thirteen Knights of the Roman Catholic Church have been defeated, later they are attacked by the students with a replica of Gregorio's Chant who are under some spell, Stiyl and Touma gets separated and then Touma meet up with Aisa telling him that she is not being held against her will, and that her Deep Blood ability attracts vampires and kills them and even then they are still human and that she doesn't want to kill anymore, she continues to state that she came to Academy City with the hope of curing her of her ability but they can't find one and as such she settled with Aureolus who wishes to save someone and that her ability is needed for it, for Aisa he would rather have her ability be used to save someone than kill. Aureolus appears after-words and wipes Touma's memories of what had transpired in the school, however he quickly got his and Stiyl's memories back because of his right hand, later the remaining Thirteen Knights use the real Gregorio's Chant on the school razing however it miraculously repairs itself, as is the power of Aureolus' Ars Magna.
They challenge Aureolus who has now captured Index, he reveals that he plans to turn Index into vampire so that she can bypass the method in which they need to erase her memories to save her life, it is also revealed that he was Index's partner from three years ago (before the start of the series) as was Stiyl a year ago and Touma now, however Stiyl points out that Touma has already saved Index and that his efforts were all in vain, this irritates Aureolus and he attacks however Aisa tries to protect Touma but gets killed by Aureolus which Touma dispels, Touma duels Aureolus countering everything he throws at Touma, however Stiyl comments that if he can distort reality why does he need Deep Blood at all, as he can create vampires with his Ars Magna if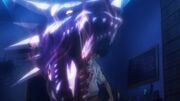 he wanted which infuriates Aureolus and commands Stiyl to float and to be stripped of skin, however Touma realizes that their is a flaw in his Ars Magna pondering that if he can command reality why did he not command Index to be saved, Touma then realizes the weakness of his Ars Magna, before he can do anything his entire right arm is sliced off. However Touma perseveres through this and laughs maniacally and then slowly coming towards Aureolus while smiling and somehow dispelling all his attacks, Aureolus loses control of his Ars Magna and sees that Stiyl is back to normal and having Index in his arms, he panics while Touma tells him that his Ars Magna does not distort reality with his words but one that turn his thoughts into reality and it comes into effect, believing that Touma is a monster Touma's entire arm turns into a dragon and attacks Aureolus.
Touma is in the same hospital with the same frog-faced doctor who treated him previously recovering. Stiyl visits Touma and cuts apples for him, he states that Aureolus has lost all his memories and the capability to do magic and that his organization change his face and form before releasing him and says that Misawa Cram school has been closed. Stiyl says that he was able to pull that off only because his body was in shock from all the pain of his arm getting sliced off, Touma gets irritated by this believing that he is comparing him to Aureolus, their conversation is soon cut short with the arrival of Index and Aisa, the latter asking why he saved her which he replies: "I don't need a reason to save someone."
In the light novel[28] an issue was raised that the dragon's head may not entirely be the result of Ars Magna's powers, which leads to Touma wondering just what could Imagine Breaker be. Then Index interrupted his thoughts and asked about Himegami, cutting short his wondering. He concluded that it doesn't matter if he have incredible power, as long as it can protect the girl in front of him right now he is satisfied.
Sisters Arc
Edit
Misaka Mikoto
again for the first time since losing his memories, Touma also meets
Shirai Kuroko
and then Mikoto's "sister" which looks exactly like her more aggressive sister, this confounds Touma until he realizes that she can tell her apart by the way of her goggles and underwear. She helps Touma, Aisa and Index with Sphynx's flea problem and leaves them. Touma meets up with Mikoto who seem to have a problem but disregards Touma's concerns, shortly after she meets Mikoto's sister again having found a black cat they go to a bookstore to learn more about pet care leaving the sister alone, when Touma returns he discovers that she has been brutally murdered and that she was one of the thousands of clones of Misaka Mikoto and was part of the experiment in developing a Level 5 Esper
Accelerator
to Level 6.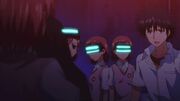 Following the movements of the windmills he finds Mikoto sulking, he discovers that Mikoto accidentally gave her DNA Map for use of the experiment and plans on sacrificing herself so that the calculations of the experiment would be disrupted and then it would become a failure (as she knows Tree Diagram has been destroyed), Touma is against this and after taking Mikoto's attacks he convinces her to let him help.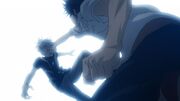 Touma plans to stop the experiments by beating
Accelerator
since an impossible event like a Level 0 defeating the strongest level 5 would create inconsistencies in the calculations of the experiment. Mikoto and Touma makes it just in time to disrupt
Misaka 10032
and Accelerator's battle, Touma challenges Accelerator who thinks nothing of him until he realized that Touma can actually negate his attacks. The battle between Touma and Accelerator continues with Touma dodging Accelerator's attacks and using his right hand to punch him, realizing that Accelerator is physically weak. Mikoto and Misaka 10032 along with all the other clones help Touma by disrupting Accelerator's attempts at creating a plasma storm with his powers, angered by this Accelerator lunges towards Touma with the desire to kill him by touching him, though this is anticipated by Touma and successfully punches Accelerator to knock him out.
Touma is once again confined in the same hospital and in the same room, where he is paid a visit by both Misaka 10032 and Misaka Mikoto, he learns that his gamble has paid-off and that the experiments have been cancelled and that many of the clones have been sent out for readjustment and stating that Misaka 10032 will meet again. Index later comes in worried about him and asks what Touma was fighting for this time which he replies: "For myself."
Angel Fall Arc
Edit
August 28th.
Touma, having been forced to go on vacation with Index, meets up with his parents and his cousin, only to realize that everybody's appearances have been switched, after much confusion he realizes that this strange event is too widespread to be a prank, immediately after confirming this he is threatened by
Misha Kreutzev
a member of the Russian Orthodox Church, Annihilatus, who suspects him of the being behind the spell that is affecting the world, later after being cleared of suspicion by
Kanzaki Kaori
and
Tsuchimikado Motoharu
and being tested by Misha for his Imagine Breaker he discovers to his surprise that Motoharu is a spy working for Necessarius, and that the one who initiated the spell now known as Angel Fall is close to Touma.
After much urging from his father, Touma talks to Misha and offers her a treat which she was careful not to touch his skin when taking it. Misha states that Angel Fall is still incomplete and if a the time of its completion comes to pass a great catastrophe would befall the world. The next day(August 29th) Misha accompanies Touma's mother to her house, in a conversation with his father who was observing Touma and Misha the previous night, he says that Misha was very careful not to touch his hand at all, realizing that Misha might be culprit Motoharu accompanies Touma to his new home there they find a large variety of souvenirs collected by his father, however Touma realizes that his father has not changed appearance at all and at the same time Misha seeing this as well she goes after his father, Touma leaves for his father who might be the magician behind Angel Fall.
When Touma confronts his father about his involvement in Angel Fall, his father states that back when Touma was younger, people ridiculed him for the misfortune he brought people, and as such he sent him to Academy City because it wasn't superstitious, but they could not figure out how to remove Touma's misfortune. Touma's father then says that he began collecting souvenirs to offset Touma's misfortune, Touma confides to his father that even though he was unfortunate he was still happy and asks him to stop Angel Fall. Touma realizes that his father has no idea what he is talking about but Misha suddenly attacks revealing itself as the Archangel Gabriel that took on the appearance of Sasha Kreutzev. Gabriel attacks Touma and his father but is saved by Kanzaki who states that as she is a saint she will hold off the angel as they find a way to stop Angel Fall, Gabriel darkens the sky and begins activating "The Sweep" a powerful spell that will destroy the world.
When Touma and his father get back to the resort the find everyone has been knocked-out, they realize that it was Motoharu's doing who states that Touma's father is the true culprit of Angel Fall, as he accidentally made an artificial temple using the souvenirs and arranging them by following feng-shui, Motharu tells Touma the two ways to get rid of the spell: By destroying the temple, or eliminating the magician, Touma realizing his intentions attacks Motoharu but is defeated swiftly, Touma's father attacks as well but is also defeated. Having no one to stop him Motoharu prepares a spell, Touma realizes that since Motoharu is an esper the spell will kill him, Touma pleads him to stop but Motoharu states that he lied because Touma would try to stop him from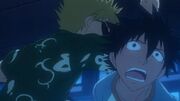 doing this like Kaori, the spell activates and destroys Touma's house while Touma is helpless from stopping him. Touma regains consciousness seeing Motoharu in a pool of his own blood realizing that he lied about killing his father.
August 30th, back in Academy City Touma is once again hospitalized, there Motoharu visits him much to Touma's surprise who says that he has the ability to regenerate allowing him to use magic and says that he is liar by nature, Touma also sees the face of his mother for the first time since his memory loss, their parents go on to say that the new house has been destroyed by unknown circumstances and will be moving to old one, the place where Touma grew up, finally Index visits Touma who punishes him for all the abuse he done to her during the Angel Fall.
Three Stories Arc
Edit
The three stories happens during August 31st.
The Aztec Magician
Edit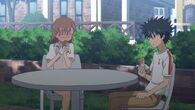 Because there were many events during summer vacation and because of his memory loss, Touma completely forgot to do his homework and as such was in a hurry to finish them. Touma bumps in Misaka Mikoto pleading him to play along as being her boyfriend as she is being pursued by
Unabara Mitsuki
who likes her, Touma plays along for awhile until he realizes that Mitsuki is a really nice guy, Mikoto accepts this and goes to a restaurant to treat Touma for helping her.
However Mitsuki attacks Touma, and is actually a magician who has stolen Mitsuki's appearance, the impostor states that his organization is grew concerned of the growing "Kamijou Faction" and decided to eliminate Touma. While dodging his attacks, Touma contacts Index to see if she is alright and asks her a way to counter the magician. Touma and the impostor fight in an abandoned construction site, and with Touma's quick thinking and streetfighting skills, is able to destroy the impostor's weapon and defeat him, while the building collapses.
Touma gets out unscathed, however the impostor is pinned under steel beams, Touma asks him if his feelings for Mikoto are a fake as well which the impostor denies and states that he did this for Mikoto's sake, he asks Touma to promise him to protect Mikoto which Touma assures him so, all the while Mikoto is hiding behind a steel beam and has overheard their conversation.
Yamisaka Ouma
Edit
While still trying to catch-up with his homework (since the excursion with Mikoto and the fake Mitsuki distracted him), Touma takes a break with Index and treat her to some food when she is kidnapped by
Yamisaka Ouma
.
In the haste to find Index, Touma once again bumps into Mikoto who complains why he ditched her before Touma once again decides to ditch her much to Mikoto's chagrin. Touma catches up to Yamisaka Ouma after noticing the rather obvious ceremony he was performing from afar all the while hearing Index and Ouma's conversation. Touma comes in and destroys the ceremony, he gives Ouma an offer in breaking the curse laid upon the girl that Ouma has fallen in love with and the reason why he kidnapped Index.
Touma stipulates that they need to hurry as the new school term starts in a few hours, Ouma thanks him for his kindness.[29]
Last Order
Edit
In the evening Accelerator passes by Touma's dormitory, where he hears but does not recognize Touma and Index arguing (this scene is where Touma realizes he has yet to finish his homework while Index is biting him) before muting out the sound with his vector powers.
In the manga Accelerator returns to a diner to retrieve Last Order and later sees Touma running away from a restaurant (this scene is where Index has been recently captured by Yamisaka), and decides not to attack him.
Kazakiri Hyouka Arc
Edit
September the 1st.
It is the start of the new semester, however Index follows Touma to school and is promptly asked by Komoe to go home, while having a predicament with a vending machine Index meets a girl called Kazakiri Hyouka who helps her from thereon they became friends. Touma later get introduced to Hyouka and asks her to join him and Index to the underground mall, before departing Touma meets up with Aisa who is the new transfer student, she warns Touma about Hyouka who tells him that she is the key to the Imaginary Number Sector.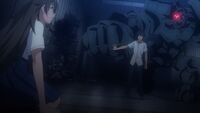 After having some fun in the mall, they are warned by a telepathic member of Judgement (whose telepathy was ineffective on Touma, and thus had to explain the situation to his group verbally) to evacuate as there is a terrorist causing trouble, Touma and company comply to this, however they are trapped inside and have determined that the terrorist is a magician but fortunately Shirai Kuroko and Misaka Mikoto arrive to aid the civilians, after an argument between Index and Mikoto on who should stay with Touma (as Kuroko can only teleport two people at a time), Touma and Hyouka are left behind, Touma does battle with
Sherry Cromwell
who controls a golem, unfortunately Hyouka gets injured and is revealed to be more than what she seems, this prompts her to run-away and for Sherry to give chase.
A lull in the battle allows Touma to have some time converse with Komoe, she tells him that Hyouka is a product of the collective AIM dispersions of espers which technically doesn't make her human, Touma however is resolute that Kyouka is human regardless of what she is. Touma comes in time to save Hyouka from Sherry and her golem, with the aid of Anti-Skill takes her down and the golem only for Sherry to escape to pursue her next target: Index. This prompts Hyouka to chase her as she is capable of withstanding the attacks of the golem, Touma follows her shortly afterwards.
Touma confronts Sherry and discovers that she made the golem go first to attack Index, in the ensuing battle Touma discovers that Sherry wanted to create a war between magic and science as her friend named Ellis (her golem is named after her friend) died in an experiment to create a magician-esper hybrid, Sherry attempts to collapse the tunnel she and Touma were in but was thwarted after discovering the weakness of her spell.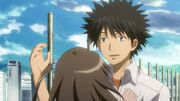 Touma later catches up to Hyouka once again in time to save her and Index from the golem, afterwards Touma restates to Hyouka that she is truly human regardless of her composition and that Index is still her friend which Index confirms. Touma visits the frog-faced doctor and is joyous that he is not injured, meanwhile Hyouka returns to the Imaginary Number Sector after saying farewell to Index.
Orsola Aquinas Rescue Arc
Edit
September 8th.
After getting tired from preparing for the Daihasei Festival Touma returns to home where
Maika
runs into Touma (having tried to contact him through his phone but it was off before) about someone kidnapping Index.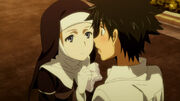 Based on the description and the letter she gave him, he figured Stiyl was trying to lure him out of Academy City. On the way to the location he ran into
Orsola Aquinas
(a nun on the run because she was capable of interpreting
The Book of the Law
), who was trying to enter Academy City, and after repeatedly trying and failing to explain it to her that she can't enter, he wound up escorting her to the
meeting place
where the
Agnese Sanctis
and Stiyl were meeting. Once there, she was promptly taken back by the
Amakusa
, Index later explain methods that may be used for them to transport her while Agnese's forces prepare for the attack.
After Stiyl explains his resolve for protecting Index he starts to rest along with Touma.(and Agnese walking into his tent nearly naked and sleeping next to him, only for Index to pop up later and punish him since he tried saying it was only a dream and the real Touma wouldn't do such a thing). After that they head out to an amusement park to face off the Amakusa where he managed to subdue one member, protecting her from hitting her head as she fell, and then fought alongside Stiyl to stop the leader of the Amakusa, Tatemiya Saiji. He then planted a cross given to him by Stiyl onto her before handing her to her supposed comrades. Only then when he heard Orsola scream after Tatemiya explained they weren't the enemy and he was attacked by two Roman Catholic nuns, who nearly succeeded in killing him before Index saved them both, did he realize they were tricked.
Saiji, Index, and Stiyl all tell him not to get involved after that since he isn't the one who has to fix it, someone else will handle it. He pretends to drop it and has Index head back to Academy city with Stiyl while he uses his phone to locate the unfinished
Church of Orsola
. He shatters the barrier surrounding the place and sees Orsola injured from constant abuse of the 250 nuns. When Agnese berates him about the odds he faces against them, he knocks her back with a punch and prepares to face off with 250 Nuns, all to save a woman he met 6 hours ago. Right then Stiyl, the Amakusa who were formerly captured, and Index all appear to help him stating they were trying to get him to leave as this was a magician's problem. Once the battle started to seem hopeless and the method to decode The Book of the Law was false, he was sent out alone to fight Agnese. After learning the method of her magic, it was stated that even though they outnumbered Touma's group, she was losing control over them and once Touma finished her with a punch, the entire group laid down their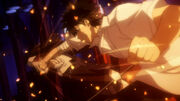 weapons in surrender.
Back in the hospital, Kanzaki Kaori and he had a discussion on the current situation and he stated that they were only enemies this time but if they needed help next time he'd help them, as from his viewpoint their organizations aren't the reason he helps people, he helps their organizations for the sake of the people, and hinted he'd help Agnese herself if she needed help. Kaori pointed out this was stupidly simple but he'd never stray no matter what.
Tree Diagram Remnant Arc
Edit
September 14th.
Misaka 10032 snuck out of the hospital to ask Touma for help in preventing the Level 6 Shift plan being restarted as the Tree Diagram 'Remnant' have been recovered. He agreed and went out to help, and met up with Mikoto on the way. In the end they found Awaki about to teleport 4.5 ton of item onto Shirai Kuroko; Mikoto blew a hole in the building using her Railgun and use magnetism to make a ramp for Touma to run straight up to where Kuroko was, allowing him to negate Musujime's attack. Touma apologized to Kuroko for coming late and asked if he has saved Mikoto's world, due to his promise with Etzali back in Volume 5. Kuroko said he had saved half, and Touma went off again saying then he'll go save the other half. When he reached Awaki, however, she had already been defeated by Accelerator, the 'Remnant' in pieces.
Touma and Index went to visit Kuroko at the hospital afterwards to see how she's healing up, but accidentally walks in while Kuroko was changing clothes, and was slapped by Mikoto (With electricity accompanying the slap). In the Anime version it is Kuroko who slapped Touma
[30]
He then went to visit Misaka 10032 but found she's sealed up in a chamber filled with fluids and completely naked for healing, and ended up being bitten by Index (twice - once for Kuroko and once for Misaka 10032). Misaka 10032 didn't mind Touma having a good look at her.
Touma moaned to Index how he did all that work but in the end he didn't get to solve the incident, as Awaki was defeated already by someone else (Accelerator) who left without showing his face. Index replied Touma's an idiot for letting someone else take his job, and that just one person who acts like Touma is too much when he moaned about it. Touma objected indignantly, and was heard by Accelerator who was also in that hospital. Accelerator thought that voice was familiar but didn't think too much into it, being more focused on getting his sleep.
Daihasei Festival Arc (Index)
Edit
September 19th.
Touma argues with Mikoto and decides on a punishment game where the loser have to follow the orders of the winner, and this exchange was seen by their respective parents.
Touma decides on going full-throttle from the start to prevent psychological impediments later on where if they save their strength for later but finds they can't catch up. When he reaches his class' area for the first event he found most have collapsed from arguing the night before on how to win against the various competition, and from boredom of the opening ceremony of continuous speeches by various principals. Fukiyose Seiri arrives and seeing the classmates feeling dispirited blames Touma as the ultimate cause. During their exchange of words Touma is pushed onto defending, and their classmates say Seiri is the only one capable of taking down Touma and his effect on girls, and also comments how Touma isn't that unlucky when it comes to women.
Touma then accidentally stepped onto a hose and got Seiri's top wet, resulting in a 'unfortunate accident'. The rest of the class starts to lament on how even their ultimate defence against Touma is useless and humanity is as good as gone, with Touma snarking back just what kind of scumbag do they think he is, along with his apologies towards Fukiyose.
After their first event competing another school, Touma went to his classroom to get his cellphone so he can call Index. He then accidentally walked in on Seiri changing clothes in the classroom, and quickly stepped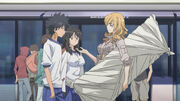 out after seeing her cross popping veins. She threw the first thing she reached to chase him out, which happened to be a mail-order shoulder massager. Touma remarked without thinking she needs one of these at her age only because the size of her large breasts weighing her down, before realising belatedly how bad it could sound to Seiri. She threw his bag with such force it blew a hole through the classroom door and smashed right into him. Seiri also threw out his cellphone as a afterthought.
Finding Index later, they went to a group of food stalls, only to be halted by a procession going on. Before Index could bite him, he was dragged away by Misaka Mikoto, who was in a scavenger hunt and needed 'a high school student who competed in the first event'. At the finish line, he met up with Fukiyose again, who commented that Touma's been hit by girls quite often. Wanting to go back and find Index, Touma finds Motoharu and Stiyl talking to each other, who were discussing about the Stab Sword, a sword that can destroy a Saint just by pointing at it. They then instructed to keep Index busy in order to keep the outside organisations oblivious to the ongoings in Academy City. After finding Index, who was changing into cheerleader clothes, courtesy of Komoe, Seiri comes along, and after a bit of punishment, drags him off to cheer for his schoolmates.
After a while, Seiri and Touma bumped into Oriana Thomson, who was holding a suspicious item, though they didn't know each other at first. Touma, who was apologetic, shook hands with Oriana, breaking the 'Chaos and Calm on the surface' that Oriana cast on herself. Realizing that something is wrong, after Touma separated from Fukiyose, he called Motoharu and informed him about the 'courier', leading to a long chase sequence that ended up with Oriana escaping, having set some spells at a bus depot to delay them.
In order to break the countermeasure spell that Oriana set up, Touma and Motoharu snuck into a match which pits a certain Middle School versus Tokiwadai Middle School. After a bit of fumbling and meeting up with Mikoto, Fukiyose got struck by the counterspell.
After tending to Seiri for a while, Touma and Motoharu continued their chase after Oriana, and finally caught up with her. Oriana quickly disables Motoharu, leaving Touma to fight against her. Touma managed to beat her with a punch, but Oriana escaped, and the thing that Oriana was holding turns out to be a decoy.
Later, he met up with Stiyl and Motoharu to discuss the situation before they split up. Touma went to find Index, who had changed into the cheerleader outfit. The two of them went to meet Touma's parents, who are in Academy City to see their son participate in the Daihaseisai events. Touma's family, together with Index, had lunch with Mikoto and her mother, Misaka Misuzu.
After lunch, Touma wanted to get away from Index so that he can continue his search of Oriana. After some misunderstanding which ended up with Mikoto punching him, Touma was nearly injured badly by Kuroko and Mikoto, who have came to attack Touma because they thought that Touma has done something perverted to Index. He then went to find Stiyl, who's being hassled by Komoe. With help from Aisa, Touma and Stiyl managed to get away and continue with the search.
As they continued with their search, both of them heard that Motoharu was going up against Oriana, but before they can find him, Aisa got critically hurt by Oriana, who mistook Aisa to be a magician. Leaving Stiyl behind, who tended to Aisa, Touma was unable to catch up to Oriana, who escaped on a bus.
Later, Touma met up with Motoharu again, and they got a call from Orsola, who informed them about the constellation required for the
Croce di Pietro
to be used. They then met up with Stiyl before heading off to the 23rd School district, which is where the Croce di Pietro was supposed to be activated. After a lengthy battle which saw Touma managing to beat Oriana, Touma got a call from
Ridovia Lorenzetti
, and after the Croce di Pietro failed to work, told her that she failed and that she should run far away.
Later, when he ended up in the same hospital room due to all the injuries he incurred, he got a chomp by Index, and a visit from Mikoto and Kuroko. Mikoto notified Touma that Tokiwadai was far ahead in the lead, and that as part of the deal, he should work hard for the rest of Daihaseisai.
The next morning, he and Seiri went to visit Aisa in the hospital.
La Regina del Mare Adriatico Arc
Edit
After the events of the Daihasei Festival and receiving an endless streak of bad luck (such as accidentally walking in on Komoe changing, getting punched by Fukiyose Seiri, getting bitten by Index, having a ball hitting him at the side of the head by Himegami Aisa, and receiving a drop kick to the back of the head by Kuroko Shirai while Misaka was dragging him to a dance party etc). Touma ends up winning a trip for two to Italy at a shopping district draw which he begins to doubt how someone as unlucky as him was able to win such a grand prize in the first place. Index berates him for not being prepare to travel because he doesn't have a passport and that he doesn't know how to speak Italian which obviously ends with him feeling defeated. While at the airport the security guard stops Index from passing through the gates due to the pins that holds her robe together. Having no choice Touma is forced to buy Index new clothes before the plane takes off.
The two finally arrive in Italy and Touma is trying to find the hotel they'd be staying at.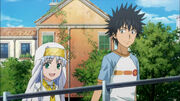 Index shares a little bit of Italian history with Touma which makes him surprised that she knows things outside of magic due to the grimoires inside her head. This however upsets Index and was on the verge of biting him but she stopped because she wants to have a good time, but Touma with his usual poor choice of words further infuriates her prompting the annual punishment that he's accustomed too. Later Touma loses Index because she's too busy looking at the food stalls and restaurants in the area. Due to his lack of knowledge of the Italian language and Index not being there to translate for him, he has no idea on how to communicate or understand the people there. Orsola Aquinas the same nun from the Book of Law incident (From Vol.7) approaches him to ask what's the matter and he replies with what she's doing here. Orsola tells him that she spotted Index a long time ago and she's at her apartment and guides Touma to the location.
At Orsola's apartment Index is carrying a box of gelato and Touma berates her for seperating from him and getting lost but she doesn't listen. Orsola asks Touma and Index to help clean the apartment with her and they both agree too, during the cleaning Index and Orsola ends up getting dusty so they decide to take a quick shower to clean their skins. Touma on the other hand is too busy trying to fight the temptation of walking in and avoid getting bitten by Index, during that time he hears a noise from another room and he goes to investigate it. It was there that both Index and Orsola come out of the bathroom naked and it turns out that the noise that Touma heard came from separate bathroom that Orsola and Index were using respectively. Touma tells the obviously embarrassed Index that he has no intention or interest at peeking at her naked body but Index takes his comment as an insult resulting in her giving him the usual punishment. Soon after, Orsola begins to move her luggage as she prepares to leave for England, when an assassination attempt happened, where a man wearing Roman Catholic Robes tried to kill Orsola but failed due to Touma. Taking a bizarre twist, the two fall into a river only to land on some large ice-like ship that was submerged before, and it sped off towards the sea with Orsola and Touma aboard. There they escape from the people searching for them, only to find Agnese Sanctis, who reveals this ship is a work ship that is used to punish those who have failed the Roman Catholic church. Agnese asks the two to help Angelene and Lucia escape from the ship, because they are about to be punished for having escaped the ship once before, in an attempt to help Agnese, and Touma promptly agrees. After much trouble, the pair managed to rescue Angelene and Lucia, only to find out that the one that truly needed rescuing was Agnese as she was about to be used in some sort of spell. However, before Touma can react, the other ships in the fleet started opening fire on the ship they are aboard, in an attempt to kill the, before the Amakusas, tipped off by Index, save them with a paper boat.
Back on land, the Amakusas are eating dinner at Orsolas house alongside Touma, Index, and the two nuns, before proceeding to plans to rescue Agnese. Based on the information from Angelene and Lucia, the fleet is led by Bishop Biagio Busoni, and the purpose of Queen of the Adriatic Sea (the name of the fleet of similar ice shops) was to cast a spell that would destroy Venezia, the land as well as the pieces of its culture around the world, which required Agnese. Yet the effects of using her to cast the spell would render her to lose her mind, something Touma refuses to let happen. Humorously, Itsuwa offers Touma a napkin during the dinner, causing Index to be somewhat jealous of the seemingly closeness between the two. Moving on, the battle plan was to create a massive amount of paper ships, and use them as unmanned suicide bombers to distract the fleet while Touma and the others board the ship stealthily. The fleet notices this plan, and opens fire on a ship that was submerged below them, only to find out the submerged ship was a decoy, and Touma and the rest of them were aboard one of the suicide ships that flew towards them.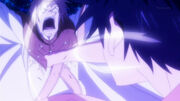 Touma, Index, and Orsola get on the main ship of the fleet where Agnese is being held, and after being split up and having to off thirty ice golems, Touma meets Biagio. The two fight and it seems as though Touma has been defeated and disappeared, when Biagio headed back to where Agnese was being held only to encounter Orsola trying to free Agnese. Consequently Orsola is violently assaulted, but still refusing to step away from Agnese caused Agnese to finally what Orsola's words meant when she was being assaulted by the 250 nuns a while ago. Agnese steps up to defend Orsola but is also subsequently defeated by Biagio, when Touma shows up again and the two fight once more. Touma defeats him this time, and learns that the spell they are trying to use at the moment is really a spell to change the target of the eradication spell from Venezia to Academy City, effectively trumping the Science side in the end. However, knowing he has been defeated and will be punished, he attempts to take down Touma along with him after saying that there is a faction supporting him, and that he is a threat to the Roman Catholic Church. Touma manages to stop him, but is subsequently injured so badly he has to be returned to Academy city after spending only one day in Italy, on an ultrafast jet.
Academy City Invasion Arc
Edit
September 30th.
Touma had just received his winter uniform from the high school he attends and during class he creates a misunderstanding with Fukiyose Seiri resulting in him getting punished by her. After school he runs into Misaka Mikoto and reminds him of the bet they made during the Daihasei Festival. Knowing that a bet is a bet he relents and kneels down at her feet and starts fanning her body with his school bag much to the embarrassment of the latter. Upon returning home Tsuchimikado invites Touma and Index to his room for dinner which Index of course is quick to take up on that offer.
After a few mishaps at school Touma is late for the arranged penalty game meeting which Mikoto responds by throwing lightning at him which he negates using Imagine Breaker. After arriving at the newly remodeled School District 7 Underground Shopping Center (the same one Sherry Crowell attacked during the events of volume 6) The pair go to a mobile center so that Misaka can get his phone number by going through a couples plan, but Misaka says she's only doing this because she only wants the Gekota and Pekota strap and doesn't want his number for her own convenience. In order for the plan to be complete the two had to take a picture showing the lady at the register that they were a couple. After a few mishaps Touma puts his arms around Mikoto wanting to get the whole charade over with while being unmindful of her reactions towards his bold behavior. After he takes the picture Shirai Kuroko teleports in and drops kicks him on the back of the head causing him to fall on the ground ruining the photo and causing him pain. After Shirai's appearance Touma asks if he's free from his responsibilities but Mikoto retaliates by throwing lightning bolts at him.
While waiting for Misaka to finish the phone plan he spots Misaka Imouto (whom he fails to recognize due to the NVG goggles that she always wears are not on her) who's angry because Last Order took her goggles and is looking for her. Touma buys her a necklace to cheer her up but it doesn't work (because she wanted him to buy a ring which symbolizes marriage), he then treats her to some food but ends up shocking him because he was holding food utensils at the time so Imagine Breaker was useless in that situation. After being abused by the angry Misaka Imouto the real Misaka Mikoto appears before Touma and becomes very angry at the fact that he's paying attention to someone else's problem instead of keeping his promise to her. Touma blocks her attacks with his right hand repeatedly and Misaka Imouto demanding Misaka to change her opinion of Touma and berates the original for not being honest with herself. Misaka Imouto than clings to Touma's arm much to the shock of Touma and Misaka, she then spot Last Order and gave Touma a friendly yet frightening warning as she walks away.
Touma left behind by a very angry yet hurt Misaka Mikoto after when he thought that she only wanted the phone straps from the mobile center earlier. He happens to run into Last Order and introduces herself as the last model of the Misaka Network. She thanks him during the incident with the experiments and Touma doubts her sincerity. He then treats her to some food but Last Order becomes annoyed by that offer but since Touma has been feeding Index for so long treating someone to food had became sort of a habit. He and Last Order coincidentally run into Tsuchimikado and Aogami and the two "wish him success" much to his chagrin. Just as the shopping arcade is about to close Last Order parts ways with him and happens to meet Index (who coincidentally met the Accelerator unbeknownst to Touma) who was looking for him. Index lectures Touma on how he lacks consideration and told him about the nice stranger who treated her to lunch and how he should act more like that person. Touma loses sight of Index and begins to look for her and it just so happens that he runs into Last Order again who begs him for his help after her acquaintance (Accelerator) was being attacked by Kihara Amata and his Hound Dog units. He agrees to help and find themselves hiding and sneaking their way past the Hound Dogs units, they were cornered by them for a while but managed to escape and take refuge in a family restaurant. While hiding there they noticed that the customers are faced down unconscious and the Hound Dog units had stopped pursuing them for some reason. A woman attacks the pillar they were hiding in and Touma starts by covering Last Order's body to protect her and starts to scan the area and then he sees a lone woman with a huge hammer and multiple piercings standing there before him. She introduces herself as Vent of the Front a member of God's Right Seat and tells him that he's one of her target that needs to be disposed of quickly.
Document of Constantine Arc
Edit
Touma, Motoharu, Aogami and Seiri were sent to the teachers lounge after a scuffle was discovered by Oyafune Suama, a teacher at the school. The issue was about the three boys talking about which color would suit the bunny girl better (black, white or red), but Seiri with her own brand of justice, chokes Motoharu, kicks Aogami and headbutts Touma. As punishment Suama orders the four to pick the weeds off the school grounds however Motoharu and Aogami ditch leaving Touma and Seiri to work together. Touma asks if Seiri is preparing for her exams despite having to be cancelled because of the chaos that's happening in Academy City and across the globe. She remarks that she won't let him see her notes much to his disappointment. They end up getting distracted and start playing fork ball, and while getting ready for a pitch her panties become visible thanks to Touma's warning and bad timing. They continue to play fork ball until the two accidentally hit Suama and Touma goes to apologize but the angry Suama tries to strike Touma but she misses and he then asks if he can go home but she whips something at him prompting him to run away.
After the incident at school he encounters Misaka Mikoto. She asks why he hasn't been replying to her messages but Touma tells her that he didn't receive anything from her. She checks his phone but is shocked to see that her mother's number is on his list of contacts. They talk about the chaotic protests that are happening around the world and accusing Academy City for the "Fallen Angel" incident. Touma however knows that the ones responsible are the people outside of Academy City and that the issue can't be solved by just standing around and doing nothing. The two part ways and on the way home from the grocery store, he bumps into an elderly woman and apologizes for bumping into her, she tells him that he's expecting him and holds Touma at gun point. She asks him to follow her and he reluctantly agrees.
The elderly woman and Touma reach a children's park. He asks what she's planning but she tells him that she wishes to talk to him about the current situation that's happening around the world. The woman introduces herself as Oyafune Monaka and she's one of the 12 Board of Directors of Academy City. She tells him that his help is needed to fix a problem regarding the violent protest and demonstrations. She went to him because he has something that no country or diplomatic institutes has - Imagine Breaker. Monaka believes that the ones that are responsible for the protests are the Roman Catholics and if they choose to go to war with Academy City, they will surpass them in numbers. She also warns Touma that Academy City is on the edge and if things don't get settled an economical bombing could be in effect. After a while of explaining the situation, Motoharu appears and asks if she finished discussing things with him. She tells him yes and that it's his turn to take care of the rest, he pulls out a handgun from the buckle from his belt and shoots her in the gut with it causing her to fall on the ground. Shocked and angered by Motoharu's actions, Touma punches him and he falls to the ground, before he lost control Monaka stops him and tells him that she arranged for Motoharu to shoot her and that her vital spots were missed slightly. Her actions would be labeled as treason and her family and everything she holds dear will be attacked. She tells him that this decision to stop the chaos was not made as a whole from the other directors but from her own choosing. Motoharu calls the ambulance and tells Touma that they need to get moving to district 23 and there's a plane waiting for them thanks to Monaka's preparations. Touma is angry at the fact that instead of being so indirect for his help all she had to do was ask for it. Having no choice but to leave her in the state she's in, the two disappear before the ambulance arrive.
Motoharu and Touma are heading for the airport, but before getting there Touma puts the groceries he bought into a locker at a bus station. Tsuchimikado lets him know that Maika is taking care of Index so he doesn't have to worry about leaving her behind to starve. He also tells him that they're heading to France using the same plane Touma used to get back home for medical treatment after the Queen of the Adriatic Sea incident. Motoharu explains to Touma (who is feeling queasy due to the plane moving at a speed of mach 3) that the thing responsible for the riots and protests across the globe is the Document of Constantine or the C-Document for short. It's an spiritual item that makes believers of the Christian faith make them believe something is the absolute truth no matter how ridiculous is it. Before Tsuchimikado can explain any further the plane announcer informs them that they're at their destination. He hands Touma a parachute and forcibly opens the passageway door and strong winds blow right in to the plane. Touma is reluctant to jump right out the plane, but Motoharu not wanting to waste time forcibly kicks Touma's hands off a rail he was holding on too and flies right out the plane. While in the air Touma the parachute pops up but ends up getting caught around his neck and he vows to kill Motoharu whenever he gets the chance too.
Touma is a 100 meters from the original target spot due to his parachute getting caught in the wind and having him land in the middle of a river. While drowning he was saved at the last by a woman and it turns out to be Itsuwa of the Amakusa. He wonders if she's here because of Motoharu and the C-Document but she asks him who he is and questions how does he know about the document. She asks him why he's here in France and he tells her that he came here with Motoharu to find and destroy the C-Document. Itsuwa tells him that she and her Amakusa comrades were here to investigate the leylines and the flow of magical properties in France from the request of the catholic church. Itsuwa tells him that she needs to get her bag, but Touma asks if she has any other change of clothes with her wet clothes made her other parts visible. Itsuwa later changes clothes that reveal a bit of her cleavage, as Touma stares at her silently, she curls up slightly. Touma tells her that it's okay because of the way Kanzaki Kaori dresses but rebukes him that she doesn't dress sluttily like her. Just by saying the word sluttily was enough to make her blush in embarrassment. Itsuwa tells Touma that since they're both after the C-Document they should cooperate and since he can't contact Motoharu he agrees. The two sit at a cafe to have a bite to eat, regroup and plan their next move. Itsuwa asks Touma if he was able to contact Motoharu but no luck contacting him due to distance. After eating Touma asks her what she was investigating and she tells him that in Avignon there the largest Roman Catholic facility there called the Palace of the Popes. She shares a little bit of history of the place and the reason why investigating the connection between the Vatican and the place is important. Touma asks if she's been inside but tells him that she hasn't and the her and the rest of the Amakusa planned to after gathering the necessary information. Touma feels like the place might be suspicious and asks Itsuwa if there was anyway he can help her. Before she could answer an army of protesters try to attack Touma and Itsuwa but the two manages to escape. The rioters continue to pursue them as Touma and Itsuwa make their way to the Palace of the Popes. Touma gets a call from Motoharu and tells him that he's heading to the Palace of the Popes but have to find a new place to meet because of the rioters blocking the roads and chasing them relentlessly.
Battle Royale Arc
Edit
Touma does not physically appear in this arc. However, Hamazura Shiage remembers him from their previous meeting, and decides to protect Rikou because of what Touma told him.
Acqua of the Back Arc
Edit
Touma and his friends were late for lunch because of a stupid comment Touma made. They decide to pick four people to sneak out of school to buy food from a nearby store. As they sneak out, they are spotted by a gorilla-like teacher and Touma is chased by him. Itsuwa had been sent by the Anglican Church to protect Touma from being killed by Acqua of the Back.
Touma takes Itsuwa to his home and she cooks dinner for him and Index. After seeing Itsuwa cook, Touma asks Index to clean the bathtub and Index somehow breaks the tub. With no bathtub Touma, Index and Itsuwa head to a public bath.
Touma and Itsuwa are taking a walk when they suddenly realize that no one else is there and Aqua makes his attack. Touma tries to fight but is too weak to beat Aqua and is rendered unconscious. Aqua then gives a deadline of until the next day for him to either give up his right hand or die.
Kanzaki Kaori arrives to fight Aqua and the two Saints battle it out. Touma wakes up in the hospital and runs out to go fight Aqua again. On his way to the battle he meets Misaka Mikoto. Misaka doesn't want Touma to leave but he must go fight. Touma arrives just at the climax of the battle and stops the Amakusa from being killed by Acqua. Touma and Kanzaki nullify Acqua's magic and Saint powers while Itsuwa uses her Saint killing strike to throw a bolt of lighting through Acqua.
After the battle, Touma is once again in the hospital and wakes up to find Itsuwa next to him. He tries to get off the bed but is pushed down by Itsuwa and this creates a moment it which they appear almost kissing. At this time Index walks in and comments that "Touma is still Touma" and starts biting him. Kanzaki is outside debating whether to go in or not and is pressured by Tsuchimikado Motoharu to wear a ero-fallen angel outfit. It is said that Touma grew a new fear of angels after Kanzaki came in.
British Royal Family Arc
Edit
Touma shows Index what a kotatsu is before receiving a phone call from Motoharu despite being next door to him. Motoharu tells Touma that Index is needed in England and being her caretaker Touma has to go with her. When Touma flat out refuses to do so when he remembers what happened in Chioggia, Italy and Avignon, France; Motoharu simply throws a canister of knockout gas into his apartment and leaves them at the airport, Sphinx included.
After Touma and Index intentionally skip the supersonic jet flight, abandoning Sphinx on it; they take Sky Bus 365, a commercial plane to England. During the flight a terrorist threat is issued to Sky Bus 365 with two terrorists aboard it. Touma unintentionally hinders the terrorist plots twice: sitting in a flight seat essential to the terrorist and crushing the ends of cables needed to upload a program. After one of the terrorists realized the main plan was gone, he attempted to silently get rid of Index before trying another means. Touma saw Index getting strangled by him and managed to stop him but not before punching him repeated for nearly killing Index. Second terrorist is discovered by Touma and almost succeeds in blowing up the plane, but Stiyl intervenes and creates a small explosion near the terrorist. The vacuum in the plane is sealed immediately by the terrorist's body while he is still alive.
After finally arriving in England, they meet up with Kanzaki who was to take them to the palace, because Touma constantly brought up the topic of the "Fallen Angel Ero Maid" incident neither of the two get a chance to eat. At Buckingham Palace, Touma meets the Knights Leader and the four main members of the royal family. After a humorous photo session with the three princess, the strategy meeting on the Eurotunnel explosion is drawn up. Index would investigate the origin of the explosion with the princesses while Touma would investigate the New Light group with Oriana Thomson, who was now in the employ of Anglican Church.
English Civil War
Edit
Together they end up chasing Lessar of the New Light and defeat her, when Lessar told them what their mission was and who they were helping she is shoot by Robin Hood, a long distance weapon of the knight of England. Touma manages to prevent Lessar from being critically hit, and the three of them attempt to reach the Anglican women's dorm. Along the way the civil war begins, Touma attempts to reach the dorms with Lessar while Oriana helps a fury enraged Sherry Cromwell from being reckless.
Once Touma reaches the women's dorm he finds only Orsola there, apparently she unable to keep up with everybody and got left behind. After handing over a wounded Lessar to her, Orsola tells Touma that there is a way to Folkestone by train. After sneaking aboard the train, he discovers Floris of the New Light as prisoner of the Knights of England. After recklessly destroying her restraints and alerting the Knights, the two of them jump of the train and accidentally meet with Villian who also escaped thanks to William Orwell; all three of them later meet with the Amakusas.
After a short discussion on what to next, Touma decides to save Index himself, not much later he sees Knights of England being beaten near a carriage and it turns out to be William. After a tense and shaky meeting, he finds Index safe inside safe and unconscious; Carissa drops by and demonstrates her power against the two of them. Carissa then leaves for the palace in order to make final adjustments to Curtana Original after assuming both William and Touma are dead.
Touma wakes up finding himself still alive along with Index thanks to William's skill; William leaves and the two of them meet up again with the Amakusas. It is revealed that Buckingham Palace is a key to ensure Curtana does not go out of control, so a plan is devised to damage it; unfortunately only those without magical power are able to bypass the security so the plan relies on Touma, Index, and Villian.
Inside the subway tunnel, the three of them meet with all of Villian's servants and supporters. Soon Touma accidentally destroys a hidden barrier, which activates the security system; a three meter tall golem made of paper attacks and with the help of the Villian and the servants it is destroyed. Before the final battle the remaining members of Necessarius, Amakusas, Agnese Forces and any other resistance forces join for a last supper before battle.
During the first half of the battle against Carissa, it goes badly as she easily defeats a vast majority of the resistance. The tide slowly turns as Knights Leader and William join the battle; this proves to buy enough time for Elizard to activate Union Jack and dramatically lower the power in Curtana. The battle ends with William launching Touma with his sword at high speed; Carissa and Curtana punched and along with Touma, flew 2 or 3 kilometers far from the palace grounds.
The chapter ends with Fiamma of the Right making his appearance before Touma and revealing he was the one behind the tension between England and France in order to gain the controller over Index. Touma leaves and begins his journey towards Russia for Sasha in order to defeat Fiamma of the Right.
DRAGON Arc
Edit
During Accelerator's fight with Sugitani in a dialogue:
"Are you saying that even a Villain like you know a Good person?"
"…"
The reply this time was a bit hesitating.
"Of course I do... and familiar to the point where my head hurts just thinking about that guy."

Referring to Touma[31]
Touma is also briefly mentioned by the Girl in the Dress as being one of the irregular factors in Aleister's plan, but being within the allowable limit of irregularity along with Accelerator. This also causes him to be one of the core components of Aleister's plan as well. Touma only physically appears at the end of the arc when he arrives at Russia to confront Fiamma.
World War III
Edit
After Touma arrives in Russia he runs into Lessar who becomes his uninvited traveling companion, and he is surprised that she found him at all since not too many people were even aware that he would travel to Russia. During a conversation of why was she following him, Lessar simply made open advances towards him instead. After being asked a question by Lessar of how was Touma going to find Fiamma in a large country; he stated had a pretty good idea.
During Touma's travels throughout Russia, his path crosses with Accelerator's again who has become insane with fury due to Last Order's condition. After a tense confrontation, Touma eventually defeats Accelerator again, and he is able to temporarily stabilize Last Order's condition.
During the Fight with Fiamma, his arm was sliced off and Fiamma used it to reach the status of 'La persona superiore a Dio' with the help of Index Librorum Prohibitorum. As Fiamma tried to destroy Touma with this power the attack was blocked and another power was revealed to be hidden within Touma. Touma suppressed this power in order to regenerate his arm and the Imagine Breaker, and defeats Fiamma.
At the end of this arc, Touma steered the falling 'Star of Bethlehem' onto Archangel Gabriel who was trying to absorbing all of the polar ice to regain strength, ignoring even if Earth's material is incomptiable with angels' Telesma and may lead to self-destruction and ending of the world. Then as the flying fortress smashed into Gabriel Touma ran down to the lower levels, while the underwater pressure tore apart the base, to fight Gabriel using Imagine Breaker to ensure Gabriel is stopped, while having a flashback of all the events he has b
een through from Index's incident that lead up to this point. At the end of this chapter Kamijou Touma is stated to have "Welcomed death once more", a second time that the novels stated Kamijou Touma has died, with the first in Volume 1 after he lost his memories.
Later, Stiyl received the report Gabriel is defeated and the crisis averted, though none of the forces from the Magic Side has found life-signs in the arctic ocean that both Gabriel and Touma plunged into. Index who has managed to get up and stumble to where Stiyl is asked for Touma's whereabouts - and none present could answer her question.
Shinyaku Toaru Majutsu no Index
Edit
Freshmen Arc
Edit
Touma returns at the moment when Kuroyoru is about to kill Fremea, and stops the attack with his right hand. He starts to explain to Shiage and Accelerator about Magic, but was cut off by Leivinia Birdway when she kicked him between the legs and said she'll continue the explanation.
Homecoming Arc
Edit
Birdway decided that explaining the introduction to the magic side and current situation to Shiage and Accelerator would take place at Touma's house. During the travel to his house, Touma realizes that there would be a lot explaining and apologizing he had to make and became depressed; Shiage suggested helping him by telling Touma to drink some alcohol.
Later a heavily intoxicated Touma is seen surprising and talking to Mikoto when she couldn't get any straight answers from him, she tried to blast him with lighting only to be surprise when Touma easily evaded despite being drunk rather than use his right hand. Soon he is recognized by many girls who follow him back to his apartment, those being Himegami Aisa, Tsukuyomi Komoe, Fukiyose Seiri, a self-proclaimed beast girl, Musujime Awaki, Kazakiri Hyouka, Kumokawa Seria and various classmates from A Certain High School.
At his dormitory, Touma still drunk greets Index after a long period of time, he "sobers up" after some head biting and then Leivinia Birdway begins the explanation of magic from its organization to capabilities. During one of the discussion breaks, he goes to a restrained Kuroyoru Umidori in his bathroom to give her some food. When Umidori tries to show off her cyborg and take his life, Touma displays being shock by her cyborg and calmly ignoring her attack with his imagine breaker. Much to Umidori's dismay, Touma treats her like an appliance and a child; she recoils from him when he tries to see if she has cyborg cat ears under her hood. [32]
After finally finishing the discussion on magic, Leivinia was about to reveal the name of the true enemy when she detected the approach of Radiosonde Castle. She tells the three protagonists that Academy City is about to be destroyed, because it was tracking Touma or more specifically his right arm. All three of them leave to stop the "tracking signal" before the Castle arrives. Accelerator located its position, Shiage got construction equipment to dig to it, and Touma destroyed the signal with his hand. Leivinia calls them after the crisis was over to tell them the enemy is GREMLIN. To the organization of GREMLIN, Touma is the "hero" of the science side and has been the biggest threat to magic side all because of Imagine Breaker surpassing even the constructed right arm of Fiamma of the Right.[33]
Hawaii Invasion Arc
Edit
With information from Leivinia Birdway regarding GREMLIN's current movements in Hawaii, Touma, Mikoto, Accelerator, Shiage, Umidori, and Misaka Worst go there at the same day as Roberto Katze, the President of the United States of America disappears in his own accord due to the people even in his own government acting strange as if being controlled. Immediately after, they draw out a GREMLIN magician named Cendrillon, and after a bit of fighting, manages to subdue her and draw information out of her.
After much trouble with the mind controlled hostages of Saronia A. Irivika, a magician of GREMLIN, which allows them to meet up with the President, they discover that they are planning in creating an artificial eruption in the island of Hawaii that would possibly kill millions and push the world into a state of calamity like a domino effect. They fail in their task in stopping the eruption, however, much to their surprise, they discover that the volcano did not have the same destructive power as they predicted. Before they can ponder on about the implications of this, the Hawaiian islands are attacked by the joint-forces of GREMLIN and mercenaries called Trident. Touma, Mikoto, and Roberto discuss the culprit behind the invasion, as well as the true nature of Saronia's mind controlling powers, while Accelerator, and Leivinia help out the US forces stationed in Pearl Harbor. They later deduce that the media queen, Olay Blueshake, hired Trident and aligned herself with GREMLIN in the hopes of turning the USA into a theocracy, which would provide protection for the USA against the occult and magic. At the same as this, Roseline Krackhart, Roberto's aide, uses her cards as well, planning to use Olay's daughter, Lindy Blueshake as a bargaining chip against her. With Touma, Mikoto, and Roberto visibly against the kidnapping and use of Lindy, the gang goes to Kauai, Hawaii, in hopes of retrieving Lindy first.
With Umidori in tow, Touma does battle with Trident forces in the Napali Coast, who arrived to take away Lindy. She is later rescued by Shiage, Roberto, and Lindy, where they then try to communicate with Rosaline Krackhart in the hopes of finding a better solution to stop the invasion. With the invasion of Hawaii in the line, as Cinesic Evers, commander of Trident in the invasion, bets on Saronia's defeating on Touma after Roberto and Roseline's forces captured him. After Umidori did her best to eliminate the back up Trident forces, Touma is forced to face Saronia alone, and at the same time figure out her powers and her weakness. After a great disadvantage, Touma somehow manage to discover Saronia's weakness and promptly beats her terribly.
However, all celebration ceases after the end of the invasion, as Touma soon discovers that Leivinia has used him to put Academy City in a terrible situation, for the sake of drawing the inner core of echelon out. Estranged with Leivinia, Touma promises not to return to Academy City, until he is able to fix the mess he made with his naivete. Meanwhile, Mikoto vows to follow him no matter what, leading to Touma planning on how to leave and deal with his problems on his own.
Baggage City Arc
Edit
With Kihara Kagun's information and hints, Touma manages to get out of Hawaii without the rest of his faction following him, and arrive at Baggage City on his own.[34]
A "Kamijou Touma" is first seen before Saflee Opendays' first battle, beaten up by her for accidentally coming upon her when she was not decent. Here, he somehow confides to her the situation in which he is in. On how Natural Selector came to be, blaming Leivinia Birdway for it, and wanting to have the 27 Cooperative Institutions back to Academy City, and how GREMLIN is planning something in Natural Selector. Touma tells her on how he got lost and would appreciate her help but does not recommend it, and proposes for her to run away. Saflee disagrees with his opinion, and tells of her desire to win the tournament. She later goes to her first match.[35] Science Guardian later discovers the whereabouts of Kamijou Touma, thinking that he is a threat to the tournament due to him being from Academy City. Here, Weissland Strainikov along with Útgarða-Loki, and a few of Baggage City guards, comes up to Touma who was subdued by Saflee Opendays, worried about his welfare after discovering that Baggage City is after him. When he comes to, Touma tells them that he is not the intruder. Weissland believes he is referring to GREMLIN, but Touma states that someone else is headed for Baggage City. Here, he reminds them that Academy City will not be waiting around doing nothing, and foremost, they will not be sending a high-schooler like him. Touma simply states that "they" are coming. Saflee lets out a voice of confusion, and immediately after "they" came.[36]
For the rest of the events that occur in Baggage City, Touma is referred to as a mysterious and enigmatic character. Kihara Kagun himself stated that if Oumi Shuri and Kumokawa Maria wanted to survive.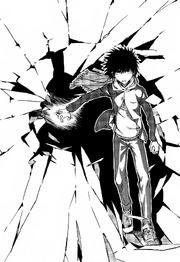 Touma does not appear up until Maria is left alone to face Marian Slingeneyer and her sword, shattering the spell that has distorted Baggage City into a place of tragedy. Here, Touma comments that he has only now just caught up, and is late, though would now force GREMLIN to play by his rules.[37] His mere presence alone saves Maria from the deadly effects of Marian's sword. Maria tells Touma that he is late and that Kihara Kagun is dead, and he acknowledges it. Marian tries to use the swords first effect on Touma, but it had no effect due to his Imagine Breaker. Angry for Touma for denying Bersi's efforts (destroying the distorted world that had filled Baggage City), even then Touma will still fight her. Still with the sword sheathed, Marian tries to cut down Touma, to which he realizes that it cannot be negated by his Imagine Breaker. Immediately later, Touma determines the power of the sheathed sword, which collects vectors in a single point and send them directly out. Marian continues attacking, and sucks Touma in the sphere at the end of the scabbard of the sword, but easily manages to get out, and destroys one of her gold tools. Although this was a set-up that would allow Marian to put Touma in a position in which she could strike her. Thinking quickly however, Touma grabs the fragments of the tools he destroyed to cut his uniform and allow it to be sucked into the sphere of Marian's scabbard. With the sphere collapsing due to the pressure, the sphere explodes, sending Marian back and ensuring Touma's victory.[38]
Still adamant in giving up, Marian threatens in unsheathing completely her sword, but Touma plainly tells her that he knows that she will not unsheathe the sword, for she should have done it in the first place, ending all the battles even before they begin. Furthermore, he states that she did not want to draw it, stating that it might destroy more than what she wants destroyed, as well as the fact that she went berserk after Bersi's death, she still managed not to draw the sword. Marian tries, and unsheathes the sword, but could not even do it, when the power of the sword begins to emanate. In her moment of hesitation, Touma steps forward and punches her, defeating her.[38] After the battle, Maria asks what Touma is going to do, and he answers that he'll have to destroy Marian's sword. Maria then asks on how Touma found out about GREMLIN in Baggage City, to which he answers that Kihara Kagun (Bersi) was the one who told him (not personally), leaving various hints as well helping him get off Hawaii. Touma then asks Maria what kind of person he was, to which she replies that she is someone worth pursuing. An expression of disappointment draws upon Touma's face as he recounts on how he could not save him, though Maria says it is fine as Kagun died with satisfactorily. Suddenly, Othinus comes out of nowhere and rips Touma's right hand off.[34]
From then on, Touma remains unconscious due to blood loss, though a strange and ineffable power once again manages to sprout from whither Touma's hand used to be but was easily crushed by Othinus, lamenting on his power's development. Touma is later rescued by Ollerus and Fiamma of the Right, forcing Othinus to hasten her retreat with Marian. Touma's consciousness later flickers as his right hand somehow connects back to his arm. Here, Fiamma of the Right mentions that generation of Imagine Breaker is still attached to Touma, as it seems to find meaning in being beared by Touma. Touma later comes to, and Fiamma of the Right and Ollerus talks to him, with the latter introducing himself to Touma. Although still in pain, Touma tells the both of them that there may be still people requiring rescue in the city. Ollerus acquiesces to his requests and tells them what they need to do.[39]
Ichihanaran Festival Arc
Edit
Eve of the Festival
Edit
Touma awakens in a station, not knowing how he got there and back in Academy City. While he ponders what had happened in Baggage City, and regarding Fiamma of the Right and Ollerus, he hears footsteps, and as he turns around, he discovers that it is of his classmate Seiri. Here, she is carrying supplies for the Ichihanaransai. After Touma had the nerve to ask what she is doing at the station where he is left off, Seiri attacks him with one of her bags, reminding him that he is the one who has the skipped the preparations for the festival. Seiri later uses the duct tape in her bag to subdue Touma and carry him back to school telling him that they are short handed, much to his remonstrations as Touma wants to see Index in their dorm. However, she ignores him.[40]
She is apparently uncaring of Touma's well-being as she dragged him in the streets and later shoves him into their classroom, declaring him as a fugitive, before moving to her own station. Here, Tsukuyomi Komoe tells Touma that his absences has reached the point in which homework and supplementary lessons can't cover it. She asks Touma if there are any problems he is facing that may be the reason for his absences, and later asks why he is so beat up. Although, Touma could only give half-hearted replies. He is later reunited with Tsuchimikado Motoharu and Aogami Pierce, and predictably get into an argument regarding perverted cultural festival events, necessitating for Seiri to intervene.[41] With everything settling down, Touma is later told by Seiri that she'll need him to stay over tonight, much to Touma's dismay as he still wants to go back to his dormitory and see Index. Seiri then instructs him to buy some food for them, and gives him money for it.[42]
With his cart, Touma tries to do what Seiri told him to do, that is, until he notices Ollerus. He notes to Touma on how it took so long for Touma to sense him, noting that he lost a bet with Fiamma of the Right, and says that he wants to talk about the Imagine Breaker to him, but Touma ignores him much to his surprise, as he still intends to deliver the food that Seiri has tasked him to do.[42] Ollerus later gets the opportunity to talk to Touma after he ran his errands. Here, Ollerus tells Touma of what a Majin is, GREMLIN and Othinus' goals, his and his Imagine Breaker's role in it, as well as his opinion regarding the nature of the Imagine Breaker, that it is the reference point of the original world, that forcibly reverts it back whenever it comes into contact with a distortion of it, an incredible detriment to Othinus.[43][44]
Wandering alone for a while to ponder on what Ollerus said, Touma then meets Mikoto again. Instead of attacking him with her electric powers, she hits him with her fists, and tells Touma on how she got stood up and abandoned in Hawaii. Touma asks her if it was right to place a friend in a position where they are likely to bear the full brunt of an attack from the people that were involved in Hawaii. However, the Mikoto before him, reveals his trued identity, Thor of GREMLIN, and attacks using electric arcs that cuts through the turbine behind Touma. Thor is impressed by Touma learning how to dodge instead of just defending using his right hand. Touma has realized that he is not Mikoto due to his action of hitting him with his fist instead of what Mikoto usually does, which is to attack him with electricity. After some swift movements, Touma manages to grab hold of Thor and demand to know who he is. As Thor's disguise breaks apart, Thor tells Touma who he is and that GREMLIN is already in the city.[45]
Touma is treated by Thor to a snack, much to his surprise, where he discusses to him how he knows about Mikoto, and how he has the power to change his form into that of girls. More importantly, Thor discusses with him about the latter's discussion with Ollerus a while back. He tells Touma that he knows that he is afraid of being made to fight according to someone else's wishes such as with Leivinia Birdway during Hawaii or Kihara Kagun in Baggage City. Thor tells Touma that just because Ollerus opposes them doesn't mean he is wholly good, moreover, tells Touma that someone who uses violence to resolve a problem should not be completely referred to as good and just, a statement that hits Touma completely. Thor tells Touma that Ollerus did not come alone to Academy City, and states that he had brought along Silvia, Fiamma of the Right, Brunhild Eiktobel, and Leivinia Birdway, all extremely powerful beings, and with the likelyhood that they will clash GREMLIN, makes Academy City the primary battlefield, something that Ollerus' group could have avoided by preventing GREMLIN from reaching Academy City or Japan in the first place. Thor bluntly tells Touma that it is because they are using Academy City to carry out their objectives.[46] Touma however, begins to doubt Thor after he explains on how Thor really doesn't know Ollerus true intentions, as well as that of Othinus. Thor tells Touma that he never said that he should trust him, and just tells him not to rely on too much information from just one side. Thor tells Touma that the both of them will fight eventually, and that he would like to fight him with no reservations, but he wants the situation surrounding him to be solved beforehand. Thor say that both Ollerus and Othinus are fighting over something similar, and says that he happens to know of a way to dumbfound of them, which involves rescue.[46] Thor states that Othinus wants a person who has yet to be dyed by magic or science, and have a high durability that will allow the person to survive whatever modifications Othinus puts her through. Though he doesn't know the specifics, Thor states that the person, Fräulein Kreutune, is still alive, is in Academy City withing the Windowless Building, and that she was kept and imprisoned there as a last ditch effort to contain her as she is an existence that goes agains the wishes of the city's leader.[47] Touma is basically told that they need to open the way into Academy City's most impregnable fortress, free Fräulein, and do it before any of the other can do so. Touma asks Thor if they can really pull it off, to which he replies that he has an idea and that the only Touma needs to do is to make up his mind. Thor says that he is not Touma's ally, and that he should have no worries about betrayal, because that is indeed an inevitability. To make it even, he tells Touma that he can abandom him if he doesn't need him anymore. However, Touma falls silent, but Thor continues to press for his answer.[48]
After thinking for a while, Touma says that he cannot possibly trust Thor because he has nothing to substantiate what he said. Thor sighs, and mocks Touma's misgivings. Thor assaults Touma, shoving his head down on the table they were eating on as witnesses gather round their scuffle. Thor then throws Touma off, slamming into tables. Thor continues to mock Touma's doubts as he kicks him around, saying that a girl named Fräulein Kreutune is being imprisoned. That simple fact should normally be enough for Touma to save her. He tells Touma that he has survived for so long in a world full of experts is because he always acted on his desire to save someone whether succeeded or not, and that if he loses that his fist will only become a tool for his own selfish desires. As Thor tries to kick Touma again, he blocks it, and tells Thor to shut up. Touma tells him of his hesitation, and blames him and his group for starting this nonsense in the first place. Thor however, does not buy into Touma's excuses and continues to kick him. He tells Touma not everyone in GREMLIN supported what Othinus has done, and that he dislikes Othinus methods, as such, it is the reason why he has betrayed GREMLIN for this mission. He tells Touma that he was better when he was still reaching his hand to help any girl he saw, despite being tricked by everyone around him.[49] As Touma stands, he tells Thor that he doesn't know how many people were caught in the little wars they have fought in Hawaii and Baggage City, and states that there is nothing wrong with being cautious. Thor however, replies that hesitation doesn't make the best decisions, and attacks Touma with his electric arc blades, noting that if that is how he acts, to abandon someone because of his fears, then he is a true villian. However, Touma easily dispatches the electric arc blades. Touma tells Thor that he doesn't have any kind overarching plan as well, then slams his knee into Thor's guts. As Touma continues to beat Thor, he continues to beat into his head that he is sick of trying to save someone and causing more suffering as a result. But Thor turns the tables around, and starts beating Touma, and continues lecturing him. The fight continues to a brawl, with no side overpowering the other. In a lull, Thor asks Touma if he wants to help or not, to which he states that if Fräulein is really suffering, but tells him that he will crush Thor if he ends up using him for his own ends. Thor tells him to do as he pleases, and says that he is taking action tonight, and that he doesn't care what he does as long as he ends up saving Fräulein Kreutune. He leaves after giving the rendezvous point to Touma.[49]
After escaping the custody of Anti-Skill after his little streetfight with Thor, Touma ends up in the area where the Windowless Building is located. He meets up with him at the rendezvous point. He tells Thor that he will betray him when he sees fit, to which Thor understands. He shows Touma some tools, which leads to Touma questioning him on how they are supposed to breakthrough impregnable Windowless Building using them, to which Thor answers by giving him instructions.[50] After Thor leaves, however, the real Misaka Mikoto spots him, and demands answers from him, such as why he is not helping his school for the Ichihanaransai, regarding on how he was arrested by Anti-Skill, and how he ended getting back to Hawaii. Touma however, believing that the Mikoto before her is still Thor, tells her to stop joking around, confusing Mikoto. Touma then demonstrates how terrible "Thor's" his disguise is and touches Mikoto's chest, ceasessly bewildering her. Touma notes on how they feel so real, to which Mikoto stutters to say that they are not pads. Tired of this nonsense, Touma leaves Mikoto and tells "him" to stop joking around and get to the rendezvous point.[51] At the rendezvous point, Thor leaves Touma alone to prepare for something, as he observes the Windowless Building with the binoculars. As Touma confirms that there's no one around the area of the building, Thor has already set up remotely the truck bombs around the building. He detonates it later, though much to his concern, as Touma tells him that the explosion should be enough to shatter the glass in buildings and might injure people. Thor then tells Touma that everything went according to plan, despite the building remaining unscathed. He later sends Touma a map on where they should meet up next.[51] Touma later meets up with Thor, and then walks towards one of the abandoned bases of Freshmen that was made as a security blindspot for the vast surveillance system of Academy City. Although they can only use it for twenty minutes before someone investigates the blankspot. With nothing to monitor them, Thor explains the reason he used the bombs on the building; the reason being, is that he needed to figure out the dyscrepancies in the Windowless Buildings' Calculate Fortress' shockwave dampening abilities as there are some shockwaves that the armor cannot fully escape. It was information that was provided by Kihara Kagun whilst he still lived. After fifteen minutes of having a powerful computer that they accessed through Kagun's backdoors analyze the data Thor gathered, Thor and Touma leave the base with tools.[52] Thor later states that they have about ten to twenty minutes to act in order to break through the Caculate Fortress and free Fräulein. With the tools readied, Touma tells Thor that they should go now, impressing him.[53]
After some preparations, both Thor and Touma start to jackhammer upon the surface of the building, and much to Touma's surprise, it actually starts penetrating the Calculate Fortress. As Thor tries to replace the spike of his jackhammer after it got broken, the Four Wings have come. Thor panics as they have no longer an escape route, and that threat of being attacked has increased. Touma says that they should retreat as they cannot save Fräulein if they are killed. Thor replies that they no longer have that option once GREMLIN and Ollerus group makes their move. As they have reached an impasse, the cracks on the wall of the Windowless Building starts expanding, creating a huge perfect square shape around the wall. It collapses, and out of the shadows comes Fräulein Kreutune. Immediately after, both he and Touma are somehow struck down by her.[54]
After coming to, Thor tells Touma that Fräulein has escaped, destroyed the Four Wings, and his views on how Fräulein's powers worked on them and on the Windowless Building. Even though Touma doesn't anything, Thor begins to mock Touma on how he wouldn't save Fräulein now after what she has done, since she is not like the other people Touma has saved. But Touma agrees with him, and says that he needs to befriend Fräulein quickly. Then, their attention is taken by the gaping hole that Fräulein has made, and they are tempted to go inside. Thor tells Touma that they will be "devoured" if they step inside, and Touma replies that he knows. Thor agrees with Touma's assertion that they need to get to Fräulein—they're top priority. Their objective is to get to Fräulein as quickly as possible as GREMLIN and Ollerus are not that stupid to have noticed the ruckus Fräulein has made.[55]
Thor and Touma listen on as the Anti-Skill scramble to mow down Fräulein. Thor notes after Touma asks him who GREMLIN sent with him, that GREMLIN has clearly not moved yet, and that Ollerus is probably doing the same. However, Touma says that if Thor's assumptions are correct, then they are in doubt that Fräulein has escaped, and that they can still fool them if they can send them some fake information making them think it's a trap and that they should stay away, and have them keep away from Fräulein. Thor is intrigued, and asks what they need to do. Touma says that they need to scatter some bait before they get accurate information on Fräulein Kreutune, make them think it must be a trap. Touma and Thor later dress up as firefighters in order to escape the area that is surrounded by Anti-Skill.[56] With that out of the way, Thor and Touma discuss on how they have no idea where everyone from GREMLIN and Ollerus. Touma asks why Thor doesn't even know where his comrades are, and that Touma has no way to contact Ollerus. Touma says that the only way is to trap GREMLIN, and that should naturally raise Ollerus' attention, necessitating for him to send out a scout, and for them to set up a second trap. Thor sums up Touma's plan that they make GREMLIN think that Academy City and Ollerus are attacking them, and Ollerus think that Academy City and GREMLIN are attacking his group. Thor tells Touma about the difficulty of his gambit, to which Touma says that it has already become difficult the moment they stepped into the city.[57] Thor accompanies to Touma to his high school to prepare for their trap. Finally arriving at the computer laboratory, Touma and Thor set out to print some posters for some plans.[58]
Thor calls Marian Slingeneyer to tell her to meet up with him in a plaza in front of the District 7 station in order to have more firepower in capturing Fräulein. As Marian tries to search for Thor, she discovers a poster of a bulletin board declaring her to be a dangerous person involved in Baggage City, and that she should be reported to Anti-Skill. Marian reports this to Thor as Marian scrambles away. Thor tells Marian that they can crush Academy City and Ollerus' group, but not at the same time.[59] After Thor agrees to Marian's plan on moving to another location, it is revealed that it was all just a ruse made up by Touma, who used the bulletin boards that are used for the festival announcements for his plan, and using Thor's transformation abilities to change into Marian for the photo. Thor asks Touma if he really is going to do it with the second trap on the scout, to which Touma says that Thor should stay out of the way, as the others would get suspicious, and the fact that he is the only one capable of recovering from Fräulein Kreutune's attacks, making him the trump card. He then asks Thor to give him the water based pen as he writes something on his hadnbook and makes it appear smudged. Touma asks what if Marian is going to use her magic while running away, to which Thor replies that she probably won't as she doesn't want to cause a commotion. Touma asks what Marian might do, to which he says that Marian can likely create decorations based on Norse mythology to make the wearer's body invisible, like Tarnkappes, though the user themselves will not be able to know if has actually been rendered invisible or not. But Thor reassures him that he has added some spells the moment Marian entered the plaza in order to prevent her from making herself invisible as so Touma can follow her. And with that, he takes the handbook that he smudged on purpose, and tells Thor to go ahead without him if he can't meet up with him.[60]
As Marian moves with Mjölnir to find their next hideout, she is tailed presumably unaware, by Touma. Finally, Touma notices the scout that was sent out to tail Marian Slingeneyer, Leivinia Birdway, and with that, grabs a nearby power drill, to finish his part of the plan. Touma closes down on Leivinia and aims the power drill at Leivinia's skull. With arms spread out, Leivinia is completely nonchalant regarding Touma's threats. Touma tells Leivinia not to move as he has the advantage, but Leivinia asks if he really expects that he can kill her with the drill. Leivinia then states that she never expected him to act in behalf of GREMLIN. Touma tells Leivinia that he has no idea if what he is doing is right or wrong, but says that it is at least, it is due to him thinking through things for himself. Leivinia says that he might've been tricked into doing it, to which Touma replies that she is the one who specializes in doing that, to which Leivinia falls into silence.[61]
Leivinia is completely ignored during Touma's tirade regarding the hell that happened in Baggage City, her role in keeping damage to a minimum, and the fact that despite all she did, he still deemed it as something that is not the best answer, as Kihara Kagun died, bringing Kumokawa Maria to tears, and that she still used Baggage City to her own end. Touma then asks her how he is supposed to unconditionally trust someone who did all that. For but a moment, there was no reply from Leivinia. When she speaks, however, she coldly tells him to move the "toy" he is carrying out of her way, and that he has created a situation that he no longer has grounds that will not stop her from killing him, as he threw it away before her now.[61]
Just then, as the tension becomes thicker, Anti-Skill arrives, and sees Touma's threatening Leivinia. One of them however, accidentally takes out his rifle and starts shooting at Touma, much to the horror of everyone present. Leivinia cradles the bloodied Touma in her arms, and tries her best to use first aid on him, not allowing the Anti-Skill to interfere anymore. As she begins to leave, she tells Anti-Skill of Touma's condition. With her bloodied clothes and hand, that she is unable to wipe since she used her handkerchief for Touma's first aid. It is shown that she has taken Touma's bait, the student handbook he had where he wrote Marian Slingeneyer's name. She calls her comrades, and tells them that Touma was won over by GREMLIN. She reports to them on how Touma is working with Marian, and the details regarding her name in the student handbook. She also tells the person on the other side of the phone that GREMLIN is based in School District 12, from the notes on Touma's handbook, and says that she wants them to crush GREMLIN using a surprise attack as it is the perfect chance to do so.Touma however, barely conscious, overhears this as he is carried out by the EMTs, satisfied that she has fallen for the bait, and that he used the unforseen arrival of Anti-Skill as the means to convice Leivinia.[61]
In the Heaven Canceller's care, Touma survives and receives an operation from him, who notes on how miraculous it is that he survived and how despite accidentally firing at Touma, the Anti-Skill still retained his training. Touma is put in he ICU, and notes that once his condition stabilizes, he will be handed over to Anti-Skill. He later leaves, leaving Touma in his room. However, Touma was conscious all along, and despite the tremendous pain, Touma escapes the hospital, bloodied, with only a few hours left before the Ichihanaransai officially begins.[62]
Day of the Festival
Edit
Touma resurfaces in the dumpster, and replaces his blood-soaked rags with clothes he found in a dumpster. He starts searching for Fräulein Kreutune but cannot find any leads. He then searches for rumors, news, and information about her in the City's SNSs and messageboards in order to pinpoint her location but discovers that they are mysteriously removed or missing. Thinking quickly, Touma searches for areas that has absolutely no news at all, and quickly goes there afterwards.
After Fräulein lost sight of Last Order, she was finally found by Touma. Fräulein pokes and sniffs at the injured Touma like an animal, as he tries to convince her to leave. Fräulein uses her ability to negatively effect living things just like before when she escaped the Windowless Building, which causes Touma to collapse near the ground that she was standing. Touma touches an exposed car battery to shock himself to stop its effects, allowing for him to stay conscious. He tells Fräulein to hide and run away from Gremlin, Ollerus's group, and Academy City. However, Fräulein says that she couldn't run away or hide because her body had recently gained the function to obtain other people's information by consuming their brain. Fräulein says that this consuming ability is the same as a basic body function that she must do, which forces her body to only find a way to eat a certain someone's brain. The consuming function that she had obtained is forcing her to try and eat the person against her will, even though she is incredibly miserable due to her body forcing her to eat the brain of Last Order who called her a friend.[63] She says that she knows not when she had attained the function, but says that her actions are now based on that imperative. She laments on her fate, and Touma asks who that person. However, she doesn't reply for she is slowly being overtaken by her function. Touma wonders how it came to this, and begins to doubt his decision to free her from the Windowless Building, thinking that it may have been the trigger for the change. Touma is slowly overcome by his injuries, and yet, he does not yield to the thinking that saving her was wrong. As Touma stands up, he tries to search for Fräulein, as he has lost sight of her. Fräulein leaves as soon as Touma is distracted by his injuries.[64]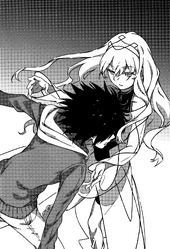 Touma is overcome by his injuries as he desperately searches for Fräulein, but Cendrillon catches Touma as he succumbs to his injuries from yesterday, noting that he must not die yet for she needs her revenge.[65] he drags Touma into a nearby alleyway. Discovering that he was shot, she tries to use healing magic on him but the Imagine Breaker simply negates her attempts. Cendrillon tries to use first aid on Touma with found objects, to which he protests, however, the language barrier prevents them from communicating. Touma later takes a better look on her, to which she averts his gaze, probably knowing what he is thinking regarding her appearance, and responds that a lot has happened.[66]
After Thor tricks Misaka Mikoto, she approaches Touma still being taken care of by Cendrillon. She attacks him, and is surprised that he did not block it. She later discovers that he has gunshot injuries and feels sorry. Nonchalantly, Cendrillon comments on Mikoto's attacks but says that it is only natural for her to get angry as Touma is the only clue leading to GREMLIN. Touma seeing this opportunity, asks Mikoto to translate for him. Here, the both of them discover Cendrillon's circumstances, on how she snuck into Academy City, her new abilities, as well as the reason she got so small. The last one piques Touma's attention, as there is still leftovers from her reconstructing her body, which can be made into whatever they want. Touma asks Mikoto to tell Cendrillon that he needs her help in constructing a brain that would prevent Fräulein Kreutune from eating a person's brain. Only now did Mikoto know of Cendrillon as the same one from Hawaii, but Touma's urgency takes precedence and Mikoto do what she is told. Cendrillon tells Touma that she doubts she can help him as her vengeance with Marian takes precedence, and that the leftovers, if lost, will no longer able to remake herself back to normal. Hearing Marian's name however, Touma casually comments on how he defeated Marian back in Baggage City. As Mikoto translates it to Cendrillon, she is caught by surprise by Touma's actions, and unreasonably concludes that Marian must be dead, but he makes no attempt to amend her misinterpretation. Cendrillon clicks her tongue, noting that not only did Touma save her life in Baggage City, but freed herself from her revenge, lamenting on the fact that he was supposed to be her enemy, but has grown more indebted to him. However, Mikoto refused to translate what she just said. Touma pleads Mikoto to continue translating, and she acquiesces. Cendrillon tells Touma that she will pay back her debts, and asks Touma what she needs to do, and later goes off on her own.[67]
After Leivinia Birdway discovers Fräulein Kreutune at one of the tiers of the multi-level overpass, and prepares to subdue her in order to prevent Othinus getting her, Touma appears before her, with the intention of proctecting Fräulein.[68]
Kamijou Touma confronts Fräulein, and tells her that if she can't bear to lose her friend, then she can't seriously want to give that same pain to her friend by having herself get killed. There are people who want to protect her, and do not want so see her get hurt, just as much as she feels those things for them. Touma then tells her not be so ready on dying, as she can find the path to an ending in which everyone is smiling. Leivinia however, advances turning her wand into a sword and cutting between them, slicing the overpass. She tells Touma that Fräulein is not as human as he thinks, as everything about her is beyond his understanding. Seemingly uncaring about this, Touma states that all he sees is a girl that is struggling, and is on the verge of giving up. He says he made his decision to protect her as he definitely heard her that she wants to want to eat her brain's friend.[15]
Leivinia then tells Touma those words were nothing but an imitation, trying to crush Touma's motivation. Leivinia states that Fräulein is fundamentally different from humans, as she is, always have been, and always will be, a creature that only appears to think, using simplistic decisions, she has come to the conclusion that copying humans was the ideal choice of living a comfortable life— a mimic. But Touma says that he believes in her, for he come upon this situation countless times before. Touma tells Leivinia that it is because she considered her to be human as well as the reason why she did not attack her right away, talked to her, and even reassured her. Leivinia falls into silence, but then had her wand that had turned into a cup ready. Leivinia too will not yield even if Fräulein does indeed have a heart, for her goal to destroy GREMLIN and stopping the production of Gungnir it at the utmost. And Touma accepts this, seeing the inevitable battle before him. Touma tells Leivinia that even if she defeats Othinus and destroys GREMLIN through sacrificing Fräulein, her taking the easiest path via deception and the harming of others will only change the name of the enemy that she is trying to protect the world and its peoples from. Here, Touma states that he will not allow her to become the ultimate villain.[15]
And thus Leivinia fought against Touma. With her wand turned into a cup, which symbolizes water, she assailed Touma, knowing full well of his Imagine Breaker, but surely Touma cannot negate them all. So Leivinia bared down on him with countless daggers of water that was packed fully that it left no space for a man to hide. But it did not work, for Touma negated a dagger, a dagger that would specifically cause all others to be thrown out of the way after breaking into pieces. It was Precognition, and yet Leivinia's countenance did not change, for to the left of him Leivinia summoned an explosion. The explosion was great, and Touma twisted his body as so his right hand can meet it. But Leivinia had wanted this to take place, for his wand was now that of a sword, which symbolizes wind, and swung it down, for she will cut down his arm, even though she was weary of that strange things that happen when it is cut. But it did not come for it was blown away. A great light engulfed the attach for Touma directed the summon explosion towards it. As such Leivinia changed her weapon back into a wand. Touma calls out to her and reminded her that he has fought Fiamma of the Right, and so he knows that there are things that his right hand cannot overcome, like the summoned explosions. Leivinia was not amused, and she spun her wand to create a wall of fire. But Touma could not be tricked, and he swung the fire away with his right arm. And then many stone daggers assailed him, but he twisted his body to avoid a single blade, which he knew was a real dagger. Leivinia's assault continued, and Touma continued to overcome it. He destroyed the stone daggers, and destroyed him so that the water daggers that would fall upon him. Leivinia however finally tires of the cycle, and pulled out a flintlock pistol, and on that moment Touma knew of danger. And so, with a considerable distance between each other, Leivinia drew her gun towards him.[69]
With not much of a choice, Touma charged towards Leivinia as so his hand can divert it. But as soon as Leivinia pulled the trigger, no bullet came, for flintlocks were old weapons and took time to load a bullet. As such, Touma was tricked, and a stone pillar came from below him and knocked into his center. Touma wavered, but he fell as Leivinia whipped the gun at his head. After telling Touma the difference between a flintlock and a modern gun, Leivinia tells him that it was Touma's fear of guns that allowed her to get a decisive blow against him. Then, Leivinia begins the long method of loading her flintlock pistol and aimed it at Touma once more. She says that he must give up on Fräulein Kreutune or she will give him a reason to give up, warning him that she shall shoot him just so that he will give up. But Touma merely scoffs at her, and asks her if what she is doing to compensate for the damage she has done, to which Leivinia asks what of it. Touma says that it would mean that she has admitted that she has done something horrible, and tells her not to go the wrong direction even for the sake of stopping Othinus. Leivinia replies that she tires of his appeals to emotion, but Touma points out that saving people through logic and efficiency alone has no meaning without emotions, since rationally, there shouldn't be a reason to save people in the first place. Touma says that they are the same, the want to save people, but she is going about it the wrong way. But Leivinia then asks what he has managed to do. For Touma knows nothing of GREMLIN, its headquarters, its leader, nor does Touma know how to deal with them, for he only chase after them around the world causing problems. Leivinia says that the only Touma has achieved is getting himself thrown about and increasing the number of victims. Touma admits his own powerlessness. He references on how he stopped Fiamma of the Right in World War III, but it wasn't just because of his power, and that the things he thinks up rarely work in the world. But Touma tells Leivinia that just because his reasoning his childish and wrong, doesn't make hers completely correct. Touma tells her that unlike her, he has given a part of himself for others, and that's the reason why people lent him power. Leivinia asks if Touma is saying that she has no right to get other people involved because she makes decisions while looking down from above, to which Touma agrees.[16]
Touma tells Leivinia that if she needs sacrifice against GREMLIN, then choose him instead. This shocks Leivinia, not being able to reply to him. Touma says that with her power, she could surely make him look like a threat to draw out GREMLIN, but Leivinia says that he is but a mere human who can not contend against GREMLIN like Fräulein Kreutune. Touma references the incident where Othinus defeated him, and tells her that Othinus wanted to look at the right hand that resolved the incident, and says that it might not be might for Fräulein Kreutune, but since it was another path, he asks her why she didn't choose it. Leivinia tells Touma that he is insane, and says that she doesn't understand what drives him. Touma tells the reason and that it is because he has no reason to abandon others. Having enough of it, Leivinia had her finger on the trigger, and says that she wonders how Academy City can control a person like Touma, the biggest threat he holds is not his powers, but the way he used his powers. Leivinia warns that what Touma holds is not good or evil, and compares him to Aleister Crowley and Laura Stuart, saying that it will give him great power if he can completely grasp it in your hand, but he cannot, it will be disastrous for him. Touma doesn't understand, but Leivinia says that she will give him time to think as she tries to pull the trigger.[16]
But just before she could, Mikoto pulls the gun away from her using magnetism, despite the inherent danger as she was battling Brunhild. Then, Thor's Fusion Arc Blades cut up the road between them, despite the danger as he was battling Silvia. With their conversation and the distractions given by Mikoto and Thor, Touma is able to shake off the attack Leivinia did to him previously, and is able to stand up. Touma reminds Leivinia that he often did not fight and solve problems on his own, and that they are unlike her and her comrades who can only end up functioning as individuals, splitting up work between them. Touma tells that nobody truly knows who Fräulein Kreutune is, but a great change has come, many people have gathered in the direction of saving her. He tells Leivinia that he may seem crazy for doing what he does, but he tells her that she is absolutely wrong, for anyone would want ot save someone if they saw or heard that they were suffering for no good reason. This enrages Leivinia, who can't seem to make a reply, and thus, Touma concludes that they won't lose to people like her who wouldn't consider something so basic.[16]
Touma tries to analyze Leivinia's magic, and concludes that it is a trick, as her symbolic weapon could easily be destroyed by him despite it being used by her as a means on taking on the world. Leivinia attacks first, with her weapon turned into a sword, to cut down Touma's right arm. But Touma just evaded it instead of negating it, as he thought of all the magicians he fought that amplified their power. Leivinia now had a wand, and from there did come a disk of fire, and then became a wall that moved towards Touma. But Touma destroys it with his right hand. Anticipating this, Leivinia changed her wand into a cup, and water appeared with her at the center, and a large number of daggers grew and rained down upon him. Once again, Touma negated one of them, and made himself a safezone, allowing him to get in range of Leivinia. With no clue, Touma believes that it is her symbolic weapon that supports Leivinia, to which she just scoffs. Touma attacks it with his fist, but it was knocked to the side. It had gone again from a cup into a sword, and sent the wind sword right at his right fist. But Touma just changed its trajectory, for it could not wholly be negated as Leivinia sent powerful magic into it. Trapped, Leivinia shouts that Touma is naive to assume others are as goodhearted as him. She swung her sword down on him but Touma did not fall for the wind blade, for he evaded it. However, her actions confused Touma. Leivinia took steps backwards, and attacks Touma with her summoned explosions, but Touma managed to create a safezone for himself. As he did so, he thought on how Leivinia chose an attack he knew, despite the information that she can put spells together in many forms. Leivinia could've easily made up a spell to beat him. Wall of flames and a storm of knives assail him, but Touma dealt with them again as well. And there, Touma knew that it wasn't that she could have done something else but didn't. but it was all she could do.[70]
Touma tells of his discovery to an unbelieving Leivinia. He states that what makes Leivinia special is numbers, using the same spells with the same motions. She repeatedly done the same thing for a long time and it has built up, doing so the exact same way, she turns those very motions into magical symbols to support her. Touma praises her, saying that despite her cold demeanor, Leivinia is the most passionate and hardest working of all. Leivinia is in enraged, telling him that she is always searching for something new whether it is from science or magic. And thus, Leivinia essayed attacks on Touma, some were something that Touma has yet to see, but it was no match for him, for he knew that was the limit of Leivinia's magic, and all the surprising things he had to contend against, like the hidden knife and flintlock pistol were merely a trick. Again and again, Leivinia essayed attacks of the four elements and others towards him, but it was to no avail. Touma, knowing what kind of person Leivinia is, someone who loves effort and hardwork, someone who did not take the easy way out by targeting the sight where he was shot. And thus, Touma tells her that she is a person who has taught so many people that hard work will carry people to the top, and for that reason he cannot let her come to the answer that Fräulein Kreutune is the best answer. And with that, Touma smote down Leivinia, and the battles for the sake of Fräulein Kreutune comes to an end.[70]
With the battles done, Touma's plan comes to fruition as Shiage brings a candy brain made out of Cendrillon's spare parts to Fräulein. It tricks her function successfully, allowing her to finally be able to embrace
Last Order
and
Fremea Seivelun
, her friends. While all this is going on, Touma leaves with a smile.
As all of it said in done, Thor invites Touma to School District 11, the place where GREMLIN came in. Thor relates to Touma on how GREMLIN has no need for Fräulein, and on how Ollerus' will no longer target her. He also tells that Academy City would probably no longer go after Fräulein as well. With that, Thor has cleared out all distractions and obstructions for his true goal, to have a fight with Touma. Thor summons his arc fusion blades, confusing Touma. Thor mentions on how Touma's situation was pathetic, always being lead on by others, and that this has nothing to do with GREMLIN, but to fight him for his own reasons. Touma tells Thor that he has no reason to fight him, but Thor counters by stating that not all fighting is for anger and hate, and Touma should know this the most. He relates to Touma on how he was impressed at him for being able to save countlless of lives with only his right hand, as well as the fact that he was at first disappointed when they first met. Touma why he is doing this as if he was working for his benefit, despite him showing true concern for Fräulein before. Thor replies that he is someone who wants power, having reached the limit of training on his own, he now searches for opponent that can give him a good fight without fearing of collateral damage. He also states that he does not know if he wants power so he can save people or save people so he can gain power, and that he has been repeating this cycle to gain more power, since he does not have a special power like Touma.[71]
Touma tries to call out to Thor, but the pain from his wounds have yet to subside. This prompts Thor to shoot himself at the same part as Touma had to even the odds. Despite the injury, Thor keeps on smiling, and tells Touma that this may now be the reason for him to fight, as Thor will need medical attention as quickly as possible.[71] After Thor once again connects to Mjölnir, Touma fights reluctantly against Thor. Not only does Touma have to dodge ten arc fusion blades several meters in length because he cannot negate it, he must also take care not to get caught in the debris caused by its attacks. Touma has realized that the blades cannot be negated like Stiyl's Innocentius, and are solid when punched by Touma. The excitable Thor comes down from above and causes an avalanche of containers, to which he destroys, not wanting for them to take his prize. Thor essayed another attack, and despite the superior range evaded his attack. As Touma wonders what he should do, Thor asks Touma if Fiamma of the Right and Carissa and the Curtana Original was only this strong. Touma falls silent, but then hears the sound of the cracking of Thor's joints. Touma's punching of his arc fusion blades, not only hurt him but Thor as well. He explains to Touma that he is not a Saint nor someone like Othinus, but a regular magician that is trying to achieve the same level as them. Thor explains to Touma on the reason he is going this far despite of the pain, as he can reach it, by stacking the experience that he is gained, and he has no doubt with that method for he has reached this level now. He reminds Touma that he might've thought of using the handgun to even the odds, but at the same time, stopped thinking about it as the price is too steep for Touma to pay. However, Thor tells Touma that since he has no more clues to what GREMLIN will do next other than him, will Touma let him escape due his personal circumstances and morals. With that, Touma is enraged, and his battle with Thor begins anew.[72]
Thor thought that Touma would choose the handgun, but he was wrong. After Thor assailed him with his arc fusion blades, Touma merely repelled his attack. In surprise, Thor attacks using his left, but once again, Touma repels the blades, changing its trajectory. Thor questions the reasony why Touma gave up on the handgun, as Touma will only get tired if he continued on the defensive. But Thor was wrong, Touma mentions on how the arc fusion blades follow the movement of his fingers, which means when the blades move in the certain way when he repels it, so does his fingers. Touma explains to Thor on how he has no reason to use the gun, stating that there must be another way without someone getting killed. Once again, Thor becomes impressed by Touma's determination. They prepared to attack each other, but Touma's hands were being worn down, as is both Thor's hands. And yet, the battle continued, each time Thor essayed an attack, Touma repelled it, and each time, their wrists were now in their limits.[73]
And thus, the battle was over. Laughing heartily, the battle was at an end. Touma asks what he will do now, to which Thor replies that he will continue on his course. However, Thor has yet to finish the battle, for he was not a mere lightning god.[73] And so, Touma was felled. A barely conscious Touma overhears Thor talking about the legend of Thor, and that lightning was not only his power. His name represented a god of many aspects, and tells Touma that although he has defeated Thor the lightning god, he could not reach the level of the Almighty Thor. Thor tells Touma that as the winner, he will take responsibility for winning, and suggests to Touma to get some rest and relaxation from protecting the world to much on his own. Touma tries to call out his name, but he falls to unconcsiousness.[74]
At the night after the festival, Index questions where Touma has been all this time. After Touma quickly sums up his experiences, she asks him who's the girl clinging on his back is, to which Touma says it is Fräulein Kreutune. Index then asks why she is clinging on his back, to which she says that she ate something strange which that was made by Cendrillon, which resulted in her shrinking. Index asks the question again, to which Touma now says that it was because she thought embracing her friends was the normal thing to do. Index doesn't get mad however, saying that he hasn't changed. However, she tells him that there is something he is supposed to say. Index sincerely says welcome back to Touma, but Touma utterly screws it up in embarrassment, to which Index bites him for his trouble.[75]
Toaru Kagaku no Railgun
Edit
Introduction
Edit
Although Misaka Mikoto is the main protagonist in the side stories, Touma occasionally appears as a recurring character. He is often shown helping people or being chased around by Misaka Mikoto demanding him to challenge her.
Level Upper Arc
Edit
Touma appears earlier in the anime eventually where he meets Kiyama Harumi and tries to help her locate her car before running away when she starts stripping (as is her habit) and leaving Mikoto behind with her. Touma later meets Mikoto after doing some shopping and having the eggs he just bought ruined. He then relents to Mikoto's demands and battles her. She uses her ability to control iron sand and attack Touma which he quickly dispels with his right hand. Despite Misaka's following 'trick' by grabbing his right hand to directly electrocute him, he is unaffected due to his ability and allows him to have an opening to attack her, though seeing her flinching when he raises his arm he throws the fight by faking that he was hurt. An irritated Mikoto then proceeded to chase him all night, trying to shock him.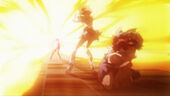 He is later seen during the graviton bombing incident. Touma meets Mikoto in the
Seventh Mist
mall in which the latter quickly challenges him to another battle, which Touma points out that it was an inappropriate place for them to fight. Later during a massive graviton explosion, Touma uses his right hand to block the explosion from Mikoto and company after she failed to use her Railgun. They later meet again in which Mikoto asks why he let her take the credit for stopping the explosion, which he then replies that as long as everybody is alright it doesn't matter who gets the credit. This also infuriates Mikoto and takes her frustration on a nearby vending machine (an elevator door in the manga).
During Mikoto's attempt in obtaining information on the Level Upper, Touma meets her trying to rescue the thugs from her as he knows the thugs will get hurt when they cross Mikoto. This ruins her plans and she attacks him with her Railgun which is easily dispelled. She then proceeds to use her full power and conjures a powerful electrical storm to attack him, causing a massive blackout which is the beginning of Toaru Majutsu no Index. In the anime Touma does not appear in this scene.
In the anime, Touma also sees Mikoto on an electronic billboard happily prancing around with the swimsuit she wanted to wear. This is apparently his final appearance before he loses his memories.
Poltergeist Arc (Anime Only Arc)
Edit
In the anime, Index refers to Touma teaching her about the "3 second rule" on food during her struggle against a cleaning robot taking her donuts.
Touma meets Mikoto for one last time before Mikoto's violin performance where he was searching for a lost Index. Here he has already lost his memory and acts polite and apologetic towards her as if he didn't recognize her. A flustered Mikoto then believes he came here to mock her. Touma comments that she looks quite good in her dress which causes an extremely embarrassed Mikoto to threaten him with a chair prompting Touma to run away, though this meeting relieved Mikoto somewhat as she has lost all her doubt and nervousness in performing her solo.
He is seen for one last time in the final episode of the anime during the end credits with Index giving her a drink, looking up at the sky smiling.
Sisters Arc
Edit
In the manga, Mikoto meets Touma near a vending machine after having the misfortune of getting his money eaten by it. Touma also meets Kuroko and one of the Mikoto clones. This scene coincides with the beginning of the Sisters Arc in Toaru Majutsu no Index; Touma's role during this arc is the same in the , though it is in Mikoto's perspective, here, Touma seemingly appears out of nowhere to help Mikoto with her problem with the Level 6 Shift.
There is also an expanded epilogue in the manga ("The Iron Bridge is a Sign of Love"), where Mikoto actually does make some cookies for Touma after he told her that homemade cookies are the best. She originally plans on visiting him at the hospital, but she meets Touma on a bridge on the way instead. Unfortunately, she is too embarrassed to give him the cookies. Mikoto tries to thank Touma for what he did for her, but she is unable to speak properly, so he misinterprets what she says. However, before he leaves, she tells him that she does not like being called "Biri Biri." After hearing that, Touma calls her by her name.
Daihasei Festival Arc (Railgun)
Edit
Touma makes a brief appearance where he is seen buying drinks for him and Misaka since the lines are long. He is introduced to Shokuhou Misaki, the number 5, who apparently knows who he is, and asks if they really are classmates. They later agree on Mikoto's tendency to release electricity upon them, infuriating her.[76]
Other appearances
Edit
Side Stories
Edit
Toaru Majutsu no Index Light Novel Volume SS2
Edit
Touma briefly appears after Kumokawa Seria's conversation with Kaizumi Tsugutoshi one of Academy City's board of directors, who suggested that Touma is a Gemstone, which Seria denies as Touma is something much more interesting.
During his short appearance, Touma once again runs into another misfortune and gets himself wet, while he is being observed by Seria who is interested on how Touma comes into misfortune.
Toaru Majutsu no Index: Stiyl SS
Edit
Touma is featured in the main storyline of the side story, where he accidentally meets up and takes the boss of Dawn-colored Sunlight, Leivinia Birdway, believing her to be a helpless girl, and later gets involved in a plan where he is used as a decoy by her, at the same time that Stiyl is operating in the city. In the end Touma is given an offer by her to become a servant, where he declines, much to her disbelief as she thought that he would follow her.
Toaru Majutsu no Index: Love Letter Competition
Edit
Bundled with Rainbow Spectrum Colors, the short story focuses on Kumokawa Seria's attempts on finding out a spy, by sending out a fake love letter to be delivered to Touma during a time when he is absent. This causes a ruckus with people who are familiar to him.
Touma himself appears near the end of the story, discovering the insanity caused by Seria and confronts her about it. Touma doesn't get a clear from her, but only gets a cryptic response wherein she implies she knows of his memory loss.
Toaru Majutsu no Index: Road to Endymion
Edit
Kamijou Touma becomes involved with Stiyl's mission against a magic cabal that has infiltrated the city and plans to burn it down with a magic spell. He later meets and defeats one of the members of the magic cabal, Sozty Exica, and becomes a strong ally with her after her sister destroys their cabal. Touma becomes embroiled in a race against time with the world on the line as Sozty's sister, Ureapaddy Exica, plans to attack to shoot her devastating Brahma Astra to select targets in the world using the falling stars as the signal. His knowledge in the city, its technology, and its current affairs proves invaluable in catching up to Ureapaddy.
Anime appearances
Edit
Toaru Kagaku no Railgun OVA
Edit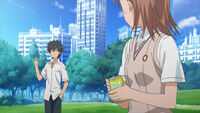 Touma appears briefly before Mikoto near a certain vending machine, here he greets Mikoto as Biribiri and gets attacked for it, and later gets blamed by Mikoto for being the one who is constantly watching her, however, he denies this. He is later demanded by Mikoto to fight her again, however, she is stopped by the arrival of Anti-Skill who also mistakes them for having a lover's quarrel.
Toaru Majutsu no Index-tan
Edit
Touma appears in Toaru Majutsu no Index-tan where he re-enacts his role in the series, albeit in a more skewered manner. Here he meets Index-tan a smaller version of Index on his balcony like the in the original series although she is quickly picked up by bird. Touma and Index-tan are later seen where Index-tan on top of his head while he is walking while parodying the antics of Shana-tan (another of J.C. Staff's parody of a series, specifically Shakugan no Shana) while asking the viewer to purchase the Shakugan no Shana DVD. Touma is later seen being beaten-up by Kaori while she rambles on about what happened with her voice actress being drunk. During the part where Touma insert his right hand inside Index-tan's mouth to disable the magic within her, Touma says "such misfortune" after being vomited upon by Index-tan. Later he is apparently killed by Stiyl and Kaori after convincing them to stop being side characters. Finally Touma and Index-tan watch a commercial featured by Motoharu and Aogami Piasu, asking Index-tan to be quiet after her amazement.
In the second episode, Touma meets Index-tan again and instead of being taken by a bird she is taken by a cat. During the fight between Touma and Accelerator, when Touma slaps Accelerator hand away Accelerator somehow blushed because of this. Later Touma gets scared and wets his pants after seeing Komoe's car being driven by Komoe (although she cannot be seen). When Touma is waiting for Hyouka and Index-tan in a changing booth, he comments on how they are mumbling the song they are singing as to go around copyright laws. When Touma is the hospital he is visited by Index-tan and a disguised Kuroko, who mistakes the antics of Touma's voice actor for his. Lastly Touma is apparently caught-up in the blast caused by Accelerator using his plasma storm, after Mikoto clones backfire in their plan in manipulating the windmills, which they blew up.
In the third episode, the meeting with Index is reenacted again, however, this time Index-tan now has the form of Ika Musume and references the show and the similarity between them before she is later taken away by Sphynx. The first episode of the 2nd season is later used in the second sketch; during the scene where Touma is searching for Index-tan, Sphynx runs away which forces Touma to follow, however, when he arrives where Sphynx stopped, it had been replaced by another cat. Another sketch features Touma walking with Index-tan on his head, while Angelene has Agnese-tan on the top of her head, here, Touma is later abused by both Index-tan and Agnese-tan, though is unfazed by it. The last notable sketch Touma is in is where he is attacked by Kaori during the English Knight's arrival at Japanese soil, here, after being taken to a hospital Kaori leaves after leaving a present and a letter, apologizing for her behavior (and once again referencing Kaori's seiyu's drunken antics) as well promising to for it with her body.
The fourth episode, the meeting with Index is once again reenacted, however, instead Touma punches Index-tan in a reference of Saint Seiya far away after asking for food. In another sketch, Touma seemingly makes fun of a choking Aisa while rubbing her back, by continually asking her if she is okay even though she tells him that it's nothing. At this point, Seiri appears for no apparent reason to tell Touma that she has a front hook bra, which immediately engrosses Touma, as he likes front hook bras since they are "action-ready" and "easily-accessible". In the final scene, Touma and Index-tan are seen walking together again, whither Touma begins to doubt the comedy shorts continued existence since they are running out of things to do, they are start arguing with Index-tan inevitably pulling his hair until she tires out. In the end Touma suggests of talking Orsola Aquinas instead, which angers Index-tan.
Videogame appearances
Edit
Toaru Majutsu no Index (PSP game)
Edit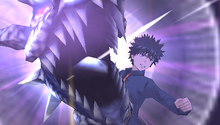 Touma appears as a playable character in the Toaru Majutsu no Index video game. Touma's route in the story mode follows the novel adaptations, such as his fight with Stiyl, Kaori, Mikoto, Accelerator, Motoharu, his meeting with Hyouka, and his fight against Oriana Thomson, notwithstanding the notable abscence of other characters such as Sherry Cromwell, Agnese Sanctis, Vento of the Front, etc., he fought. His final battle in the story is with Acqua of the Back. Later, in the final story for the game, Touma is the character the player is forced to use to battle agains the magician from the future, Touma later reappears for real before the player and uses his Imagine Breaker to break the magician's illusions. Touma waves goodbye as he leaves the player, ending the story mode.
Like his other media counterparts, Touma is mainly a closed ranged, melee fighter, using his fists and kicks for attack. Touma is vulnerable to long-ranged attacks, but can easily be negated if Touma's hand or fist is out and that the attacks are supernatural in nature, and can be compensated through the use of a partner. All his attacks can easily be set-up, allowing for him to recover quickly if he misses. Touma is the only character in-game that can damage his opponent with his taunt.
Touma's finishing move is notable as it features the use of the dragon arm that appears during the Deep Blood Arc.
Non in-universe appearances
Edit
Video game appearances
Edit
Dengeki Gakuen RPG: Cross of Venus
Edit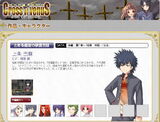 Touma appears as a supporting non-player character in the game. Talking to Touma is one of the requirements in accessing a battle against Misaka Mikoto, a playable character in the game if she is beaten.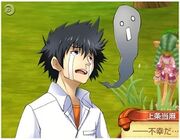 Touma is part of the NPC characters that will assist the player in the Japanese version of the Korean MMORPG Lunatia.
[77]
Lucent Heart
Edit
The Japanese MMORPG Lucent Heart developed by Gamania Digital Entertainment has disclosed that Touma, along with Index and Misaka Mikoto will be added as "selectable skins" for the players to use.[78]
Abilities
Edit
Imagine Breaker
Edit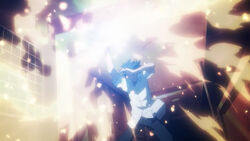 Touma's ability is
Imagine Breaker
(幻想殺し

Gensō Goroshi (Imajin Bureikā)

?

, lit. "Illusion Killer")
, an ability which negates all supernatural powers, including the effects of magical, psychic, and divine powers (which
may
also include his good luck and God's blessing according to Index). Because of this, the people testing psychic abilities cannot detect or classify his abilities,
[79]
as such Aleister Crowley considers him neither a psychic nor a magician but rather a normal person with a unique ability. Touma is the current holder of the Imagine Breaker for the power believes that there is meaning in Touma having it in his right hand, or in Fiamma's own words:
"the right hand is only the right hand when it is growing from his right shoulder."
[39]
At first, the source of Imagine Breaker appeared to be his right hand only, but in later episodes, it is questionable that his power may not concentrate on one part of his body. It appears his right hand is the only part that can actively negate supernatural things, with the rest of the body immune to supernatural effects, like heat from Innocentius that can even melt metal door handles[80]. Though this is still debatable, as Ars Magna can bypass Imagine Breaker and go straight into the brain to affect Touma's memories[81]. Terra of the Left hints that Imagine Breaker might actually be an ability that might extend itself further away from its bearer's right hand, based on Terra's personal knowledge of Fiamma of the Right's Holy Right ability.[82]. Despite of the extents of Touma's abilities, Touma might not have the ability to negate all "artificial" supernatural abilities. Tsuchimikado is convinced that there are things that Touma's Imagine Breaker cannot destroy, including ley lines or a person's life force from which a magician's mana is produced[83]. One explanation is that Touma hasn't killed someone through a simple handshake, a piece of evidence that suggests that Touma's ability might have certain limits to it.
However, during his trip to Russia, Touma realizes that the Imagine Breaker not only erases supernatural phenomena, but it can also interfere via "negation and disruption". Touma made use of this when he battled Accelerator in Russia. Normally, Imagine Breaker negates any supernatural power or object upon contact, but because of its limits, if a supernatural power/object is sufficiently powerful or massive enough in size it will not be completely negated right away as it will take a longer time to fully defeat. It's during this state of cancellation that Touma can actually physically touch or grab the power/object, negating and disrupting it instead of instantly destroying or completely ridding of it right away. This, of course, is usually more of a disadvantage than an advantage of Imagine Breaker. Still, during Touma's fight with Accelerator in Russia, Touma pulled one of Accelerator's black wings to throw Accelerator off balance and dodge the attack when Accelerator struck Touma with 100 wings that he summoned. That single touch was capable of negating the vector controlling power of said wing as well.
Aleister Crowley has also gained interest in Touma's power and integrated it into his plans, and from his comments to Heaven Canceller it's likely Aleister masterminded events that lead to Touma being sent to Academy City by Touya[84]. Aleister has monitored Touma's danger level to Academy city and labelled it equivalent to DEFCON 3, and found that Imagine Breaker can affect 97% of his plans.[85] So far there are only a few attacks which can "surpass" Kamijou Touma's Imagine Breaker power canceling speed; Index's Dragon Breath[86], Stiyl's Innocentius[87], Fiamma's 30-40Km flaming sword[88], and Accelerator's wings in his awakened state[89]. The Curtana's Dimensional Cleavage Formula is a different case, as it does not fall under the 'surpassing cancelling speed' category, but the 'After this window of opportunity it can't be negated' category. Kanzaki stated Imagine Breaker can negate a dimensional cutter attack if it comes into contact within 1.25 seconds[90].
Also according to Index, it is also capable of canceling the red string of fate, which may be the reason why so many women fall for Touma.
Further speculation
Edit
When Fiamma severed Touma's right arm along with the Imagine Breaker in order to absorb that power into himself[91], it was not for the Imagine Breaker ability, but for it to act as a medium for his Holy Right to gain a corporeal form.
Immediately afterwards, an "invisible thing" gathered on Touma's right shoulder which made all that Fiamma had pale in comparison, but Touma unexpectedly crushed that power with an even greater power and then took back the Imagine Breaker. Though the true nature of these powers is unclear, Touma is shown to be able to communicate with "invisible thing" referring the power as "you" before refusing to use it's power, crushing the power and regenerating his lost right arm.[92]
After Fiamma's right arm was severed by Aleister[93], it was confirmed there is more to Touma's right hand than just "a right hand that can negate supernatural ability". Touma's right hand is a vessel that can be used to house a greater power, and this is the main reason why Aleister and Fiamma seek Touma's right hand, not for Imagine Breaker.[94]
"Precognition"
Edit
Later,[95] Accelerator speculated that Touma has been in so many fights that he can subconsciously anticipate the attacks coming his way. Moreover, probably combined with his reflexes and the courage to keep his body and thoughts moving, allow him to judge accurately what to do next. Minute changes in the battlefield, like when Mikoto exuding her electromagnetic field that makes metal items around her resonate, these involuntary movements of hers that not even she can detect, aid Touma in his judgment in where to put his Imagine Breaker. It is like a heightened sense of perception or an instinct, to which Accelerator and Leivinia Birdway calls it Precognition or Mind's Eye, though it is not about knowing something before it happens like what true Precognition is, but knowing the little details that lead up to something happening.[95]
The narrative states that Touma himself is not aware of this skill himself, though he is able to use it to the fullest potential, using the aftermath as a basis, and then change tactics to fight according to the situation. Moreover, it is noted that if he actively tries to take note of these things (referring to the information that he subconsciously takes in and react to), this skill of his is more likely to fail. Furthermore, Lessar noted that even if someone else were to have the same "right hand" like Touma, they couldn't use it half as well as Touma, with his combat skills that accompany it.[95]
Other abilities
Edit
Touma is also a capable street fighter and quick thinker as shown in his fight with Aureolus Izzard where he exploited the weakness of his "Ars Magna". His fighting capability is stated many times in the novels to be the result of countless fights he was involved in with other delinquents when he tries to help other people, even when his opponents are Skill-Outs that carry deadly weapons. Also Touma has an incredible amount of stamina as displayed during Mikoto's attack on him where he took in every attack she threw and was still able to combat and beat Accelerator. He possesses a high threshold of pain, as demonstrated against his battle with Aureolus where his entire arm was cut-off and he was still able to think straight enough to beat Aureolus, although Stiyl said he just got "high" off of the pain.
In spite of the examples above, Touma still only sees his fighting capability as "capable of winning one-on-one, maybe possible of winning two-on-one, and run away when it is three-on-one".[96]
During the Civil War Crisis in London in volumes 17-18 Touma displays the ability to be able to sneak and hide from others very carefully. During volume 20, Fiamma was amazed at how well he has gotten at doing it while he was trying to fight and locate him during his current ventures in Russia.
Relationships
Edit
Touma views Index as a person that he has to protect at all costs. Even after knowing her only for a very short time he decides to hide his memory loss from her to protect her feelings. Index lives with him and is a constant drain on his resources because of her enormous appetite. It is unknown if Touma feels anything towards Index as far as romantic, but he does in fact care deeply about her. Several of his actions in the story is due to his caring for her well-being, to the point that even Stiyl used this to his advantage in order to coerce Touma in aiding his mission, as well as fool both magic and science sides.
Touma met Misaka when she was being harassed by delinquents and, unaware of her Level Five nature, tried to save her, only to accidentally make her angry which led to her frying all of the delinquents herself[97]. He quickly learns from his mistake, and in the first scene in the Index series he tries to save some other delinquents from her[98]. Touma seems to be wary of Misaka in most of their interactions because of her tendency to shock him whenever he annoys her. Misaka was the first person to discover Touma's memory loss albeit by accident. Touma has yet to realize Mikoto's romantic interest in him, and it is unknown if he feels anything for her.
References in other media
Edit
Being the main character of Toaru Majutsu no Index, allows Touma to be referenced by other works in media, although to a somewhat lesser extent than Misaka Mikoto. Most notably he is often referred to in works where his "Break your illusions" is satirized.
An eyecatch at episode 11 of the anime Nyan Koi!, features the main protagonist asking the viewer who is the person that looks like him – as he has similar features to Touma, and states that it is just the viewer's imagination and almost says that he will use his Imagine Breaker before being cut-off.
In the final episode of the flash anime Haiyore Nyaruko-san, Nyaruko tells the main male character that she used to blow-up the make-believe games of her fellow playmates when she attended space kindergarten; she later utters a similar phrase to Touma's "break that illusion" and later references Touma's Imagine Breaker, with Touma's silhouette as well as a red logo similar to Toaru Majutsu no Index title's style appearing on screen.
In the third episode of Denpa Onna to Seishun Otoko, the main character Makoto Niwa recites Touma's infamous line, although he clenches his left fist.
In the Drama CD of Boku wa Tomodachi ga Sukunai, the voice actress who does Index, Yuka Iguchi who there plays a Character named Maria references Index several times while Maria herself is supposed to be working as a voice actress; eventually coming to the point where she uses the "I'll destroy that illusion of yours" line.
In the 13th episode of Mayoi Neko Overrun!, as the heroines are reflecting on the events during the series, when talking about the main characters misfortune the Imagine Breaker is referenced when one of them says, "Your right hand is probably nullifying something like the power of good luck".
Character Art Designs
Edit
Design evolution
Edit
The preliminary design for Touma had look more adult, but was changed later on to fit the story, as well as the fact that his size would not fit the light novel illustrations. This would be a common problem for Haimura, redrawing Touma several times to change his head-size ratio. Even until volume 2 he was not still satisfied with the design, and kept changing Touma's design to a more deformed look that would be apparent later on in the later novels.
By volume 12, with the advent of the changes of the season in the setting, as well as the change of clothes. The change of style has become more apparent, with characters getting even more deformed, having bigger heads and their arms and legs being shortened.
There was a mistranslation when spoilers of Volume 16 first came out, with Fiamma stating Imagine Breaker is similar to the 'Holy Stone'. In actuality it's the 'Holy Right', as the kanji for Right and Stone are very similar (石 - stone; 右 - right).
According to the Toaru Kagaku no Railgun manga, because he has to cook for himself, he possesses great culinary skills.
The novels point out that his zodiac sign is Aquarius.
According to the Toaru Majutsu no Index manga, before his memory wipe, Touma dreamed about some future events like the Angel Fall incident and the Aztec magician- Etzali[99].
There is a sort of running gag in the show with Touma being fond of telling people that he'll "break their illusion", before proceeding to beat them with his right hand. More specifically, he says "I'll kill it... That illusion/fantasy of yours!!" It's actually a pun: The Kanji given for 'Imagine Breaker' is 'Illusion/Fantasy Killer (Genso Goroshi)'.
Touma has consistently been voted the most popular character (both male and overall) in the Toaru Majutsu no Index light novels.
In vol 16, Misaka Mikoto was thinking of asking Shokuhou Misaki to help get Touma's memories back with her 'Mental Out' ability but Imagine Breaker would negate it due to 'Mental Out' being a form a telepathy and, unknown to her, the memories destruction can't be solved with that.
Currently, the only Science Side characters who know Touma's involving in the incidents of the Magic Side are Aleister Crowley, Etzali, Tsuchimikado Motoharu, Kazakiri Hyouka, Accelerator,Hamazura Shiage,Misaka Mikoto and Umidori Kuroyoru.
Almost every person Touma defeats throughout the whole series also ends up fighting alongside him later in the series.
Touma is the 1st place winner best overall character and male character of the kono light novel sugoi 2011 awards
It is understood he is a threat for a Kihara or at least it is Byouri when Enshuu use those patterns.
(Catchphrase #1) "Such misfortune."
(Catchphrase #2) "I'll destroy that screwed up illusion of yours!"
(To Mikoto in Railgun manga)"As long as no one got hurt, it's all good. Who cares who saved who?"
(To Index in volume 1)"I have possessed some weird power for my entire life...If I come into contact with an Esper ability with this right hand, be it a railgun or a lightning attack, even a miracle of God can be dispelled."
"If I don't want to follow her to the depths of hell, then I'll just have to drag her out of hell!" (Said when deciding to save Index from Stiyl in volume 1)
"Is it only because you have strength you want to protect others? (...) That's not it, it's the opposite right?! It's because you want to protect something you went and acquired strength right? (...) If so, then what the hell are you doing right now? (...) You have such powerful strength... such omnipotent strength... how can you be so useless...?" (Volume 1, said to Kanzaki before he collapsed, asking why is she capturing Index and erasing her memories, instead of thinking how she feels and promise her they will always be with her with or without her memories.)
(Volume 1) "If this world was a system created by God and moves according to his will--- then I'll rip apart that illusion!"
(To Heaven Canceler in volume 1) "I... just didn't want that girl to cry...That's what crossed my mind."
(To Heaven Canceler in volume 1) "It might be that I still have a few memories... Isn't obvious where my memories reside? They reside in my heart."
(To Aisa, and to various others) "I don't need a reason to save someone."
(To Leivinia in NT volume 6) " Just because my reasoning is childish and wrong and just because my argument can be easily defeated with a bit of cleverness does not mean your reasoning is completely correct."
References
Edit
↑

Toaru Majutsu no Index Volume 1

↑

Toaru Majutsu no Index Volume 1

↑

Toaru Majutsu no Index Light Novel Volume 5

↑

Toaru Majutsu No Index Volume 3

↑

Toaru Majutsu no Index Light Novel Volume 01 Chapter 2

↑

Toaru Majutsu no Index Volume 2 Chapter 1

↑

Toaru Majutsu no Index Episode 05

↑

Toaru Majutsu No Index Volume 19

↑

Toaru Majutsu No Index Volume 18 Chapter 7

↑

Shinyaku Toaru Majutsu no Index Light Novel Volume 02 Chapter 1 Part 10

↑

Shinyaku Toaru Majutsu no Index Light Novel Volume 02 Chapter 5 Part 10

↑

Toaru Majutsu no Index Light Novel Volume 05 Chapter 2 Part 2

↑

Toaru Majutsu no Index Light Novels Volume 4

↑

Toaru Majutsu No Index Volume 9

↑

Toaru Majutsu no Index Volume 9 Chapter 1 Part 2

↑

Toaru Majutsu no Index Volume 12 Chapter 4 Part 5

↑

Toaru Majutsu no Index Volume 20 Chapter 2

↑

Toaru Kagaku no Railgun Manga Chapter 003

↑

Toaru Majutsu No Index Volume 14

↑

Toaru Majutsu no Index Volume 2 Final Chapter

↑

Toaru Majutsu no Index II Episode 7

↑

Toaru Majutsu no Index Light Novel Volume 19 Chapter 3 Part 8

↑

Shinyaku Toaru Majutsu no Index Light Novel Volume 02 Chapter 2 Part 10

↑

Shinyaku Toaru Majutsu no Index Light Novel Volume 02 Chapter 4 Part 11

↑

Shinyaku Toaru Majutsu no Index Light Novel Volume 04 Sub.03

↑

Shinyaku Toaru Majutsu no Index Light Novel Volume 04 Sub.06

↑

Shinyaku Toaru Majutsu no Index Light Novel Volume 04 A_Cardinal_Error.34

↑ Shinyaku Toaru Majutsu no Index Light Novel Volume 05 Chapter 1 Part 1
↑

Shinyaku Toaru Majutsu no Index Light Novel Volume 05 Chapter 1 Part 3

↑

Shinyaku Toaru Majutsu no Index Light Novel Volume 05 Chapter 1 Part 5

↑

Shinyaku Toaru Majutsu no Index Light Novel Volume 05 Chapter 1 Part 7

↑

Shinyaku Toaru Majutsu no Index Light Novel Volume 05 Chapter 1 Part 8

↑

Shinyaku Toaru Majutsu no Index Light Novel Volume 05 Chapter 2 Part 3

↑

Shinyaku Toaru Majutsu no Index Light Novel Volume 05 Chapter 2 Part 5

↑ 49.0 49.1 Shinyaku Toaru Majutsu no Index Light Novel Volume 05 Chapter 2 Part 6
↑

Shinyaku Toaru Majutsu no Index Light Novel Volume 05 Chapter 3 Part 2

↑

Shinyaku Toaru Majutsu no Index Light Novel Volume 05 Chapter 3 Part 7

↑

Shinyaku Toaru Majutsu no Index Light Novel Volume 05 Chapter 3 Part 8

↑

Shinyaku Toaru Majutsu no Index Light Novel Volume 05 Chapter 3 Part 10

↑

Shinyaku Toaru Majutsu no Index Light Novel Volume 05 Chapter 4 Part 1

↑

Shinyaku Toaru Majutsu no Index Light Novel Volume 05 Chapter 4 Part 5

↑

Shinyaku Toaru Majutsu no Index Light Novel Volume 05 Chapter 4 Part 7

↑

Shinyaku Toaru Majutsu no Index Light Novel Volume 05 Chapter 4 Part 9

↑

Shinyaku Toaru Majutsu no Index Light Novel Volume 05 Chapter 4 Part 10

↑

Shinyaku Toaru Majutsu no Index Light Novel Volume 05 Chapter 4 Part 11

↑

Shinyaku Toaru Majutsu no Index Light Novel Volume 05 Epilogue

↑ Shinyaku Toaru Majutsu no Index Light Novel Volume 06 Chapter 5 Part 16
↑ Shinyaku Toaru Majutsu no Index Light Novel Volume 06 Chapter 6 Part 5
↑ Cite error: Invalid <ref> tag; no text was provided for refs named NTMajutsuNovel6Chap6Pt5
↑ Shinyaku Toaru Majutsu no Index Light Novel Volume 06 Chapter 6 Part 11
↑ Shinyaku Toaru Majutsu no Index Light Novel Volume 06 Chapter 7 Part 18
↑

Shinyaku Toaru Majutsu no Index Light Novel Volume 06 Chapter 7 Part 2

↑

Shinyaku Toaru Majutsu no Index Light Novel Volume 06 Chapter 7 Part 8

↑

Shinyaku Toaru Majutsu no Index Light Novel Volume 06 Chapter 8 Part 2

↑

Shinyaku Toaru Majutsu no Index Light Novel Volume 06 Chapter 8 Part 4

↑ Shinyaku Toaru Majutsu no Index Light Novel Volume 06 Night After the Festival
↑ 御坂美琴がペットに!?『ルナティア』×「とある魔術の禁書目録」コラボ:Game goo News (Japanese) (Retrieved on: 3/10/11)
↑ とうま! 『禁書目録II』とPC『ルーセントハート』のコラボが実現なんだよ!: Dengeki News (Japanese) (Retrieved on: 2/25/11)
↑

Toaru Majutsu no Index Light Novel Volume 03 Chapter 04 Part 02

↑

Toaru Majutsu no Index, Anime Season 1, Episode 2

↑

Toaru Majutsu no Index Light Novel Volume 2

↑

Toaru Majutsu No Index Volume 14 Chapter 4

↑

Toaru Majutsu No Index Volume 14 Chapter 3

↑

Toaru Majutsu No Index Volume 13 Epilogue

↑

Toaru Majutsu No Index Volume 16 Epilogue

↑

Toaru Majutsu No index Light Novel Volume 1 Chapter 4

↑

Toaru Majutsu no Index Light Novel Volume 1 Chapter 1

↑

Toaru Majutsu no Index Light Volume 20 Chapter 2 part 6

↑

Toaru Majutsu no Index Light Novel Volume 20 Chapter 4 Part 5

↑

Toaru Majutsu no Index Light Novel Volume 18

↑

Toaru Majutsu no Index Light Novel Volume 22 Chapter 10 Part 3

↑

Toaru Majutsu no Index Light Novel Volume 22 Chapter 10 Part 3

↑

Toaru Majutsu no Index Light Novel Volume 22 Epilogue

↑

Toaru Majutsu no Index Light Novel Volume 22 Epilogue

↑

Toaru Majutsu no Index Light Novel Volume 03 Chapter 04 Part 06

↑

Toaru Kagaku No Railgun Manga Volume 01 Ch. 03

↑

Toaru Majutsu no Index Light Novel Volume 01 Prolouge

↑

Toaru Majutsu no Index Manga Volume 02 Ch. 06