Toaru Majutsu no Index Wiki:Featured articles
Talk

0
2,114pages on
this wiki

Featured articles
are articles that are considered in the
Toaru Majutsu no Index
wiki, is a well written article that, according to according to its editors and contributors, requires or demands enough particular attention that it should be featured on the main page of the wiki. The purpose of a featured article is to show a well written article, or to show an interesting article to the readers, or to garner attention for a neglected article.
They are used as examples and guidelines on how articles are written in this wiki. Although, there is still no exact basis on how articles can become featured, other than the Manual of Style, a featured article has most of these things (based off Wikipedia's Featured article critera):
Well written
Comprehensive
Well-researched
Neutral
Not subject to massive changes or edit wars
It is properly structured
It is uses consistent citations, references and footnotes
A suitable amount of images, with appropriate captions and thumbnail sizes.
It is suitable in length and properly summarized.
Once an article is nominated for being a featured article, it will be voted by editors and contributors if they see the article fit for being a featured article. Afterwards, a golden pentagram, a magic array, will be on top right corner of an article's page that would indicate that the article is featured.
The opening paragraph and a picture would be written (and would similarly, put into an archive) for the article in the This month's featured article, as can be seen below, which is regularly edited each month for the sake of a new featured article.
For nominations go to the Featured article candidates page. This page displays a list of articles that are currently featured.
This month's featured article
Each month the wiki chooses an article to be featured on the main page of the wiki, at which point, they are required to make an opening line for the article. Most often, the opener is copied directly off the article itself, but it is not required, as such, an editor can make an entirely new opener for the article. The most important part is that it properly introduces the article.
Below is this month's Featured article:
Featured Article for the Month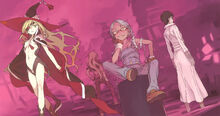 Norse Mythology: The body of mythology of the North Germanic people, stemming from Norse paganism around the time of the Viking Age, and continuing through into modern-day Scandinavian folklore. It follows the lives of the Norse gods — the Æsir and the Vanir — and the men whose lives they directly affected, culminating with the events of Ragnarök, where the majority of the gods and their enemies would die while fighting each other. Norse mythology is often used as a base for Magic - its prevalence in its usage as a basis for magic being second only to Christianity.

It plays a prominent role in Shinyaku Toaru Majutsu no Index, where the cabal GREMLIN is not only based on Norse Magic, but it's key members all take their names from figures from the legends and tales of Norse Mythology. The group's leader Othinus, whose name is the Latinized name of the god Odin, is later revealed to be the actual figure from Norse Mythology. Their goal was to make a replica of Lance of Gungnir in order for her to fulfill their goals and desires in return for helping her, while she merely wished to return to the phase she was originally from...(Learn more...)

Recently featured: Thor
---
Archive – More featured articles...
Archive
The openers for the articles that have been featured are archived for each year.
Plot and Lore
Terminology
Ability Body Crystal • Amakusa-Style Remix of Church • Angel • Church of England • GROUP • Norse Mythology • Multi Active Rescue • Power Curriculum Program
Characters
Aiwass • Aleister Crowley • Aureolus Izzard • Cendrillon • Fräulein Kreutune • Kihara Enshuu • Misaka 9982• Ollerus • Orsola Aquinas • Othinus • Shokuhou Misaki • Thor • Yakumi Hisako
Locations
Imaginary Number District–Five Elements Institution • Third Resource Recycling Processing Facility
Story Arcs and Events
Academy City Invasion Arc • Acqua of the Back Arc • Document of Constantine Arc • Hawaii Invasion Arc • Index Arc • Magic God Othinus Arc • Level 6 Shift attempt on Misaka Mikoto • Sisters Arc
Media
Light Novels
Anime
Toaru Majutsu no Index Movie: Miracle of Endymion
Manga
Videogames
Real world