Toaru Majutsu no Index Wiki:Featured articles
Talk

0
1,303pages on
this wiki

Featured articles
are articles that are considered in the
Toaru Majutsu no Index
wiki, is a well written article that, according to according to its editors and contributors, requires or demands enough particular attention that it should be featured on the main page of the wiki. The purpose of a featured article is to show an article is to show a well written article, or to show an interesting article to the readers, or to garner attention for a neglected article.
They are used as examples and guidelines on how articles are written in this wiki. Although, there is still no exact basis on how articles can become featured, other than the Manual of Style, a featured article has most of these things (based off Wikipedia's Featured article critera):
Well written
Comprehensive
Well-researched
Neutral
Not subject to massive changes or edit wars
It is properly structured
It is uses consistent citations, references and footnotes
A suitable amount of images, with appropriate captions and thumbnail sizes.
It is suitable in length and properly summarized.
Once an article is nominated for being a featured article, it will be voted by editors and contributors if they see the article fit for being a featured article. Afterwards, a golden pentagram, a magic array, will be on top right corner of an article's page that would indicate that the article is featured.
The opening paragraph and a picture would be written (and would similarly, put into an archive) for the article in the This month's featured article, as can be seen below, which is regularly edited each month for the sake of a new featured article.
For nominations go to the Featured article candidates page. This page displays a list of articles that are currently featured.
This month's featured article
Each month the wiki chooses an article to be featured on the main page of the wiki, at which point, they are required to make an opening line for the article. Most often, the opener is copied directly off the article itself, but it is not required, as such, an editor can make an entirely you opener for the article. The most important part is that it properly introduces the article.
Below is this month's Featured article:
Featured Article for the Month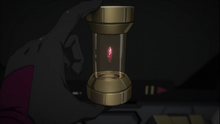 The Ability Body Crystal is a creation of Kihara Gensei. It was created using the crystallized essences of espers that have been overloaded, those who have lost control of their powers. With these sacrifices, Gensei hoped to create the Level 6 and reach SYSTEM.

The crystal allows users to temporarily boost their powers, but at the cost of overloading their abilities, being unable to use it without the aid of the crystal, and continued deterioration of the body through prolonged used. The crystal defined the lives of several characters in the Toaru Majutsu no Index universe, specifically Takitsubo Rikou.(Learn more...)

Recently featured: Misaka 9982
Archive
The openers for the articles that have been featured are archived for each year.
Plot and Lore
Terminology
Multi Active Rescue • Power Curriculum Program • Church of England • Amakusa-Style Remix of Church • Ability Body Crystal
Characters
Aureolus Izzard • Kihara Enshuu • Aiwass • Orsola Aquinas • Fräulein Kreutune • Misaka 9982
Locations
Third Resource Recycling Processing Facility • Imaginary Number District–Five Elements Institution
Storyarcs and Events
Hawaii Invasion Arc • Academy City Invasion Arc • Sisters Arc
Media
Light Novels
Anime
Manga
Videogames
Real world