Welcome to the Toaru Universe Wiki
The place where everything about science and magic meets.
• Have something to talk about? Visit the forums! •
Featured Article for the Month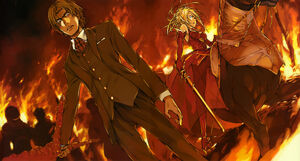 British Halloween: refers to the events that occurred in the hours between midnight and early morning of October 18 of the current year of the timeline, where second Princess Carissa of the United Kingdom with the aid of the Knights of England lunched a coup d'etat, seizing control of the country from her mother Queen Regnant Elizard.
The events refer not only to the fighting between Carissa's faction and Anglican Church, but also includes the hostile actions perpetrated by Carissa's control of the armed forces against French forces in the channel. Whom she perseied as a threat against the country as they were being used as pawns by Fiamma of the Right and the Roman Catholic Church to futher his plans, inculding having them destrory the Eurotunnel to weaken the United Kingdom.
Despite the considerable gains of her coup in the early hours of October 18, the resistance forces led by the Anglican Church and with the aid of various other people including her sister third Princess Villian, Kamijou Touma, and Acqua of the Back, pushed Carissa back and the knights to London, where the resistance made one final push against her culminating in the Battle of Buckingham Palace, where the people of London rallied under the banner of the Union Jack held by the Queen to stop Carissa...(Learn more...)
Recently featured: Mitsuari Ayu
---
Archive – More featured articles...
Toaru Majutsu no Index News
More news? Check out this Wiki's News Archives.
Toaru Majutsu no Index

Toaru Nichijou no Index-san

Toaru Kagaku no Railgun

Toaru Kagaku no Accelerator

Special
Time to finalize the name we're using for NT13's arc. Make your choice.
Well from the start St. Germain Arc had a great start and just kept gaining more support so thats what we will use as the chosen title.
St. Germain Arc - votes 54
Dianoid Arc - votes 7
Dianoid's Liars - votes 3
Dianoid Blockade Arc - votes 1
Total - votes 65
Create blog post
Latest Posts
There is no Index III anime, but that doesn't mean that the franchise is at a standstill. With the …

Read more >

LazyHunter brought something interesting up on Kamachi's page. I skimmed through Kamachi's JP Wikip…

Read more >

So, 2015 Fes. Banner has appeared. Index is nowhere to be seen. FUKOU DA

Read more >
See more >