Home
Talk

108
1,303pages on
this wiki
Welcome to the Toaru Universe Wiki
The place where everything about science and magic meets.
• The main page, among others, will undergo several fixes over the following days.
Please expect things to change without prior announcements. •
Featured Article for the Month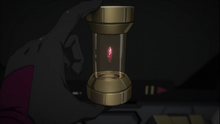 The Ability Body Crystal is a creation of Kihara Gensei. It was created using the crystallized essences of espers that have been overloaded, those who have lost control of their powers. With these sacrifices, Gensei hoped to create the Level 6 and reach SYSTEM.

The crystal allows users to temporarily boost their powers, but at the cost of overloading their abilities, being unable to use it without the aid of the crystal, and continued deterioration of the body through prolonged used. The crystal defined the lives of several characters in the Toaru Majutsu no Index universe, specifically Takitsubo Rikou.(Learn more...)

Recently featured: Misaka 9982
In Toaru Kagaku no Railgun S, Misaka Mikoto, after witnessing the horrific death of one of her Sisters, opts to contend against her murderer. However, she will soon learn that not all those at the top are equal, as she faces off against the zenith of Academy City's Power Curriculum Program, the one who is killing the Sisters in order to even go beyond that, the strongest esper in Academy City, and the first-ranked Level 5, the Accelerator.

Will the strongest electromaster Mikoto able to defeat the seemingly invincible esper and avenge her Sister's death, or face a fate the same as them as well?

Read more in the sixth episode of the second season of Toaru Kagaku no Railgun: "I...Can See Everything".

---

Previous Episode:
"Level 6 Shift Project"

Next Episode:
"I Want to Help Onee-sama"
Index Chapter 56: "Multiple Magic Square Configuration"
Touma does battle with Agnese Sanctis with her Lotus Wand. Although with great difficulty, Touma manages to counter against Agnese's seemingly unpredictable attacks. However, the battlefield has fallen into silence, and Touma reveals his final ace against the Agnese Forces.

Read more about Chapter 56: "Multiple Magic Square Configuration" here!
Railgun Chapter 57: "Investigation"
Uiharu Kazari awakes from her little scuffle with Kouzaku Mitori as Saten Ruiko and Shirai Kuroko investigates on how they were brainwashed. Meanwhile, Misaka Mikoto and Shokuhou Misaki working separately, finally subdues the enigmatic Kihara Gensei. As Kazari and Kuroko continue their investigation as members of Judgment, Ruiko is left alone, but an unforeseen event not before seen in the Toaru Majutsu no Index may befall upon her, as Kamijou Touma passes by looking for something that Ruiko coincidentally has.

Read more about Chapter 57: "Investigation" here!
Miracle of Endymion Chapter 2: "The Girl's Dream"
After a night of fun, Touma is forced to protect Alisa from the strange attack on their group by the Anglican Church. But that is not all, a mysterious group from the Science side comes in and relieves them from their difficult confrontation, and Touma is warned that to be invovled with Meigo Alisa is to bring doom upon his person.

Read more about Chapter 2: "The Girl's Dream" here!
Toaru Majutsu no Index News
More news? Check out this Wiki's News Archives.
The second episode of Toaru Kagaku no Railgun S was aired on April 19th. Here is the ending that came along with that episode. It is called Grow Slowly and is sung by Yuka Iguchi which is also Index's voice actor.
Medaka Box Wiki
Toriko Wiki
Shakugan no Shana Wiki
Magi Wiki

---

If you want to be an affiliate, contact us.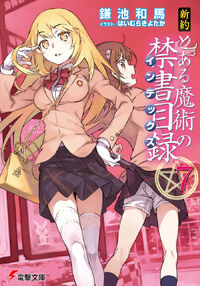 Shinyaku Toaru Majutsu no Index Light Novel Volume 07
10 May 2013
Kamijou Touma awakens in a dark room. He was sent there by the many-sided spy Tsuchimikado Motoharu. Once again, an enemy magician has slipped into Academy City and is attempting to destroy the city with a spiritual item. Kamijou's mission is to stop the large scale spell of the spiritual item from activating.

Given the emergency situation and limited time, Kamijou quickly leaves the dark room!!

But the area he finds before him is the locker room of a prestigious high class girls school.

As always, Kamijou faces an exhilarating explosion of misfortune.

Labeled a pervert and about to be finished off by those dangerous girls, he desperately searches the School Garden for the spiritual item.

He is found by Misaka Mikoto in the process and thinks he has finally been checkmated, but "fortunately" a helping hand is held out to him. Shokuhou Misaki.

The Mental Out girl who is the #5 Level 5 from Tokiwadai Middle School. Is this encounter a coincidence or has someone ensured it would happen? When science and magic cross paths, the story begins! (Learn more...)
With a turn out of 91 voters, the polls show a not too surprising view of the current Toaru Kagaku no Railgun S anime up to episode 04.
A satisfactory adaptation - 69
So and so - 13
Terrible adaptation - 3
Will withhold judgment until a much later point in time - 6
Total - 91
Create blog post
Latest Posts
I went to fripside's webpage and still didn't find the new sister's noise cd album. It should be on…

Read more >

My dear wikia editors, many are you but few do you appear. Spring is come, and yet the remnants of …

Read more >

I was at Popular Bookstore SG and saw some Shakugan light novels on the shelf. I suppose I was luck…

Read more >
See more >