Welcome to the Toaru Majutsu no Index Wiki
The place where everything about science and magic meets.
• Have something to talk about? Visit the forums! •
Featured Article for the Month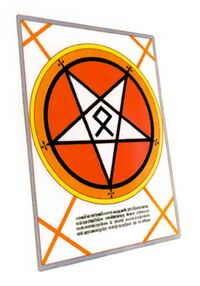 Runes are a type of character used for both writing and as magical language by Germanic tribes before the adoption of the Latin Alphabet, and used by various magicians in order to cast spells.
Runes can be inscribed using a variety of mediums and surfaces, including carvings, ink, ice crystals, water and blood among others. One particular rune magician, Stiyl Magnus, makes use of mass-photocopied and laminated rune cards in order to cast his magic.
Due to the fact that a single rune can have multiple meanings, different spells can be produced from one rune, even more so with combinations of multiple runes. Multiple copies of the same rune can also be used to bolster the effects of a spell, though in a battle of runic magic, quality can top quantity. If one can read the runes, they can identify the effects of the spell, and if they can erase or interfere with the rune, they can alter or cancel the spell.
As with most languages, runes have changed depending on time and location, and there exist several different runic alphabets with varying numbers of characters, with 24 making up the Basic Futhark. There is also a special Final Rune, said to only be known to the chief Norse god Odin and is a key component in the completion and empowerment of the spiritual item Gungnir.(Learn more...)
Recently featured: Dengeki Bunko Fighting Climax
---
Archive – More featured articles...
Toaru Majutsu no Index News
More news? Check out this Wiki's News Archives.
Light Novels
---
Manga
---
Anime
---
General Content Sites
Time to decide NT16's arc name. Vote below.
Following NT16, there are a number of issues that will soon have to be faced in the future. Which are you most anticipating?
Misaka Mikoto and the A.A.A.: 70
Kihara Yuiitsu: 3
Kamisato Kakeru's retrieval: 3
Aleister Crowley's machinations: 9
Laura Stuart and Necessarius: 8
The incident's aftereffects on Academy City: 12
None of the above: 2
Total: 107
Create blog post
Latest Posts
Promotion video of the J.C Staff 30th anniversary is here: 

https://www.youtube.com/watch?v=dfRqgX3S…

Read more >

So The anti-art attachment didn't turn out so good, so instead for now until I can improve it I dre…

Read more >
See more >