Home
Talk

108
2,189pages on
this wiki
Welcome to the Toaru Universe Wiki
The place where everything about science and magic meets.
• Have something to talk about? Visit the forums! •
Featured Article for the Month
Toaru Majutsu no Index SS: Necessarius Special Admission Test is an eight-part story released in the limited editions of the Blu-ray and DVD of the Toaru Kagaku no Railgun S anime. The story was written by Kamachi Kazuma and was released between July 24, 2013 to February 24, 2014.

The story revolves around the test underwent by the Amakusa-Style Remix of Church to become part of the Church of England. After the rescue of Orsola Aquinas, the Amakusa Christians are eager to join the Anglican Church, and fall under their protection from the Roman Catholic Church. After being briefed of the rules and goals of the Necessarius Special Admission Test by supervisor Freadia Strikers, they begin their test in Necessarius' Underground Labyrinth. Part way though the test, communication lines between them are intercepted by a group impersonating the Amakusa Christians to obtain free passes to Necessarius' facilities.

After escaping the Labyrinth, knowing that only they can hunt down the fakes and clear their names, the Amakusas become involved in conspiracy after conspiracy, forcing them to not only clear their name, but to aid in stopping the various conspiracies happening around them...(Learn more...)

Recently featured: Matthai Reese
---
Archive – More featured articles...
In Toaru Kagaku no Railgun S, now revolution day has come for STUDY, and with all their puissant arms are determined to bend Academy to their will. No sacrifice is too much for their goal, and they believe that none now can stop them. Who now can stand against the will of STUDY?

Why of course our dear Misaka Mikoto and her friends. In a race against time, Mikoto takes Febrie towards where Janie's powers call her, while her friends and some back-up try and crash STUDY's little Silent Party. Now both of the two parties pull all aces out of their sleeves for the final conflict. Thus begins the exciting climax of the Silent Party Arc.

Read more in the finale episode of the second season of Toaru Kagaku no Railgun: "Eternal party".

---

Previous Episode:
"Silent Party"
Next Episode:
To be continued...
Toaru Majutsu no Index News
More news? Check out this Wiki's News Archives.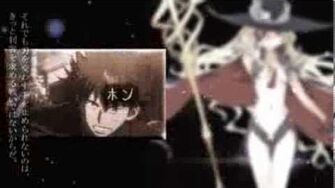 A MAD dedicated to the events of Shinyaku Toaru Majutsu no Index Light Novel Volume 9. Original video by ba96u of Niconico.
Toaru Majutsu no Index
Toaru Kagaku no Railgun
Toaru Kagaku no Accelerator
Toaru Nichijou no Index-san
Shinyaku Toaru Majutsu no Index Light Novel Volume 11
10 October 2014
"When I think about it, it was the same crossing as the one where I met "him". It was long before the white sister carrying many grimoires escaped the magic side and fell out of the sky that Shokuhou Misaki first met Kamijou Touma. Even now, Shokuhou Misaki remembers the spiky haired boy.
At first, she thought it was just some lame guy hitting on her.
And then, he saw her wearing a swim suit
And then, she hits him with her bag
And then, she experienced an indirect kiss.
And finally――.
He saved her life
This is one of the only few pieces of happy moments in her life that she can hold dear to. The strongest mental esper [Mental Out]'s important memory. The story which unfolds Shokuhou Misaki's past begins now.(Learn more...)
Well with about a weeks worth of time we got 147 votes with almost half going going for Mental Out Arc as the chosen title.
Mental Out Arc - votes 72
Shokuhou Misaki Arc(Current Placeholder) - votes 7
Queen's Memory Arc - votes 9
Mental Out Memory Arc - votes 1
Shokuhou Misaki's Memory Arc - votes 4
The Secret History of Mental Out - votes 40
Mental Arc - votes 4
Mental Stinger Arc - votes 4
Mental Reminiscence Arc - votes 4
Total - votes 147
Create blog post
Latest Posts
this is what i found in wikipedia espanol to aru majutsu no index III 2015 and the movie Gekijōban …

Read more >

Well Dengeki Bunko just released their stage lineup for the Spring 2015 festival. No Index, just HO…

Read more >

A little thing which I've been thinking about in my spare time is what a possible future Toaru figh…

Read more >
See more >