Featured Article for the Month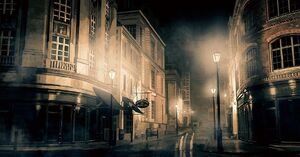 The Battle of Blythe Road was a key event in the collapse of the Golden Dawn. Considered a crucial but quiet turning point of history by magic researchers, it occurred in April 1900, at 36 Blythe Road, Hammersmith, London, the site of the cabal's most important ceremonial ground and armory.
The instigator was Aleister Crowley, who was trying to avert his future daughter's death, caused by a phenomena which the Golden Dawn's activities were contributing to. After attacking Samuel Liddell MacGregor Mathers for a sample of his blood and using it to forge a document with his orders, Aleister stormed 36 Blythe Road and occupied the building, as well as taking several key items from the armory.
This sparked a war between the Mathers and Westcott factions of the Golden Dawn, one which Aleister exploited in order to destroy the cabal and curse its members, dooming them to die or live a life of failure.
Recently featured: Thelema
---
Archives – More featured articles...
Toaru Majutsu no Index News
(April 10, 2018) New Testament Volume 20 To Hit Shelves on June 10

: Release details for the 20th volume of the Shinyaku Toaru Majutsu no Index light novel series have been released on the Dengeki Bunko official website. Source: Dengeki Bunko
(December 27, 2017) A Trial by Fire — Toaru Kagaku no Railgun: Cold Game is Released

: The judicial system of Academy City is explored when Saten becomes a key witness in the Cold Sleep Murder Case.
More news? Check out this Wiki's News Archives.
| | | | |
| --- | --- | --- | --- |
| | Index | | Railgun |
| | Accelerator | | Virtual-On |
Hello everyone. I will be hanging around here for a while, editing the sub articles, mostly. If you need me to clean up an article, just leave the link in my talk page.

Read more >

I know I've been absent for a long while. But I did not procrastinate: I decided to try to make a fuller comprehensive list of all the differences in term translation (an example …

Read more >

The story of Toaru Majutsu no Index (and its major spinoff Toaru Kagaku no Railgun) as a multimedia franchise has been established as one of the most successful projects in recent …

Read more >
It is just over two weeks before NT20 is released. Following the events which transpired in NT18 and NT19, as well as the small preview, what in particular do you hope to see or are looking forward to?
With Toaru Majutsu no Index III now confirmed to be on the way, which volume's events are you most looking forward to or hoping to see with it?
Volume 14: 9
Volume 15: 128
Volume 16: 38
Volume 17: 7
Volume 18: 5
Volume 19: 6
Volume 20: 5
Volume 21: 2
Volume 22: 37
None of the above: 4

Spring Season 2018 Anime Wikis

TV Anime

Multiseason

TV Shorts

Movies

OVA / ONA / Special