Home
Talk

108
2,124pages on
this wiki
Welcome to the Toaru Universe Wiki
The place where everything about science and magic meets.
• Have something to talk about? Visit the forums! •
Featured Article for the Month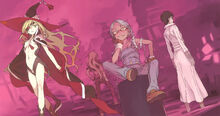 Norse Mythology: The body of mythology of the North Germanic people, stemming from Norse paganism around the time of the Viking Age, and continuing through into modern-day Scandinavian folklore. It follows the lives of the Norse gods — the Æsir and the Vanir — and the men whose lives they directly affected, culminating with the events of Ragnarök, where the majority of the gods and their enemies would die while fighting each other. Norse mythology is often used as a base for Magic - its prevalence in its usage as a basis for magic being second only to Christianity.

It plays a prominent role in Shinyaku Toaru Majutsu no Index, where the cabal GREMLIN is not only based on Norse Magic, but it's key members all take their names from figures from the legends and tales of Norse Mythology. The group's leader Othinus, whose name is the Latinized name of the god Odin, is later revealed to be the actual figure from Norse Mythology. Their goal was to make a replica of Lance of Gungnir in order for her to fulfill their goals and desires in return for helping her, while she merely wished to return to the phase she was originally from...(Learn more...)

Recently featured: Thor
---
Archive – More featured articles...
In Toaru Kagaku no Railgun S, now revolution day has come for STUDY, and with all their puissant arms are determined to bend Academy to their will. No sacrifice is too much for their goal, and they believe that none now can stop them. Who now can stand against the will of STUDY?

Why of course our dear Misaka Mikoto and her friends. In a race against time, Mikoto takes Febrie towards where Janie's powers call her, while her friends and some back-up try and crash STUDY's little Silent Party. Now both of the two parties pull all aces out of their sleeves for the final conflict. Thus begins the exciting climax of the Silent Party Arc.

Read more in the finale episode of the second season of Toaru Kagaku no Railgun: "Eternal party".

---

Previous Episode:
"Silent Party"
Next Episode:
To be continued...
Toaru Majutsu no Index News
More news? Check out this Wiki's News Archives.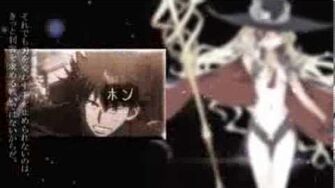 A MAD dedicated to the events of Shinyaku Toaru Majutsu no Index Light Novel Volume 9. Original video by ba96u of Niconico.
Toaru Majutsu no Index
Toaru Kagaku no Railgun
Toaru Kagaku no Accelerator
Toaru Nichijou no Index-san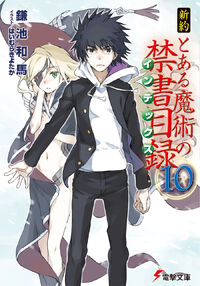 Shinyaku Toaru Majutsu no Index Light Novel Volume 10
10 May 2014
Kamijou Touma
has made an enemy of the entire world to save Magic God
Othinus
.
His previously reliable allies, the highly influential people, the espers, the magicians, and everyone else now attack him as "powerful enemies". This battle has the lowest odds of survival and seems the most hopeless of any other in his life. In other words, the world Kamijou has returned to is the same as "that hell".
But he does not give in. He is not alone this time. There is a way to save Othinus from the world. Namely, to neutralize her powers. To return her to human, he must retrieve the eye of the magic god from Mímir's Well which is in an old castle in Denmark.
Now he has a set objective. Kamijou fights to protect the life and smile of a single girl.(Learn more...)
With a turn out of 99 votes, it seems we have reached the decision with two thirds majority pulling for the Magic God Othinus Arc as the redesignated title.
Magic God Othinus Arc - votes 63
Keep the current name - votes 33
Othinus Arc - votes 1
Othinus and the lance Arc - votes 2
Total - votes 99
Create blog post
Latest Posts
This franchise is about to enter its most critical and exciting 3 month period in the past 3-4 year…

Read more >

It's nice when you see someone you know asking about To Aru but it's disturbing at the same time as y…

Read more >

There are certainly things in the Toaru series which can be quite scary to the characters within th…

Read more >
See more >