Home
Talk

108
1,882pages on
this wiki
Welcome to the Toaru Universe Wiki
The place where everything about science and magic meets.
• Have something to talk about? Visit the forums! •
Featured Article for the Month
The Document of Constantine Arc is a story arc in Toaru Majutsu no Index that follows the aftermath of the 0930 Incident where the tensions are mounting between the the Magic side and the Science side with the effects of the invasion having been to be too widespread for either side to contain and cover up. In response the Roman Catholic Church uses the Document of Constantine to through the command of the Pope labels Academy City as the enemy of the Roman Catholics. This begins a series of large-scale protests throughout Europe centered around areas with Japanese companies, the protests began to escalate as time went on and the protests moved out to other parts of the world.

Kamijou Touma is then asked by board member Oyafune Monaka to put an end to this before tensions could escalate any further, together with Tsuchimikado Motoharu they parachute into Avignon from a plane into the city. Their infiltration dose not go unnoticed by Terra of the Left a member of God's Right Seat who is there to guard the artifact and thus Avignon becomes embroiled in a greater conflict that serves as a prelude of what is to come...Learn more...)

Recently featured: Aleister Crowley
---
Archive – More featured articles...
In Toaru Kagaku no Railgun S, now revolution day has come for STUDY, and with all their puissant arms are determined to bend Academy to their will. No sacrifice is too much for their goal, and they believe that none now can stop them. Who now can stand against the will of STUDY?

Why of course our dear Misaka Mikoto and her friends. In a race against time, Mikoto takes Febrie towards where Janie's powers call her, while her friends and some back-up try and crash STUDY's little Silent Party. Now both of the two parties pull all aces out of their sleeves for the final conflict. Thus begins the exciting climax of the Silent Party Arc.

Read more in the finale episode of the second season of Toaru Kagaku no Railgun: "Eternal party".

---

Previous Episode:
"Silent Party"
Next Episode:
To be continued...
Toaru Majutsu no Index News
(January 10, 2014) A New Year, a new world, and a new novel—NT 9 is released! The 9th Shinyaku Toaru Majutsu no Index is released with Touma confronting a world that is changed by Othinus.
(December 27, 2013) Toaru Kagaku no Accelerator debuts on Dengeki Daioh. The manga featuring the first-ranked Level 5, the Accelerator, marks its debut in Dengeki Daiho with 68 pages. Meanwhile, its much older sister manga, Toaru Kagaku no Railgun, is on its 66th chapter.
(December 19, 2013) Funimation acquires Index II and the Index Movie. Funimation has officially announced that they have acquired the home video rights for Toaru Majutsu no Index II and the Toaru Majutsu no Index Movie: Miracle of Endymion. According to Funimation they will be streaming Index II on January 14 for their subscribers, and for non-subscribers on January 31, 2 episodes per week. There is currently no word for when the titles will be released or if they will be dubbed.
Source: Funimation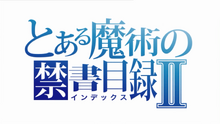 (December 13, 2013) Index II and Index anime tops Dengeki Bunko anime adaptation rankings. Website Anikore compiled a list of the 15 best ranked anime adaptations of Dengeki Bunko's light-novel line. The rankings are based on overall user reviews. Of this ranking, Toaru Majutsu no Index II and Toaru Majutsu no Index ranked first and second place respectively, considered to be the best anime adaptation of a Dengeki Bunko light novel, beating both Sword Art Online and the Ore no Imouto anime adaptations.
Source: Anime News Network
More news? Check out this Wiki's News Archives.
A MAD dedicated to the events of Shinyaku Toaru Majutsu no Index Light Novel Volume 9. Original video by ba96u of Niconico.
Toaru Majutsu no Index
Toaru Kagaku no Railgun
Toaru Kagaku no Accelerator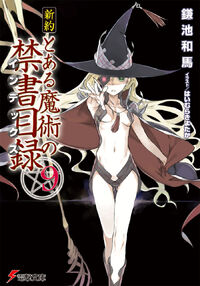 Shinyaku Toaru Majutsu no Index Light Novel Volume 09
10 January 2014
Othinus's rule has been fulfilled.
Sargasso, GREMLIN's base on Tokyo Bay and the battle stage, has disappeared. Not only that, the world itself is gone. Index, Misaka Mikoto, Lessar, and Birdway who came with him have of course vanished too.
In a space filled with darkness, only Kamijou Touma remains. There is a single reason for this: he possesses the right hand that acts as a reference point and restoration point for the world.
Othinus has become a god, so Kamijou Touma is no longer worth even the slightest interest. There is no chance at all for him to make his usual come-from-behind victory. That is the kind of world this is.
And... And... And... This is the story that crushes Kamijou Touma's heart. (Learn more...)
Create blog post
Latest Posts
After doing some research I had decided on taking the railgun and index animes and editing them tog…

Read more >

NT9 was... wow.

Read more >

Ok guys, let me share what I was thinking.

After ready the NT4 volume, I felt that this volume could…

Read more >
See more >