Welcome to the Toaru Universe Wiki
The place where everything about science and magic meets.
• Have something to talk about? Visit the forums! •
Featured Article for the Month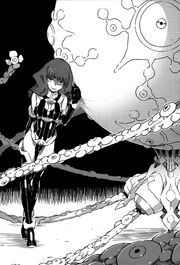 Mitsuari Ayu: Level 3 esper with the ability Mental Stinger, she bears an immense grudge against Shokuhou Misaki, who found by Tree Diagram to both have the possibility of reaching Level 5, and possessing abilities with a near identical basic theory and scope, though they would plateau at Level 3 under standard curriculum. The higher-ups following the Parameter List they chose to focus on Shokuhou Misaki, with Mitsuari Ayu being kept as a back-up in the event of her death. These circumstances later drove her to consider suicide, though she truly wanted to be saved by Kamijou Touma.
Though that did not happen due to accident by caused by Misaki, after surviving she now resents her represents a contrast to both Misaki's situation and character. After delving into the darkness of Academy City she gathered both personnel and equipment in order to seek revenge on Misaki. Using a FIVE_Over Modelcase_"MENTAL_OUT" she made Misaki begin questioning the truth of her memories concerning her and Touma trying to make her erase her own memories...(Learn more...)
Recently featured: Gungnir
---
Archive – More featured articles...
In Toaru Kagaku no Railgun S, now revolution day has come for STUDY, and with all their puissant arms are determined to bend Academy to their will. No sacrifice is too much for their goal, and they believe that none now can stop them. Who now can stand against the will of STUDY?

Why of course our dear Misaka Mikoto and her friends. In a race against time, Mikoto takes Febrie towards where Janie's powers call her, while her friends and some back-up try and crash STUDY's little Silent Party. Now both of the two parties pull all aces out of their sleeves for the final conflict. Thus begins the exciting climax of the Silent Party Arc.

Read more in the finale episode of the second season of Toaru Kagaku no Railgun: "Eternal party".

---

Previous Episode:
"Silent Party"
Next Episode:
To be continued...
Toaru Majutsu no Index News
More news? Check out this Wiki's News Archives.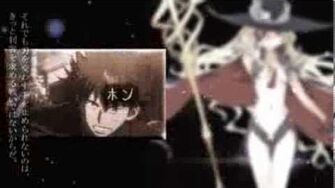 A MAD dedicated to the events of Shinyaku Toaru Majutsu no Index Light Novel Volume 9. Original video by ba96u of Niconico.
Toaru Majutsu no Index
Toaru Kagaku no Railgun
Toaru Kagaku no Accelerator
Toaru Nichijou no Index-san
Shinyaku Toaru Majutsu no Index Light Novel Volume 12
10 March 2015
Kamijou Touma
has just saved
Othinus
from the entire world. This girl who lost her powers as a
Magic God
becomes a freeloader in the
Kamijou Residence
as a shrunken little
fairy
. As for
Index
, she remains as she has always been, happily indulging herself in food. Thus, Kamijou finally gets back the everyday like he had desired.
However, a new threat immediately comes forth.
——The Magic Gods have started to move.
——At the end of this long journey, I've finally found you.
——Saint Germain. That's the name of the one that has everything in his hands.
Inside Academy City's gigantic commercial building complex, the Dianoid, Kamijou crosses paths with Saint Germain. The Dianoid, now a battlefield, is blockaded by the magic god. Among those dragged into the worst circumstances are the members of ITEM, Hamazura Shiage who is planned to carry their luggage, and the rank sixth Level 5, Aihana Etsu——or rather his impostor.
The clash begins.(Learn more...)
Well with about a weeks worth of time we got 147 votes with almost half going going for Mental Out Arc as the chosen title.
Mental Out Arc - votes 72
Shokuhou Misaki Arc(Current Placeholder) - votes 7
Queen's Memory Arc - votes 9
Mental Out Memory Arc - votes 1
Shokuhou Misaki's Memory Arc - votes 4
The Secret History of Mental Out - votes 40
Mental Arc - votes 4
Mental Stinger Arc - votes 4
Mental Reminiscence Arc - votes 4
Total - votes 147
Create blog post
Latest Posts
This is neither a short nor a long blog post from yours truly, but it's something that may be enoug…

Read more >

According to Miki, editor-in-chief at Dengeki Bunko, there are still three more projects that appar…

Read more >

As part of the Kamachi Kazuma 10th Anniversary Celebrations, Kamachi wrote a short story that was r…

Read more >
See more >