Home
Talk

108
2,171pages on
this wiki
Welcome to the Toaru Universe Wiki
The place where everything about science and magic meets.
• Have something to talk about? Visit the forums! •
Featured Article for the Month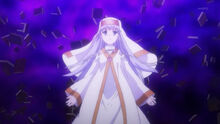 Grimoire: Refers to a book containing knowledge about magic, they are considered to be powerful tools with esoteric knoweldge and powerful magic spells written in them. It is harmful to all who dare read its contents, although, currently, only Index is immune to the debilitating and deadly effects of the grimoires, and with her perfect memory, allows her to serve as the vessel of the Index Librorum Prohibitorum. As such, Index is being hunted by Magic Cabals, and is feared by even her own church, as suspicions rise that she would rebel and become a Majin. This suspicion marks the catalyst for the events that would lead to the beginning of Toaru Majutsu no Index.

A grimoire is practically "eternal" in the sense that it cannot be destroyed by human methods and can only be sealed away. Original grimoires can apparently convert the words that are written inside their pages into magical code, which can be described as an auto-powered magic array or spell. Not unlike Saints, grimoires carry a somewhat heavy political pull, with it containing powerful spells as well as being indestructible, because of these, grimoires are sealed in their respective holding places such as libraries and cannot normally be stolen. If misused a grimoire could easly drastically change the power structure of the magic side, leading to groups taking drastic action at the mere thought of this...(Learn more...)

Recently featured: Endymion
---
Archive – More featured articles...
In Toaru Kagaku no Railgun S, now revolution day has come for STUDY, and with all their puissant arms are determined to bend Academy to their will. No sacrifice is too much for their goal, and they believe that none now can stop them. Who now can stand against the will of STUDY?

Why of course our dear Misaka Mikoto and her friends. In a race against time, Mikoto takes Febrie towards where Janie's powers call her, while her friends and some back-up try and crash STUDY's little Silent Party. Now both of the two parties pull all aces out of their sleeves for the final conflict. Thus begins the exciting climax of the Silent Party Arc.

Read more in the finale episode of the second season of Toaru Kagaku no Railgun: "Eternal party".

---

Previous Episode:
"Silent Party"
Next Episode:
To be continued...
Toaru Majutsu no Index News
More news? Check out this Wiki's News Archives.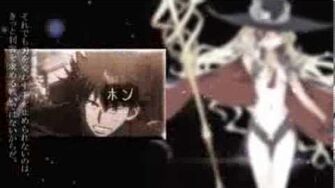 A MAD dedicated to the events of Shinyaku Toaru Majutsu no Index Light Novel Volume 9. Original video by ba96u of Niconico.
Toaru Majutsu no Index
Toaru Kagaku no Railgun
Toaru Kagaku no Accelerator
Toaru Nichijou no Index-san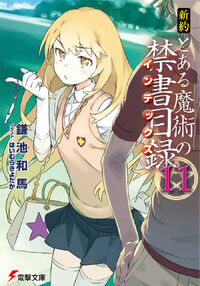 Shinyaku Toaru Majutsu no Index Light Novel Volume 11
10 October 2014
"When I think about it, it was the same crossing as the one where I met "him". It was long before the white sister carrying many grimoires escaped the magic side and fell out of the sky that Shokuhou Misaki first met Kamijou Touma. Even now, Shokuhou Misaki remembers the spiky haired boy.
At first, she thought it was just some lame guy hitting on her.
And then, he saw her wearing a swim suit
And then, she hits him with her bag
And then, she experienced an indirect kiss.
And finally――.
He saved her life
This is one of the only few pieces of happy moments in her life that she can hold dear to. The strongest mental esper [Mental Out]'s important memory. The story which unfolds Shokuhou Misaki's past begins now.(Learn more...)
Well with about a weeks worth of time we got 147 votes with almost half going going for Mental Out Arc as the chosen title.
Mental Out Arc - votes 72
Shokuhou Misaki Arc(Current Placeholder) - votes 7
Queen's Memory Arc - votes 9
Mental Out Memory Arc - votes 1
Shokuhou Misaki's Memory Arc - votes 4
The Secret History of Mental Out - votes 40
Mental Arc - votes 4
Mental Stinger Arc - votes 4
Mental Reminiscence Arc - votes 4
Total - votes 147
Create blog post
Latest Posts
Hello everyone.

Have you picked up the very first Yen Press English release of the Toaru Majutsu no I…

Read more >

So it was announced a while back on the Kamachi Kazuma 10th Anniversary website that Toaru Majutsu …

Read more >

As you probably know, there have been a number of video games made for the Toaru series, and of a fe…

Read more >
See more >