Home
Talk

108
2,082pages on
this wiki
Welcome to the Toaru Universe Wiki
The place where everything about science and magic meets.
• Have something to talk about? Visit the forums! •
Featured Article for the Month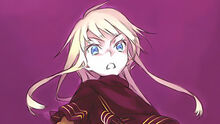 Thor One of the true members of GREMLIN and one of it's top representative combat members. True to his namesake, Thor does greatly enjoys combat, he prefers it when there are no distractions, with no fear of collateral damage on bystanders. He seeks out worthy opponents to fight in battle to this end he joined GREMLIN in order to find and fight people who are above him or at least prove challenging. Despite being a normal magician he is more then capable of fighting on par with Saints.

In his first appearance he tried to recruit Kamijou Touma in effort to save Fräulein Kreutune. He did this in order for her and the pepole of Academy City not to get involved with the insuing fighting that GREMLIN and Ollerus' group would come to do over her. Showing his willingness to opposes both GREMLIN and Othinus, partly to inorder to avoid unnecessary conflict and with the opportunity to fight against Othinus. Theses actions set in motion the chaos of that consumed the events of the Ichihanaransai festival...(Learn more...)

Recently featured: Acqua of the Back Arc
---
Archive – More featured articles...
In Toaru Kagaku no Railgun S, now revolution day has come for STUDY, and with all their puissant arms are determined to bend Academy to their will. No sacrifice is too much for their goal, and they believe that none now can stop them. Who now can stand against the will of STUDY?

Why of course our dear Misaka Mikoto and her friends. In a race against time, Mikoto takes Febrie towards where Janie's powers call her, while her friends and some back-up try and crash STUDY's little Silent Party. Now both of the two parties pull all aces out of their sleeves for the final conflict. Thus begins the exciting climax of the Silent Party Arc.

Read more in the finale episode of the second season of Toaru Kagaku no Railgun: "Eternal party".

---

Previous Episode:
"Silent Party"
Next Episode:
To be continued...
Toaru Majutsu no Index News
(July 10, 2014) Announcements 5 and 6 Index 10th Anniversary celebration reveled. Fifth piece of news Kamachi 10th Shinyaku Toaru Majutsu no Index revealed Ichiban Kuji, lottery for this winter sale. Sixth piece of news a Crossover novel with characters from all of Kamachi's series, no date of release as of yet.

(May 10, 2014) Following a twenty page preview the fight is coming to a close. The 10th Shinyaku Toaru Majutsu no Index is released with Touma has returned to his world and now confronts it to save Othinus.

(April 19, 2014) Yen Press Adds A Certain Magical Index Light Novels. Today at Sakura-Con publisher Yen Press announced the licensed Toaru Majutsu no Index for release in America as part of it's new Yen On program, whether this includes the Shinyaku Toaru Majutsu no Index series as well is currently unknown at this time.
Source: Anime News Network

(April 10, 2014) Today ten years ago the first Index volume was released. To celebrate this time several pieces of information were released through Kazuma Kamachi's new website, Kiyotaka Haimura's second art collection will be on sale this summer, and Kamachi is writing a new book for a new sires. With seven other pieces of news hint at but yet to be released.

More news? Check out this Wiki's News Archives.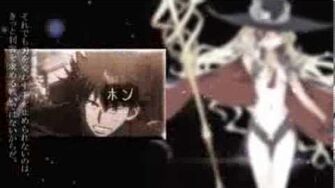 A MAD dedicated to the events of Shinyaku Toaru Majutsu no Index Light Novel Volume 9. Original video by ba96u of Niconico.
Toaru Majutsu no Index
Toaru Kagaku no Railgun
Toaru Kagaku no Accelerator
Toaru Nichijou no Index-san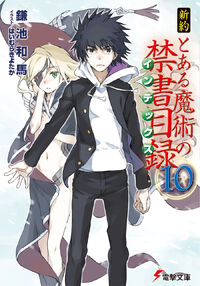 Shinyaku Toaru Majutsu no Index Light Novel Volume 10
10 May 2014
Kamijou Touma
has made an enemy of the entire world to save Magic God
Othinus
.
His previously reliable allies, the highly influential people, the espers, the magicians, and everyone else now attack him as "powerful enemies". This battle has the lowest odds of survival and seems the most hopeless of any other in his life. In other words, the world Kamijou has returned to is the same as "that hell".
But he does not give in. He is not alone this time. There is a way to save Othinus from the world. Namely, to neutralize her powers. To return her to human, he must retrieve the eye of the magic god from Mímir's Well which is in an old castle in Denmark.
Now he has a set objective. Kamijou fights to protect the life and smile of a single girl.(Learn more...)
With a turn out of 99 votes, it seems we have reached the decision with two thirds majority pulling for the Magic God Othinus Arc as the redesignated title.
Magic God Othinus Arc - votes 63
Keep the current name - votes 33
Othinus Arc - votes 1
Othinus and the lance Arc - votes 2
Total - votes 99
Create blog post
Latest Posts
Check this out, Toaru Kagaku no Railgun lovers, because we have just received some pretty great pri…

Read more >

Official Rules for Toaru Kagaku no Railgun Giveaway.

1. NO PURCHASE NECESSARY. VOID WHERE PROHIBITED…

Read more >

To celebrate the upcoming release of A Certain Scientific Railgun S, aka Toaru Kagaku no Railgun, Fun…

Read more >
See more >