Home
Talk

108
1,980pages on
this wiki
Welcome to the Toaru Universe Wiki
The place where everything about science and magic meets.
• Have something to talk about? Visit the forums! •
Featured Article for the Month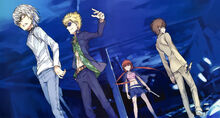 GROUP is an Academy City Darkside organization. They are composed of four main field operatives:Tsuchimikado Motoharu, Accelerator, Etzali(disguised as Unabara Mitsuki), and Musujime Awaki. The organization is referred to as "a small group that exists in the underworld, working to defend the mainstream society." The four field operatives are composed of Espers and Magician blackmailed in some way to join and keep them in the organization, as such they are coerced to work together for the sake of their mission in order to protect something important to them. GROUP is referred to as a "cold-hearted" group, with the standard idea within the organization is that each member had to deal with their own problems.

Like the other Dark Side of Academy City factions their level of security and authority are the same—an unofficial unit created by putting few persons together. Their primary purpose is to take on Academy City's Dark Side, similar to ITEM, and more often than not, perform illegal acts for Academy City. GROUP was formed to take care of internal affairs of Academy City's Dark Side, and is one of the more successful organizations, dispte not seeming to have no official leader, and operate based on individual decisions. After the events of October 9, GROUP remains the only primary underground organisation that remains intact out of the five that were shown in the story....Learn more...)

Recently featured: Document of Constantine Arc
---
Archive – More featured articles...
In Toaru Kagaku no Railgun S, now revolution day has come for STUDY, and with all their puissant arms are determined to bend Academy to their will. No sacrifice is too much for their goal, and they believe that none now can stop them. Who now can stand against the will of STUDY?

Why of course our dear Misaka Mikoto and her friends. In a race against time, Mikoto takes Febrie towards where Janie's powers call her, while her friends and some back-up try and crash STUDY's little Silent Party. Now both of the two parties pull all aces out of their sleeves for the final conflict. Thus begins the exciting climax of the Silent Party Arc.

Read more in the finale episode of the second season of Toaru Kagaku no Railgun: "Eternal party".

---

Previous Episode:
"Silent Party"
Next Episode:
To be continued...
Toaru Majutsu no Index News
(April 19, 2014) Yen Press Adds A Certain Magical Index Light Novels. Today at Sakura-Con publisher Yen Press announced the licensed Toaru Majutsu no Index for release in America as part of it's new Yen On program, whether this includes the Shinyaku Toaru Majutsu no Index series as well is currently unknown at this time.
Source: Anime News Network

(April 10, 2014) Today ten years ago the first Index volume was released. To celebrate this time several pieces of information were released through Kazuma Kamachi's new website, Kiyotaka Haimura's second art collection will be on sale this summer, and Kamachi is writing a new book for a new sires. With seven other pieces of news hint at but yet to be released.

(January 10, 2014) A New Year, a new world, and a new novel—NT 9 is released! The 9th Shinyaku Toaru Majutsu no Index is released with Touma confronting a world that is changed by Othinus.

(December 27, 2013) Toaru Kagaku no Accelerator debuts on Dengeki Daioh. The manga featuring the first-ranked Level 5, the Accelerator, marks its debut in Dengeki Daiho with 68 pages. Meanwhile, its much older sister manga, Toaru Kagaku no Railgun, is on its 66th chapter
More news? Check out this Wiki's News Archives.
A MAD dedicated to the events of Shinyaku Toaru Majutsu no Index Light Novel Volume 9. Original video by ba96u of Niconico.
Toaru Majutsu no Index
Toaru Kagaku no Railgun
Toaru Kagaku no Accelerator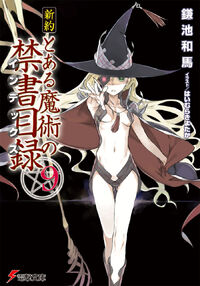 Shinyaku Toaru Majutsu no Index Light Novel Volume 09
10 January 2014
Othinus's rule has been fulfilled.
Sargasso, GREMLIN's base on Tokyo Bay and the battle stage, has disappeared. Not only that, the world itself is gone. Index, Misaka Mikoto, Lessar, and Birdway who came with him have of course vanished too.
In a space filled with darkness, only Kamijou Touma remains. There is a single reason for this: he possesses the right hand that acts as a reference point and restoration point for the world.
Othinus has become a god, so Kamijou Touma is no longer worth even the slightest interest. There is no chance at all for him to make his usual come-from-behind victory. That is the kind of world this is.
And... And... And... This is the story that crushes Kamijou Touma's heart. (Learn more...)
Create blog post
Latest Posts
I´m so angry that I almost poped a vein, I mean, I don´t live in USA and that means that I can´t ge…

Read more >

Various pieces of concept art have been made and released for characters and objects within the Toa…

Read more >

We all know the Toaru series has a huge number of characters, many of whom are capable of handling t…

Read more >
See more >