Welcome to the Toaru Majutsu no Index Wiki
The place where everything about science and magic meets.
• Have something to talk about? Visit the forums! •
Featured Article for the Month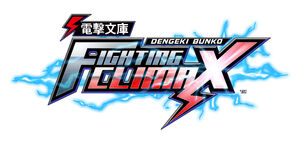 Dengeki Bunko Fighting Climax: is a 2D arcade fighting game developed by Ecole Software and French Bread and published by Sega, which brings together selected characters from different light novel series published under the Dengeki Bunko imprint. The project was a collaboration between Sega and Dengeki Bunko as part of the 20th year anniversary of the light novel imprint.
The roster consists of characters from light novel series under the Dengeki Bunko imprint. Although most characters come in pairs, some series included in the roster are exclusively assist characters. Special mention goes to Sword Art Online and Mahouka Koukou no Rettousei, with each series having two characters being playable. While Toaru Majutsu no Index has Misaka Mikoto as a playable character with Kamijou Touma and Accelerator as assist characters.
The arcade game was later released for both the PlayStation 3 and PS Vita in Japan on November 13, 2014, with a western version set for release set for release on October 6, 2015 in both North America and Europe. An updated version Dengeki Bunko: Fighting Climax Ignition was launched on July 28, 2015, bringing in additional characters and more balanced gameplay...(Learn more...)
Recently featured: British Halloween
---
Archive – More featured articles...
Toaru Majutsu no Index News
More news? Check out this Wiki's News Archives.
Light Novels
---
Manga
---
Anime
---
General Content Sites
Well from the start St. Germain Arc had a great start and just kept gaining more support so thats what we will use as the chosen title.
St. Germain Arc - votes 54
Dianoid Arc - votes 7
Dianoid's Liars - votes 3
Dianoid Blockade Arc - votes 1
Total - votes 65
Create blog post
Latest Posts
I am starting a channel called A Certain Reviewer and i was hoping i would get support from fellow …

Read more >

Kazuma Miki says starting 7:12:28 in the video: "Lastly, there is no season 3 yet for Index. I'm so…

Read more >

There is no Index III anime, but that doesn't mean that the franchise is at a standstill. With the …

Read more >
See more >