Featured Article for the Month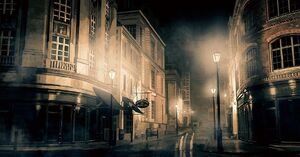 The Battle of Blythe Road was a key event in the collapse of the Golden Dawn. Considered a crucial but quiet turning point of history by magic researchers, it occurred in April 1900, at 36 Blythe Road, Hammersmith, London, the site of the cabal's most important ceremonial ground and armory.
The instigator was Aleister Crowley, who was trying to avert his future daughter's death, caused by a phenomena which the Golden Dawn's activities were contributing to. After attacking Samuel Liddell MacGregor Mathers for a sample of his blood and using it to forge a document with his orders, Aleister stormed 36 Blythe Road and occupied the building, as well as taking several key items from the armory.
This sparked a war between the Mathers and Westcott factions of the Golden Dawn, one which Aleister exploited in order to destroy the cabal and curse its members, dooming them to die or live a life of failure.
Recently featured: Thelema
---
Archives – More featured articles...
Toaru Majutsu no Index News
(October 7, 2017) Touma and Aleister on a Weird Re-Encounter—New Testament Volume 19 is Released

: The 19th volume of the Shinyaku Toaru Majutsu no Index light novel series kicks off with Kamijou Touma meeting Aleister Crowley, the General Superintendent of Academy City, in a never-before-seen form! Shenanigans ensue!
(October 1, 2017) Toaru Majutsu no Index Season 3 Confirmed for 2018

: Dengeki Bunko editor Miki Kazuma confirmed during the Dengeki Bunko Autumn Festival 2017 that a third season of the Toaru Majutsu no Index anime series has been green-lit and will premiere on 2018 as part of the 2018 Toaru Project. Source: Anime News Network
(September 27, 2017) New Railgun Manga Arc to begin in October

: This month's Dengeki Daioh magazine has revealed that the title of the 5th Toaru Kagaku no Railgun story arc will be the Jailbreaker Arc. The new arc is scheduled to begin in next month's issue.
(September 19, 2017) Virtual-On PS4/Vita game to release on February 15, 2018

: The first promotional video for the Toaru Majutsu no Virtual-On game was screened today at the 2017 PlayStation Press Conference in Japan showing gameplay footage and release dates for the game.
More news? Check out this Wiki's News Archives.
I know I've been absent for a long while. But I did not procrastinate: I decided to try to make a fuller comprehensive list of all the differences in term translation (an example …

Read more >

The story of Toaru Majutsu no Index (and its major spinoff Toaru Kagaku no Railgun) as a multimedia franchise has been established as one of the most successful projects in recent …

Read more >

Once upon a time, two users by the name of GalaxyTM and Zekblue worked together and created a Wikia site that aimed to document and allow easy access to information related to the…

Read more >
With Toaru Majutsu no Index III now confirmed to be on the way, which volume's events are you most looking forward to or hoping to see with it?
It is less than a month before NT19 is released. Following the events which transpired in NT18 and the preview, what in particular do you hope to see or are looking forward to?
Interactions between Touma and Aleister: 2
Interactions between Aleister and other characters: 2
Kamijou Touma's situation: 17
Accelerator's situation: 7
Hamazura Shiage's situation: 6
Coronzon's actions: 0
Academy City's situation: 0
Situation for Necessarius and the British Commonwealth: 1
General fallout and consequences from NT18's events: 1
Reappearance of characters not seen in a while: 3
Multiple aspects above: 33
None of the above: 1

Ad blocker interference detected!
Wikia is a free-to-use site that makes money from advertising. We have a modified experience for viewers using ad blockers

Wikia is not accessible if you've made further modifications. Remove the custom ad blocker rule(s) and the page will load as expected.