Featured Article for the Month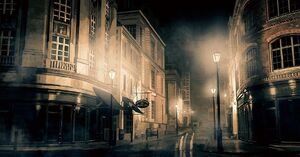 The Battle of Blythe Road was a key event in the collapse of the Golden Dawn. Considered a crucial but quiet turning point of history by magic researchers, it occurred in April 1900, at 36 Blythe Road, Hammersmith, London, the site of the cabal's most important ceremonial ground and armory.
The instigator was Aleister Crowley, who was trying to avert his future daughter's death, caused by a phenomena which the Golden Dawn's activities were contributing to. After attacking Samuel Liddell MacGregor Mathers for a sample of his blood and using it to forge a document with his orders, Aleister stormed 36 Blythe Road and occupied the building, as well as taking several key items from the armory.
This sparked a war between the Mathers and Westcott factions of the Golden Dawn, one which Aleister exploited in order to destroy the cabal and curse its members, dooming them to die or live a life of failure.
Recently featured: Thelema
---
Archives – More featured articles...
Toaru Majutsu no Index News
(July 6, 2018) Toaru Majutsu no Index III Teaser Trailer Streamed

: The teaser was streamed by staff at this year's Anime Expo and later uploaded to their official YouTube channel. Iuchi Maiko will be returning as series composer. Source: Anime News Network [new]
(June 9, 2018) Let the Bloody Battle Begin! New Testament Volume 20 is Released

: Academy City has ceased to function. Great Demon Coronzon threatens to eternally cast a dark shadow over humanity's history. Aleister, along with Touma, Index, Othinus, Fran, Accelerator, Shiage and Rikou travel to England in order to grasp Coronzon's Achilles' heel before it's too late. However, hostilities are inevitable...
(April 10, 2018) New Testament Volume 20 To Hit Shelves on June 10

: Release details for the 20th volume of the Shinyaku Toaru Majutsu no Index light novel series have been released on the Dengeki Bunko official website. Source: Dengeki Bunko
More news? Check out this Wiki's News Archives.
"The Great Game", also known as simply "the Game", refers to what scholars have dubbed the Sherlockian game, a pastime by Sherlock Holmes fans attempting to retrace the biographie…

Read more >

I've been thinking about this for a while and came up with a theory on Imagine Breaker and the things it apparently seals. Basically, every character who thinks they know the true…

Read more >


Toaru Majutsu no Index III will be aired in October 2018

CAST

Kamijou Touma (VA: )
Index (VA:)
Misaka Mikoto (VA:)
Accelerator (VA:)
Hamazura Shiage (VA:)

STAFF

Writer: Kamachi Kazuma
Illus…

Read more >
The teaser trailer for the upcoming Toaru Majutsu no Index III anime. The anime will premiere in October. [new]
We've had some time to take in the events of NT20. Which part(s) of the novel did you like the most?
It is just over two weeks before NT20 is released. Following the events which transpired in NT18 and NT19, as well as the small preview, what in particular do you hope to see or are looking forward to?
Seeing old faces again for the first time in a while: 6
Interactions between Aleister and the three heroes: 1
Interactions between Aleister and other characters: 0
The situations for the three heroes and their companions in England: 0
The situation for Academy City's population: 4
The situation for Necessarius and the British Commonwealth: 2
Aleister & co. VS Coronzon & co.: 0
The anticipated war: 0
The dynamics of a billion Aleisters: 0
Orsola's role in these events: 0
General fallout and consequences from NT19's events: 11
Multiple aspects above: 19
None of the above: 1
Total: 44