Chapter 2
魔術師と能力者の競技場 "Stab_Sword."
Touma discovers that there are magicians running loose in Academy City from Tsuchimikado and Stiyl Magnus. Fortunately, the target is not Index. Tsuchimikado's plan involves Touma taking Index away from any magical conflict that would ensue, while Stiyl and he will handle the magicians.
Things would go different than expected as Touma stumbles upon Oriana Thomson by chance. He begins a pursuit for the blonde onee-san from earlier with Tsuchimikado and Stiyl. A failed attempt at catching her would require Stiyl to perform a tracking spell, only to realize the extents of their target's abilities.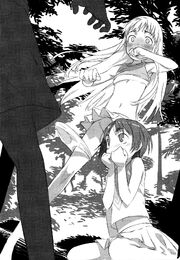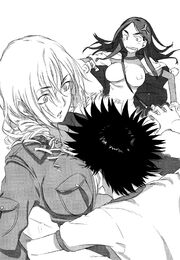 Referbacks
Edit
New Characters
Edit
New Abilities
Edit
Shorthand:
Silent Coin
Water Symbol
Soil symbol
Cultural References
Edit
Unanswered Questions
Edit