Shokuhou Misaki
Comments

4
1,307pages on
this wiki
Shokuhou Misaki

Personal Info
Name (Kanji)
食蜂操祈
Name (Romaji)
Shokuhō Misaki
Epithet

The Queen of Tokiwadai
Mental Out
Number Five

Classification
Esper
Abilities
Ability Name
Mental Out (心理掌握

Shinri Shōaku (Mentaru Auto)

?

, lit. "Psychological Control")
Power Level
5
Media
Voiced By
Azumi Asakura
Debuts
Novel
NT Volume 6 (small appearance)
Manga
Railgun Chapter 40 (small appearance)
Anime
Railgun S Episode 1
Shokuhou Misaki (食蜂操祈, Shokuhō Misaki) is the fifth ranked Level 5 esper and a student at Tokiwadai Middle School that goes under the alias "The Queen". This refers to her having the largest faction and influence within Tokiwadai Middle School due to her ability.[1]
Etymology
Edit
Misaki's first name can be translated as "Wish For Control" and her name as whole can be translated as "Dominated Psychology".
Appearance
Edit
Misaki appears as an elegant beauty of Tokiwadai Middle School, sporting long straight hair of golden color. She wears a pair of white gloves and stockings, both adorned with lace. She is also seen holding a shoulder bag with a star adorned on the middle.
Her eyes are also gold colored, however, one notable feature of her eyes is that it has a star design on it. Literally, she is a starry-eyed girl. She claims that she was born that way.[2]
Personality
Edit
Coupled with her cute face, Misaki exudes a seemingly playful and childish personality, as seen with her interaction with Mikoto. However, with this facade belies a much more cunning nature, as she demonstrates her power to intimidate Mikoto by controlling the entire student body that was currently inside the Tokiwadai Middle School library.
As one of the two Level 5s of Tokiwadai, she and her followers have a rivalry with Misaka Mikoto and her fans. She never shows herself in public, instead using her followers or mind-controlling people to act as her representatives when talking with individuals. It is hinted that she has a strong dislike for public appearances, and this is why whenever the school needs a "face" to promote certain public events, she and her faction will simply stand aside and let Mikoto hog all of the attention and responsibilities.[3] She seems to prefer working alone, even if it is a Level 5 like Misaka Mikoto.[2] She is also terrible at athletics, and a mere jog, according to Mikoto, will quickly tire her.[2]She can be described as being similar to Laura Stuart because of her frivolous outward personality that hides a layer of cunning scheming, though much more downplayed.
She uses the word ~ability or ~power (~力, ~ryoku?) as a suffix to certain words, like "relationship ability" or "brainwashing power".
Chronology
Edit
Toaru Kagaku no Railgun
Edit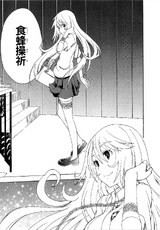 She is finally formally introduced in Toaru Kagaku no Railgun, where Mikoto is already aware of her status as well as displaying her animosity towards her.[4] Here, she warns Mikoto if she attempts to create a clique of her own and challenge her, controlling several Tokiwadai students at the same time to get the point straight. Finally, after letting go, Mikoto asks if she truly is a middle school student after seeing her bust size, to which Misaki states the ambiguity of her appearance may be due to her powers before leaving.
Daihasei Festival Arc (Railgun)
Edit
She is later seen with members of her faction as they discuss the proposal by the Daihaseisai committee for a showing of Level 5s. Misaki says she doesn't feel it'd be right to take Mikoto's spotlight. One of her underlings expresses concern when Misaki has a second crepe when she just had one, and the girl with drill hair takes it away. Suddenly, a nameless man that was a supervisor in the Level 6 Shift prompts up Misaki as he drinks a cup of coffee from an adjacent table. Her underlings are about to intervene but she uses her powers to rewrite their memories and shoo them away -- adding on that they should eat twenty Éclairs as fast as possible while they're at it. When they are gone, the man and Misaki speak on an arrangement about certain knowledge she wants. The man says he has what she wants but that Misaki shouldn't concern herself with that; the top priority this time is to get the client to trust them. He says Misaki's help is appreciated and the two beam contrasting smiles at each other that perhaps aren't that different.[3]
During the opening of the Daihaseisai, she speaks along with Sogiita Gunha, but is quickly overshadowed by Gunha's fiery speech, drowning out her own. Since he didn't memorize the real speech and was going on guts alone, there was no coordination. She sulks afterwards, saying she was beaten.[5]
She is later seen preparing for a competition and boasting she can just mind control the referees and player to easily win. However, Fukiyose Seiri barges in and takes the purse that contains her remote control, saying Misaki can't have gear on her that isn't for sports. Misaki stand idly with a blank look, realizing she's been had.[6] She is absent during Tokiwadai's ill-fated ball hunting competition, but reappears at the end with the supervisor of the Level 6 Shift, looming over a tired and unconscious Misaka 10032.[7] She reappears later during the lunch break, talking to Mikoto on how about she's too tired on doing anything else for the day, hither comes Touma, who just talked to Mikoto before Misaki showed up, and is allured by her appearance. She teases Mikoto regarding her temper, and alludes to her knowledge of his name (Touma did not introduce himself to her) and of their acquaintance from before Touma's memory loss, before leaving.[8]
It is later revealed that she has altered the memories of the paramedics that took Misaka 10032, as well as her own teacher, Watanabe, whom she fully controlled, putting Mikoto in a tight spot. Finally, with the supervisor, she uses her powers to completely erase the memories of Misaka Mikoto from Uiharu Kazari, Shirai Kuroko, and Saten Ruiko.[9]
In the next chapter, Misaki is shown once again standing over a bedridden Misaka 10032, seemingly coordinating her actions with Baba Yoshio while members of her clique continue to stall Mikoto's attempts to uncover her plots.[10] By the end of Chapter 51 following the conclusion of Kongou and Baba Yoshio's battle, Misaki's clique members are unable to further stall a furious Mikoto.[11] The following chapters introduce Kouzaku Mitori and the possibility that Misaki may not be involved with the attack on Mitsuko Kongou and her friends.
In Chapter 55 Mikoto finally confronts Misaki. The Mental Out ensures that 10032 is currently safe in her custody, and directs the Railgun to a truck. Misaki reveals that she abducted 10032 herself after she had been incapacitated to try to keep her safe while searching for the aggressors. Misaki forced information about the Level 6 Shift out of a group of researchers, realizing that Kihara Gensei was behind the plot, and also that he is attempting to exploit the Misaka Network. Misaki tells Mikoto that they are en route to Gensei's hideout to end his schemes. Mikoto asks why Misaki erased her friends' memories of her, at first suggesting that it was Misaki's idea of being considerate by keeping them out of danger. Misaki denies this, stating that it stopped Mikoto from enlisting the aid of her friends and also from forcing her way out of Misaki's clique, and that it was necessary to prevent any variables and irregularities from interfering with her plan. A shocked Mikoto asks why she couldn't have just worked with her from the beginning, pointing out the extent of Kongou's injuries. Misaki says that although what happened to Kongou was unfortunate, it ultimately helped her since it resulted in the destruction of Baba Yoshio's robots, which Misaki had no way of dealing with. An enraged Mikoto demands once again why she did not simply ask for her help, but Misaki states that co-operation and trust are unreliable -- it was Mikoto's trust in others, after all, that led to the Radio Noise Project and the Level 6 Shift. Misaki concludes that she has no intention of working with anybody whose mind she cannot read. They are only working together, Misaki says, because of her respect for Mikoto's devotion to her friends and the possibility of finishing the job before Gensei can react. Mikoto says that she doesn't think that she will ever be able to get along with Misaki. Before they are about to begin the assault on Gensei's hideout Mikoto asks why a person like Misaki would help the Sisters, to which the Mental Out says she has no obligation to tell her that much.[12]
The impromptu alliance between the Railgun and Mental Out begins with Mikoto hurrying forward, speeding past her ally. When Misaki doesn't catch up, Mikoto believes that she has been set up since the path they took was straight and there was no way that she could have gotten lost. An exhausted Misaki catches up moments later, chastising Mikoto for losing focus and getting worked up. Mikoto says that she thought she was jogging. Misaki hurriedly responds that Mikoto is simply lighter than her in certain areas and that she is more aerodynamic. Mikoto asks if she is simply out of shape and the two argue heatedly about the importance of athletic abilities and body shapes. They finally decide that they should not be moving together and split up, both Tokiwadai students telling the other not to get in each others' way. Misaki is later seen mind-controlling a group of Gensei's thugs, forcing several to fire on each other while sealing off the rest of the complex to prevent any escape.[2]
As the infiltration of Gensei's hideout progresses, Misaki's mental manipulation has completely broken apart the cohesion Gensei's troops as they cannot identify who is friend or foe. Misaki meets up with a disguised Mikoto, making a quip about her outfit as she is escorted by a pair of guards. She says that the building has been sealed off and is then told by a mind controlled guard that Gensei has been captured.[13]
Later, Mikoto and Misaki attempt to interrogate a restrained and blindfolded Gensei, but he only utters gibberish. Misaki says that she doesn't need him to talk, she only needs to ask his brain. When she uses her remote on him, she realizes that something is wrong. She grabs Gensei and yanks at his scalp, ripping it apart and revealing that they had only apprehended a disguised minion. Misaki hurries away from the body double and a confused Mikoto -- her reading of the body double's mind shows that the real Gensei was a step ahead of Misaki and he quips that she is in the wrong place, and that she "can't protect Exterior like that."[14]
Toaru Majutsu no Index
Edit
Misaki has never made an appearance in Toaru Majutsu no Index but is often referenced throughout the series for her role as a powerful telepath, and is always referred to in the third person or as her alias, The Queen of Tokiwadai.
Index Arc
Edit
Kamijou Touma first references her during the Index Arc. While trying to convince Kanzaki Kaori to let Academy City help Index, he tells her that there's a Level 5 at Tokiwadai that could extract people's memories by just touching them.[15] However, if Misaki were to see into Index's mind -- and thus her many grimoires -- the backlash would probably kill her.
Acqua of the Back Arc
Edit
In Volume 16, Mikoto mentions Shokuhou (by her epithet "The Queen") for the first time, recalling that the Queen is the best mind controller in Academy City. Mikoto first considers asking her to fix Kamijou Touma's memory loss problem[16], but quickly dismisses the idea since she isn't on good enough terms with her, and Mikoto did not want to end up in the "Queen's" debt. Mikoto also did not like the idea of trusting the health of a friend to someone she has an indirect rivalry with.
Shinyaku Toaru Majutsu no Index
Edit
Homecoming Arc
Edit
Misaka Mikoto, when faced with a drunken Touma, thinks to herself that it isn't an illusion created by Misaki.[17]
Kumokawa Seria tries to psyche herself up by imitating something Misaki would say, but finds that she can't do it and is way out of Misaki's league for that sort of thing. This hints that these two schemers know each other somewhat for Seria to know Misaki personally. [18]
Baggage City Arc
Edit
Although she does not appear, research material from her are used by Kihara Ransuu to create hallucinogenic drugs he uses against GREMLIN.
Ichihanaran Festival Arc
Edit
Kumokawa Seria mentions her saying that she would use her powers in order to win a swimsuit competition, implying that Shokuhou will join Eiri High School's swimsuit competition.[19]
At 8 AM of the festival, Misaka Mikoto tried to go to A Certain High School to check out its trial enrollment. There, she runs into Shokuhou at the main entrance, much to her bewilderment. She then controls several people in the vicinity and had them chase and tease her, forcing Mikoto to flee. It is unknown why Shokuhou was there in the first place.[20]
Shokuhou later appears in Eiri High School for the swimsuit competition. She claims to have been forced by her friends to become part of the competition, and refers to Seria as an old woman, as she refuses to come near her. Seria then mentions that she is in the opposite side is to get out of her strange.[21]
Agitate Halation Project Arc (New Testament Volume 7)
Edit
At some point in this light novel, Shokuhou describes to Touma the extent of her powers. She makes it clear that she still has the increased abilities that Exterior, from the railgun manga, allows her to use. There is no explicit mention of Exterior, however.
Abilities
Edit
Her ability is Mental Out (心理掌握, Shinri Shōaku (Mentaru Auto)?, lit. "Psychological Control"), a very powerful ability involving the human mind which includes reading other people's memories, telepathy, changing a person's personality by means of brainwashing, memory elimination, amplification of will, institution of illusions, and transplantation of emotions.
She can take-over a person and use his or her body to interact with other people in long distance. She has the ability to control not more ten people at once using her full power. She can also control large number of people but she can only give them simple commands. 
Mikoto's electric barrier, which surrounds her body, prevents Misaki from using her powers on her.[4]
Repeatedly, Misaki is shown to use a remote to use her powers.[4][3] According to Toaru Kagaku no Railgun's editor, Misaki's powers has too high a degree of freedom, so she uses a remote to provide a basis to work off of. She does not have a single remote. She uses different remotes depending on what type of power she wishes to use. The bag she carries around is filled with a lot of different remotes. It is possible for her to use her powers without a remote, but it is very difficult so she generally prefers not to.
Moreover, it has also been shown that she can somehow prevent the use of powers and movement of other people using the remote. Also, unique to the power is that some of the people that have been tampered and controlled by Shokuhou display star markings (Misaki's eyes are stars on them) on one or both their eyes.[9]
Character Art Designs
Edit
Design evolution
Edit
Haimura was told that there was going to be a meeting that would decided her character for her appearance in the Toaru Kagaku no Railgun manga. Haimura's first draft of her design was drawn without thought and before he was given instructions and descriptions on what Misaki would look like, other than that she was designed to look like a shoujo character that will not stand out when mixed in a group of characters. After the meeting that decided her character, the draft of Misaki with the blonde hair was chosen and Haimura later finished the overall look of her character.
For her bag, Haimura first designed the bag with many stars, and later realizing that it was too cluttered, simplified it.
(Misaki as she is poking Mikoto in the library): "Miiii-saaa-kaaa-saaan!"
(Misaki, taunting Mikoto about Kongou Mitsuko): "I heard you were forcing yourself on a transfer student that had no place to belong to... On the surface you're being a wolf, while in the back you're making a secret gang?"
(Misaki, threating Mikoto and her friends): "Ah, I see! All I have to do is take Misaka-san's followers with my brainwashing powers.♥"
(Misaki, talking about the Level 5 demonstration): "Hmm... Just doing it would be fine, but going as a stand-in for Misaka-san just doesn't feel right..."
(Misaki, sending her gang away to speak with an unnamed researcher): "You guys leave for 15 minutes. Oh, and challenge yourself to eat 20 Éclair as fast as possible during that time.☆"
Misaki has a taste for sweets.[3]
Along with the 6th Level 5, her identity was one of the most speculated in the series by the fandom. This was brought on by both series' characters referencing her, and Mikoto's apparent lack of trust towards her.
She is referenced by Shirai Kuroko in the final moments of the first Toaru Kagaku no Railgun OVA, where she states that there are two Level 5s Tokiwadai Middle School.
Misaka Mikoto suspects that Misaki might not be a middle school student based on her bust size.[4]
Misaki has a cameo in the Index manga chapter 15, where she is partially shown in an image when Kamijou Touma is reading the Report about the Experiment, however since that image was drawn before her official design was disclosed, the body type and proportions don't really fit.
Misaka Mikoto stated in chapter 5 of volume 1 of the Railgun manga that every level 5 from Tokiwadai started out initially as level 1, it hasn't been touched up how accurate that might be.
Misaki Shokuhou knows Touma from before his memory loss. This is practically confirmed in New Testament Volume 7. She even goes as far as to say that she is heavily indebted to him.
References
Edit