Musujime Awaki (結標 淡希, Musujime Awaki?) is a second year student attending Kirigaoka Girls' Academy, one of the most prestigious schools in Academy City. She is the guide to the windowless building where Aleister Crowley resides and is a member of GROUP, forced to join when the city's Board of Directors captured her close friends and blackmailed her.[2] She is living with Tsukuyomi Komoe after losing to Accelerator in the Tree Diagram 'Remnant' incident.[3]
Appearance
Edit
She is a girl with long dark red hair tied into two low ponytails. Instead of wearing the Kirigaoka Girls' Academy uniform's dark blue coat the usual way, she wears it over her shoulders instead like a cape, wearing only a pink crop top and a pleated skirt. At times though, she is only seen with bandages to cover her breasts instead of wearing a crop top. She carries around a military flashlight, used to help her aim properly when she uses her ability, on her belt at all times.
Personality
Edit
Awaki has a merciless nature, and likes to make her opponents suffer as shown when she fought Shirai. She prefers not to kill normally but won't hesitate to take lives if she has to. However, she began to develop a kinder side after she moved in with Tsukuyomi Komoe[4], as demonstrated when she appreciated how Komoe cares even about someone like her that's fighting in the dark side.
Awaki is fearful of her abilities, believing that she would end up using it to hurt others, which Shirai Kuroko has pointed out is ironic. Kuroko also points out that Awaki is a little bit of a coward; she would never raise a hand against an enemy that she believes is beyond her capabilities, but instead will try to escape to the safest place available.
Though there are no evidence in the Index novels yet, other members of GROUP have called her a 'shotacon' unanimously when she stated she's surrounded by perverts that don't take their job seriously[4]. Awaki didn't deny their claim, only shocked that they somehow know about this fact.
It is slightly hinted that Awaki behaves uncouthly when guys aren't around, being described once as "someone that seems to think that it is not a problem to be seen completely naked if it is among girls."[5].
Awaki's trauma is not only triggered through teleporting herself, but also by anything that reminds her of her accident, such as in one opportunity she saw a man with an injured leg. Once someone mentioned that he lacked some skin due to the nature of the injury, she immediately manifested fear and disgust at the sight of his condition.
She also has oftenly displayed a profile that fits the one of an ambientalist, for example the motivation that she had behind her betrayal to Academy City was to see if "animals could reach the same level as humans" when it comes to Esper abilities.
Chronology (Toaru Majutsu no Index)
Edit
Kazakiri Hyouka Arc
Edit
Main article: Kazakiri Hyouka Arc
Awaki makes a silent cameo appearance once
[6]
, where she accompanies
Tsuchimikado Motoharu
in reporting to
Aleister Crowley
as part of her job to take visitors into the Windowless Building where people can only enter by teleportation.
Tree Diagram Remnant Arc
Edit
Main article: Tree Diagram Remnant Arc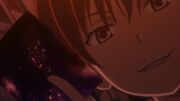 She was hired by an organization called the 'Science Society' to retrieve the core remnant of the Tree Diagram simply called as "Remnant". She fights Shirai Kuroko, another Level 4 Teleporter, who had the luggage bag containing the Remnant, and shows a great difference in power between them.
Awaki narrowly escapes from Misaka Mikoto and then again faces off against Kuroko, and is reminded of an old trauma by Kuroko's psychological attacks but still manages to beat a severely injured Kuroko by shooting her with a gun, leaving her in the hands of Kamijou Touma. She was then defeated when she confronts Accelerator, who had snuck outside the hospital where he was staying.
Volume SS1
Edit
She is sent by the Board of Directors to destroy the Skill-Out money storages, though after meeting their leader, Komaba Ritoku, she decides to try and kill him as well. However, she fails, though Accelerator ultimately finishes the job. Still being blackmailed by the Directors, who have taken her friends that supported her in stealing the Remnant captive, she becomes a founding member of GROUP along with Tsuchimikado Motoharu, Etzali (disguised as Unabara Mitsuki) and Accelerator.
Battle Royale Arc
Edit
During the battle between the underground organizations, when BLOCK attempts to hold her comrades hostage, so they could negotiate her into teleporting them into the windowless building inorder to kill Aleister. She and the other members of GROUP go to save them. She fights Teshio Megumi , going all out. However, because of the Capacity Down used in the facility where they are fighting, she accidentally teleports her leg into the ground, but manages to overcome her trauma, and defeats her.
DRAGON(≠Angel) Arc
Edit
Awaki fought alongside the rest of GROUP to get to the bottom of DRAGON's identity. As both she and Accelerator are separated from "Oyafune Monaka", both GROUP members are confronted by Sugitani. Distracting both of the Espers with a conversation about the identity of DRAGON, Sugitani fires a sedative at Awaki before she can react and incapacitates her, noting that Move Point's mobility made her a higher priority target. She later arrives with the other members of the team at the heart of Shiokishi's shelter and attempt to interrogate him.[7] Unfortunately for Awaki, she was (again) knocked out along with Tsuchimikado Motoharu,"Unabara" and Shiokishi by Aiwass, who merely manifested in front of them.[8]
Chronology (Shinyaku Toaru Majutsu no Index)
Edit
Accelerator states in Volume 1 of the new series that the whereabouts of her and the other members of GROUP, are currently unknown.
During the Volume 2, she happens to encounter a drunken Touma on the street, and she recognizes him as the one who called an ambulance for her after the Tree Remnant Incident. She, alongside at least nine other girls, clings to him and follows him to his house, but is asked to leave by Birdway's subordinates.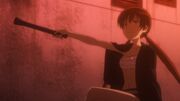 She is a Level 4 Teleporter with her ability, Move Point (座標移動, Zahyō Idō (Mūbu Pointo)?, lit. "Move Target"). It's a more powerful version of teleportation that can move any object to the user's desired destination without the use of physical contact (long-distance teleportation). She has a maximum range of 800 m and can teleport objects with a mass up to 4520 kg, though the trainers told her that she'll damage her body if she moves anything more than 1000kg. Because her powers are otherwise so free and unrestricted, Awaki tends to use her flashlight to focus her attention on the object she wishes to transport. She is, however, reluctant to teleport herself, and even when she does, she must take the time to re-calculate, leaving at least a 3-second gap between the moment she decides to teleport and the moment she actually does.
Her ability had the potential to be elevated to Level 5, but trauma from using her powers on herself in a past incident where she teleported part of her leg into a wall and after pulling it out it became a bloody mess, causing her ability development to stay capped at Level 4 ever since. This trauma also causes her to feel like puking whenever she teleports herself, and she estimates that she can only do that about 3 to 4 times consecutively
[9]
. She is also noted to lose control of her abilities when she experiences mental trauma.
[10]
After her fight with Shirai Kuroko on September 14, Awaki became unable to use her powers any further due to her strong mental break down. When she was recruited for GROUP the specialists gave her a small machine which is connected to her shoulders by electrodes, this machine can be only described as a "massage machine".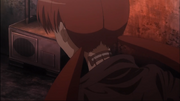 The machine will monitor Awaki's internal body signs and at the sight of any raising of the stress level it will apply "therapy" through vibrations which will always keep Awaki at the calmest disposition possible. Without stress nor suffering, she is able to use her Move Point ability almost freely; but her reliance in a machine creates a weak point for her just like it does for Accelerator, meaning that if the tool were to break down, she would be certainly left at the opponent's mercy. Even with the help of the machine, Awaki can not completely quell with her trauma and thus can't teleport herself freely. During the battle between the underground organizations, she gets her leg stuck in the ground, but manages to overcome her trauma in order to save her comrades.
Much like Shirai Kuroko, Awaki has an affinity for throwing weapons, although she prefers corkscrews over Kuroko's spikes. The nature of Move Point allows Awaki to be a more lethal ambusher with her projectiles as demonstrated in GROUP's assault on Spark Signal, where she is able to quietly teleport multiple corkscrews into the terrorists from afar without giving away her or her teammates' positions.[11]
Relationships
Edit
After her defeat at the hands of Accelerator Komoe took in Musujime. Since then the two have grown much closer, and Musujime is very grateful to her. It is implied that Komoe is a mother figure to Musujime. In volume 19 she was going to teach Musujime to cook before Musujime had to leave for a GROUP mission.
After Accelerator defeated her and destroyed the Tree Diagram Remnants she hated him for ruining her chance of rescuing her comrades. When GROUP is formed she agrees to work with him but sees him only as a means to an end. By Volume 15 she isn't openly angry at him, and by Volume 19 she is much more comfortable around him, enough to tease him about being a hero.
Character Art Designs
Edit
Design evolution
Edit
Preliminary designs had Awaki wear thigh-high socks, and a tartan skirt as part of her Kirigaoka Girls' Academy clothes, though it is only because Haimura forgot that Aisa also enrolled there prior to her transfer to A Certain High School, as well as Kazakiri Hyouka. This was later changed, with Awaki losing her long socks, and with Awaki's skirt changed, it as well as standardizes the Kirigaoka Girls' Academy's winter uniform with her look. Haimura also increased Awaki bust size in the redesign.
Awaki's design, according to Haimura, was to make her the complete opposite of Kuroko, though there are some similarities.
She is the only member of GROUP who doesn't personally know about Touma, nor know about the power of his right hand. However, as seen in the New Testament series, she does recognize him as the one who called an ambulance for her and seems somewhat grateful to him.
She apparently doesn't know how to cook a single dish.[4]
She is a vegetarian.[12]
She is implied to be a shotacon[4].
(To Shirai Kuroko in vol 8) "If I'm not the only one with this sort of power, why must I have it? If it's not just a power that only humans have, why must humans have it? If it need not be me, why must it be me? Shirai, oh so gullible, and yet never thought a thing about it. Shirai, let me tell you, those ESPer children that were with me just now have similar thoughts. Of course, that's not including the adults. In that building, I did indeed use them as shields, but I did that on their suggestion. Before they were unconscious, they even smiled, saying…"We'll leave it to you.""
(To Accelerator in vol SS1) "Did you forget? The only reason I'm here is because you interfered with my fight on that day. If it weren't for you, I could have hidden and gotten more people to help me. Then I could have attacked the facility my comrades are restrained in and rescued them."
(To Accelerator in vol SS1) "Heh. Heh heh. If you use your powers to help me with my work in GROUP and my comrades are released as a result, I'll forgive you. But if you get in my way, you're dead. Make sure your value to me doesn't fall any farther. If you don't you'll have corkscrews all over your body."
(To Teshio Megumi in vol 15)"I was once obsessed with 'truth'. But I didn't obtain inner peace by chasing after it."
(To her team in vol 19) "Sheesh, am I the only person in this GROUP that isn't a pervert?"
(Teasing Accelerator in vol 19) "Thank you for your hard work. You did a good job, O Great He~ro~ ♥"
Reference
Edit
GROUP

Tsuchimikado Motoharu
Accelerator
Etzali
Musujime Awaki