Mugino Shizuri (麦野 沈利, Mugino Shizuri?) is one of the Level 5 espers, ranking fourth after Misaka Mikoto, and is one of the antagonists in the Toaru Kagaku no Railgun manga, as well as an antagonist in Toaru Majutsu no Index, but becomes a supportive character since New Testament.
She is the leader of ITEM, which is at odds with SCHOOL, another organization led by the second most powerful Level 5 Kakine Teitoku. She looks down upon lower-level espers and does not mind eliminating people who get in her way or who go against her, regardless of whether they are allies or enemies. Her overconfidence eventually results in her defeat against Level 0 drop-out Hamazura Shiage.
Appearance
Edit
She's a girl with a tall and slender figure to go with her soft tea-coloured hair, even though she has a knack for stylish clothing she can usually be seen spotted wearing shorts underneath her skirt, however unlike Misaka Mikoto, Mugino does not always wear them, as shown in Shinyaku volume 1 when Last Order sees that she is wearing panties.[1]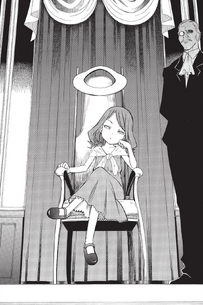 After the events of Volume 15 the injuries that she suffered would scar her face and take away one of her eyeballs, by Shinyaku Toaru Majutsu no Index Light Novel Volume 01 we have that 1/3 of her face was artificially treated with cosmetics and one of her eyeballs is fake. Her friends have pointed out that the use of prosthetics isn't noticeable and thus someone can't tell at first glance that she carries scars.[2]
Personality
Edit
Mugino's appearance may suggest she's gentle and kind, but in reality she's a sadistic, battle-hungry sociopath who looks down on all she deems weaker. She shows a compassionate façade towards her teammates, although she would dispose of them unhesitatingly should they interfere with her ways or cause any sort of damage whatsoever, as seen in Frenda's case. Later in the series she develops a rather twisted interest in Hamazura after her defeat at his hands, resembling a yandere crush in which she has marked him as her prey and hers alone. Although, similar properties can be observed during her battle with Mikoto, so it can be speculated that it merely extends to "prey" that has a tendency to slip her grasp despite her superior advantage.
Shiage accurately described her as an obsessive person, in his words Mugino is "The kind of person that can't stand it when you can't complete a video game without 100% accuracy" and "If you fuck up even slightly, you fly into a rage and won't accept it even if you complete the game", he also adds that "When someone like that fucks up even slightly, they find another goal in order to write it off. When you aren't able to get 100% accuracy, you instead go for a high score and are satisfied with that" [3] , in other words Mugino is someone who will completely obsess with victory once she sets herself a goal; coincidentally, Shiage will become Mugino's main objective and obsession once he defeats her for the first time.
In Shinyaku Toaru Majutsu no Index, Mugino's personality is shown to have changed greatly when she meets and speaks with Last Order for a short while. She is far kinder than she was in the first series and shows far less bloodlust and obsession than the times during the conflicts between underground organizations. She is also shown to think more of lower level espers and no longer look down on them as much as she used to. She is also far less prone to being irritated as shown when Last Order comments on her panties. Rather than get angry at the child like she would previously, she simply laughs the comment off and moves on. Mugino is apparently very protective of Fremea as she was evidently angry at Hamazura for losing track of her. 
Background
Edit
Not much is known about Shizuri, though it is shown that when she was young, she was incredibly wealthy and even had a butler. She also seemed to have a snobbish look as a child.[4] . Shiage noted that originally, from the girls of ITEM Mugino was the most beautiful and endowed with both style and grace fitting for an ojou-sama [5]
Chronology
Edit
Toaru Majutsu no Index
Edit
Later events in the novels
Edit
Volume 15 of the series is her and ITEM's first appearance in the main story line. She and her group was hired to stop SCHOOL's assassination on Director Oyafune Monaka. She kills Frenda for trying to defect to SCHOOL. ITEM fought SCHOOL once at Kirigaoka Girls' Academy, which resulted in Mugino's defeat by Kakine Teitoku, and half her coat being burnt, and half her face swelled up after being hit by Kakine[6].
During the events of Volume 15, she loses her left arm and part of her right eye to Hamazura Shiage, and is supposedly killed. In Volume 19, they are replaced with masses of energy with the help of her own ability and states she is alive as a result of Dark Legacy and she is way better off than #2. When she reappears in Russia, she acquires a replacement arm and a monocle that snugly fits in her right eye socket. After losing her arm every encounter that she has with Shiage will leave Mugino more and more imbalanced, developing a huge obsession with getting rid of Shiage and by extent Rikou. She becomes obesessed to the point of abusing Body Crystal to defeat Shiage. By the end of volume 22 she finally decides to make peace with herself and with Shiage, finally returned to being the "old Mugino" who trusted her teammates and friends.
Shinyaku Toaru Majutsu no Index
Edit
Freshmen Arc
Edit
Main article:Freshmen Arc
In Shinyaku Toaru Majutsu no Index Light Novel Volume 01, Mugino has had her eye replaced with a mechanical one and covers up the rest of her injuries with makeup and has gotten a prosthetic arm that she is able to use as well as a real one. These replacement body parts make it look almost exactly the same as how she used to look before she fought Hamazura. She has also rekindled relations with the rest of ITEM and is shown to regret having killed Frenda.
Homecoming Arc
Edit
Main article:Homecoming Arc
Sometime later, Mugino and the girls go in search of Shiage, and confront him at Touma's apartment. Here, she has a brief encounter with Accelerator.
Ichihanaran Festival Arc
Edit
Main article:Ichihanaran Festival Arc
Eve of the Festival
Edit
Shizuri stays behind in the ITEM apartment, performing various menial tasks, specifically cooking, in order to determine the readjustments needed to carry out on her prosthetic body parts. Cendrillon mails herself to their apartment, most likely intending to meet Shiage, one of the persons who opposed her and GREMLIN during the Hawaii incident.[7]
Shizuri receives the package, and though she knew she did not order it, went along with the instructions. She she successfully "cooks up" Cendrillon. She introduces herself to Shizuri and tells her of her goals. Shizuri is unperturbed by this situation. She then asks Shizuri to make her Cinderalla dress, at which point she has exhausted Shizuri's patience after she states that whatever Shizuri is doing looks like good training for a wife, who proceeds to attack her with her Particle-Function Waveform High Speed Cannon, destroying a part of the apartment she and the rest of ITEM are staying in. Cendrillon escapes with only a towel and the instructions for sewing her dress on her person.[7]
She and Saiai later clean up the apartment, where she tells her on how she made a person using ingredients, much to her confusion. Later, she leaves the apartment after seeing that they need water bottles. After Kakine Teitoku is released by Kihara Yuiitsu to go mad in the City, a being that sounds and looks like Frenda appears before Shizuri after she goes out to get some water bottles. Here, the Frenda-being tells a clearly-shocked Shizuri that she is different from the last time she saw her, and that despite her coming to terms with her death, it doesn't mean that her anger should disappear.[8]
It was half an hour before midnight, and Mugino faces off a being that looks like Frenda. Seeing the shock, the girl comments on how it not impossible for a city such as Academy City to contain oddities such as herself. The girl asks why Shizuri took for granted how she would feel about what happened, and then asks if she is going to kill her again, to which she concludes that she could not and taunts her for it. The girl tries to attack Frenda, but is felled by Shizuri, who did not hesitated on blowing away the girl's right arm.[9]
Shizuri frowns upon the person who pretended to be Frenda, stating that her artificial eye have been interfered electromagnetically, which made her see things that shouldn't be there. She also assumes that the person is also using a voice changer since she couldn't tell the difference. Saiai then comes up after noticing the commotion, and firmly proves Shizuri's suspicions, it was a middle-aged man dress in Frenda's clothing.[9]
Shizuri insults the man's foolishness, telling him that he could've have comrades to jump at her when she was fooled. The man writhes in pain, asking on how Shizuri could still fight despite living a peaceful life away from the dark side. Shizuri sighs at his explanation. She states that she will get into trouble and into fights, kill people, and even destroy things, but no matter what, it will be fine and will be resolved in a happy ending, because as long as she has Shiage, it will be fine, for he will forgive her in the end. She states, that she too is an oddity, and there is an odditiy in Academy City that would allow her to live despite what had happened to her body. At which point, she mutilates the man utterly into a broken ruin, but keeps him alive as an example to what she had said. She and Saiai later dragged his ruin before a strange research facility, and tells each other to keep a secret from Shiage.[9]
During the Festival
Edit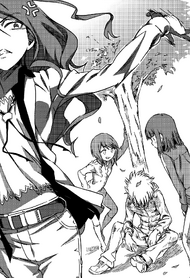 After Shiage, Rikou, and Yoshikawa Kikyou escape the Dark Matter beetles released by the revived Kakine Teitoku through the help of Beetle 05 at the expense of Fremea and Last Order following it, Mugino and Saiai appears before them. Saia explains how they got here, to which Shiage explains to them the situation in "30 seconds." Shizuri was polite in the beginning but became displeased as Shiage's story went on, and had grabbed Shiage by the collar. She is angry towards Shiage for having no idea where Fremea is, and allowing her to leave with a probably dangerous out-of-control weapon (Beetle 05), and the fact that he has no idea why she was being attack or who was behind all of it. Rikou and Saiai frantically try to stop Shizuri from making Shiage worse off in her anger, but later tosses Shiage aside near a tree. Shizuri tells that him believing that he will be defeated once he is spotted from whether he's 4 kilometers or 1mm away, as well as his plan on opposing the beetles as nonsensical. She is further enraged after he asks where they could find a means of attacking from kilometers away that can break through the beetles' armor. She tells that they all need firepower that can take out the likes of those beetles 5 kilometers away, and states that it is easier than spinning a pen in her fingers. Shiage still doesn't understand, to which Shizuri asks if he thinks the 4th Level 5 is cheaper and harder to use than a rocket launcher, as Shizuri as she continues to step on Shiage as punishment.[10]
Shizuri then asks Shiage, and asks what had happened to the security buzzer that Shiage gave to Fremea. Shiage's actions seem to indicate he forgot, and as Shizuri prepares to deal out punishment, he takes out the GPS tracker to find the security buzzer, ending up next to the multi-level overpass. There, they find Fräulein Kreutune, and was about to witness the battles that was about to occur for her sake. Then, Cendrillon comes up to them, who rudely tells Shizuri to point her to their apartment again, angering her. Cendrillon ignored their reactions and tells them that she has left some of her ingredients in back in the apartment, and that she needs them in order to resolve a large problem in the city. Shizuri is annoyed and not wanting to deal with the situation took Shiage and told Cendrillon that he will show him the way to the apartment. Then, with all this commotion, Yoshikawa Kikyou tells them that the girls are together and are with a large rhinoceros beetle, though she says that they are safe for the moment. Shizuri, unused to having information being given without compensation in return, is surprised with Kikyou's actions, which she points out. She tells them that Kakine Teitoku is trying to kill them, and asks for their help. Shizuri says she doesn't care as long as she gets Fremea away from Last Order, but Kikyou notes on what Fremea would feel if that were to happen.[11]
Shiage tries to diffuse the situation, saying that if Fremea's friend is about to be killed, there's nothing wrong with fighting to save her. With that, despite in her displeasure, concedes, and asks where Teitoku is, to which Kikyou states that they are in the underground passageways of the multi-level overpass, noting on the behavior of Level 5s fighting. She also states that she also has to deal with Last Order being eaten. Cendrillon then speaks up on how she will be needed to keep the girl from being eaten, surprising Shizuri. Cendrillon states that to protect Fremea's friend, they also must protect Fräulein, as is the will of Kamijou Touma. After Shizuri translated her words, Shiage recalls the softhearted mood that pulled others together in Hawaii after hearing Touma's name. Shiage says to Rikou on how he is completely annoyed with the situation, but cannot overlook it. They then ask Cendrillon on how they could stop Fräulein Kreutune, to which Cendrillon says that Fräulein Kreutune will eat a specific person's brain, and that she left the materials needed to use against her back in the apartment. With that, they all went their separate ways in order to protect Fremea's friends, with Shizuri going to the multilevel overpass.[11]
Shizuri appears in the lowest level of the multi-level overpass, saving Accelerator from the reformed Kakine Teitoku after he was overwhelemed by him through his usage of Dark Matter Misaka clones. It kills one of the clones that Teitoku made from the memories of the area using his Dark Matter. She berates Accelerator for his actions, enraging him. She tells him that he is being angry at the wrong person, and references Teitoku's words on how "Only the one who was killed can understand the feelings of the one who was killed," is correct but states that the clones Teitoku made in here isn't really them. She continues that it is not the likes of them, people who have killed others, to even begin understand what the dead feels as it is not their purpose. She states that Accelerator is incredibly naive to fall for a Teitoku's tricks, and asks if he thought that they might come back to life and that his crimes for killing them would be undone. She says that she has read about the clones, and that his reasons for killing them was not worse than her killing others for no reason. She tells him that they are both going to hell, but there are things he needs to do before he goes. She asks what he will do, telling him that she doesn't care if he allows himself to get killed, or retrieve the dead's dignity and peaceful rest from the one who desecrated their graves before him, it is his choice.[12]
Accelerator acknowledges this, regardless however, the clones before him is the final proof that those he killed ever existed. Shizuri replies that it is all the more reason, and him finding it acceptable for someone to steal and control the dead, then he should just let himself be killed as she will take care of everything. She then feels uneasy and tells Accelerator that he has to dirty his hands to give the dead a clean end. She references what Teitoku said again, and says that only the living can act based on their feelings for the dead, and rejecting that and running way is neither being honest or pacifistic, but plain cowardice. And with that, Accelerator is released from his stupor and tells her that he will destroy, that he will be the remnant to prove that those people he killed really existed.[12]
Teitoku finally reacts after listening to them, and asks if they will stop thinking how the dead feel and stop thinking about it. Shizuri tells him that he will never understand, for he is someone who puts words in the dead's mouth for his own benefit and runs away from his feelings regarding the dead himself. She tells him that he is pathetic even though he is powerful, and would've been better if had remained dead for he would've been merely the esper that defeated her. Then, she tells him the reason she was in there with them. On how someone who pretended to be Frenda attacked her last night, and suspects him for it for he was the biggest factor from the dark side of Academy City active at that time and the interest in playing with the dead was the same. She tells him that she doesn't know what his purpose was with what he did, and tells him that she will make him pay for disturbing her grave.[12]
And with that, their battle begins. Shizuri used her beam on Accelerator for his use, redirecting it to all the false clones Teitoku created at once, destroying them. Accelerator directs his attention towards Teitoku, and uses his vector powers to destroy all the Dark Matter spears he created. As he twitched, Shizuri fired at him, obliterating the top half of his body and most of his legs. However, Teitoku appears upon a wall, saying that he can recreate himself. Shizuri asks if he moved his flesh and blood organs into the floor before her attack. Teitoku redirects the question, and hints many possibilities now that he can replace and create practically anything with his power.[13]
Accelerator does not care however, ripping apart the countless spears and redirected the signals in the center point in the puddle, but to no avail, as Teitoku states the network of his Dark Matter expands and information sent faster without direct wiring than he can destroy it. Despite this, Accelerator continues to try and destroy his Dark Matter, as Shizuri continued to assist him, Teitoku then asks how much battery time Accelerator has left, and is curious about the wings that no theory can explain. Teitoku just brags on how time is running out, and that he has no problem taking down Shizuri. They continued attacking destroying his head, but it is of no avail, as he tells them that he simply has an infinite supply of Dark Matter, and his inspiration is boundless, telling them that to reach him, they need to climb over the wall of infinity that continues on eternally. He then shoots out countless Dark Matter spears towards them.[13]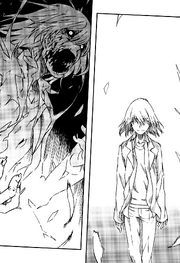 Teitoku continues his assault, but time is running out, and Teitoku simply taunts them as his Dark Matter attacks continue to shoot out. But then, something happened; he stopped. Shizuri becomes curious, threatening to kill him. But Teitoku does not answer, as he too is confused. He then asks what Accelerator did, believing him to be the culprit. Then, Accelerator realizes something. He tells Teitoku that this was the effect of him being "infinite," and tells Teitoku that it wasn't him.[14]
He did not know, but Beetle 05, the rogue beetle that Teitoku ignored, was beginning to take over. As the system begins to transfer authority to Beetle 05, Teitoku begins to crack, who cries on how it is not possible for a power that he brought betray him. Accelerator then tells Teitoku that it is no longer matters who was the first Teitoku, as he obtained in infinite. Shizuri too began to understand. She laughs at his problem of being too powerful, saying that when a network made up of flexibly replaceable equipment has a portion become isolated from the rest, the isolated portion becomes a small network of its own. Accelerator concludes that the one who stopped Kakine Teitoku was now the Kakine Teitoku. Accelerator is impressed on Dark Matter's capabilities, and mocks him for being unable to wield it. Shizuri however notes that he might not be the core Teitoku as he had scattered his mind over the system, and the one before them was closest to the surface, though it says of nothing that what showed itself in the surface was the true nature of Kakine Teitoku. Shizuri then asks if they were just battling the outer layer of his mind, and tells that it wasn't easy doing it. Here, she is impressed by Kakine Teitoku, being not a normal person, but not the one before her right now.[14]
Slowly, despair overtakes Teitoku and slowly more cracks form. Accelerator comments on how there will probably nothing left to prove that he was here, and even if a massive amount of date is left concerning Kakine Teitoku, it will not refer to him. In the end Teitoku realized the reason for how this came to be, and he shouts his fury in that underground passageway with only Accelerator and Shizuri as his audience. Accelerator however, had enough, and pierced his center of the thing before them, completely shattering it, and the Dark Matter dissolved into the air, leaving nothing behind.[14]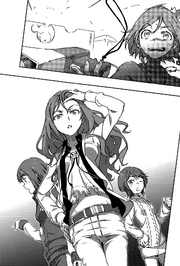 Accelerator comments that it is over, but Shizuri just shrugs, saying that they still have a long way to go for people like them.[14] While leaving the underground passageways, Shizuri asks if he intends to do anything about Fräulein Kreutune, to which Accelerator replies that he doesn't care, but is intrigued by the fact that someone he knows wants to protect her and risked herself to stop him from killing her. As they got out into the open, Shizuri sees Fräulein eating something which she presumes to be a human brain, and witnesses Accelerator's near rampage as he produces wings after he presumes it was Last Order she was eating.[15]
Agitate Halation Arc
Edit
Main article:Agitate Halation Arc
Shizuri arrives at Learning Core alongside Kinuhata Saiai and Takitsubo Rikou, presumably drawn to it as one of the "heroes" affected by the Agitate Halation Project. She is dismayed by Shiage not giving them enough information for them to find Fremea, and later quickly shuts up Fusou Ayame with her Meltdowner along with other several people. She may have also witnessed Sogiita Gunha blowing Ayame and several other people as well before Shizuri could attack her in earnest.[16]
Toaru Kagaku no Railgun
Edit
Level Upper Arc
Edit
Main article: Level Upper Arc
She first appears during the Level Upper Arc, here, she is seen arguing with the rest of her team regarding going into public swimming pools, and is against the idea. When Frenda asks if they can go to a private swimming pool, she tells her that they can go when they have the time, much to Frenda's delight. They're conversation is later interrupted by the sound of the Level Upper treatment program being played all over the city, wondering what the sound is about.
The anime adaptation completely cuts out their conversation during this scene. It is instead replaced by a four second appearance in a cafe.
Sisters Arc
Edit
Main article: Sisters Arc
Prior to the events of the novel, she and her group are hired to stop Misaka Mikoto from destroying the facilities that are running experiments with the Misaka clones and Accelerator. During Mikoto's attack, they pinpoint two likely targets for the sabotage, here, she shows her intelligence as a leader by sending out Kinuhata Saiai to the inside of the facility to see if the attack is an inside job, and is later somewhat correct in her assumption as Nunotaba Shinobu is later caught by Saiai, and has Frenda guard it.
Both she and Takitsubo Rikou go to the other facility. When they figure out that Mikoto is attacking the facility Frenda is guarding, she and Rikou quickly bail her out, after being defeated by Mikoto, showing her immense destructive power to Mikoto in the process, forcing her to go on a defensive. With that, Shizuri has Rikou use Body Crystal to track Mikoto during her defensive.
She later figure out that Mikoto is the one attacking the facility, and has Frenda and Rikou retreat, wanting to prove that she is the superior Level 5 herself. In their battle, she shows her superior physical condition to Mikoto, as the latter has been attacking facilities for several days without rest, forcing Mikoto to use Frenda's traps she left all over the facility as an advantage, making Shizuri enraged at Frenda for carelessly leaving her traps. Shizuri underestimates Mikoto's control on the traps and is later knocked-out by it. Shizuri later comes to, after Mikoto has finished destroying the facility and is about to retreat; even though she is nearly exhausted, Mikoto lures Shizuri into a platform with Frenda's traps once again, destroying it and making Shizuri fall. Mikoto tries to save her but Shizuri rejects her offer and instead falls, though she breaks her fall by using her Meltdowner.
Interested on the reason why Mikoto is fighting so hard, she apprehends one of the researchers retreating in the facility and finds out about the Level 6 Shift Program and decided to let her be, deciding that it would be best to let Mikoto suffer in the dark side of Academy City.
Silent Party Arc
Edit
Main article: Silent Party Arc
In the anime original arc, they are hired by STUDY under false pretenses, being used as test subjects for their Powered Suits controlled by Diffusion Ghost. For that they desire vengeance for their reputation in the dark side of Academy City. The ITEM liaison gives them information on one of STUDY's factories, destroying several Powered Suits there. They are later present during the Silent Party, taking down several Powered Suits in a stadium, and inadvertently aiding Misaka Mikoto.
Shizuri briefly reappears on September 2, while relaxing in ITEM's private swimming pool together with the other core members of the organization.
Daihasei Festival Arc (Railgun)
Edit
Main article: Daihasei Festival Arc (Railgun)
Mugino at a reserved pool area with her team is phoned by informant concerning the Daihasei Festival to show off her powers. But she refuses due to her current occupation. When Frenda asks to go in her place Mugino fiercly bashes her head, comically, onto a table reminding her that she is part of the dark side of Academy City as much as the rest of her team and cannot go public.
Other appearances
Edit
Videogame appearances
Edit
Toaru Majutsu no Index (PSP game)
Edit
Main article:Toaru Majutsu no Index (PSP game)
Mugino Shizuri is a playable character in the game, unlockable after clearing Accelerator's route in the game. She has her own story route, which is noticeably darker than the other routes. Here, she joins forces with Kihara Amata, who provides her a Misaka clone as a partner, and to partake in the Zero Experiment. Here, they first beat Tsuchimikado Motoharu and Kamijou Touma, earning the hatred of Itsuwa and Index, which in turn, earns the hatred of Kanzaki Kaori and Stiyl Magnus, then, much to their surprise, a challenge from Acqua of the Back. She and the Misaka clone later has confrontation with Misaka Mikoto and Shirai Kuroko, the former shocked at clone being in cahoots with Shizuri. Later, Shizuri fights against Accelerator and Last Order, the latter, too, is shocked and horrified by the Misaka clone being partners with her. Finally, she is seemingly left by both Amata and her clone partner to face off against Fuse=KAZAKIRI, her boss fight in her route.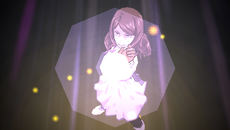 Her basic circle attacks are particle beams, which grow in width if the button is held for longer. Moreover, she can create a shield to protect herself using her the triangle button, or allow her to throw silicon cards in the stage. Silicon cards, if hit by one of her beams, spread the beam out, allowing to increase the breadth of Shizuri's range. Moreover, using the Silicon Card and a single beam attack, is the only method for her to catapult the opponent in the air allowing for a Unison Raid if she has a partner. Her Overdrive is a single powerful particle beam, and her finishing move consists of her firing all four beams one after the other, catapulting her opponent into the air, and then firing a powerful particle beam at them.
Shizuri is the definite long range character. She is a danger to all short range characters, like Touma, and her attacks can be thoroughly abused to not allow any opponent to close the gap. Shizuri is vulnerable to other long range characters and attacks, as well as Shirai Kuroko, due to her teleportation ability.
Abilities
Edit
Her ability is Meltdowner (原子崩し, Genshi Kuzushi (Merutodaunā)?, lit. "Atomic Destruction") , which converts electrons into unstable destructive matter that is said to be in a state between particles and waves. She can use her ability to fire up to four beams at once, create a defensive shield that can melt/disintegrate steel. She has also demonstrated to have some control over electricity when she redirects Mikoto's electric attacks as they have similar properties concerning electrons.[17] The Meltdowner have a bluish color in the light novels, but in Toaru Kagaku no Railgun S it is green.
Essentially, electrons demonstrate the properties of either a "particle" or a "wave" in accordance with the circumstances. But this power can fix the electrons in the ambiguous condition that stand between these two and forcibly manipulate them. The manipulated electrons are then released as a white, sparkling ray of light that spread great destruction. This is formally classified as a high-speed particle wave machine gun. In addition, due the quality of "electrons manipulation", it can bend the trajectory of electricity. But conversely, the high-speed particle wave machine gun was also averted by Misaka Mikoto, who is also an electron manipulation based Esper (Electromaster).
Because an "electron fixed in an ambiguous state" cannot become neither a "particle" nor a "wave", it has a property of "halt" in which it is not influenced by reactions from the outside. By forcibly setting into motion this "electron fixed in an ambiguous state" - which has become a pseudo-"wall" due to the "halt" property - and throwing at high-speeds a unique beam of electrons that pierces through a target in the same velocity that it was fired, great destructive power is created. Convergence and fixation is possible and, after losing the left arm in the battle with Hamazura Shiage, the power was emitted in the form of a clawed arm from the left shoulder section. Naturally, it is extremely dangerous to touch that arm. But it is not completely devoted to offensive and defensive applications by expanding the power like a shield is also possible. Also, by emitting a power similar to a rocket, it can perform high-speed evasion that is fast enough to escape an explosion.
Her ability has two major disadvantages. First, it is highly unstable, as demonstrated when her anger towards Hamazura Shiage fueled her to use too much power and she blew off her own left arm from wrist to elbow.[3] Second, her ability can only be used on one target at a time, though it has an accuracy high enough to blow away the members of the opponent before he can draw a gun and fire. By its nature, it is incapable of rapid-fire, thus poor at surface occupation and saturation attacks. To compensate for the former, she has to consciously limit herself when using her ability and to compensate for the latter, she carries around silicon cards that can disperse her individual laser shots into multiple ones, this attack is labeled by Mugino as Silicon Burn (拡散支援半導体, Kakusan Shien Handōtai (Shirikon Bān)?, lit. "Diffusion Aid Semiconductor").[4]
With its tremendous power, because there is the danger of self-destruction if even a single mistake is made, originally aiming must be done with care. In fact, on the occasion when careful aiming was disregarded due to anger, Mugino's own left arm was blown off at the moment of activation.
According to researchers, output is suppressed due the survival instinct's restraint, but if it wasn't for that it could easily instant-kill the likes of the Railgun. However, because actually firing at such output would also blow away Mugino's body with the backlash, this assessment is not covered. Mugino herself understands that the whole "instant-kill the Railgun"-thing is just a poor excuse by the researchers and, for that reason, also harbors great hostility towards the Railgun.
Character Art Designs
Edit
Design evolution
Edit
Mugino Shizuri's preliminary design had her wear different clothes, and was designed by Haimura to look like a model. It is not until the design of the other members of ITEM are drawn that her current design was finalized. In volume 19 up to the end of volume 22, Mugino Shizuri receives a dramatic change of design, to which Haimura states that she is something like a horror character that chases around the main character.
Haimura gives Shizuri in the 5th Shinyaku Toaru Majutsu no Index light novel, her autumn and winter attire, consisting a jacket over a blouse, and with pants and boots. According to Haimura, the reason he gave her pants was because of an illustration from the 1st Shinyaku Toaru Majutsu no Index light novel depicting her meeting with Last Order showing a pantyshot, despite wearing stockings.
(Railgun Manga volume 5) "Don't mess around with ITEM, you damned brat" - To Misaka Mikoto
(Volume 15) "That's right. It seems she was afraid of SCHOOL so she betrayed ITEM and then hid. So I had to do a little purging. …What are you doing? You don't need any purging, do you?" - To Hamazura after she catches up with him while carrying a dead Frenda in one hand.
(Volume 15) "That has nothing to do with this!! That has nothing to fucking do with thiiiiiisssss!! An ear!? An eye!? You can tear off my arms and legs and crush my organs, but you can't change the difference between our strengths! I'm a Level 5! I'm #4! I'm Meltdowner! Don't get so pleased with yourself, you motherfucker! I can kill a Level 0 like you 100 times without moving a fingeeeerrrrr!!" - To Hamazura after he hit her eye and she blew up her own arm.
(Volume 19) "Don't let pitiful bastards like that take your life. The one who's going to rip you to pieces is me!!" -- To Hamazura after she killed some of his pursuers.
(Vol 19 and 22) "Why, did I become such a monster?" -- It should be noted that in volume 19 she joked about it with this question, but in volume 22 she was actually troubled over this.
(Vol 22, said to Shiage) "I killed Frenda. And made ITEM into a mess. Plus, more than once, I tried to take Takitsubou's life. For someone like that, how do you plan to save me..."
(To an unnamed assassin, from NT6): "I'll get into trouble and into fights. There will even be deadly fights. But it will all work out in the end. No matter how many people I kill and how much I destroy, everything will be resolved in the end somehow and we can all be happy. All my past experiences have shown that to be true... That's how it was during the fight between Item and School. That's how it was when we fought underground in District 23. That's how it was when we met during the fierce fighting of World War 3. And so I know it will be fine as long as I have Hamazura. No matter what happens, he will forgive me in the end."
(To Accelerator, from NT6): "There may be people out there who can truly imagine how the dead feel and shed tears based on it. There may be people who find something the dead left behind and finish it in their place. There may be people who save the dead in that way, but that is not something people like us who killed others while soaked in evil can do. There is nothing we can do,"
(To Accelerator, from NT6): "You have to dirty your hands to give the dead a clean end. Only the one killed can know how the one killed feels, but only the living can act based on their feelings for the dead. …Rejecting that and running away is not being honest or being a pacifist. It is being a coward."
(To Teitoku, from NT6): "You would never understand. You are the type who puts words in the dead's mouth for your own benefit and never faces how you feel about the dead yourself. They say not even death can cure an idiot. Well, it looks like nothing can cure you of being pathetic. You're powerful, but you're pathetic. It might have been better for you if you had just died back then. That way you could have ended life as the high level esper that defeated me, the #4. But you didn't know to quit when you were ahead, and now you're going to lose even that."
(To Accelerator from NT6): "We still have a long way to go. The path ahead is especially long for those of us who have killed."
References
Edit
The Seven Level 5 Espers of Academy City

#1
#2
#3
#4
ITEM

Mugino Shizuri
Takitsubo Rikou
Kinuhata Saiai
Frenda Seivelun
Hamazura Shiage