Misaka Mikoto (御坂 美琴, Misaka Mikoto?) is one of the main characters in Toaru Majutsu no Index and the main protagonist of A Certain Scientific Railgun. Introduced in the first volume of the Light Novels, her role in the story was later expanded in the third volume as well as the release of the A Certain Scientific Railgun anime series and manga, making her a main heroine of the science side and the main heroine of the series second only to Index.
She is the third ranked Level 5 esper in Academy City, and is nicknamed the Railgun due to her signature move. Touma coined the nickname Biri-Biri (ビリビリ, A Japanese onomotapoeia imitating the sound of electricity?) and whenever the two meet he usually calls her that, even after his amnesia [1][2][3].
Appearance
Edit
Mikoto has chestnut brown hair and is often seen wearing a small hair clip. Her eyes are the same color as her hair. She is also shown have a complex regarding her chest, feeling inferior when compared to girls with bigger bust sizes. She also wears a school uniform, with light brown sweater over a white blouse and a grey skirt. She is also known to always wear shorts under every skirt and dress she wears.
Personality
Edit
To most people, she is considered a 'proper lady' (ojou-sama or お嬢様), but in reality, she's short-tempered, prideful, and has an improper attitude with some slight tomboyish tendencies and insecurities- a fact few people know of. Despite this, she is generally friendly and easygoing, and Saten Ruiko and Uiharu Kazari comment on how they are shocked to find that compared to other Level 5's, she doesn't look down on lower-level espers at all. This is probably because she was originally a level 1 esper and became a level 5 esper through very hard work.
Often times she shows an incredibly childish, selfish, competitive side and even slight tsundere tendencies along with confused affections when taunted by her rival, Touma.[4] To add to this, childishness, Mikoto has an inclination towards cute things, most specifically, Gekota and Kirugumar merchandise. She also likes frog merchandise only if it features Gekota. When she realizes that a stuffed animal another person is carrying is just a regular frog, she immediately loses all of her interest in the stuffed animal.
She also has a fear of bugs, as shown in episode 6 of To Aru Kagaku no Railgun.
She has a keen sense of justice, demonstrated by her frequent involvement in the crime-fighting body, Judgment, and her resolve is unshakable as shown when she was willing to lose in a fight against Accelerator on the first move to prove the Sisters Project wrong and save her remaining 9969 sisters (Tree Diagram predicted that she would die in the 185th move). She secretly likes cute things, especially Gekota (a popular frog mascot), and is easily embarrassed. She often goes to Green Mart to read manga for free in her spare time on Mondays and Wednesdays. She's also good at playing the violin and teaches Uiharu how to play in the Volume 12 of the Light Novel. Furthermore, according to Kuroko, Mikoto naturally acts as a leader, and becomes the center of attention by everyone, yet she cannot mingle with those people regardless of being the center. She states that Mikoto is at the top and defeats her enemies, but she cannot avoid making more enemies at the same time. Moreover, she states that the most important to onee-sama is someone she can feel on the same level as her.[4]
Though she doesn't admit it, her mother pointed out that Mikoto is bad with house work.
Mikoto has been depicted as been quite smart as she was stated to be the 8th ranked student in Tokiwadai, a school that is meant to create world leading talents and thus deals with a very advanced curriculum. Furthermore she as been shown to easily solve problems meant for Kamijou Touma who courses a school rank higher than her, though it should be noted that Kamijou's school doesn't pursue the same Academic excellence that Tokiwadai does.
It was showed that Mikoto had intended to take the trial enrollment into Touma's school during the Ichihanaran Festival, which futher showed how strong her feelings for Touma is. However she immediately got interfered during the progress by her rival in reputation in Tokiwadai School, Misaki. 
Background
Edit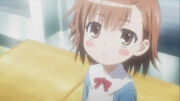 Mikoto is the daughter of
Misaka Tabikake
and
Misuzu
. She entered Academy City at an early age, and distinguished herself as a child prodigy, initially starting out as a Level 1 and climbing her way up to a Level 5 esper. This made her a perfect candidate for the
Sisters Project
, which held the intent of cloning her for military use. Mikoto willingly gave a DNA sample to the researchers of the project thinking that it would help people who didn't have the ability to control their muscles properly.
She later enrolls at Tokiwadai Middle School. In her first year, she lost a 10,000 yen bill due to A Certain Vending Machine, probably explaining her propensity of kicking it.[5] In one fateful event, she saved her future friend Shirai Kuroko from a robber by using her 'Railgun' ability. Kuroko eventually enrolled at Tokiwadai as well and gained great affection for Mikoto. Mikoto later became roommates with Kuroko in Room 208 - despite Kuroko being her junior - after Kuroko 'legally' removes Mikoto's previous roommate who was supposedly ill-natured towards Mikoto. Being a Level 5 esper as well as a student with consistently high grades, Mikoto is known as Tokiwadai's Ace.
Chronology
Edit
Index: "What is this? Agathions?"


This chronology section may require cleanup to meet Toaru Majutsu no Index Wiki's quality standards. Due to incomplete information and cluttering of images.
Please help improve this article if you can. The talk page may contain suggestions, or talk to an administrator.
Toaru Majutsu no Index
Edit
Index Arc
Edit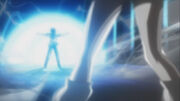 Mikoto is being hit on by delinquents, and
Kamijou Touma
tries to save the delinquents from her (as he knows who she is and what she can do). This eventually causes her to confront Touma — even unleashing her most powerful attack, the Railgun, at him. Mikoto eventually caused a massive blackout throughout Academy City because of this.
Sisters Arc
Edit
Mikoto is in despair and thinks that it's all her fault for the deaths of over 10,000 Misaka clones, which were used for a project to help Accelerator achieve Level 6.
One night when she quietly calls for help, Touma arrives with the Sisters project document that he found in her room, demanding to know what the hell she is doing. Mikoto reveals that she has been taking out research facilities in an attempt to stop the experiment and save her sisters, but she failed at her task, because new facilities kept coming out. She is also unable to kill Accelerator and she states that she is going to be quickly killed by him in order to save the remaining Sisters. Touma stands on Mikoto's way to prevent her from killing herself, but refuses to fight her. However, Mikoto keeps attacking him 'till he passes out. When she finally clears her mind, she tells Touma the location of the next fight scheduled for Accelerator, while she waits on the bridge for him to return. But after a few minutes, she rushes over to the battle place trying to save Touma even though she knows she can't win.
When she arrives, Mikoto prepares to fire her Railgun, but she pauses when she realizes that Accelerator is creating plasma attack by controlling the direction of the wind and collecting it in one place. She figures out that she can counter it by controlling the wind. With the desire to protect Touma, she wakes up
Misaka 10032
, that Accelerator knocked out earlier, and she gets the remaining clones across the city to change the direction of the wind by controlling the wind turbines. This prevents Accelerator from finishing forming his attack, and when he approaches Mikoto and Misaka 10032 in order to kill them, Touma stops him and gives him his "weakest attack".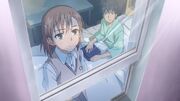 After everything is over, Mikoto is seen at the hospital visiting Touma to thank him.
Angel Fall Arc
Edit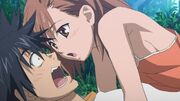 Due to the effect of Angel Fall we see Touma's cousin
Otohime
with the appearance of Mikoto.
Three Stories Arc
Edit
fake Mitsuki
, while hiding behind a steel beam she happens to hear the conversation between the two of them and also Touma's "answer".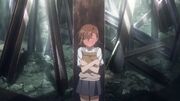 She shakes her head from side to side trying to fight her blushing expression and pretending not to hear what she had heard. She believes that Touma doesn't really treat her as his someone special to him, and calls him an idiot for saying things that causes people to misunderstand or confuse them. It was probably at this point that Mikoto's feelings for Touma grew.
Later that day, she bumps into Touma again after Index was kidnapped by Yamisaka Ouma from a family restaurant they dined at. She then asks him why he ditched her after she went through the trouble of getting the food, then asks him if he was alright from that attack at the restaurant; but Touma, in a hurry to save Index, ditches her again much to her chagrin.
Kazakiri Hyouka Arc
Edit
She first meets up with Touma who is on his way to school, and she does not hide the fact she is angry at him for ditching her several times yesterday. Touma simply tells her that a lot of other stuff happened. She accuses him of possibly doing "fake dates" with some other girls. Touma simply replies that only she would ask him to do something like that much to Mikoto's embarrassment.
Later, Mikoto saves Kuroko from Sherry Cromwell's golem. Afterwords, they pursue her to the underground mall where they meet up with Touma and his own company.
They inform Touma, walking with Index and Kazakiri, that a large scale battle might occur in the city. Index and Mikoto start arguing, suspicious of each other's feelings for Touma. Kuroko decides to teleport them out of there leaving Touma and Kazakiri alone.
Tree Diagram Remnant Arc
Edit
Mikoto becomes restless after realizing that several countries are trying to acquire the remains of Tree Diagram. With the possibility that the experiments will return if the Tree Diagram is returned and recreated. Mikoto carelessly exposes herself to Kuroko's suspicions after telling her to be wary of the weather.[6]
Later, Mikoto caught wind that Musujime Awaki and the organization she is working for has acquired the Remnant of the Tree Diagram, she knocks out the traffic system to slow them down and prevent them from quickly escaping from Academy City. She later calls Kuroko that she would won't be back to their dormitory until later, unaware that Kuroko were fighting the peons who acquired the Remnant.[7]
Mikoto later returns to the dormitory to discover Kuroko seriously injured after her battle with Awaki, pretending to not notice. After talking to her, leaves her room, and tracks down Awaki and her goons. She easily defeats the espers allied with her and her minions as well, here she tells Awaki after she insults her for being part of the experiment as well her saying that Mikoto is only fighting for her sake, that Awaki is correct, and that she is truly angry and want to destroy everything that is involved. However, Mikoto states that she is angrier at herself for allowing Kuroko (who is secretly watching Mikoto) to get involved and get hurt, and angry at herself for allowing a mess where Awaki felt compeled to hurt Kuroko. Knowing that she is no match for the power of a level 5, Awaki teleports away after using people as human shields, preventing Mikoto from attacking carelessly. Mikoto later tries to find where Awaki ran away to, to no avail.[8]
Mikoto later runs into Kamijou Touma, who was asked by Misaka 10032 to help them stop the experiments from starting again. Here, they later find the restaurant where Kuroko and Awaki have been fighting in. Mikoto uses her Railgun to a blow a hole up to the floor where Kuroko (who is severely injured from the fight with Awaki) is so Touma can save her. Touma saves her after negating the distortion in space caused by Awaki teleporting a massive object to crush Kuroko.[9]
Mikoto later visits Kuroko in a certain hospital, here, Kuroko promises that she would catch up to Mikoto in order for her to stand side-by-side with her in the battlefield.[10]
Daihasei Festival Arc
Edit
Mikoto competes in the Daihasei and makes a bet with Touma over whose school will fair better in the festival. Also, she deals with her mother who is visiting, from shopping with her to keeping Kuroko away from her. In the end of the arc, she tells Touma at a certain hospital that Tokiwadai is in the lead, thus making her the winner of the bet.
La Regina del Mare Adriatico Arc
Edit
Mikoto is mentioned in the arc briefly when she forced Touma to go to a ball dance until he was kicked in the back of the head by a Shirai Kuroko who teleported behind him. Later, when Touma was forced to leave Italy to go back to Japan by Heaven Canceler, he became nervous and acted violent about returning to Academy City after hearing from the doctor that she claims her victory of the punishment game and he will have to listen to whatever Mikoto says.
Academy City Invasion Arc
Edit
Misaka Mikoto is sleeping in her bed and her roommate Kuroko who was up at the time happens to hear her mumbling in her sleep about the penalty game and what she has planned for Touma. Later that day she tracks down Touma after school to remind him of the bet they made during the Daihaseisai festival. Touma relents and fans her with his bag causing her to be embarrassed. Later that day, while waiting for Touma at a local theater, she spots Uiharu. The two exchange greetings and Mikoto teaches Uiharu how to play the violin, only to be interrupted by a jealous Shirai Kuroko who's busy with Judgment work. Touma arrives a half hour late for the arranged meeting and Mikoto launches lightning at him only to get negated by Touma's his right hand. Mikoto grabs Touma's hand and the two commence the penalty game.
Mikoto puts away her violin case in a locker at the renewed underground shopping centre and the two go to a mobile service center to gets each others respective numbers. Mikoto decides to go with the couples plan because of the Geko-ta strap that comes with it and tells Touma that his number will only be used for her convenience. She learns that in order for the plan to be complete they must take a photo acknowledging that they're a couple. Having no choice and creating a few mishaps, Touma puts his arms around her, wanting to get the whole thing over with. Mikoto blushes and agrees and after the picture is shot, Kuroko teleports in and drops kicks Touma on the back of the head, ruining the photo and causing the latter pain and grief. Touma then asks for liberation from responsibilities since Kuroko is there, but Mikoto throws lightning at him and says that he's not going anywhere. Mikoto returns to Touma after she completes the plan but she meets Misaka Imouto 10032 and becomes upset at him for paying attention to someone else's problems instead of keeping his promise to her. She strikes him with lightning over and over again but her efforts are useless and Misaka Imouto insists Mikoto should stop her harsh treatment towards Touma. Mikoto refuses and Misaka Imouto makes fun of her for not being honest and decides to hold Touma's arms right in front of her; shocking them both. Last Order then arrives and Misaka Imouto leaves after her but not before giving Touma a frightening warning.
Mikoto leaves Touma behind upset because of what happened earlier and the fact that he thought that she only wanted him to get the phone strap from the mobile center. She walks around the shopping center and takes out her frustration on a power level machine. After calming down she decides to look for Touma again and apologize for her immature behavior. It's past the curfew time and there's still no sign of Touma. She stops at a convenient store to buy an umbrella when Shirai Kuroko calls, wondering if Mikoto is back at the dorm. Mikoto tells Kuroko that she isn't and Kuroko becomes ecstatic thinking that she'll plan a night date with Touma. Mikoto tries to calm her down but Uiharu manages to keep her in control and wishes her good luck on her date. but retaliates saying that it isn't. She once again decides to look for Touma again before returning home.
After Kazakiri Hyouka goes berserk and becomes Fuse=KAZAKIRI, thanks to Aleister's interruption of Vento of the Front's attack on Academy City, Mikoto first spots Index who's in a rush to save Kazakiri, and then also notices Touma heading towards the same direction. After being pulled by the two of them, Mikoto asks what that thing is to them and Index tells Mikoto that it's a friend and that they are on their way to rescue her. A few Hound Dog members spot and attack the three, but Mikoto decides to stay behind and hold them off. With the penalty game still being active, Mikoto orders Touma to stay alive and help his friend, and although he's reluctant to leave her, he obeys Mikoto's command. Later while fighting, Mikoto gets a call from Touma and asks her if she could help Index give her some science related advice to help her stop Fuse=KAZAKIRI, but neither of the two are happy about it. Mikoto gives Index, who has Touma's phone, some scientific advice on how to save Hyouka. After a few explanations and examples, Index succeeds and with the killing of Kihara Amata and the defeat Vento of the Front, the incidents comes to a close.
Skill-Out Uprising
Edit
Touma suggests to Misaka Misuzu to call Mikoto, a level 5, for help during the Dangai University Database Center attack. She declines, saying that she does not want to involve Mikoto.
Document of Constantine Arc
Edit
Mikoto meets Touma while he was walking home after being punished for an incident that happened at his school. Mikoto asks Touma why hasn't he responded to her messages that she sent him and the Touma doesn't remember anything about it. Mikoto looks at Touma's phone and becomes shocked that her mother's number is on his phone. Mikoto demands an explanation and calls her mother, learning that her mother was drunk one night and Touma rescued her. Mikoto overreacts then calms down to talk about the riots that are happening across the globe and the weapons demonstrations in Academy City. After the two split, Mikoto forgot to ask Touma to take her out for a cultural festival that happens in Academy City once a year. She calls his phone but the number couldn't be reached so she decides to track him down. Mikoto then hears gunshots in the area so she arrives at the scene but there was no one to be found. Later, Touma calls Mikoto from the Palace of the Popes and asks her what's new from the Academy City side. Mikoto tells him that they sent special forces by the request of the French government, then asks him where he is. Before Touma could explain, Terra of the Left arrives and Touma's phone gets knocked right off his hand, causing the screen to break. Even though his cellphone gets damaged, Mikoto is still able to listen in and learns a startling revelation from Terra that Touma has actually lost his memories and has been pretending towards his friends ever since.
Acqua of the Back Arc
Edit
After knowing the shocking revelation about Touma's memory loss. Mikoto is in a state of confusion about why she cares about his problems so much and the fact that Touma hid something like that from everyone, especially her. Mikoto at first considers asking Shokuhou Misaki for help in regards to Touma's memory loss. However, she rejects the idea because she did not want to end up in Misaki's debt, and she could not be sure that Misaki would not do anything unnecessary to Touma in the process. Ultimately, she decided it wouldn't be a good idea to put Touma's health in the hands of someone she could not completely trust. While Mikoto still thinks about how she should handle this situation, she just so happens to spot Touma by a local theater with his head on Itsuwa's chest (due to his head getting hit by a soccer by the other Amakusa members). She chases him down by throwing lightning at him, Itsuwa prepares to attack then Touma holds her to stop her, but Mikoto becomes even more upset and continues to chase him down relentlessly. After running around Academy City, Touma manages to ditch her.
Later that day she goes to the local bathhouse to collect points for a Geko-ta strap that she could get by taking a certain numbers of baths. She runs into Index and Itsuwa who's also there to take a bath as well (Due to Index ruining Touma's bathroom at his home). She starts to wonder if the two know about his memory loss and while pondering about the issue again, she faints in the bath and was forced to be taken away by the staff there to resuscitate her.
She later runs into Touma again in the middle of the night, and realizes that something is not right about him. After she decides to confront him, she notices that he is heavily wounded, and he probably left a nearby hospital without permission. She realizes that his memory loss may truly be legitimate since he has constantly been involved in life-and-death situations. Mikoto confronts Touma about his memory loss, and asks him why he doesn't ask her or anyone else for help. She volunteers to confront the person that he is going to fight against in his place, Acqua, but he rejects the offer.
After speaking with an injured Touma and revealing to him that she knows about his memory loss, she suddenly realizes that Touma doesn't live "in the same world as her" where the worst possible problem is getting into scruffles with students; but that instead he is forced to handle life or death situations such as the one from the sisters incident time after time. She resolves to stand with him and help him fight - as she cannot stand to see him this battered down, carrying an unimaginable weight and still tries to stumble onto the battlefield when his health is greatly impaired all on his own. Mikoto is at first confused as to why she cares about him at all, until she finally realizes her feelings for Touma.[11]
English Civil War
Edit
Mikoto is first seen during Volume 17 feeling restless due to her previous confrontation with Touma. According to the novels narration, she did not plan to meet with Touma again until she could properly sort out all the feelings in her heart. However, she still runs into Touma by a vending machine. She asks Touma about his injuries, which he tells her that he is fine, but he tells her that he has a hard time recalling the details of their previous conversation other than the fact she knew about his memory loss. Due to Touma's request, Mikoto also reluctantly agrees to keep his memory loss a secret. Touma changed the subject by telling her she should not do her "kicking the vending machine" trick anymore because people could still see up to her thighs. After Touma's comment, Mikoto realizes that she actually feels comfortable around him. Much to Touma's confusion and uneasiness, she inadvertantly lets out a few sparks from her body.
Unbeknownst to Mikoto, Touma was kidnapped by Tsuchimikado Motoharu, and forced to go to England. During Volume 18, Mikoto receives a call from Touma, which shocks her because he rarely calls her. When she answers, Touma asked her if she knew how to open a lock since he needs to sneak into a subway station. After hearing that, she hung up on him, but she immediately receives another call from him. After he explains to her the situation he is in and the fact he is in London (which surprises her because she knows about the dangers in London at the present time), she figured that Touma really must be in another strange predicament and reluctantly agrees to help him. Thanks to Mikoto's directions, Touma was able to open the shutter's electronic lock. Afterwards, Mikoto tried to ask Touma if he wanted to spend some time with her due to all the half-days that were happening because of Ichihanaransai preparations, but she is cutoff before she could finish.
World War III
Edit
Later, she worries about Touma because he isn't answering any of her calls since the last time they spoke to each other. She remembers that Touma mentioned he was in London.[12] However, when she watches a news report on T.V about World War 3 showing Russia, she sees Touma in the bottom corner of the screen in Volume 20. In order to prove to herself that it may not be him, she decides to hack into Touma's school network with her ability and her PDA, and finds Touma hasn't been to the school for quite some time, forcing her to realize that the Touma on TV was the real one. She hacks further into Academy City's database and comes across the city's plans to retrieve Touma "at any cost". Afterwards, she decides to hijack a jet to go to Russia and help Touma, she also learns of a special team that has been put together for the sole purpose of bringing Touma back to Academy city under Aleister's command.
She travels to Russia and tries to retrieve Touma. On her way she meets Misaka 10777, one of the clones who was stationed in Russia but decided to stay behind in order to try and find Touma instead of evacuating with the rest of the Academy City non-military personnel.
Later Mikoto meets up with Touma and tries to bring him back with her in order to save him from what appears to be certain death. He refuses, and Mikoto tries to forcibly bring him with her by using magnetism to get him onto her plane, which he negated. She and Misaka 10777 were forced to leave without Touma, with Mikoto in tears. In the end of the arc, near the beach she finds the Gekota charm the two of them bought back on September 30th on a beach and no other signs of Touma are found. She believes that Touma had died.
Shinyaku Toaru Majutsu no Index
Edit
Freshmen Arc
In the first volume of New Testament series it is hinted that Hamazura Shiage bumped into her in the 7th district, but was ignored, showing that she was still depressed and worried about Touma.
Homecoming Arc
Edit
Some time later, she decides to hack into Academy City database to find out more about Touma. However, she is surprised by a heavily intoxicated Touma who gives her a box of sushi. Touma then begins to leave, along with the many other girls that appeared with him, and she ends up following him to his dorm. Mikoto and the other girls are persuaded to leave but not before Mikoto forcefully obtains a promise to explain everything.
She later catches up with him on a bridge after the excitment dies down and returns his phone strap, telling him not to lose it since theirs match. He states that the reason he can't stand still is due to the impending chaos that is about to befall Academy City. She then tells him that she will not stop him because she knows he won't listen to her anyways, but just as he is about to leave, she grabs his hand and states that this time he is not alone.
As shown on the cover of the upcoming New Testament Volume 03 and its summary , Mikoto appears to be making good on her promise to Touma.
Hawaii Invasion Arc
Edit
After homecoming she travels with Touma to Hawaii, where they encounter a GREMLIN agent, Cendrillon, at the airport and launch an attack her. She and Touma later get seperated and she ends up with Misaka WORST where they have a chat and she gets severely teased. Eventually, she and Touma encounter Roberto Katze, who offers his help. So, to stop the Trigger they head to Pearl Harbor. Eventually, it results with her and Accelerator fighting off Trident forces that try to invade.
Ichihanaran Festival Arc
Edit
Eve of the Festival
Edit
Thor impersonates Mikoto as a means to get close to Kamijou Touma. By utilizing the information gained from the security cameras during the Hawaii Invasion Arc, Thor successfully adopts her character and personality and uses it to trick Touma. [13]
Apparently not busy herself, Mikoto's first actual appearance in the arc is as an unofficial visitor of Touma's school, looking for him there. She is nervous because she stands out too much. Her actions, however, are noticed by Tsukuyomi Komoe, and they meet for the first time. Here, despite knowing that Misaka Mikoto is a Level 5, Komoe doesn't know what she looks like. Komoe tells her that unofficial visitors to the school are not allowed by Anti-Skill. However, Mikoto completely ignores her, and assumes that, since she looks like a child, that she too is a visitor like herself. Komoe is flabbergasted as Mikoto assumes that she is an elementary student and refers to her as such. As Mikoto is impressed by Touma's school's preparations despite its modest accomadations, she and Komoe overhear Seiri shouting that Touma has been arrested by Anti-Skill (due to his little scuffle with Thor earlier).[13]
Mikoto later apparently searches for Touma and somehow ends up in the area near the Windowless Building. She spots and demands answers from him, such as why he is not helping his school for the Ichihanaransai, regarding on how he was arrested by Anti-Skill, and how he managed to get back from Hawaii. Touma, however, believing that the Mikoto before her is still Thor (who previously changed into Mikoto before), tells her to stop joking around, confusing Mikoto. Touma then demonstrates how terrible "Thor's" disguise is and touches Mikoto's chest, ceaselessly bewildering her. Touma notes on how they feel so real, to which Mikoto stutters to say that they are not pads. Tired of this nonsense, Touma leaves Mikoto and tells "him" to stop joking around and get to the rendezvous point.[14]
During the Festival
Edit
8 AM during the start of the festival, Mikoto decides to come back to Touma's school. When she approaches the main entrance of the school for the trial enrollment, she bumps into Misaki, who was using her ability to make the crowd chase after Mikoto. She then constantly cursed Misaki for always teasing her but soon stopped as she started to wonder what she was doing there in the first place. However, she quickly cast away that thought as the crowd caught up with her again.[15]
Thor later spots Misaka Mikoto from a water tower, and deeming her to be useful to aid Touma, calls out to her.Calling her by Miko-chan, he immediately gets her attention. Thor then shows Mikoto a footage of Touma being tended by Cendrillon, to which Mikoto demands Thor to tell him where he is.[16] Mikoto herself tries to confront Touma. She approaches Touma still being taken care of by Cendrillon. She attacks him, and is surprised that he did not block it. She later discovers that he has gunshot injuries and feels sorry. Nonchalantly, Cendrillon comments on Mikoto's attacks but says that it is only natural for her to get angry as Touma is the only clue leading to GREMLIN. Touma seeing this opportunity, asks Mikoto to translate for him. Here, the both of them discover Cendrillon's circumstances, on how she snuck into Academy City, her new abilities, as well as the reason she got so small. The last one piques Touma's attention, as there is still leftovers from her reconstructing her body, which can be made into whatever they want. Touma asks Mikoto to tell Cendrillon that he needs her help in constructing a brain that would prevent Fräulein Kreutune from eating a person's brain. Only now did Mikoto know of Cendrillon as the same one from Hawaii, but Touma's urgency takes precedence and Mikoto do what she is told. Cendrillon tells Touma that she doubts she can help him as her vengeance with Marian takes precedence, and that the leftovers, if lost, will no longer able to remake herself back to normal. Hearing Marian's name however, Touma casually comments on how he defeated Marian back in Baggage City. As Mikoto translates it to Cendrillon, she is caught by surprise by Touma's actions, and unreasonably concludes that Marian must be dead, but he makes no attempt to amend her misinterpretation. Cendrillon clicks her tongue, noting that not only did Touma save her life in Baggage City, but freed herself from her revenge, lamenting on the fact that he was supposed to be her enemy, but has grown more indebted to him. However, Mikoto refused to translate what she just said. Touma pleads Mikoto to continue translating, and she acquiesces. Cendrillon tells Touma that she will pay back her debts, and asks Touma what she needs to do.[17]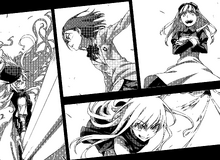 Leivinia soon finds Fräulein Kreutune in the multi-level overpass, and is forced to engage against Kamijou Touma for her fate. Silvia and Brunhild that was supposed to support her, are confronted by Thor of GREMLIN and Misaka Mikoto of Academy City, respectively. She is complaining to Thor on why she has to help him. Thor explains on how people have gathered together to beat the already injured Kamijou Touma, and then abduct a woman named Fräulein Kreutune, use her for their own purpose, and then kill her. He then asks what Mikoto is going to do, to which she sighs and mentions that it is the same pattern as always. Mikoto mentions on how Touma has not changed after disappearing in Hawaii and arriving in Baggage City. Thor tells Mikoto that despite what happened in the city there, Touma still managed to save lives. Thor says that he is just as much to blame for the events happening, and tells Mikoto that Touma is trying to finish things with Fräulein Kreutune, the primary cause of all the events that are currently happening in this. He asks if she will support him or get in his way. Mikoto clicks her tongue and says to Thor that he owes her, but Thor tells her that is supposed to be directed to Touma. But Mikoto says that doing so is embarrassing, as such she's saying it where he can't hear her. With that little banter over, Mikoto faces her enemy, while Thor faces his own.[18]
And so, magic and science clashed, Brunhild of the magic side, one of the 20 Saints in the world, against Mikoto of the science side, the third ranked Level 5 esper of Academy City. Despite the fierce titles bestowed upon the two, the battle seemed one-sided, for great speed Brunhild held, and her steps if she wished were faster than sound. Brunhild chaged towards Mikoto and swung her sword down her like a steel fan. But Mikoto reacted before the blow, and with her powers moved a part of the road they were on, putting Brunhild's aim off, but its power was immense still, and many glasses were shattered the instant it fell. Brunhild questions Mikoto's ability to know where she was despite her speed, not knowing that her powers allow to control iron sand on the road's surface and allow her to see her footprints. And with that same iron sand did Mikoto use to consume Brunhild inside like a storm of needles. But no harm came to Brunhild, for she swung her claymore in a circle, and the iron sand was blown away in a roar. The force her swing threatened to knock Mikoto down, but she escaped by magnetizing a wall between before it struck. Mikoto tries to gather the iron sand once more, but Brunhild came upon her and aim the sword upon Mikoto's neck. Mikoto used her powers to forced the blade to halt, but Brunhild's strength overcame it for her to swing it. But it was enough time for Mikoto, and a lightning spear struck the sword and Brunhild. Mikoto did not allay her attacks, for she swung towards Brunhild many reinforced concrete objects. However, Brunhild recovered from the shock, and with her strength stopped the mass of objects that Mikoto flung towards her.[19]
As if acknowledging Mikoto as a worthy foe, Brunhild speaks to her, asking why she is participating in this conflict for Fräulein Kreutune if she had little to do with magic. For a great risk did Mikoto bring upon herself when she wraps herself in the core of GREMLIN. Mikoto tells Brunhild that she doesn't want to hear from someone who is trying to kill her, and straight to the point, does not know nor care about the big picture surrounding their conflict. Moreover, she says that she has no good reason to be fighting. However, Mikoto says that there is not a need for a good reason to save a friend, as what her friend once said, and now, she will support him in spite of the dangers that will befall him. With that, Brunhild cut down her obstacles and made an opening for her with her sword, and the same time, Mikoto swung her iron sand sword. Colliding, Mikoto saw that her vibrating iron sand sword could not slice the claymore, and released it. She then took a coin, and fired her Railgun towards Brunhild, shouting that she has her own reason to save Kamijou Touma.[19]
Despite the apparent danger of letting her guard down against Brunhild, Mikoto took the time to use her electromagnetic powers to control Leivinia Birdway's gun before she could fire it. This and Thor's later use of his fusion arc blades to cut up the road between them, allowed Touma to recover enough in order to fight Leivinia anew.[20]
However, with the defeat of Leivinia Birdway at the hands of Kamijou Touma, Brunhild stops her attacks, her sword covered with various objects that Mikoto stuck into them to slow her down. And Mikoto did not dare take advantage of the opening. Mikoto asks what's the matter, to which Brunhild says that the issue has been resolved, and she is unsure if she should continue fighting, head over as reinforcements, or view the situation as unfavorable and make preparations to reorganize. As what happens later, Silvia takes the last option, and the conflicts in the multi-level overpass ends.[21]
A Certain Scientific Railgun
Edit
Introduction
Edit
Mikoto,
Uiharu Kazari
,
Saten Ruiko
, and
Shirai Kuroko
were going to a game center, but along the way, the girls get sidetracked to a crepe stand so that Mikoto can collect the figure being given away. The situation suddenly turns bad when a nearby bank gets robbed. In response, Kuroko and Uiharu go to the scene as members of
Judgement
, and Kuroko asks Mikoto not to get involved. While Kuroko is fighting the robbers, one of them manages to get away from her and tries to kidnap a little boy. Saten manages to grab the boy, but one the robbers kicks her. Seeing this angers Mikoto, deciding to use her railgun ability on the robbers' car, throwing it into the air and wrecking it.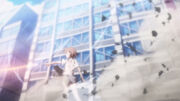 When
Anti-Skill
shows up to arrest the man, Saten gets thanked by the boys mother, and even Mikoto compliments her.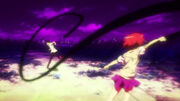 In a flashback, one night Mikoto is shown being hit on by delinquents, when a certain boy named
Kamijou Touma
tries to save her from them - even though she doesn't need any help. After unintentionally insulting Mikoto while trying to convince the delinquents to stop bothering her, she discharges a powerful electrical attack on them out of rage. Believing that she has defeated them all, she goes to leave, but to her surprise she sees Touma is unharmed. Because of this initial encounter, Mikoto constantly tries to make the reluctant Touma fight her whenever they meet. This is due to him being the first person to not only walk away from her attack unscathed, but to also negate it completely.
Level Upper Arc
Edit
Uiharu gets a cold and cannot go to school, so Ruiko, Mikoto and Kuroko pay her a visit. Kuroko becomes curious as to how Hatsuya, a Level 2 esper, had powers equivalent to a Level 4's. Mikoto brings up the Level Upper urban legend Ruiko had mentioned, and Kuroko points out this is not the first time a user's power and the user's level have been vastly different. After discovering where they can get information on the Level Upper, Mikoto goes to a restaurant and pretends to be an interested customer to a group of teenagers who may have information about Level Upper. Mikoto eventually gives up the act when they won't tell her what she wants and soon faces their leader, a girl with the ability to manipulate asphalt. Mikoto wins the fight, but damages a nearby generator causing a city-wide blackout. The next day, Kuroko and Mikoto discover that Hatsuya, along with several others who have shown abnormally strong powers, have all fallen into comas. Meanwhile, Ruiko discovers the Level Upper on the internet by chance.
Mikoto and Kuroko talk with Harumi Kiyama, the AIM specialist Mikoto had previously met, about the Level Upper. They are later joined by Kazari and Ruiko, the latter of which has the Level Upper, but decides to keep it to herself when Kuroko mentions its related to criminal activities. Mikoto later catches up with Ruiko, noticing she's a bit down, and gives her some advice that levels aren't that important, though this secretly irritates Ruiko. The next day, Ruiko stumbles upon someone being conned by three thugs over Level Upper and can't bring herself to just run away, so she confronts them. Kuruko coincidentally arrives before Ruiko gets hurt and subdues two of the thugs, but has trouble using her teleportation powers against their boss, due to his ability to distort light affecting her teleportation. He chases Kuroko throughout an abandoned building, but is defeated when Kuroko teleports the windows to cut through the building's supports, bringing the place down. Having barely just survived, the thug surrenders his Level Upper to Kuroko. Ruiko feels even more conflicted about what to do with the Level Upper, but an encounter with some of her friends leads her to tell them that she has it.
Ruiko uses the Level Upper on herself and her friends and is happy to have an ability. Meanwhile, Kuroko takes care of more Level Upper offenders and gains more injuries in the process, keeping them a secret from Mikoto. Remembering when they ate shaved ice, Mikoto and Kuroko come to the conclusion that the Level Upper is using synesthesia to manipulate brainwaves. Kazari soon hears from Ruiko that her friends have fallen unconscious due to the Level Upper, and later finds her unconscious too. After admitting Ruiko to the hospital, Mikoto feels responsible for hurting her feelings with her advice and wants to help. They later learn from a frog-faced doctor (Heaven Canceler) that the Level Upper victims seem to share a brainwave pattern with someone. With the help of Mii, they theorize that Level Upper actually connects ability users like a network and learns the culprit is, to their surprise, Harumi. Kazari, who had visited Harumi earlier and discovered her notes on synesthesia, is taken hostage by her. Noticing Kuroko's injuries, Mikoto decides to rescue Kazari and stop Harumi by herself.
Harumi explains to Kazari that she used the Level Upper Network as an alternative supercomputer as she wasn't allowed to use the Tree Diagram supercomputer. She assures Kazari that she will release everyone once she's done, giving her a cure program. When she is roadblocked by the AntiSkill, she uses the Level Upper's Administrator power; Multi-Skill, to utilize the abilities of the victims to defeat them. Mikoto arrives and battles Harumi who blocks her every attack until she lets her guard down, during which Mikoto gets close enough to shock her. In the process, Mikoto experiences flashes of Harumi's memories. In the past, Harumi was assigned by her boss, Gensei Kihara, to be a teacher to a group of Child Errors to prepare them for an experiment, growing fond of them in the process. However, the experiments went horribly wrong and the children ended up in comas, with Kihara deciding to cover it up. Harumi explains she wanted to find a cure to save her students by using Tree Diagram, but was denied every time which led to her creating the Level Upper Network. Her anger soon causes her to lose control of the network and fall unconscious, and a strange fetus-like creature emerges from her head.
Mikoto and the AntiSkill fight back against the creature but it only causes it to regenerate its wounds and grow bigger as it heads towards a nuclear power plant. With the network out of control, the comatose Level Upper users starts screaming in pain. Realizing what has happen, Harumi explains the creature, called AIM Burst, is the result of the 10,000 Level Upper user's AIM fields and their negative thoughts. With the help of AntiSkill members Aiho Yomikawa and Tsuzuri Tessō, Kazari manages to upload the cure Harumi gave her, a song file, which is played all over the city, calming the Level Upper users and weakening AIM Burst. Despite losing its regenerative ability, AIM Burst is still able to use the Level Upper user's powers and emits their negative thoughts to Mikoto and Harumi. Mikoto battles AIM Burst again and apologizes to the users for not understanding their feelings and tells them not to give up on their dreams before shooting a railgun to destroy the creature's core. As sunset arrives, a mysterious woman and her team inspect the damages at the power plant while Harumi is arrested by the AntiSkill, still hoping to find a way to cure her students. Kazari later meets up with Ruiko who, having recovered from her coma and lost her powers, apologizes to her for forgetting what was truly important.
Big Spider Arc
Edit
Mikoto becomes involved with Judgment's investigations with the rise of Skill-Out attacks by Big Spider on espers, on Kurozuma Wataru's orders (actually Hebitani Tsuguo). She later meets Kurozuma Wataru the true leader of Big Spider, looking upon dreamily upon the moribund Strange. Much later, Mikoto and Kuroko discover Tsuguo's base and decide to take them all in, however, they are depowered by the use of Capacity Down. They are later saved by Wataru, who reveals that he has returned, prompting Tsuguo and his group to flee. Konori Mii, later appears before Wataru before he leaves, and calls him her senpai. Confused, Mikoto and company later visit her apartment to talk to her, and meet her roommate who reveals that Mii was a member of Big Spider. Mikoto remains confused on why Mii seems to hesitate in choosing the present over the past, and later confronts her in an old Big Spider, and ask her if she is going to tip-off Wataru regarding the Anti-Skill on the Strange. Wataru later appears before them, hither, Mikoto bears witness to Wataru urging Mii to move on.
Mii decides to choose the present, and Mikoto and Kuroko give her red jacket to wear as rememberance to her past. Mikoto later joins Kuroko, Mii and Wataru on the final assault on the Big Spider. She later destroys Capacity Down, and with Kuroko, see Mii and Wataru finally disband Big Spider. Mikoto later witnesses Kurozuma's arrest by Mii.
Poltergeist Arc
Edit
Kazari gets a new roommate, a transfer student named Erii Haruue. As Mikoto and Ruiko hang out with Erii, Kazari, Kuroko and Mii attend a joint AntiSkill/Judgment meeting held by Therestina of the Multi Active Rescue(MAR) Squad concerning earthquake-like "Poltergeist incidents" caused by multiple espers suffering from RSPK syndrome as a result of temporarily losing control of their abilities simultaneously. While Judgment are ordered to only debunk the rumors, Mii decides to do some investigating. Meanwhile the girls decide to celebrate Erii's arrival by attending the local Hanabi festival. As Erii starts to reminisce about her past with her new friends, she suddenly goes into a trance and wanders off on the hill their on. Kuroko soon gets a call from Mii who reveals these Poltergeists are not natural but were created on purpose. At that moment, another Poltergeist event occurs over where the girls are. Kazari tries to protect Erii from a falling lamppost but both are saved by Therestina in a powered armor. As the girls come to grip on what has happen, below the hill, a familiar woman is seen in the crowd.
Sisters Arc
Edit
The Railgun manga greatly expands upon Mikoto's actions during the Sister's arc. The first clone she meets is Misaka 9982, and she forms somewhat of a bond with the clone. After she witnesses Accelerator kill Misaka 9982, Mikoto attempt to avenge her death, but she fails. Mikoto attempts to stop the project by destroying the research facilities, and even has a confrontation with ITEM during her quest. Despite the destruction, the project continues. As in the Light Novels, Touma helps put an end to the project.
There is also an extended epilogue to this arc in the manga, where she recruits Saten's help to make cookies for Touma, but she is ultimately unable to.
Daihaseisai Arc (To aru Kagaku no Railgun)
Edit
Follows Misaka's encounters during Daihaseisai. Competing in pair race with Kongou Mitsuki, observing her clone in the ball knockout. She meets Touma and he buys drinks for them when Misaki interupts and Touma and Misaki share a joke about how she is always being "biri-biri" or "piri-piri" towards them. She later comes to save Saten when she is caught looking for Shadow Metal, and mistakenly attacks the groundskeepers.
Abilities
Edit
Mikoto's power is known as the Railgun (超電磁砲, Chō-Denjihō (Rērugan)?, lit. "Super Electromagnetic Cannon").[22] She chose the ability name herself, naming it after her famous finishing move.[23] Her ability belongs to a type of power users called Electromaster (電撃使い, Dengeki Tsukai (Erekutoro Masutā)?, lit. "Electricity User"): those who can generate and manipulate electricity.
Mikoto is the most powerful Electromaster in Academy City. Her maximum output is known to be 1 billion volts.
Railgun (超電磁砲

Chō-Denjihō (Rērugan)

?

, lit. "Super Electromagnetic Cannon"): Mikoto can fire metal objects at three times the speed of sound using her electricity. Her railgun has a muzzle velocity of 1030 m/s (2307.2 mph), and can be fired at a rate of 8 shots per minute. She has hinted she can fire multiple coins at once creating a Rail-Shotgun, however this has never been seen. She primarily uses arcade coins as her projectiles for portability, limiting her normal range to 50 meters.[24][25]
Powerful Electromagnetic Pulse: Mikoto has the ability to create magnetic pulses that target the organs[27]
Electromagnetism: Mikoto can use electromagnetism to attract and repel metallic materials and use it to her advantage. Examples include creating a make-shift shield out of scrap metal, walking on walls and ceilings, as well as attracting iron particles in the ground around her.
Whip Sword (

鞭のような剣

Muchi no yō na Ken

?

) or Iron Sand Sword (

砂鉄剣

Satetsuken

?

): Using her magnetic powers, Mikoto can form a "whip sword" by gathering iron sand, manipulating it into a sword that she can lengthen into a whip at will. By making the sand particles of the blade vibrate, she can dramatically increase the weapon's cutting power into something resembling that of a chainsaw.[27][29]
Cracking/Hacking: Using her electric powers she can hack any electronic device and bypass normal electronic security measures with ease. She can decode the electronic flow of information, like steal the information from a credit card's magnetic strip, as well as directly process a computer's information in binary. This skill also enables her to perform acts such as erasing herself from security footage in real time or taking control of Academy City's roving security robots.[30][31]
Unique Sensory Perception of Electric-type Espers: As an electromaster, Mikoto is of course able to sense electric, magnetic, and electromagnetic phenomena. She is, however, able to follow the electric and magnetic field lines using her eyes, something that normal electromasters are unable to do with their limited power.[32][33][34] She takes this ability one step further by analyzing the reflections of the electromagnetic waves she generates, giving her no blind spots.
Flight

Misaka Mikoto with her wings made from electricity and water vapor.

Added by

Cnguy21

: Using formulas similar to those she uses for her Iron Sand sword, Mikoto can fly if she is surrounded by a large amount of atomised water vapor. She manipulated the water vapor it into wings using the static electricity from interactions between particles. By using her electric power to induce electrolysis on a large body of water such as the ocean, she can obtain enough hydrogen and oxygen to use as fuel. [35]
Defense Against Telepathic Manipulation: Mikoto has been shown to be to immune the effects of telepathic manipulation due to the electromagnetic barrier created by her AIM dispersion field.[36]
Relationships
Edit
Misaka had a crush on Touma for a long time, but only realized it near the end of the Acqua of the Back Arc. Misaka never calls Touma by his name, only referring to him as "you" or "idiot". Since realizing her feelings, Misaka has started to get involved in Touma's life, trying to rescue him during World War III, and going with him to Hawaii in the Hawaiian Invasion Arc. At the end of the Hawaiian Invasion Arc, Misaka tells Touma that she will bear his burdens with him and that he is not alone. Despite this, she is left alone by Touma. When he returns to Academy City and is immediately caught up in a dangerous situation, it has been shown that she has accepted that Touma cannot be held back in his actions, and will support him in the endeavors he might do even if those were dangerous. She refers to it as a sign of being a "good woman".
Shirai Kuroko is Misaka's roommate, and best friend. Because of her high status Misaka is alienated by most of Tokiwadai, so she values Kuroko's friendship very much. Kuroko's perverted actions towards her tend to rub her the wrong way (often resulting in the latter shocking Kuroko), she doesn't consider them anything more than an annoyance. But Misaka does care for Kuroko by saving her from danger. When Kuroko is seriously hurt by Awaki, Misaka gets very angry with her, also for getting Kuroko involved with the problem. But Mikoto is more angry at herself, for getting Kuroko involved which Mikoto is the true reason why she gets involved. This means then Mikoto does care about Kuroko and worries about her.
Misaka 10032 is Misaka's clone, but Misaka considers her and the other clones to be her younger sisters. Misaka goes to great lengths to protect 10032, along with the other clones, and was willing to die so as to end the experiment. Misaka conscience takes on a lot of personal guilt about starting the experiment, seeing as how she had given her own DNA map of her own free will (Granted she did not know the full details of why they needed her DNA map back then.) . She does, however, get jealous when 10032 tries to get close to Touma, which is shown more and more as they compete for Touma's affections.
Misaka considers Index as a rival in love. After their first meeting both fought over who would stay with Touma. Both know that  Touma ends up in situations where he usually saves a girl's life and were angered at him when they found he saved the other girl's life. Also, Misaka is embarrassed to note that Index knows more about culture than she does.
Shokuhou Misaki is Misaka's archrival. Misaka feels very uncomfortable approaching her, and will best try to avoid her possible. Shokuhou Misaki represented the opposite of Misaka (girly, manipulative, and in the shadows)
Other Appearances
Edit
Side stories
Edit
Toaru Jihanki no Fanfare
Edit
Mikoto meets up with the 7th level 5, Sogiita Gunha, and challenges him to a duel with stipulations. She uses a depowered Railgun on him, which is later caught by Gunha by the teeth. They later call it a draw, though both remarking that they would surely have lost if it was a true fight.
Toaru Majutsu no Index: Love Letter Competition
Edit
Bundled with Rainbow Spectrum Colors, the short story focuses on Kumokawa Seria's letter for Kamjou Touma, hither Misaka eavesdrops on a conversation between Tsukuyomi Komoe and Yomikawa Aiho regarding Touma's love letter. Coincidentally, the letter blows away from Komoe's possession, to which Mikoto tries to grab hold it until she is interrupted by Misaka 10032, wanting the letter for herself. Temporarily disabling Kuroko to hide the existence of her clone, Misaka 10032 confronts Misaka Mikoto for the letter, and later argue, however, the clone later begins arguing with the other clones in the network, to which Mikoto could only look bemusement. All the while, the letter blows away from them.
Toaru Majutsu no Index: Road to Endymion
Edit
Misaka Mikoto appears sporadically during ths short story, failing once again to get Touma's number. She becomes a key component for the mystery surrounding Ureapaddy Exica's actions, as after the effects of the Debris Storm, her call to Kuroko redirects to Touma, which she reveals how it is use by Academy City.
Anime appearances
Edit
Toaru Kagaku no Railgun OVA
Edit
In the Railgun Original Video Animation, Mikoto is tormented by the dread of someone always watching her, pushed to the edge she decides to confront the feeling herself. With the help of her friends, Mikoto discovers that the culprit is an Anti-Skill member she frequently runs into, using a device that exploits the abilities of Electromasters, making them feel that they are being watched by someone. When the culprit flees using a motorboat, Mikoto uses her Railgun to stop her.
Toaru Majutsu no Index-tan
Edit
Mikoto makes regular appearances in the bundled comedy shorts. In the first episode, she appears in reused animation cells to viewers to conserve electricty, and some such nonsense, and then saying some for other of a Japanese onomatopoeia of electricity.
In the second episode, Mikoto appears during the climactic scene of the Sisters Arc, asking Misaka 10032 for assistance to protect Touma's dream, however, she could only look in confusion, as Misaka 10032 could only blankly stare and giggle at her. In the penultimate sketch, Mikoto asks questions to a series of clones and slaps one of them when she disproves of their answers, later, they announce the making the Toaru Kagaku no Railgun anime, which she says to the audience to look forward to it.
In the third episode, Mikoto is only briefly seen in the reusage of the scenes in the Tree Diagram Remnant Arc, and interposed with Saten Ruiko doing something incredibly mundane.
In the fourth episode. in a parody of her confrontation with Musujime Awaki, she attacks the people Awaki uses to shield herself, declaring them not innocent. Take note that the people are otaku.
Video game appearances
Edit
Toaru Majutsu no Index (PSP game)
Edit
Mikoto is a playble character in the Toaru Majutsu no Index video game, here she is able to use her electric attacks and her Railgun. She also has a few melee attacks in her arsenal. Mikoto has a secret route unlockable only with a special file (or through the use of dummt files) given to players of the Toaru Kagaku no Railgun (PSP game).
Non in-universe appearances
Edit
Anime appearances
Edit
Mikoto appears briefly in Episode 8 of Ookami-san and her Seven Companions (also produced by JC Staff Animation Studios), angrily crackling electricity and her knuckles at the audience, as a potential bride candidate for the boy millionaire Nezumi Chuutaro.
Video game appearances
Edit
Dengeki Gakuen RPG: Cross of Venus
Edit
Mikoto appears as an unlockable playable character in the game. The player needs to meet certain conditions in order for her to appear, when she appears to the player, she needs to be defeated in order for her to join the team. Mikoto as a playable character, can use several of her trademark attacks, such as the iron sand sword and of course the Railgun.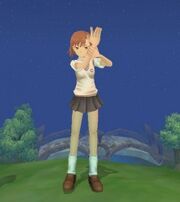 Mikoto is one of the NPC characters that will assist the player in the Japanese version of the Korean MMORPG Lunatia. [37] Furthermore, within the game exists a "Gekota doll" item.
Lucent Heart
Edit
The Japanese MMORPG Lucent Heart developed by Gamania Digital Entertainment has disclosed that Touma, along with Index and Misaka Mikoto will be added as "selectable skins" for the players to use.[38]
Shin Megami Tensei: IMAGINE
Edit
Mikoto appeared in the Japanese version of the Online adaptation of the Shin Megami Tensei series called Shin Megami Tensei: IMAGINE. She was avaliable from January 14 of 2010 to February 10 of 2010. The player can accept quests from her in Home III with a slight connection between the two series. Despite the character design of the Shin Megami Tensei series, Mikoto retained her design in the game.
References in other media
Edit
In Shakugan No Shana, one of the two of Yuji's friends was wearing a T-shirt with the face of Mikoto on it. Another one was wearing a T-shirt with Index on it.
Character Art Designs
Edit
Design evolution
Edit
Mikoto's design has changed little overtime, only becoming more deformed to fit with the light novel format illustrations. Mikoto's design, most specifically the loose socks, is derived from the dated kogyaru culture, which Haimura did as to try to capture the gaps in the trends that populate Academy City in contrast with the outside world.
Due to Mikoto's increasing prominence in the series, and due to Haimura's preference, Mikoto's hairpin changes during volume 6, to mark the change of her position in the series, this is carried over to all media adaptations. By volume 12, the deformed look has become more apparent, with Mikoto, and along with other characters, getting bigger heads, and shorter arms and legs. For her winter outfit, Haimura drawn her design to contrast with Takitsubo Rikou, her traditional look in contrast to Rikou's fancy look, as well as the concept that Mikoto just chosen clothes for winter arbitrarily without thinking.
For her appearance in the 3rd New Testament volume, Haimura had her wear the outfit hat he drew for him in Pixiv, along with Hamazura Shiage.
For her appearance in the Toaru Kagaku no Railgun manga, Haimura gave out details to Mikoto's design. From her clothes, hairstyles, up to her expressions that are common in manga
According to the interview on Kazuma Kamachi featured in "Toaru Majutsu no Index no Subete", the author states Mikoto is the one whom he would want to choose as his friend among all Index characters.
She is the winner of 2011 ISML Bishoujo tournament
Her justification for stealing juice from the vending machine is that it stole a 10,000 yen bill from her during her first year of middle school.
Mikoto has been ranked 1st on the LN guidebook "Kono Light Novel ga Sugoi!"'s annual female character rankings for four consecutive years (2010-2013), a record achivement for any LN character.
(Volume 1) : "Really, what's with that? Such a power doesn't even appear in Academy City's databank. If I am a 1-in-328,571 prodigy, then aren't you, the only one in Academy City, a 1-in-2,300,000 disaster?"
(Volume 3) : "...Hm, maybe I think I shouldn't be saying nonsense. But as long as the weak whimper, the strong will swagger... that's what I believe. Why are you different? Even here in Academy City, there are only seven Level 5s, and while each of them has the 'power' to easily twist a man's arm, just why were you chased all over town by even a street rogue's unleashed chihuahua?"
(Volume 5) : "…Oi, do you understand the situation right now? How do we look like a couple right now? Just studying and leaving the girl at the side, do you think this is male-dominant medieval Europe or something?"
(Volume 16) : "The feelings people go through waiting for you, have a taste of it at least once! Lay down on the hospital bed and try knowing the feeling of a person who can't do anything but watch from a safe distance! It was the same when you saved the Sisters. You told me to ask you for help, then you alone go to challenge Academy City's strongest Level 5. Why won't your own ideologies apply to yourself as well? Why are you the only one not asking for help!?"
(Volume 20) : "Sorry about that. I'm pretty pissed off, so I can't guarantee that I'll hold back next time. Take me to Russia. It'd be great if you would just do your job as you were originally supposed to."
(Volume 21) : "This isn't an issue with how risky it is. If one side is putting all their efforts into killing a normal high school student and the other side is putting all her efforts into saving that normal high school student, which side do you want to be on? Which side could you proudly say you were on?"
(NT Volume 2) : "I-I'm not smiling!! And don't call me Miko-chan!!" --- During her re-encounter with Kamijou Touma
(NT Volume 2) : "But this time, you aren't alone." --- While grabbing on to Touma
(NT Volume 6) : "

You don't need a good reason to save a friend. If you want to save them, then save them. …I know someone who kept saying those stupid things even when he was driven to the brink of death, and he really did save over 10,000 people in the end. And that idiot that saved so many people is trying to save someone today like always. I know I can't stop him. No matter how much I don't want him to do anything dangerous, seeing him off with a push to the back is the sign of a good woman

''

!!" 

(NT Volume 6) : "First you leave me behind at Hawaii, then you suddenly grope my chest when we meet again, and now you're flirting with some girl like it's a normal thing! Do you never think about explaining anything or apologizing for anything!?

"
References
Edit