Level 6 Shift attempt on Misaka Mikoto
Comments

7
1,882pages on
this wiki
Level 6 Shift attempt on Misaka Mikoto was an attempt to induce a Level 6 Shift on the third-ranked esper Misaka Mikoto into a Level 6 by Kihara Gensei. Seeing as the event has not been referenced at all or brought up in later events of the Toaru Majutsu no Index timeline, it can be assumed that once again Kihara Gensei's experiment failed.
Principles
Edit
Background
Edit
Seemingly after the events of the suspension of the Level 6 Shift Project, a project that Gensei was a primary proponent of, he began to gather the requirements for his attempts to make Misaka Mikoto a Level 6. He is seemingly aware of the effects of using the calculation power of 10,000 espers and pouring it into a single individual, as what happened with Kiyama Harumi,[1] he intended to use the Misaka Network instead and pour its power into Misaka Mikoto as a vessel.[2]
Gensei required Exterior, the giant cultivated brain used by Shokuhou Misaki in order to infect the Misaka Network with the electric virus and get around its defenses, at least one clone to infect with, and Misaka Mikoto, unharmed.
For Exterior, Gensei somehow knew of its existence but was unaware where it was kept. It is impled that that he used or even instigated the Urban Legend website Auribus oculi fideliores sunt to look for its location. As for taking it over, as the one who gave instructions to Harumi for brainwave tuning, allowing her to create Level Upper, effectively being the man behind the creation of the Level Upper, where she modified the brainwaves of 10,000 children to that of her own, Gensei can easily tune its brainwave to that of his own without going through the long registration period of being able to use it.[2]
Meanwhile, for Misaka Mikoto and the Sisters, he release Kouzaku Mitori from the correctional hall and has him for him, and by proxy allow him to use MEMBER as she is a mediator for the group.[3]
Kihara Gensei later comments that Accelerator is the only one who can achieve Level 6 and remain stable. As he explains to Misaki, his forced attempt in creating a level 6 involves sending Mikoto's powers out of control. At 53% of the theoretical limit her mind would transform into something from a different dimension, and at 100% her mind and body would be destroyed having exceeded their limit. In the brief moment of reaching that transcended state she would melt down either like the compression of a white dwarf or an exploding supernova, the resulting effect whatever it be would completely annihilate Academy City. Despite the fact that he would die in this result, he believed that some form of progress would come from it.[4]
Gathering of requirements
Edit
Main article: Daihasei Festival Arc (Railgun)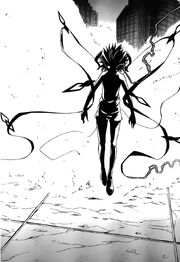 In a series of well-played conspiracies, he has Mitori manipulate MEMBER to find one of the Sisters so that he maybe able to access the Misaka Network after he takes over Exterior, as well as restrain Misaka Mikoto for him.[2] They are unable to restrain Mikoto and even capture at least one clone, though it later proves serependitious to him, as the clone MEMBER weakened, Misaka 10032, is later taken in by Misaki into the Exterior building. Moreover, knowing of her sister's involvement, forced Mikoto to make contact with Misaki.[5]
The Professor, leader of MEMBER, took notice of Mitori's manipulations but is unable to mount a reprisal against Mitori before Gensei started the experiment, though he confided his discovery to Xochitl[3] as most likely the other members of the faction as well.
As Misaki and Mikoto take down the conference, Mitori reports to Gensei himself, and shows the great foresight he had in Misaki being the one who raided their "villas" in order to find him in the conference. Gensei then tells her to prepare as he goes towards School District 2 where the Exterior is located.[2]
Upon arriving there, he swiftly forces Keitz Nokleben, the security supervisor of the Level 6 Shift, and now under the employ of Misaki up on the roof in desperation with Misaka 10032 with his group of skilled special forces. He quickly takes over Exterior, going through its complex registration protocols for usage by aligning its brainwaves with his. He quickly stuns Keitz with the power of Mental Out, and later taunts Misaki on the phone regarding one he easily took over, asking her if she heard that rumors, the Level Upper. He is entralled by Mikoto's arrival in the building, saying that it saved him the effort. With Misaki collapsing after Gensei took over her giant brain (Exterior), Gensei looks upon the still ailing Misaka 10032, and destroys the security that Misaki set-up for the Misaka Network using her powers by using her powers via Exterior. With that it shatters the security against electrical viruses, and all of the Sisters in the world are quickly infected by it.[2]
Start of the experiment
Edit
With all requirements fulfilled, all Gensei needed was Misaka Mikoto herself. As black electricity covers the sky and the power caused by the virus infecting the Misaka Network manifests itself through each Sister, Gensei is ecstatic of the results, but notes on how the energy is nothing more than a show if it doesn't have any use. Mikoto finally arrives at the rooftop, and seeing a downed Misaka 10032, demands to know what Gensei did to her. However, Gensei can only smile at her arrival, the black lightning gathering outside gathers and jumps into Mikoto. Lightning flashes on the roof as Misaka Mikoto's form changes. Kihara Gensei smiles and says that the experiments will now begin, asking if Mikoto can become a Level 6.[2]
Similarities to Kazakiri Hyouka
Edit
Main article: Kazakiri Hyouka
It should be noted that Gensei's attempts on creating a Level 6 is similar to that of the Kazakiri Hyouka, which in turn, is based on the Golden Dawn's attempts on forcing Telesma into a container.[6] Kazakiri Hyouka is the container for the formless power known as AIM. To force Kazakiri Hyouka to become Fuse=KAZAKIRI requires the Misaka Network by which Last Order's mind is being restrained by the virus to force to become the core of the AIM dispersion fields of the city and force it to make Hyouka as an angel. The effect renders the Sisters in the city immobile, though conscious.[6]
With the case of Misaka Mikoto, Gensei has the virus infect Misaka 10032, not needing Last Order for it due to using Exterior, and infecting all Sisters in the world. Their power as a result of being infected, manifests itself as black lightning, which then automatically (most likely an instruction from the virus) pours into Misaka Mikoto as the container. In this version there is no core as Gensei did not use a command center like Last Order to control the Sisters, unlike what Kihara Amata had done.
Regardless of differences in appearance, the resulting effect of having power poured into beings results in them becoming incredibly powerful.
Seeing as Gensei acted covertly to have Kouzaku Mitori manipulate MEMBER, a faction that answers to the Board of Directors, into doing his bidding, it can be assumed that this experiment is not endorsed by the Board of Directors.
As for Aleister Crowley it can be assumed that he is completely aware of the events due to UNDER_LINE.[7]
References
Edit