Kongou Mitsuko
Comments

0
1,299pages on
this wiki
Kongou Mitsuko (婚后 光子, Kongō Mitsuko?) is a minor character that appears in the Toaru Kagaku no Railgun side-stories. Being a Tokiwadai Student and Level 4 Esper, her pride often result in her getting involved in unfortunate situations which however overshadows her obviously strong abilities.
In the novels, she first appeared in volume 8, but her character design was never shown until the anime aired. Furthermore, she makes her debut earlier in the anime than in the manga, the latter makes her move into Tokiwadai Middle School in the middle of summer.
Appearance
Edit
Her most distinguishing feature is her prominent forehead which is flanked by two fringes of her black hair which is rather long and kept neatly. Mitsuko has an attractive and well endowed figure, which she proudly flaunts and shows off in revealing swimware when she is able to. She almost always appears carrying around her fan.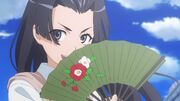 Personality
Edit
She is proud of herself most of the time despite being newly transferred and possesses traits of a real ojou-sama, unlike Misaka Mikoto who is the complete opposite, because of this personality she is often at odds with Shirai Kuroko. Because of this personality however, she is completely unaware of common everyday things such as finding directions or how to use the proper tool for foodstuffs.
She often embellishes the truth for her own convenience and will try to stretch the truth until she can no longer keep up the facade, this was shown in episode 13 of the Railgun anime where she lies to her friends that she can cook curry wherein fact she didn't know how. Despite this she is an honorable and decent girl looks out for her friends, is kind to children, and is willing to help people in need.
This is displayed in episode 23 of the Railgun anime where she helps Mikoto after she was defeated by Therestina. She comes to her self-proclaimed rival/friend's aid a second time in episode 24 and fought by her rival Kuroko's side to buy Mikoto time to help Professor Kiyama save her students. During this battle, she and Kuroko come to grudgingly respect each other as warriors.
She also tends to warn her opponents by reminding them who she is and is confident of her own abilities. It is also worth noting that just like Kuroko, Mitsuko is very frank about her sexuality and loves to flaunt and show off her well-proportioned body; though in her case its justified by her part-time career as a swimwear model.
Her lofty attitude however, is played lower in the Toaru Kagaku no Railgun manga shortly after her debut.
Background
Edit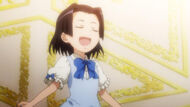 Much of her past is unknown though it is revealed that she lead a life of luxury and was surrounded by doting servants when she was younger. She is the heiress of the
Kongou Aviation Industry
which was held in high regard by the aviation industry.
[1]
Eventually she came into Academy City and enrolled into its curriculum in another school. After being disappointed by her school she transferred into Tokiwadai Middle School after 1 year of preparation as a second-year student despite the apparent difficult of transferring to Tokiwadai Middle School.[1]
She is currently residing in the Tokiwadai's dormitory located within the School Garden.
Chronology
Edit
Toaru Kagaku no Railgun
Edit
Mitsuko debuts on the very first episode of the anime, where she is seen boasting of her abilities to Shirai telling her that she will become Tokiwadai's ace. She is however falls to the ground after a powerful shockwave is emitted from the pool, here Shirai points to Mitsuko that it was the power of the true Ace of Tokiwadai, Misaka Mikoto.
Level Upper Arc
Edit
Mitsuko is later attacked (or rather drawn on) by Juufuku Miho in her quest for vengeance against the students of Tokiwadai, later in the episode Mitsuko testifies to Anti-Skill Tessou Tsuzuri that she did not see the suspect even though she can be seen walking besides her, she tells this while holding up her fan to cover her forehead (as thick eyebrows were drawn on her).
Mitsuko plays a prominent role in the 13th episode of the anime, wear she wears a quite daring swimsuit and a boa constrictor for a photo shoot along with many of the females of the anime. Throughout the entire photshoot, Mitsuko acted quite seductively even in ridiculous environments. She later teams up with Wannai Kinuho and Awatsuki Maaya to cook curry, both of which were admirers of her. Because of this she lied to them that she can create an amazing curry to them. After much consideration and cooking mishaps, she swallows her pride, confesses to them that she is unable to cook curry. Both Kinuho and Maaya accepted this and they ask for help from the others. Mikoto gladly helps them, which makes Mitsuko admire her and 'allows' her to be friends with her.
Big Spider Arc
Edit
She is later seen getting attacked by a Skill-outs faction known as Big Spider which uses Capacity Down to disable her, but is saved by Kurozuma Wataru. She later gives her testimony on her attack to Uiharu Kazari.
Poltergeist Arc
Edit
Midsummer Festival
, Mitsuko dresses in her own variety of a maid outfit(as the festival demanded the Tokiwadai students act like servants to the guest), a purely-British made-to-order, true orthodox style (as she claim, but too sad to say, she misunderstood knowledge as usual, it's tailored as some kind of dress arranged Japanese miko costume) . Shirai tricks her to act like a real maid and fetch her and company drinks, which Mitsuko gleefully accepts much to Kinuho and Maaya's embarrassment. Here it is revealed that Mitsuko lives in the Tokiwadai Dormitory in the School Garden.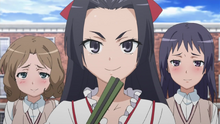 During the height of the Poltergeist Incidents going around the city, Mitsuko becomes a victim and becomes hospitalized and was kept for obeservation in the MAR Base Research Laboratory. Later when Mikoto is defeated by Therestina Kihara Lifeline and is about to be taken away, Mitsuko uses her abilities offscreen to aid her. She later becomes part of the effort to rescue of the comatose Child Error students of Kiyama Harumi, and aids Shirai in defeating the MAR units and attempt to prove to each other which ability is better.
After the incident Mitsuko boasts to Kinuho and Maaya how she single-handedly stopped the Poltergeist Incidents much to their amazement.
Three Stories Arc
Edit
Although not exactly part of the arc, in the Railgun manga Kongou Mitsuko is introduced in the manga as a new transfer student in Tokiwadai Middle School.
Prior to the main events of the arc, she gets lost in the 7th School District and later bumps into Misaka Mikoto (who she has met for the first time) while she is being "courted" by Unabara Mitsuki. Similar to what Mikoto did with Touma, she uses Mitsuko as a way to get away from Mitsuki. They later hang-out together all the while with Mitsuko believing Mikoto's name as Mitsuki after Mikoto mistook her question, and at the same time confused why she is popular in the School Garden, not knowing she is a Level 5. She is later disappointed after Mikoto leaves her, realizing that they were only pretending to be friends.
Kongou later sees the Queen of Tokiwadai's clique with Maaya and Kinuho (who she meets for the first time) and later decides to make her own, after Maaya and Kinuho tells her in joining a clique in the school.
Much later, in a scene taken out of the prologue of Volume 8 of the Toaru Majutsu no Index Light Novel (which also appears somewhat in the first episode of the Railgun anime). Mitsuko brags to Kuroko on how she will create a clique during a System Scan, where Kuroko warns her about making a clique and later discovers the power of the 3rd Level 5, Misaka Mikoto (her identity still unknown to Mitsuko) who can dismantle a clique on her own.
Daihasei Festival Arc (Railgun)
Edit
Seemingly heralded by her appearance in Toaru Majutsu no Index II, Mitsuko joins Tokiwadai's legions of competitors and becomes Mikoto's partner for the esper three-legged race. Hither, she is still arrogant yet still somehow much more mellow than her anime-counterpart. They win the race with some trouble, and saves two fellow competitors from an accident after their powers go haywire.[2] Mitsuko shows her more loftier side in another competition, and apparently leads the entirety of the Tokiwadai competitors,[3] despite her efforts however, she and the rest of Tokiwadai loses to Baba Yoshio's school due to superior tactics.[4] She and her father later enjoy an evening during the night parade.[5]
She reappears in the second day with Wannai and Maaya, and later notices the strange behavior of Kuroko, Ruiko, and Kazari, who was recently brainwashed by Shokuhou Misaki. She later meets Mikoto as her teammate for the Balloon Race, here, Mikoto discusses the truth about her friends, and Misaki, and that she needs help with finding her "sister." Mitsuko warns her not to trust information from her as she may have already been controlled by Misaki, but promises to return her sister to her. They also win the race, despite being preoccupied the entire time.[6]
She later tries to find Misaka 10032 on her own, and discovers the Gekota mask that Misaka 10032 wore after being given by Mikoto. She later discovers Misaka 10032's black cat, and saves it from stray dogs. Not wanting to abandon it for her quest, she tries to find a Judgment to take care of it for her, and later finds from Wannai that the cat is of the possession of Mikoto's sister. As Wannai says she will help find Mikoto's sister through the use of a Psychometer friend of hers, and takes her leave, Mitsuko is approached by Baba Yoshio, talking about Mikoto's sister. He later lures her into an empty field, and coerces her with his robot dogs about information regarding Mikoto's "sister." Mitsuko assumes that he is a pawn of Misaki, and though she manages to greatly overpower Baba, she falls after being injected by nanodevices by Baba's mosquito robot, after trying to defend Misaka 10032's cat from his robot dogs. She is later beaten up, all the while trying to defend the cat. Wannai, Maaya, and Ruiko later arrive, and discover, much to their horror, what happened to Mitsuko. Wannai and Maaya, tells Ruiko to take Mitsuko and the cat, while they do battle against Baba.[7]
However, Baba managed to put a mosquito robot unto Kongou in order to track her, while Ruiko takes her to the hospital. Mikoto, still under the surveillance of Misaki's clique, later discovers what happened to Mitsuko, and blames herself after what had happened to her. She later threatens the clique members following her, and using the mosquito robot that was attached to Mitsuko, tries to track Baba down.[8]
Toaru Majutsu no Index
Edit
Tree Diagram Remnant Arc
Edit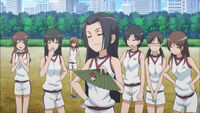 She formally introduced in this arc, though only as a minor character. Mitsuko shows up boasting that herself will reach Level 5 before Kuroko, and then asks Kuroko whether she wants to start a faction with her in an attempt to gather political power within the school. Kuroko declined since if Mitsuko could actually create a faction of notable power the other factions would have crushed her already to prevent that happening. Then Mikoto's testing at the pool with her railgun ends up being heard where Kuroko and Mitsuko are, and Kuroko remarks if Mitsuko is only gathering members to further her own goals she better have the resolve to take on Tokiwadai's Railgun head on.[9] [10]
Daihasei Festival Arc (Index)
Edit
She briefly appears in the second season anime adaptation of Toaru Majutsu no Index as part of the Tokiwadai Middle School team that competes against Minamizawa Middle School in the ball-tossing competition. Here, she is seen with her fan laughing at and then insulting the opposing team.[11]
Other appearances
Edit
Toaru Kagaku no Railgun OVA
Edit
Mitsuko is first mentioned when Kuroko notices Mitsuko's trademark demeanor in one of the message boards on the internet, where victims of the Someone's Watching You urban legends congregate. She later appears in person, along with Kinuho and Maaya, where she is interrogated by Kazari and Kuroko, and is frightened on how they knew she posted on that particular image board. Here, she states that she was simply posting for help her two follower's swimming club senior member (Mitsuko didn't know her), an electromaster who also experienced the urban legends. But she got no information from that message board at all.
Toaru Majutsu No Index Movie: Miracle of Endymion
Edit
Mitsuko and her friends make a minor appearance in the movie witnessing Marye, Mariebeth and Jane kidnapping Alisa, and helping out Index whose hands and mouth are frozen.
Abilities
Edit
Her ability is
Aero Hand
(空力使い

Kūryoku Tsukai (Earo Hando)

?

, lit. "Air Power User")
, which was shown during the final episode of the
Toaru Kagaku no Railgun
anime, when Mitsuko touches an object a powerful gust of wind will form in the area where Mitsuko touched it allowing the object to be propelled, the object may in turn be considered a projectile.
It was later shown that Mitsuko doesn't need objects to propel, as she can use her powers on the ground to create ejection points of air to create powerful gusts of wind. Her ability is powerful enough to propel an entire satellite dish along with its tower, as well as an entire wall. [7]
Character Art Designs
Edit
Episode 13 of the Toaru Kagaku no Railgun anime introduced Ekaterina, Kongou Mitsuko's female Boa constrictor. While Mitsuko was in her red swimsuit, she wore Ekaterina as a sort of feather boa replacement. This may be a reference to the pirate empress Boa Hancock of One Piece fame, as she and Mitsuko share similar features.
In the anime adaptation of Toaru Kagaku no Railgun, her being the first victim of an incident is a recurring event.
References
Edit
↑

Toaru Majutsu no Index Light Novel Volume 08

↑ The pool segment where Mikoto is testing her Railgun is also used in the first episode of Toaru Kagaku no Railgun.