Kinuhata Saiai
Comments

7
1,751pages on
this wiki
Kinuhata Saiai (絹旗 最愛, Kinuhata Saiai?) is a character in the Toaru Majutsu no Index series. She is a Level 4 esper and is an operative of ITEM, an organization led by Mugino Shizuri. She later becomes ITEM's leader in Volume 19, after Mugino's defeat at the hands of Shiage Hamazura in Volume 15.
She later becomes subordinate to Shizuri again after her return from World War III.
Appearance
Edit
Saiai has a short brown hair. During the Railgun story she wears an orange hoodie and hot pants, while in the Index light novels, she wears a fluffy knit dress[1].
Personality
Edit
Despite being a powerful Psychic, Saiai is one of the most mellowed-out characters in ITEM; she isn't a screw-up like Frenda, nor is she as frightful as her leader, Mugino. She enjoys C movies and likes to tease others, Shiage in particular because of his reaction to anything sexually suggestive. She is also described as being very eccentric.[2]
She also likes to add "super" (超, chou) to her remarks. The Funimation subtitles translate chou as "ultra".[3]
Background
Edit
Saiai was previously part of the "Dark May Project" along with Kuroyoru Umidori. It is an experiment that used subjects that were most likely Child Errors in an effort to replicate Accelerator's powers by implanting his cognitive patterns in their brains[4]. It is unknown whether or not Saiai herself is a Child Error.
Chronology
Edit
A Certain Scientific Railgun
Edit
Level Upper Arc
Edit
Main article:Level Upper Arc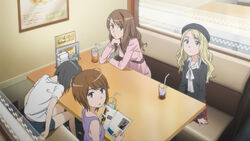 Saiai and her comrades in ITEM appear in a Joseph's Coffee and Restaurant. In both the manga and the anime adaptation, she can be seen here reading a magazine.[5] In the manga, they argue about whether or not they should all go to a pool since it's summer when they take notice of the Level Upper treatment program being broadcasted all over Academy City.[6]
Sisters Arc
Edit
Main article:Sisters Arc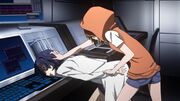 She and ITEM are later seen finishing up one of their missions while still arguing over the swimming pool debate, when Mugino gets a call to protect a research facility that is being targeted by Misaka Mikoto. Mugino orders Saiai to check the establishment and find out if the attacks are simply a diversion. Saiai observes this to be true when she discovers and detains Nunotaba Shinobu who was trying to install certain emotions into all the Sisters[7], but Shinobu ultimately fails as Last Order had acquired all the data, thus stopping it from spreading throughout the network.[8]
Saiai is later seen calling Mugino (who is in a fierce battle with Mikoto) to tell her that their part in the mission is done. After this, she appears once more, telling Frenda on the behalf of Mugino that Frenda should be prepared for punishment.[9]
Silent Party Arc
Edit
Main article: Silent Party Arc
In the anime original arc, they are hired by STUDY under false pretenses, being used as test subjects for their Powered Suits controlled by Diffusion Ghost. For that they desire vengeance for their reputation in the dark side of Academy City. The ITEM liaison gives them information on one of STUDY's factories, destroying several Powered Suits there. They are later present during the Silent Party, taking down several Powered Suits in a stadium, and inadvertently aiding Misaka Mikoto.
Toaru Majutsu no Index
Edit
Later Events in the Novels
Edit
Saiai and ITEM make their debut in the Toaru Majutsu no Index series in Volume 15. Here, they and Shiage lounge in a Joseph's Coffee and Restaurant while discussing SCHOOL's assassination attempt on Oyafune Monaka. ITEM's controller soon contacts Mugino and orders ITEM to investigate the Virus Isolation Center, but Mugino decides to investigate Kirigaoka Girls' Academy instead in an attempt to intercept and eliminate SCHOOL.
She later appears in one of ITEM's hideouts in District 3, regrouping with everyone in ITEM minus Frenda. When Takitsubo Rikou uses the Body Crystal drug to activate her ability, Saiai sympathizes with Rikou's handicap. As SCHOOL ambushes ITEM, Saiai uses her ability to secure a path for Shiage and Rikou, managing to subdue a number of SCHOOL's lackeys and take out Sunazara Chimitsu. She then finds herself facing Teitoku Kakine, and learns that Frenda had sold out ITEM before Kakine defeats her easily.
Kakine drags Saiai's unconscious body with him when he finds Shiage and Rikou. When she regains consciousness and sees Shiage worrying over Rikou, she orders him to take Rikou and flee, saying with a slight smile on her face that ITEM has no use for useless people like him and Rikou. Before he leaves, Shiage asks if he can do anything for Saiai; she requests an information suppression team and an ambulance since she can't move, to which he complies.
After the events of Volume 15, she's seen with Hamazura Shiage and Takitsubo Rikou after their boss was supposedly killed.
In Volume 19, Saiai is hunted down by Stephanie Gorgeouspalace, who is intent on claiming vengeance for her partner Sunazara Chimitsu.[10] Eliminating the source of Saiai's Offense Armor through repeated detonations of propane tanks in the Underground Mall, Gorgeousplace corners the wounded ITEM operative and unloads with her weapon. However, as the dust settles from the monstrous effects of Gorgeouspalace's machine shotgun, Saiai is revealed to have survived the barrage with minor injuries, proceeding to incapacitate Gorgeouspalace with pistol rounds to her stomach and arms. Saiai reveals that she always keeps a canister of liquid nitrogen on her at all times, acknowledging Stephanie Gorgeouspalace's Anti-Skill training and her affinity for battling espers, as well as the fact that Gorgeouspalace had found her weakness. At the same time Saiai tells her that she is "...a person who has super struggled to continue winning and surviving," -- an esper like her would know exactly what she needed to do to compensate for her ability's shortcomings, and also that being a member of the dark side of Academy City means that it is not difficult to procure necessities for her work. Just before finishing Gorgeouspalace off, Saiai quips that for espers like herself, whose ability gives her incredible close-combat potency and defese, are far more threatened by combatants by snipers like Sunazara Chimitsu who can attack her from afar with impunity, rather than those relying purely on close-range firepower like Gorgeouspalace.[11]
Toaru Majutsu no Index: New Testament
Edit
Freshmen Arc
Edit
Main article:Freshmen Arc
In Shinyaku Toaru Majutsu no Index Light Novel Volume 01, she is reunited with her friends from ITEM after the events in Russia. She later confronts the mysterious student, Kuroyoru Umidori, at this point it is revealed that Saiai was the "honor student" of the Dark May Project.[12]
Homecoming Arc
Edit
Main article:Homecoming Arc
Ichihanaran Festival Arc
Edit
Main article:Ichihanaran Festival Arc
Eve of the Festival
Edit
Hamazura Shiage conspires with Kinuhata Saiai in order to have her accompany Kuroyoru Umidori to the Hero's Cave, a dentist clinic in School District 7, after noticing that she has been avoiding chewing with her back teeth. He installs gum into the ports where her nitrogen lances are fired out of, knowing that she would resist.[13]
Saiai takes Umidori there, much to her horror, indicating that Umidori is still a child, predictably, she tries to oppose Saiai using her Nitrogen lances, but due to Shiage's countermeasures, it does not work, and Saiai forcibly takes her into the clinic.[13]
Saiai later returns to ITEM's apartment building, and helps Shizuri clean the mess she made after she used her powers on Cendrillon. Saiai asks how it came to be, to which Shizuri bluntly tells the truth, confusing Saiai.[14]
A half an hour before midnight, Saiai quickly goes outside of their apartment after hearing a ruckus, only to discover Mugino Shizuri before a middle-aged man wearing Frenda's clothes, who attacked her but was felled by her. Saiai notes this to Shizuri. Shizuri insults the man's foolishness, telling him that he could've have comrades to jump at her when she was fooled. The man writhes in pain, asking on how Shizuri could still fight despite living a peaceful life away from the dark side. Shizuri sighs at his explanation. She states that she will get into trouble and into fights, kill people, and even destroy things, but no matter what, it will be fine and will be resolved in a happy ending, because as long as she has Shiage, it will be fine, for he will forgive her in the end. She states, that she too is an oddity, and there is an odditiy in Academy City that would allow her to live despite what had happened to her body. At which point, she mutilates the man utterly into a broken ruin, but keeps him alive as an example to what she had said. She and Saiai later dragged his ruin before a strange research facility, and tells each other to keep a secret from Shiage.[15]
During the Festival
Edit
Saiai somehow ends up meeting up with Kuroyoru Umidori, Misaka 10032, and Misaka Worst, coincidentally, after the latter asks if there is anyone who else has nothing to do. Saia forms a disgusted expression after coming them, especially at Umidori. Misaka Worst, seeing her, agrees that she has that nasty look on her face, seeing at they are ken to the ways of the dark side. Seeing them all, Saiai then asks if they are a bunch of villains trying to create their own faction. Misaka Worst comments on how with dark people like them around, she could enjoy the Ichihanaransai honestly without holding back.[16]
Saiai manages to lose Misaka Worst, and once again meets up with Shizuri. Tagging along with her, they meet Shiage, Rikou, and Yoshikawa Kikyou, after they escaped from the revived Kakine Teitoku's Dark Matter beetles. Saia explains how they got here, to which Shiage explains to them the situation in "30 seconds." Shizuri was polite in the beginning but became displeased as Shiage's story went on, and had grabbed Shiage by the collar. She is angry towards Shiage for having no idea where Fremea is, and allowing her to leave with a probably dangerous out-of-control weapon (Beetle 05), and the fact that he has no idea why she was being attack or who was behind all of it. Saiai and Rikou frantically try to stop Shizuri from making Shiage worse off in her anger, but later tosses Shiage aside near a tree. Shizuri tells that him believing that he will be defeated once he is spotted from whether he's 4 kilometers or 1mm away, as well as his plan on opposing the beetles as nonsensical. She is further enraged after he asks where they could find a means of attacking from kilometers away that can break through the beetles' armor. She tells that they all need firepower that can take out the likes of those beetles 5 kilometers away, and states that it is easier than spinning a pen in her fingers. Saiai just stands by as she watches step on Shiage as punishment after one too many dumb responses.[16]
After that debacle, Saiai goes back to the apartment while the others search for Fremea. Despite being in the midst of the Ichihanaransai, Saiai is stuck doing the housework. During Shiage, Rikou, Kikyou, and Cendrillon's race back towards the apartment where the latter had left-over parts of her body, they meet Saiai cleaning up the apartment. She complains to herself about doing all the work, even though she handed off the dark side investigation to Shizuri, she is missing the Ichihanaransai. She leaps up after being heard by Shiage as she relieved herself by shouting, and beats him up with a wrestling move. It is implied that Saiai just watched as Cendrillon and the others realizes Kamijou Touma's final plan to stop Fräulein Kreutune from eating Last Order's brain.[17]
She may have been left behind again after Shiage and the others quickly bring the brain back to Fräulein.[17]
Agitate Halation Arc
Edit
Main article:Agitate Halation Arc
Saiai first appears in School District 13 on a stake out near Fremea Seivelun's dormitory with Hamazura Shiage to watch out for attacks from the remnants of Freshmen. Throughout all this, Saiai is unconcerned of the mission for Beetle 05 is with her, and preoccupied her time with the thoughts of her hobbies, the B-movies such as The Fiery Indian Cook Runs through New York and Saitama☆Vocal Crisis. Shiage, restless throughout the day, notes to Saiai that they are becoming complacent, though Saiai states that an attack from them is unlikely after they have defeated Kuroyoru and Silvercross. Shiage states that she isn't taking their mission seriously, to which Saiai points out that Shiage himself is a hypocrite for always trying to partner up with Rikou. Tired, Saiai asks if they could end their routine as Fremea has the Rhinoceros Beetle as her guardian, attached on her backpack. Just then, right on schedule, Fremea's dormitory turns off its lights for the night. However, they then discover that Fremea turned her lights back on. Saiai tries to call her as she is still awake, but she doesn't answer. Suddenly, the alarm for the emergency exit in the dorm is activated, which confuses Shiage as Beetle 05 could've easily taken care of any enemy. Saiai however, doesn't care about the details and urges Shiage to quickly investigate what's happening.[18]
As part of their investigation, they simply asked the dorm supervisor of what had transpired, and stated that there was no fire nor robber. In other words, they had learned nothing. Shiage and Saiai later hear the sound of explosions as the result of Kuroyoru Umidori's battle with Rensa, who has initiated another phase of her and Yakumi Hisako's plan. Fearing that Fremea is involved, they rush towards the sight of the blast. The both of them suspect the Freshmen, though they are open to any possibility. Suddenly, an exhausted Yakumi Hisako arrives, telling them to stop, though realizes that they would be the easiest hero to draw using Fremea Seivelun (relating to the Agitate Halation). This confuses Shiage, but Hisako too realizes that words have no meaning to "heroes", and decides to try a more convincing reason for them to give up.[19]
Then, sounds of chaos erupts of all around them. Saiai warns Shiage that they are surrounded, and there they see innumerable cockroaches surrounding them, all under the control of Yakumi Hisako. The two are already disgusted enough but Hisako reveals that she has modified their brains to make eat anything and everything, even people.[19] The man-eating cockroaches slowly approached them. As Saiai has the Offense Armor, she is protected from the roaches, and suggests Shiage to split up with her. Shiage hesitates but Hisako cuts into their conversation, warning them that it is a dangerous gamble as though they may not be able to eat a wall of nitrogen create by her Offense Armor, but she may not able to create the wall in the first place. Saiai points out that the conditions are similar to Hisako, as she too has something that protects her and sends orders to them. Shiage tries to stop Saiai from advancing, but Saiai points out that Hisako may have the ability to attack multiple places and that they can't leave Fremea unprotected. Hisako however taunts them of even believing that they can get away, but Saiai is unperturbed. Still confident, Hisako explains the reason she chose roaches is because the disgusting image they sow, causing more mental exhaustion than other insects like termites, and affecting her Personal Reality which controls Saiai's powers. The explanation alone was almost enough to overwhelm Shiage, but Saiai ignores it and tells him to run. Shiage still hesitates, but Saiai asks him if he is willing to let Fremea see the grotesque things that came from the dark side of Academy City. She reiterates that being the one that Fremea trusts is and is attached to the most, he has the obligation to live up to the trust, and that means not allowing her to see the things that the both of them have seen. With a nod, Shiage runs away from the battle, apologizing to Saiai, though she answers that she never even though he be any help.[20]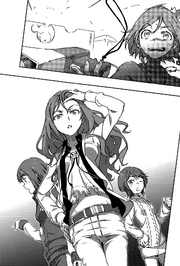 Saiai's battle concludes after Rensa's defeat at the hands of Kamijou Touma. Saiai is coated with the liquids of the dead cockroaches, specifically her Offense Armor. With countless dead roaches, countless more swarm and consume the body of Yakumi Hisako. Saiai made used of the fact that she modified the air around her by simply using nitrogen for her Offense Armor. This allows her somewhat to control air currents through tactically calling in the nitrogen for her use, and allowed Saiai to destroy the optimal layout of the "scent" Hisako used to control her roaches. Thus, the cockroaches turned on their master. However, all the while Hisako being eaten alive, she continued to smile. Saiai asks her, unnerved by this. With a laught, Hisako says that getting killed was part of her plan all along. Hisako boasts on how the plans they know of is not all of it, and scoffs at their ignorance. Saiai asks what her plan was to go so far to get herself killed like a disposable pawn, but Hisako just gives off a smug retort of asking the 7,500 "heroes" that have been summoned by Agitate Halation. Hisako "dies" with a smile, stating that the final phase is complete and the Agitate Halation Project comes into its completion. Kinuhata could not grasp when that woman had died as the roaches scatter away to parts unknown.[21]
As the riots of the "heroes" reaches its climax in the Learning Core, Kamijou Touma witnesses the arrival (though they do not know them) of Kinuhata Saiai with Takitsubo Rikou and Mugino Shizuri, the latter destroying Fusuo Ayame's (one of the "heroes") trucks that apparently allowed her to use her power. They have apparently come to look for Fremea Seivelun based on the information given by Shiage. Shizuri frowns on Shiage's troublesome disposition, as he asked for help but did not give them better information. Saiai states that they will Fremea eventually after they defeat all of them. Rikou then detects a signal from south-southwest, most likely Fremea's AIM dispersion field. However, Ayame comes upon them, still unperturbed by the destruction of her trucks, though she is quickly dispensed away by the arrival of Sogiita Gunha.[22]
Abilities
Edit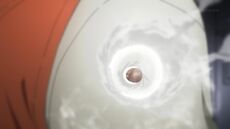 According to Kakine, Saiai is a leftover from the "Dark May Project", whose aim was to create a personal version of Accelerator's ability by using a similar pattern of ability operation, using the cognitive patterns of Accelerator himself as reference in order to optimize the Personal Realities of certain espers taking part in the experiment.[23] Though the details are not mentioned, she only succeeded in creating an automatic self-defense capability that activates when she's attacked. Her ability is the Level 4 Offense Armor (窒素装甲, Chisso Sōkō (Ofensu Āmā)?, lit. "Nitrogen Armor"), which allows her to control the nitrogen in the atmosphere in order to create a few centimeters of solidified nitrogen that act as a barrier. She can use the barrier to attack and defend. Like Accelerator's AIM vector shield, the primary function of her ability is to create an armor of super-compressed nitrogen around her, as demonstrated in Volume 15 when she fights Sunazara, where Academy City's special sniper rifle is shown to have no effect on her other than knocking her back a little.
Against Kakine Teitoku, Offense Armor proved to be far less effective as Saiai was knocked unconscious by his retaliation. However, she was not heavily wounded by the Level 5's counter-attack, a fact that Teitoku compliments.[24]
Saiai acknowledges the defensive limits of her Offense Armor in Volume 19, where she is confronted with the sheer destructive power of Stephanie Gorgeouspalace's light machine shotgun. She notes that taking more than seven bullets at less than five meters of range would be "super bad". By the end of their fight Saiai incurs several injuries, though none are life-threatening.[25]
In order to compensate for foes who prove to be able to eliminate naturally-occurring nitrogen in the air like Gorgeouspalace, Saiai carries around a small canister of liquid nitrogen for use at all times.[11]
Her power is so exceedingly great that she can even control compressed masses of nitrogen in order to lift up a car and deal powerful blows [26]. However, her effective range is very small as it only extends a few centimeters from her palm. She can also use her ability to propel objects, as demonstrated in Volume 15 when she outsniped Sunazara who was over 500 meters away, where she used a portable anti-tank missile with great accuracy.[23]
She is somewhat capable of manipulating air currents via displacing the nitrogen, which she uses for her Offense Armor. This is the method that allowed Saiai to confuse the man-eating cockroaches of Hisako, disrupting the scents that is used by Hisako to control them, and allowing her to make them turn on her.[22]
Character Art Design
Edit
Design evolution
Edit
Saiai's design remains the same throughout the series. However, Haimura states that Saiai's age has been different when he designed her, and as such she looks a lot younger in the novels.
Saiai's first name can be translated as "beloved", while her surname Kinuhata means "silk flag".
In the novels, she is described as a very short woman that might look no older than twelve years old; however, some of her line art depicts her as rather tall for a teenager.
She was the one that gave Shiage his first ITEM-related job, and this consists of creating a fake ID to bypass her inability to watch a mature-rating horror movie.[27] Furthermore, Hamazura was forced to watch the movie with her.
Shiage noted that Saiai designs her regular looks so that it reveals the maximum amount possible of "leg skin" from every angle, without actually showing anything that she wouldn't want to be seen.[28]
"My Offense Armor won't break to mere guns." -- Railgun Manga Volume 5, to Shinobu
"So bunny girls are a super hit with you, Hamazura?" -- Volume 15
"I didn't say it for thanks. I was speaking ill of you. We don't need super useless people like you and Takitsubo-san in ITEM so I'm telling you to get out of our way." -- Volume 15, after telling Hamazura to take Takitsubo and leave ITEM behind due to Takisubo's condition.
"For the bunny girl-crazy super pervert Hamazura, giving any sign that you are losing your respect and fear for us is a crime. Is that super clear?" -- Volume 19, after wrestling Hamazura to the ground.
"It's 100,000 years too soon for a sexual animal lower even than a caveman to super debate whether I, Kinuhata-sama, am sexy or not. To be blunt, you're super too full of yourself. You need to at least evolve further as an animal first" -- Volume 19, as Hamazura stated that she couldn't pull off sexy looks in a bunny costume.
"Hamazura!! Super run away!! I doubt they're after me!! They're after you!!" -- Volume 19, after realizing the situation was different than what she originally believed.
"Oh, so you even super looked into all the people Hamazura knew? Yanderes can be super scary". -- New Testament 1, as she noted that Mugino had a certain level of knowledge about Hamazura's friends.
References
Edit
ITEM

Mugino Shizuri
Takitsubo Rikou
Kinuhata Saiai
Frenda Seivelun
Hamazura Shiage