Kamijou Touya
Comments

0
1,298pages on
this wiki
Kamijou Touya (上条刀夜, Kamijō Tōya?) is a character introduced in Toaru Majutus no Index during the Angel Fall Arc as Kamijou Touma's father.
He is a businessman who travels a lot and collects various good luck charms due to Touma's unnatural streak of bad luck. He may seem silly at times but he does cares about his wife and son. He is partly responsible for causing Angel Fall, the spell that threw off a powerful angel in Heaven onto Earth without him knowing about it.[1]
Appearance
Edit
Touya appears as a middle-aged man, probably around his thirties, and sported a stubble. He is depicted as having the same build as Touma's and is described as looking like him.[2]
Personality
Edit
Even though he is now happily married and even likes to flirt around with his wife and has no interest with other women, like his son, he still manages to attract women and gets embarassed around them, [3] much to the chagrin of his wife and his own colleagues, who often complain that Touya's flaunting the fact he has a young wife (though the colleagues might just be jealous) yet still attracts women.[4]
Background
Edit
From the moment Touma was born he was apparently misfortunate, and drew misfortune upon others, so much so that Touma was abused by children and adult alike, and was called the God of Plague. As the final straw hits Touya, whither his son almost got stabbed by a man blaming his misfortune on him as well Touma becoming a media sensation, Touya sends Touma to Academy City, in the hopes that a city deprived of superstition would be able to help his son. Regardless, Touma sends letter to his father, and there Touya still felt that Touma was still miserable.[5]
From then on, Touya began collecting souvenirs and charms, arranging them with accordance of Feng shui in order to counteract, though there is doubt in his heart that it would work. Even then, Touya still believed he was actually helping Touma.[5]
In the anime adaptation, Touya and Shiina moves away from the original family home, an old Japanese home to a more modern home, where he keeps all the souvenirs.[6]
Touya looks like he can be mistaken as a salaryman, but he is actually a traveling businessman in his foreign investment company, under the Securities Exchange Counter Measure Group, which allows him to travel around the world, where he tries to stop potential harmful mergers and trading of stocks for his company. Touya is an elite in the company along with his kouhai, Tanaka, fairly skilled in economics, psychology, and other overlapping disciplines that is required in his job.[7]
Chronology
Edit
Index Arc
Edit
Although he does not appear in the arc itself, in the original light novel, it is referenced that Touya and Shiina went to look on Touma after his "head injury", where Touma sees the strange combination of his parents, being that Shiina looks incredibly young for her age.[5]
Angel Fall Arc
Edit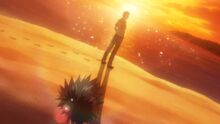 In the original light novel, Touya is introduced earlier to Touma back in July. Here, Touma completely disregards Touya's culpability as the culprit in Angel Fall, as Hino Jinsaku preoccupies his and the magician's time. For the most part of the arc, Touya simply just tries to spend some time with his family and enjoy his vacation, while Touma tries to stop Touya from doing anything lewd to his mother, whose appearance has switched with Index. It is not until Touma discovers a photo of a younger Kamijou family in the assault on the Kamijou Family Residence, that Touma is reminded that he too did not switch appearance with anyone.
Touma confronts his father about delving into the occult, to which Touya acknowledges it. Reminding Touma of his childhood, and the reason why he was brought into Academy City. After, Touma states that he was happy with living with his misfortune because it allowed him to take care and help people, Touya apologizes, and states that he didn't even think that collecting souvenirs would help Touma in the first place. Here, Touma realizes that Touya has no idea about Angel Fall, and that he is also affected by it.
After being led away by Kaori, who chose to stay and fight Misha Kreutzev, the disgruntled angel that was brought down by Angel Fall, Tsuchimikado Motoharu confirms that Touya was the one who caused Angel Fall, but completely by accident. Here, Touya watches as Touma tries to defend him from Motoharu, who says that someone needs to be sacrificed in order to avert disaster as Misha begins casting The Sweep to destroy civilization. After Touma is incapicated, Touya tries to attack Motoharu but is instantly dispatched by him. Here, Touya lies unconscious, as Touma discovers Motoharu sacrificing himself to destroy the ritual location in Touma's house.
The events in the anime remain relatively the same, however, Touma meets Touya for the first time in the arc.
Daihasei Festival Arc
Edit
He has a minor role in this arc and virtually acts "as a tourist" the whole time. In this arc it is revealed that Touya might have a charisma to attract girls much like his son, however he either doesn't seem aware of this or actually doesn't care at all; referring himself as a happily married man, though he gets embarrased when they are too close to him.
Touya gets acquainted with Misaka Misuzu during this arc as well. Shiina would later develop a bond of friendship with her, as the Kamijou Family would later move in the same area as the Misakas.
When growing concerned of Touma's disappearance in the games, he talks to Tsukuyomi Komoe about it, who apologizes. Here, it is shown that he and his wife trusts Touma's decision if he was not forced, and that what ever Touma is doing must be of more importance than the games.[8]
He and Shiina later wait at the hospital for Touma's operation to finish, after his battle with Oriana Thomson.
Other appearances
Edit
Side Stories
Edit
Toaru Majutsu no Index Light Novel Volume SS2
Edit
The volume reveals that Touya's job is to prevent others buying shares of the company he belongs to for the purposes of hostile takeovers, a job that requires extensive knowledge of the economy and human psychology. He meets Balbina, trying to buy a souvenir off her, but later runs off as she senses Ridovia Lorenzetti, looking for her since she left a sermon. Here, Touya meets Ridovia, and after talking about the misfortune of his son and implying there's nothing anyone can do about it, Ridovia gives him a magical good luck charm that's undetectable by other magicians unless it is used actively for a spell, since she thrives on solving seemingly unsolvable problems. They're meeting leads to Ridovia to formulate a much peaceful method in conuering Academy City, that would lead to the events of the Daihasei festival in Toaru Majutsu no Index.[7]
Later in the volume, he also meets Misaka Tabikake in a bar. After introducing each other, and having his subordinate, Tanaka, accidentally accost an office lady he thought was a prostitute, the Gemstone Girl that Touya met the other day appears before him in the bar. Men in black suddenly arrive in the bar, but are quickly dispatched by the girl with a mysterious power, which Tabikake points out as being a Gemstone. Seeing this, Touya quickly leaves the bar with Tanaka, but is being pursued by the girl. In the end, Touya and Tanaka got out of the problems that began to pile up by blowing up a Cessna plane as it flew off.[4]
Abilities
Edit
Though not having any formal training in magic, Touya at least have some basic knowledge on Feng shui.
List of known souvenirs he acquired
Edit
Character Art Designs
Edit
Design evolution
Edit
Touya has changed little since his design's inception, based off a standard portrayal of a father. In SS2 he has a draft designed for his businessman look, though his face does not appear in the cover of the volume.
(To Motoharu from Volume 4) "But I definitely won't forgive you. Even if I can't beat you, even if I lose countless times, I won't forgive you. Because I'm an amatuer, I don't have what I'm going up against, and I have no place to negotiate. Decades, centuries, no matter what, I will pursue you. Even if I die and turn into bone, I won't forgive you. Listen, if you don't understand, let me tell you something... I'm Kamijou Touma's father. I'm proud to be his father."
(To Komoe from Volume 10) "If so, there's no reason for me to stop him, is there?"
(To Tanaka from Volume SS2) "Talking to a prostitute in a rundown bar in a stylish city like London seems pretty dangerous to me. Not even the protagonist of a manga that's always getting in trouble would do something as dangerous as this. It's like stepping out on a suspension bridge when the ropes are about to snap."
(To Tanaka from Volume SS2) "Ha, ha, ha. You're not with your mommy anymore kid!!"
References
Edit