Haruue Erii
Comments

0
1,297pages on
this wiki
Haruue Erii

Personal Info
Name (Kanji)
春上 衿衣
Name (Romaji)
Haru'ue Erii
Age
unknown
Gender
Female
Classification
Esper
Abilities
Ability Name
Telepath (精神感応

Seishin Kannō (Terepasu)

?

, lit. "Telepathy")
Power Level
2
Media
Voiced By
Hanazawa Kana (Japanese)

Carrie Savage (English)

Debuts
Novel
n/a
Manga
n/a
Anime
Toaru Kagaku no Railgun Episode 17
Haruue Erii (春上 衿衣, Haru'ue Erii?) is a character introduced in the Toaru Kagaku no Railgun anime. She is a level 2 Academy City student and a Child Error.
Appearance
Edit
She is a young girl around the same age and build as Uiharu Kazari. She has a short, dark hair, where she has tied a few strands of them together in the left side of her head.
Personality
Edit
She is shown as shy and soft-spoken but kind girl, however, she is often times shows a little eccentricity, like suddenly staring into space or walking into a glass window. She is also fond of eating, and has shown to try eating something that seemed edible to her; her fondness for eating often causes her to get food she is eating on her mouth.
She has a tendency of ending most of her sentences with "nano," which is a feminine copula.
Background
Edit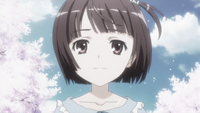 She and
Edasaki Banri
were close friends in a Child Error orphanage they were in; they were both telepathic and would often communicate to each other with telepathy. Eventually Banri was transferred to another Child Error facility (presumably to the
Advanced Education Department
, where she would meet
Kiyama Harumi
) and promised each other they would meet again. Erii has a picture of Banri inside a locket as a reminder of her friendship with her.
She eventually enrolled to a school in the 19th school district, however, she began to hear the telepathic beckonings of Banri (as she was trying to wake up from her comatose state). Because of this communication with her, it caused an RSPK Syndrome occurence whenever she would use her telepathic powers to communicate with her, some times causing damage.
She later transferred to Sakugawa Middle School, at the height of the Poltergeist Incidents.
Chronology (Toaru Kagaku no Railgun)
Edit
Poltergeist Arc
Edit
Main article:Poltergeist Arc
She first appeared in episode 17 where she is helped by Anti-Skill member
Tessou Tsuzuri
in looking for the locket that she had lost. Later on, she returns as a transferree from the 19th District of Academy City to Sakugawa Middle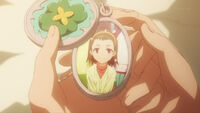 School and becomes a classmate of
Saten Ruiko
and Uiharu Kazari. Here, their teacher, Daigo, makes her a roommate of Kazari, much to her eagerness. She becomes quick friends with
Misaka Mikoto
,
Shirai Kuroko
and Saten Ruiko, after they help her move into Kazari's apartment.
They later decide to spend some time together in a Fireworks Festival, their merriment is cut short however, as another Poltergeist earthquake occurs on the exact area they were in. This made Kuroko suspicious of her, and with the help of Misaka Mikoto, discovers that her abilities can display power beyond her normal level. Kazari later takes Erii into Nature Park, where Erii says to Kazari that she is looking for a dear friend of hers.
Erii is later taken into MAR's custody, where Therestina, it's captain, tells them that Erii is incapable of causing the Poltergeist earthquake, even then, Kuroko is still suspicious of her, which strains her relationship with Kazari. She later reveals to them that the person she is looking for is Edasaki Banri, a student of Kiyama Harumi who was subject to the test on the analysing the overloading of abilities by Kihara Gensei.
After Therestina recovers Banri and the other children from Harumi's care, she is reunited to a still-comatose Banri by Therestina. She is later kidnapped along with the other comatose children by Therestina, after it is discovered that she is the granddaughter of Kihara Gensei and plans to complete her grandfather's experiment with the Crystallized Esper Essence, and create Level 6 esper by using her.
She is awoken by Kazari when they caught up to her, and witnesses the battle between Mikoto and Therestina, and the latter's eventual defeat. She later reassures Kiyama Harumi after the battle that Banri trusts her in her decisions, allowing Harumi to use the crystal to finally wake her students. Erii is later thanked by Banri using telepathy for listening to her words.
Erii is later seen with Banri and the other children on the rooftop of a hospital, waiting for the blimp to broadcast children's message for Kiyama Harumi, as a present for her birthday.
Sisters Arc
Edit
Main article:Sisters Arc
Erii is later referred to by Kazari on the phone, where she said that she will join Kazari and the others later as she is in the hospital.
Also in chapter 32 Haruue makes an apperence on Misaka's wallpaper on her phone along with the rest of the group.
She is a Level 2 telepath, and is shown to be able to communicate telepatheically with other people. However, her ability can show powers above that of her normal level, when exposed to certain frequencies. Because of this, she was the target of Telestina's attempt to use the exposure of the Crystallized Esper Essence on her, so Erii can become a Level 6.
Character Art Designs
Edit
At first, she is thought to be a filler character unique to the anime series, making little to no impact in the story if she is taken out of the story of Toaru Kagaku no Railgun and, by extension, Toaru Majutsu no Index. However, her mention in the Toaru Kagaku no Railgun manga rules out that claim.[1]
Furthermore, she (alongside Uiharu and Saten) appear in the background of one of the colored illustrations from the New Testament Light Novel Volume 1 (behind Team ITEM), solidifying her existence (as well as the Railgun Poltergeist Arc) in the Index universe.[2]
Erii also appears in vol 6 of the manga. She is in a picture on Misaka's phone backround
References
Edit