Hamazura Shiage
Comments

36
1,750pages on
this wiki
Hamazura Shiage

Personal Info
Name (Kanji)
浜面 仕上
Name (Romaji)
Hamazura Shiage
Epithet

He who defies finality
Irregular
End of the Century Emperor

Age
15-16
Gender
Male
Classification
Esper
Affiliation
Abilities
Ability Name
Unknown
Power Level
0
Media
Voiced By
Hino Satoshi
Debuts
Novel
Volume SS
Manga
Railgun Volume 5 (cameo)
Anime
Index II Episode 24
Hamazura Shiage (浜面 仕上, Hamazura Shiage?) is the third male protagonist of the Science Side in the Toaru Majutsu no Index series.
Shiage is a level 0 and former Skill-Out (with his friends Komaba Ritoku and Hattori Hanzou) after his defeat at the hands of Kamijou Touma. As former lacky, grunt, chaffeur, and informant of ITEM, he delved into Academy City's darkness and turned into an anomaly that disrupts Aleister Crowley's plans and calculations time and time again.
Appearance
Edit
Shiage looks like an ordinary teenager with unruly blonde hair. Shiage previously sported a nose piercing a month before his proper introduction but[2] it was violently removed after Touma hits him in the nose with a stolen bullet-proof riot shield.[3]
Personality
Edit
Shiage can be considered a balance between Touma and Accelerator. Like most members of his Skill-Out gang, he is lawful; however, while he and Touma share some of the same traits, such as their reputations as delinquents, their victories over higher-ranked espers through tactics, and their interference with Aleister Crowley's plans, he isn't as idealistic or as nice as Touma, at least not at first. In battle, he prefers to avoid fighting if possible or to finish the fight as quickly as possible, which is somewhat like Accelerator's personality.
Also he shows an inferiority complex that makes him think he can't do anything right or complete. The main reason behind this is that he had been always branded as a powerless person (level 0) and unlike Touma, he has yet to display any manifestation of an esper ability. Therefore, due to his lack of power and mockery by other higher level espers, he joined a Skill-Out gang. This complex can be seen in his usual internal monologue, as he always complains about the situation but he never says it out loud.
He falls in love with Takitsubo Rikou, and because of this, he decides to fight the 4th-ranked Level 5 esper, Mugino Shizuri, also known as Meltdowner, in order to protect Rikou.
As far the plots advances, he began to show a nicer side similar to Touma, as seen when he aids Russian villagers during pirate attacks, convinces Acqua to not give up on life, and how his reclutancy to fight Mugino leads to him forgive her and express his desire to get back everyone together as ITEM again.
Shiage is suggestive to anything sex-related, as shown when he got a nosebleed simply by seeing Kinuhata Saiai putting a stuffed bunny doll behind Rikou to give her a bunny girl look (even though his perversion is usually used as comic relief) [4].
Background
Edit
The reason Aleister decides to eliminate Shiage isn't that Shiage is a threat in general, but that he's an anomaly that goes against Aleister's plans. His victory over Mugino is considered something that should have never happened;[5] he is a powerless Level 0 and Mugino is a Level 5, but every attempt to kill him so far has failed, and Aleister's plans have begun to go awry ever since.
Aiwass once comments that Shiage is someone who is never noticed by people and doesn't have any talent, but for the sake of the person he loves, he'll become the hero[6].
Because of his ability to constantly defy Aleister's expectations, he is given the epithet "He who defies finality".
Chronology
Edit
Toaru Majutsu no Index
Edit
Skill-Out Uprising
Edit
Main article:Skill-Out Uprising
October 3rd.
After Accelerator kills the former leader, Komaba Ritoku, he is forced to become the leader of his Skill-Out gang since his peers deem him worthy. On the same day he becomes the new leader, he accepts a deal with the Board of Directors to kill Misaka Misuzu in order to prevent leakage of students because of the Roman Catholic Church's allegations after Vento of the Front's attack. If Skill-Out kills Misuzu, then the Board of Directors would allow Skill-Out to continue existing and not be destroyed completely like their previous boss. But ultimately the plan ends in failure as they are defeated by both Touma and Accelerator, with the former actually managing to extract, with difficulty, Misuzu from Hamazura's entourage. Shiage himself was felled by Touma twice during that night; with the first when Touma struck him to the side with riot shield, and the second when Shiage chased after him and Misuzu, leading to a fight between the two Level 0's. At that time, Shiage initially thought that Touma was an agent of Anti-Skill sent by Academy City to represent the notion that Skill-Out was no longer needed, so he decided to take his anger out on him.
Touma was initially outmatched by Shiage, until the former rose up and began to argue with Hamazura, who states that his reasons behind his actions were not only of desperation, but also for the sake of the rest of the Level 0's in Academy City. This angers Touma, stating that he shouldn't lump all the powerless individuals residing in the city under the same category, finally making Shiage realize that he was also fighting a Level 0, like himself.
After that humiliation, he leaves the dissolved gang's leadership, and becomes a chauffeur and informant for ITEM.
Battle Royale Arc
Edit
Main article:Battle Royale Arc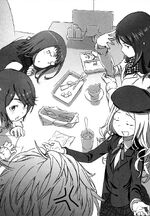 October 9th.
He gains a more active role during the battles between the underground organizations of Academy City. While under ITEM, he helps drive them around among other things as a grunt, jacking cars on the spot for use as getaway vehicles. While ITEM and SCHOOL are fighting each other at Kirigaoka Girls' Academy, in which powers such as destroying half a building in one blast are used, Shiage sees a car, and has the sudden urge to steal it due to its beauty. Before he could try, he is found by Yomikawa Aiho; in his words, "though she is a top-class beauty, she's still an Anti-Skill, the natural enemy of Skill-Out members like him." Yomikawa had once caught Shiage fourteen times in one night and thrown him into a cell personally[7]. Before Yomikawa could arrest Shiage, he is told by ITEM's leader, Mugino Shizuri, to follow SCHOOL, and left the scene as he managed to escape Yomikawa.
After discovering the murder of Frenda, Shiage betrays and fights Mugino to protect Rikou who was being forced to use the Body Crystal in order to activate her powers and track down Kakine Teitoku, which in turn quickened the deterioration of her own health. Shiage manages to defeat Mugino by stabbing her in the eye, which makes her lose control of her power and disintergrate her own left arm after shooting at him; and shooting the rest of his bullets into her. She stood up after that, but he dropped her with a punch to the face before she could fire again. After Shiage leaves Mugino for dead on that battlefield, Hanzou shows up and offers Skill-Out's leadership back to Shiage, but he refuses since he wants to focus on saving Rikou.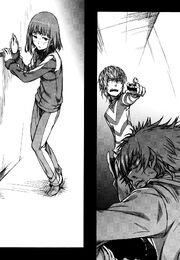 DRAGON Arc
Edit
Main article:DRAGON Arc
October 17th.
However, Shiage's actions interfere with Aleister's plans and later[5] sends his assassins of the entire dark side of Academy City on a massive hunt to eliminate him. Running, Shiage tried to hijack a mini-copter to get to where Rikou is, but the pilot pulled out a knife from nowhere and threatened him. Though after the pilot sees how desperate Shiage is to try and save Rikou, she decided to help. Later, Shiage jumps out of a helicopter without parachutes down towards something that he's not sure will save him from a hard landing, while firing down at three men holding Rikou hostage.
During the time he met with Accelerator, who was looking for a terrorist group near the same location that Rikou was, Shiage misunderstood him, thinking that his presence was due to another of his dirty jobs, and that Rikou might end up dead just like his friend Komaba Ritoku.
Shiage said then that if Accelerator wanted to kill someone who no longer wanted to stay in the darkness, then he'll take him down. Accelerator knew it was a misunderstanding, but still complimented him for his actions and bravery, then charged. Shiage planned to force Accelerator into a situation where even a bullet would work on him, taken from his experience against Mugino. He then got blasted back by the air pressure created by Accelerator, but Shiage blew apart a passing security robot and threw it at Accelerator, hoping the magnetism from the broken robot would affect the collar Accelerator wears. But before the robot reached Accelerator it got blown away.
Accelerator then charged right into Shiage and held him up by the collar, then blew him across the room. While Shiage was crawling up, Accelerator told him that if he stays down, he'll let him live, and if he gets up, he's dead. Shiage refused to give up, and told him they both have reasons to do what they do.
Accelerator was going to turn Shiage to mush right there, but when he saw Rikou stumbling towards them, he told Shiage if he planned to use her as a shield to keep fighting, he'd do Shiage a favour and rip him apart. He then said that if the girl gets worse from fighting, it would be troublesome for him, and he would retreat, saying that's how a villain should do things. Accelerator then manipulated the vectors under his feet and disappeared in a blink of a eye. Shiage finally realized that he misunderstood the situation, went to hold Rikou and cursed himself for being so useless. Rikou told him he wasn't useless, since for her, he's willing to fight in a building where the Anti-Skills can't.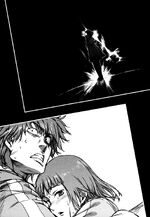 Shiage isn't convinced, thinking if he was a 'main character,' then Rikou wouldn't be hurt. However, he also thinks that though he's not a top-tier villain like Accelerator, it doesn't matter if he's a punk as long as he can protect Rikou and make her smile.
After that, while trying to escape from Aleister's assassins, he once again met with Mugino Shizuri. She survived her wound thanks to Heaven Canceler's Dark Legacy, now in hands of Aleister Crowley. After seeing Mugino toying with Rikou, he had finally had enough and decided to step out and fight head on with Mugino once more. After getting Mugino to chase him, Shiage managed to hide in a hanger filled with cutting edge weaponry, and tricked her to blow up a fighter jet she thought he was hiding in, and ended up blowing up the whole place with a chain reaction while Shiage ran away as fast as he could.
After the massive explosion, he went back to check to see if she was alive, and found she propelled herself using recoil force from her own attack like a rocket engine to escape the blast, and got ambushed by her. Shiage ran again and hid himself, but then Mugino pulled on his sympathy, saying how she and Kakine ended up like this and how bad it is, before kicking him while he was distracted. After that, Shiage crawled into a testing room for the new jets and their defense, and activated the program that engulfs the whole room except his location in a fierce combination of gale and heat. Mugino was blasted away.
After a hard battle of fighting her and protecting Rikou from her attacks, Mugino, who now has a sense of twisted love for him gives up and helped him and Rikou to escape Academy City by allowing them to steal a jet which was programmed to fly to Russia and shooting down their pursuers.
World War III Arc
Edit
Main article:World War III Arc
October 30th.
After reaching Russia, because Shiage didn't know how to pilot the jet, he and Rikou, using a parachutte, jumped out of the jet after setting it to self-destruct, and landed in Russia close to Elizarina, the country where Vento had taken Sasha to.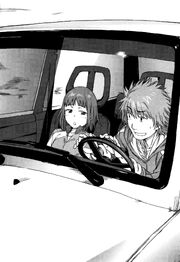 As they travelled in a small car near the Elizarina border, Shiage planned to rob a corner store next to a petrol station for some supplies and wanted to avoid hurting the employees. When he charged inside, there were already three robbers in there that had tied up the female employee, threatening her with a dagger. When the Russian robbers asked "Who the hell are you?" in Russian, Shiage just replied, "A robber, so put your hands up!" in Japanese without understanding a word they said.
After hearing many gunshots, Rikou sees Shiage coming out of the shop with merchandise, such as food and warm clothing. When she asked if it went well, Shiage replied he got thanked by the employee and got all the things for free, even fuel for the car. They drove off again with Rikou remaining confused about what happened.
As they drive along, Rikou says that she's planning to find the balance in the scales of the situation, so that even though Shiage's a small piece, if he can get in the right position to tip the scales, they can then make demands towards Academy City. Suddenly, Rikou's physical condition got worse, and Shiage panicked and stopped the car. After that, a Caucasian man tapped on the windows, and Shiage reached for his hidden gun then lowered the window. The Caucasian was a tour guide before so he can speak Japanese, and is offering Shiage an 'equivalent exchange;' taking Rikou to their village's doctor, in exchange for some fuel since their electricity generator just ran out of fuel.
The doctor treats Rikou, but says there's nothing he can do due to the difference in technology, and that it's risky to treat her. All Shiage cares about now is for her to feel as little pain as possible. Rikou said Academy City started this war for a reason, and if they can get to that reason they can use it as a bargaining chip. Shiage is resolved to head off alone to find the cause since he don't want to burden Rikou.
The blonde man who brought them there is named Daiguruv. He and Shiage end up talking, saying that the village is nervous since people from nearby villages were taken by the Russian military into concentration camps, but they were fortunate enough to be saved by another Asian youth and many managed to escape to this village. Shiage feels guilty since he's from Academy City that's responsible for this, but Daiguruv says it's not his fault since this village is close to Elizerina Republic and the Russian military had their eyes on it for a while.
To prevent Elizerina from taking over the area, the Russian Government spread a large amount of landmines near the area. The villagers make a living by unearthing those landmines and trading them with NGOs for food and other supplies, even though it might be safer detonating the mines on the spot. The soldier mentioned they were waiting for a convoy to deliver something before they got attacked. Though he's from the opposing side, Daiguruv said he'd still save him, though he did mutter that they have a lot of guests. Shiage then thought that 'something' would be delivered and thought it might be what he and Rikou were looking for.
Then, a ten-year-old girl ran out of the clinic Rikou was in and told them something urgently in Russian, which Daiguruv translated for Shiage and told him the pirates were coming. The Russian government had reinstated the medieval practice of hiring mercenaries to rob the resources of other countries and making them their own, with a large share going to the pirates. This has the benefit of weakening opposing countries and strengthening their own.
The incoming pirates had armoured vehicles and due to the snow, it was hard for the villagers to run. Shiage hid Rikou under the clinic inside the basement. Daiguruv could hear two tanks making their way down, and said conventional reasoning of how the military works doesn't apply to these people. Suddenly, the tank dropped down from the ceiling, as the pirates didn't realise this would happen when they rammed the building. As the pirates came out of the hatch, Shiage and the others climb up just in time to avoid the building being ripped apart by gunfire. An explosion suddenly appeared in front of them and blasted both Shiage and Daiguruv off their feet. Daiguruv then carried Rikou for him. Shiage saw a machine gun turret behind a sandbag wall 10m away, and ran there to try and take it.
Shiage then found one of the tank's anti-aircraft guns was changing its aim towards a 30-year-old mother running away with her 10-year-old girl while holding a baby in her arms and saved them. With a voice louder than gunfire, he yelled out for them to keep running; the tank focused its attack on him and the machine gun was blown apart. He saw Daiguruv running towards him with Rikou in his arms. Shiage was angry to the point where he wanted to start fighting back, and asked Daiguruv to take care of Rikou for a while. The man asked what was Shiage going to do, since they don't have RPGs or AK guns and Shiage replied that he was going to use the landmines the village had dug up.
Shiage took a landmine and set it up, while the villagers made some sort of device to enable the landmine to be detonated like a hand grenade, just pull the pin and wait for something to go over it. He threw a landmine at the tank, but since the landmine is set to explode towards one direction it missed the turret and blew upwards, not stopping the turret's turning. It turned out Shiage was aiming for that to begin with as the blast destroyed the stone building the tank was next to and the debris came down and stopped it from turning, and the tank could no longer move. Then Shiage walked up to the tank, since these are not conventional soldiers, they don't have weapons to shoot footsoldiers equipped on the tank. He told them, "It's a cold day today. It's a nice day for a barbecue." in Japanese, not caring if they understand it or not. he then chucked a Vodka bottle into the air hole. Then when the pirates came scrambling out of the tank, thinking it's a Molotov Cocktail, he readied his handgun without hesitation. The pirates came out of the armoured vehicle due to it being stuck and decided to fight on foot, but found if not taking into account proficiency in fighting, the villagers have more guns and people than the pirates. The attack on the village stopped.
Daiguruv told Shiage that the villagers had locked the pirates up in an unused shelter. Normally, the pirates deserved to have their legs broken and be devoured by wild dogs, which some villagers were actually advocating to do. If Shiage, the one that stopped a tank, hadn't begged not to kill them, nobody would have stopped. Shiage felt his gun's weight more keenly after that. In the end against the hated enemies who were frozen in fear against Shiage after running out of the tank, Shiage didn't open fire. If his life were at stake Shiage wouldn't have hesitated, but as he had time to think about it, he couldn't shoot another human.
The villagers raised an alarm, three helicopters each over 30m long were heading their way. These are probably all pirates. Daiguruv told the villagers to scatter and hide in the forests, since the pirates might have heat and magnetic sensors. Shiage decides to stay and fight, using one of the anti-aircraft gun turrets from the tank he immobilised. After removing the rubble using heavy machinery normally used to remove snow, they found the twin-linked gun have one of its barrel broken. As Shiage climbed in Daiguruv smiled mournfully and said that just one person can't operate that – they'd need at least 3 people; one to move the vehicle, one to shoot, and one to command and look at their surroundings. Daiguruv planned to ask some of the villagers to come and help, but Shiage don't want to – it's one thing to risk himself but it's another to risk others' lives. The soldier they saved earlier decides to help them, he says that he wants to pay back the debt of them saving his life. Shiage decides he absolutely cannot lose, for the girl that he holds more important than his own life, and for the villagers that took care of her.
The Pirates fired missiles at the turret which Shiage have driven back into the forest, and after they blew out a clearing in the forest it gave Shiage's group a chance to fire back without the trees getting in the way, and managed to take out a helicopter. The other two helicopters decided to not use missiles and just pepper them with shots, and chased after the turret using the sensors in the helicopter. The sensors says they've hit their target, but later found it is metal from the cars the villagers hid in the forest to confuse the sensors and ended up being open to return fire by the turret.
The remaining helicopter is about to shoot Shiage and the others, before a 3.5m long sword ended up stabbed into the helicopter from the side. Acqua then pulled out the sword and landed, with the helicopter crashed behind him and burned brightly in orange flame, but the snow around Acqua turned to water and put out the flames, with the rest moving unnaturally. Acqua then said he might not know what happened here but he'll help.
115 kilometers away from Elizerina, Shiage sees Acqua attacking a russian fortress. The battle ends in just 110 minutes, and Shiage gets and eerie feeling just by looking at this one sided slaughter. Shiage is analyze that exceeds the limit of human realm. Shiage reunites with Rikou and the villagers and decides to go to Elizarina Independent Country Alliance. The villagers sadly say goodbye to them, and the little girl says Shiage to take care.
Later, they're trying to get away from academy city's infantry and armors as they got really close to Elizarina border. As they enter into Elizarina, one of the armors still pursues them, but they're saved by Accelerator. In the country, Rikou is healed by magic procedure, but the damage is already done and the recovery long.
During the fight against Fiamma, Gabriel and the Star of Bethlehem, Shiage and Rikou captured one of Russia's special op agents setting up the biological attack, and asked the ex-soldier who came out looking for a missing child to go back and warn everyone about the incoming attack. Shiage then went to find the abandoned nuclear base, and told the ex-soldier if he doesn't call back in 30 mins then evacuate anyway.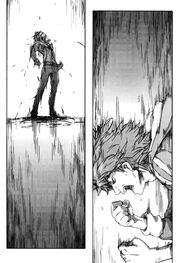 Later, when Acqua lost all his ability to perform magic and messed up his body draining a third of Gabriel's Telesma, Shiage and Rikou came across him while they are trying to stop the biological attack from Russian Military, and Shiage asked Rikou to heal Acqua as they took out some bandages. Acqua asked them to stop, as on the battlefield resources are limited and those can be better used by saving someone else, to which Shiage just told him to shut up. Acqua continued saying he achieved what he came to do, and they should just leave. Shiage then replied in a pained voice, "What about the ones waiting for you to come back?", and Acqua froze up. Shiage continued saying Acqua has saved so many people, just like when he came to save that village and him, there's no way he'll be alone as those people follow in his footsteps; so what about everyone he'll leave behind? Shiage's words are like nails pinning Acqua down, preventing Acqua from sliding off into oblivion. Acqua flashes back to many people, the Knight Leader, the ones he saved, and most importantly - 3rd Princess Villian. Shiage grabbed Acqua by his collar and yelled at him to stand up. Blood spurted out as Acqua tried; he may have lost all his abilities as a Saint and one of the God's Right Seat, but even now as a "Ordinary Human" he clenched his teeth to stand back up.
Academy City forces wiped out the troops planning a biological attack, but Shiage and Rikou got caught up in the blast and Shiage fainted. When Shiage finally woke up Mugino is right behind him and he narrowly avoided a eye-beam by her.
Mugino engages in fight against him and uses Body Crystal, but the effect is to much to handle and she ends losing the fight. Then, Shiage as he see a powerless and trembling Mugino at the ground, decides that even if he choose to save his loved one, Rikou, that doesn't mean that he can't forgive Mugino and try to save her too. As he always regretted fighting with Mugino all that times and as he released what's from the bottom of his heart Hamazura Shiage finally saw the image of their 'true enemy'. It's not monsters like Mugino. It's people that can turn a normal girl into such a monster. He doesn't want to spout lines like it's due to the failure of society or circumstances. Just like Mugino's disaster is something that can never exist in nature, she was that kind of nightmarish existence.
Shiage reprimands her, "So, you have to have the resolve to apologize to Kinuhata, even if it might means putting your life on the line. And say sorry to Takitsubou, and cry for forgiveness in front of Frenda's grave. Then…" Shiage finally got the words he wanted to say out, "Then, we can go back to being ITEM. We can definitely go back!". After that, he swore that he, a Level 0, will protect all of them even if he has to risk his life.
After their talk, Academy City's bomber planes drop three units to silence them. They are attacked by soldiers Equ Dark Matter. Mugino, Shiage and Rikou defeat them. The group take down ITEM's backer on the Board of directors and began to interrogate her to spilling all she knows about Academy City's 'potential ratings', known as Parameter List.
New Testament: Toaru Majutsu no Index
Edit
Freshmen Arc
Edit
Main article:Freshmen Arc
Shiage is out watching a movie with Rikou, a movie recommended by Kinuhata, and they were clearly not enjoying it. The movie scene is actually based off of another series by Kazuma Kamachi, called Heavy Object.
Later, he is forced to split from the rest of ITEM due to an attack by several delinquents. He meets with Hanzou and discusses his plans for the future with Rikou with him. Hanzou cryptically comments that he has a job, but that such a job would conflict with Hamazura's plans for the future and then leaves. He then meets Kuruwa and speaks with her for a bit, learning that the job that Hanzou has taken is to protect Fremea Seivelun. Hamazura, realizing that Fremea is Frenda's sister, decides to help out Hanzou, while also keeping the rest of ITEM from getting involved, as he does not want to drag them back into Academy City's Dark Side.
Hamazura tracks Hanzou to an undergroung mall where Hanzou is protecting Fremea from an attacking Power Suit. Hamazura defeats the Power Suit and manages to escape with both Hanzou and Fremea and hides out in a private salon that ITEM uses. However, their mysterious attackers are able to determine their locations and attack the building with a massive number of Edge Bees while Hanzou is out searching for Kuruwa. Hamazura once again manages to escape, but is separated from Fremea in the chaos. He manages to destroy many of the Edge Bees, and fights Kuroyoru Umidori. However, Kuroyoru is forced to retreat before killing Hamazura when she finds out about how Accelerator is rapidly advancing on her position.
Hamazura manages to fight his way out of the building, and sees Fremea. However, right afterwards she is attacked by a power suit piloted by Silvercross, while Kuroyoru hurls a car at her. However, Fremea is saved from the car by Accelerator, who was nearby when attacked. Despite Accelerator's intervention though, she is still captured by the Powered Suit, Highway Cheetah.
Hamazura asks Accelerator to help him get back Fremea, and after a somewhat rocky introduction, Accelerator agrees. Accelerator, having figured out what the mysterious attackers' purpose was, reveals that Fremea herself had no value on her own. What the attackers (A group calling themselves "Freshmen") wanted was to bring both Accelerator and Hamazura together and make them work together. It is explained that though Accelerator and Hamazura were both extremely dangerous on their own, they were not dangerous enough to require to be removed. However, now that they are working together, they are dangerous enough that the Board of Directors would be forced to remove them.
After his pursuit vehicle was disabled he was given the "Dragon Rider" power armor and motorcycle to chase after Fremea. He eventually saves her, but loses the motorbike in the process, and defeats Silvercross. Near the end of the volume, he and Hanzou stop an armored suit invasion and Hijacks the FIVE_Over to render Kuroyoru harmless, though she managed to get one final attack that was blocked by Kamijou Touma, who arrived at the last moment.
Homecoming Arc
Edit
Main article:Homecoming Arc
After Leivinia Birdway decided to move the conversation to Touma's house, he noticed Touma being slightly depressed and suggested alcohol to raise his spirits. Touma is separated temporarily from them and they manage to catch up to him at his dormitory. Shiage decides to call Touma "sensei," after seeing him be associated with and followed by many different girls despite being heavily intoxicated. [8]
During the intro to magic, Shiage thought he might be able to protect ITEM and Fremea better when learning magic might be possible but was told by Touma that since Academy City had altered and change his brain he wouldn't be able to use magic. Shiage zones out of the conversation since he learned he couldn't use magic and had attention problems; this results in Leivinia slapping him. [9]
About further in the conversation, members of ITEM show up continuing on the "Hunt for Hamazura" game. Takitsubo is the first in locating for Shiage because of his closeness with Frenda, this results in a humorously dark side revealed to Shiage terror. Mugino and Kinuhata show up to conclude the race with Mugino kicking him in the face, Kinuhata being second and Takitsubo being last as you had to apparantly touch Shiage to not be the loser. [10]
When GREMLIN begin their attack Shiage tells Touma that he will him as everyone in Academy City owes him a lot, he leaves the dorm to help prevent Radiosonde Castle from dropping onto the City. Later he help Touma get to the magical tracking device by stealing construction equipment. [11]
Ichihanaran Festival Arc
Edit
Main article:Ichihanaran Festival Arc
Eve of the Festival
Edit
Hamazura Shiage conspires with Kinuhata Saiai in order to have her accompany Kuroyoru Umidori to the Hero's Cave, a dentist clinic in School District 7, after noticing that she has been avoiding chewing with her back teeth. He installs gum into the ports where her nitrogen lances are fired out of, knowing that she would resist.[12]
Shiage first appears with Rikou in the lobby of the aforementioned dentist clinic, waiting for Fremea Seivelun to finish. As Fremea screams, Shiage casually talking to Rikou about jobs that pay people to make children cry.[13] Later, with Rikou, they accompany Fremea back to their dorm before going home. While Rikou tells him that they need money for some detergent, Shiage laments on how there is no sex appeal to her attitude. His lamentations ends when Rikou finally says that Fremea is gone, much to his irritation.[14] He and Rikou later spend the night trying to find Fremea after learning that she has not returned to her dorm in School District 13.[14]
During the Festival
Edit
Shiage plays a minor role in the latter half of the arc, but does a crucial part in its resolution.
Shiage first appears alongside Rikou, spending their entire night searching for Fremea, whom they found in a bench in School District 7, unharmed. While carrying the sleeping Fremea in a back alley, they come upon Fräulein Kreutune, who has now acquired the function of wanting to eat Last Order's brain. Believing her to be a drunk, they pay no mind to her. She mistakes Fremea for Last Order, and tries to lunge at her, but quickly realizes it isn't her and runs away. Fräulein's actions freightens Hamazura because he feels that he was just in a cage with a wild beast.[15]
Fremea wakes up in Shiage's back, and complains about "him" getting lost. Since there are loose animals, the trains have been stopped, and the buses have been reduced, as such, they have are stuck in School District 7. Fremea then says that she is hungry, to which Shiage and Rikou take her out. For much of her meal, Fremea manages to annoy both Shiage and Rikou, the former trying to stay the latter's hand. After getting tired, Fremea forced her way towards Shiage's back, forcing him to carry her, annoying them both. Up there, she finds Last Order accompanied by Accelerator and Yoshikawa Kikyou.[16]
Their reunion is cut short as chaos ensues, when Fräulein tries to lunge herself towards Last Order. Fremea, who is still clinging on Shiage's back is thrown down, after Fräulein mows tackles Shiage down to get to Last Order. Fremea and Last Order bear witness to Accelerator attacking her and her invulnerability. As Kakine Teitoku attacks with his Rhinoceros Beetles, Accelerator sends them down the subway tunnel in order for them to escape as he tries to engage in battle with Teitoku.[17] Yoshikawa Kikyou then gathers attention towards her, and states that Accelerator has bought them time and that whatever issues they might have they need to escape. Shiage agrees, stating just being in the same same place as them could get them smashed into pieces, but adds on how it would be dangerous to support him without a plan. Kikyou asks if he would support if he did have a plan, but Shiage just averts his gaze. Kikyou asks if he would support if he did have a plan, but Shiage just averts his gaze. Just then, the White Beetles come before them. But their attack never comes, a beetle malfunctions in trying to check the order of "Destroying any and all elements that obstruct our mission," due to the presence of Takitsubo Rikou and her AIM Stalker.[18] As he rechecks his orders, he asks his fellow Beetles to assist him. Here, they list down what they think their mission objective is: "to defeat Fräulein Kreutune and eliminate the objective behind her actions, eliminate anyone who would obstruct the battle between Accelerator and Kakine Teitoku, secure the battlefield, eliminate the recent continuing threat to the City by defeating all dangerous elements," and finally, "to protect the residents of the City from all anticipated dangerous elements." However, they then shortly fire at each other, concluding that they, as well as Kakine Teitoku, are "also" dangerous elements in the City.[19] Beetle 05 is then felled, and near Shiage and the others, asking what he was doing, to which Shiage replies not to ask him. It tried to target Last Order again, but the malfunction has taken hold, and determined that Last Order and the rest of them are not a threat. Beetle 05 tells them that he will save them in order to protect this order list from a fatal contradiction. Getting back up, Beetle 05 eyes' turn from green to red, indicating that he has indeed been lost from the will of the original. Perhaps, this is due to his close proximity to Rikou, at that moment. Moreover, a form of direction had appeared within Beetle 05.[20]
Underground in the subway tunnel, the group flees, whilst Beetle 05 holds the other beetles off as long as his strength could bear it. The beetles concentrated their fire on Last Order, for they determined that she was the quickest method in robbing the reason for Fräulein's actions. When they came upon a locked door and Beetle 05 opened it for them, telling them to go as he fires another shell upon the ceiling, collapsing it upon the other beetles. And when all of them have escaped into another hall, they discovered that the door was too small. However, Beetle 05 paid no attention to this for he did not intend to beat the other beetles in the first place. Beetle 05 slammed into the door, shutting the egress from the other beetles with his body. Shiage questions his judgment, to which Beetle 05 states that it his plan, and that since he has left Kakine Teitoku's control, he can no longer renew his Dark Matter, and will break apart. He tells them that the only way to escape from the enemies that can regenerate infinitely is to block their path. But Shiage would not stand for it and demands for him to come as well, but Beetle 05 will not yield. And Shiage could only feel helpless, as Beetle 05 acts as a wall against the other beetles for them. He is later forced by Yoshikawa Kikyou and Takitsubo Rikou to leave. However, the group finds out later that they have lost the children.[21]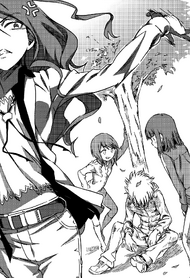 Outside, Kikyou tries to contact Last Order, but she wouldn't answer, and is relieved that she did not, as it eliminates a means for her pursuers to track her location. Shiage asks what had happened, to which Kikyou says that it is most likely that there is someone protecting them from the beetles, to which Shiage assumes as the irregular beetle. As they try to figure out how to find them, Kikyou asks what they should do even if they did, as the beetles are ever close in their pursuit, citing their firepower and armor as a deterrence to their actions. As Kikyou, Shiage, and Rikou brainstorm on how to get pass their armor, Mugino and Saiai appears before them. Saia explains how they got here, to which Shiage explains to them the situation in "30 seconds." Shizuri was polite in the beginning but became displeased as Shiage's story went on, and had grabbed Shiage by the collar. She is angry towards Shiage for having no idea where Fremea is, and allowing her to leave with a probably dangerous out-of-control weapon (Beetle 05), and the fact that he has no idea why she was being attack or who was behind all of it. Rikou and Saiai frantically try to stop Shizuri from making Shiage worse off in her anger, but later tosses Shiage aside near a tree. Shizuri tells that him believing that he will be defeated once he is spotted from whether he's 4 kilometers or 1mm away, as well as his plan on opposing the beetles as nonsensical. She is further enraged after he asks where they could find a means of attacking from kilometers away that can break through the beetles' armor. She tells that they all need firepower that can take out the likes of those beetles 5 kilometers away, and states that it is easier than spinning a pen in her fingers. Shiage still doesn't understand, to which Shizuri asks if he thinks the 4th Level 5 is cheaper and harder to use than a rocket launcher, as Shizuri as she continues to step on Shiage as punishment.[22]
Shizuri then asks Shiage, and asks what had happened to the security buzzer that Shiage gave to Fremea. Shiage's actions seem to indicate he forgot, and as Shizuri prepares to deal out punishment, he takes out the GPS tracker to find the security buzzer, ending up next to the multi-level overpass. There, they find Fräulein Kreutune, and was about to witness the battles that was about to occur for her sake. Then, Cendrillon comes up to them, who rudely tells Shizuri to point her to their apartment again, angering her. Cendrillon ignored their reactions and tells them that she has left some of her ingredients in back in the apartment, and that she needs them in order to resolve a large problem in the city. Shizuri is annoyed and not wanting to deal with the situation took Shiage and told Cendrillon that he will show him the way to the apartment. Then, with all this commotion, Yoshikawa Kikyou tells them that the girls are together and are with a large rhinoceros beetle, though she says that they are safe for the moment. Shizuri, unused to having information being given without compensation in return, is surprised with Kikyou's actions, which she points out. She tells them that Kakine Teitoku is trying to kill them, and asks for their help. Shizuri says she doesn't care as long as she gets Fremea away from Last Order, but Kikyou notes on what Fremea would feel if that were to happen.[23]
Shiage tries to diffuse the situation, saying that if Fremea's friend is about to be killed, there's nothing wrong with fighting to save her. With that, despite in her displeasure, concedes, and asks where Teitoku is, to which Kikyou states that they are in the underground passageways of the multi-level overpass, noting on the behavior of Level 5s fighting. She also states that she also has to deal with Last Order being eaten. Cendrillon then speaks up on how she will be needed to keep the girl from being eaten, surprising Shizuri. Cendrillon states that to protect Fremea's friend, they also must protect Fräulein, as is the will of Kamijou Touma. After Shizuri translated her words, Shiage recalls the softhearted mood that pulled others together in Hawaii after hearing Touma's name. They then ask Cendrillon on how they could stop Fräulein Kreutune, to which Cendrillon says that Fräulein Kreutune will eat a specific person's brain, and that she left the materials needed to use against her back in the apartment. With that, they all went their separate ways in order to protect Fremea's friends, with Shizuri going to the multilevel overpass.[23]
Shiage and Rikou leads Cendrillon back to their apartment, as Kikyou tags along. There, Shiage overhears Kinuhata Saiai complainto herself about doing all the work, even though she handed off the dark side investigation to Shizuri, she is missing the Ichihanaransai. She leaps up after being heard by Shiage as she relieved herself by shouting, and beats him up with a wrestling move. As Cendrillon prepares the ingredients left alone, Kikyou asks if this is truly how they could make a human body, doubting the ingredients before them. Still laying on the ground, Shiage asks what they need to do. Kikyou translates Cendrillon's words, stating that they need only to follow instruction using the specified amounts, knead together the excess brain material into a paste that has a similar structure to Last Order's brain. Kikyou states that she knows her brain structure, then sends out the plans to those involved, except Accelerator, who's mobile phone could not reach the message him at the moment.[23]
Shiage asks if this is really Touma's instructions, to which Cendrillon replies that she doesn't know, and that tells that it may be a problem if the replica is too perfect, as such, they should create another replica that is made out of candy, and feed Fräulein Kreutune with it instead.[23]
Shiage takes the replica in a clear bag, and heads out for the multi-level overpass. He is asked by Rikou if the plan would really work, to which he replies that he ahs no idea, though it does make a bit of sense. He the comments on being stuck behind the scenes, but tells that even if he doesn't like his role, he shouldn't slack off.[23]
It is presumed that Shiage was the one who gave the brain to Fräulein, and later witnesses her embrace with Last Order and Fremea, as well as her change of form. He most likely took Fremea back to School District 13 afterwards.
Agitate Halation Arc
Edit
Main article:Agitate Halation Arc
Shiage appears in School District 13 on a stake out near Fremea Seivelun's dormitory with Kinuhata Saiai to watch out for attacks from the remnants of Freshmen. Throughout the day Shiage has as a strange sense of foreboding but paid no heed to it. Seemingly to relieve this feeling, he notes to Saiai that they are becoming complacent, though Saiai states that an attack from them is unlikely after they have defeated Kuroyoru and Silvercross. Shiage states that she isn't taking their mission seriously, to which Saiai points out that Shiage himself is a hypocrite for always trying to partner up with Rikou. Tired, Saiai asks if they could end their routine as Fremea has the Rhinoceros Beetle as her guardian, attached on her backpack. Just then, right on schedule, Fremea's dormitory turns off its lights for the night. However, they then discover that Fremea turned her lights back on. Saiai tries to call her as she is still awake, but she doesn't answer. Suddenly, the alarm for the emergency exit in the dorm is activated, which confuses Shiage as Beetle 05 could've easily taken care of any enemy. Saiai however, doesn't care about the details and urges Shiage to quickly investigate what's happening.[24]
As part of their investigation, they simply asked the dorm supervisor of what had transpired, and stated that there was no fire nor robber. In other words, they had learned nothing. Shiage and Saiai later hear the sound of explosions as the result of Kuroyoru Umidori's battle with Rensa, who has initiated another phase of her and Yakumi Hisako's plan. Fearing that Fremea is involved, they rush towards the sight of the blast. The both of them suspect the Freshmen, though they are open to any possibility. Suddenly, an exhausted Yakumi Hisako arrives, telling them to stop, though she realizes that they would be the easiest hero to draw using Fremea Seivelun (relating to the Agitate Halation). This confuses Shiage, but Hisako too realizes that words have no meaning to "heroes", and decides to try a more convincing reason for them to give up.[25]
Then, sounds of chaos erupts of all around them. Saiai warns Shiage that they are surrounded, and there they see innumerable cockroaches surrounding them, all under the control of Yakumi Hisako. The two are already disgusted enough but Hisako reveals that she has modified their brains to make them eat anything and everything, even people.[25] The man-eating cockroaches slowly approached them. As Saiai has the Offense Armor, she is protected from the roaches, and suggests Shiage split up with her. Shiage hesitates but Hisako cuts into their conversation, warning them that it is a dangerous gamble as though they may not be able to eat a wall of nitrogen created by her Offense Armor, she may not able to create the wall in the first place. Saiai points out that the conditions are similar to Hisako, as she too has something that protects her and sends orders to them. Shiage tries to stop Saiai from advancing, but Saiai points out that Hisako may have the ability to attack multiple places and that they can't leave Fremea unprotected. Hisako however taunts them of even believing that they can get away, but Saiai is unperturbed. Still confident, Hisako explains the reason she chose roaches is because the disgusting image they sow, causing more mental exhaustion than other insects like termites, and affecting her Personal Reality which controls Saiai's powers. The explanation alone was almost enough to overwhelm Shiage, but Saiai ignores it and tells him to run. Shiage still hesitates, but Saiai asks him if he is willing to let Fremea see the grotesque things that came from the dark side of Academy City. She reiterates that being the one that Fremea trusts is and is attached to the most, he has the obligation to live up to the trust, and that means not allowing her to see the things that the both of them have seen. With a nod, Shiage runs away from the battle, apologizing to Saiai, though she answers that she never even thought he could be any help.[26]
Angry at his own powerlessness, Shiage shouts as he runs away from Saiai and Hisako. After staggering a few times, he comes upon something that crashed from the roofs. It is an injured Umidori, and as Shiage tries to go towards her, Rensa appears before him. She refers to Shiage as a low level problem, and that it would be difficult to convince him that Umidori is her enemy. She concludes that Shiage is expendable to the experiment, and prepares to attack him. Umidori, unable to speak, hastily writes down that Rensa is a cyborg, a more advanced one. Suddenly, Rensa's back opens up and a large mechanical flower opens up from it, performs some sort of calculation, and then folds back within her again. She then fires a nitrogen spear, and Shiage immediately concludes that she can copy esper powers, and that she can construct output points similar to Umidori using her mechanical arms. However, that is not the only thing she can do, as she boasts that she can freely switch through all Level 5's powers other than the 7th ranked, and any esper within 200 meters. Rensa relates on how she will kill him to fix the error and then continue as planned to have Umidori framed for killing Fremea. After some pondering, Shiage is still confused on why the assassins would go out of their way to try to kill Fremea in such a massive scale and frame it on Umidori. Moreover, he ponders on why she hasn't killed the both of them yet, and concludes that Rensa wants them to run away in order for them to draw out Fremea for her. Seeing the cyborg, Shiage assumes that Rensa has to hold back in order for her not to accidentally kill them. Whispering to Umidori, Shiage says that he will charge at Rensa, making her falter and block her vision. Shiage tells Umidori that she needs to stab a spear from behind him, even if she needs to stab it through his body so long it won't kill him. Shiage's plan is under the assumption that she will not use Accelerator's redirection for them to stay alive and escape.[26]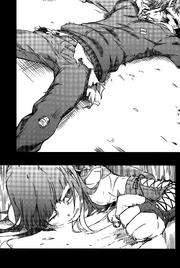 With that, Shiage begins charging towards her. However, though Umidori is impressed by Shiage's bravery, she realizes the absurdity of the plan working under their circumstances, and has come to conclude that Shiage will be abandoning her in order for them to destroy each other. Wanting none of that, she determines that she will kill Rensa but not for Shiage. She does nothing as Shiage charges towards Rensa who prepares to use her arsenal of powers. By the time she realized the truth, it was too late. Shiage is struck down by hundreds of wings of Dark Matter, though not killing him as Rensa has intended. There, Umidori screams due to her feelings. Seeing as Shiage is injured, he cannot lead Rensa to Fremea, therefore, she concludes that she will kill him and use another acquaintance to find Fremea Seivelun instead. While on the ground, Shiage apologizes for not working harder in gaining her trust, making Umidori feel guilty. As Rensa prepares for the killing blow, Shiage tells Umidori to abandon him, as Rensa needs her alive to frame her for Fremea's killing. He suggests asking help from ITEM before Rensa get the chance to use them to find Fremea. But Umidori can only drown in her own guilt, blaming herself for the doom Shiage will have to pay in her stead. Suddenly, Kamijou Touma finally arrives and prevents her from killing him.[27]
Both Shiage and Umidori are on the ground during Touma's domination of Rensa and her eventual defeat after trying to copy the Imagine Breaker. Touma approaches the two of them to check on their condition. Shiage states that he is not going to die right away, but tells him that he'll be a burden. He says that he and Umidori will hide, and Kinuhata can take care of herself. However, he states that the real problem would be Fremea. Shiage hands his phone to Touma, where he can follow the GPS signal of Fremea's security buzzer with it. Touma understands, but tells Shiage that it isn't him that Fremea is waiting for, just the replacement. Touma tells Shiage not to die while leaving him with her. And Shiage agrees with a handshake.[28] Shiage later takes Umidori to a certain hospital to get treated.
After we the events of the arc, Shiage meets the wheelchair-bound Umidori, as well as Kamijou Touma, all three bandaged. Touma asks for Shiage and Umidori's condition as they were the worst off. Shiage states that he will not be long there, but Umidori's stay will take a while. Umidori states that it is not a problem, and shows off the movements of her arms, which is still somewhat awkward. Touma's gaze falls upon Umidori, and in a strangely odd voice, says that she will kill him if he says anything unnecessary. Shiage then asks how much Touma found out. There, Touma states that Rensa was completely destroyed, as such she won't come back to enact her revenge. Touma then says with a heavy heart that maybe the reason she was destroyed was because she lost control and not because of the Imagine Breaker. A silence pass by as Touma ponders on Rensa's fate and her sacrifice to save Hisako. Touma then tells of the involvement of Yakumi Hisako in the Agitate Halation Project and Fremea being in the center, but that is alone the limit of his knowledge and references the dangerous things that were found in the hospital Hisako works in. Umidori then asks if he is satisfied with that conclusion, stating that the truth will never come to light, as the truly dangerous things are still hidden within. Shiage asks if there are still people out there who will use Agitate Halation. Umidori says that it doesn't have to be anyone directly related to the project. Shiage then falls silent after hearing Umidori's words. Touma replies that he knows what the stakes are, and it is the reason why he retrieved all 40 hypothalami that is used for Rensa, impressing Shiage as Touma did not go straight to the hospital. Here, they saw the grim reminder that not everyone can be saved. Seeing them, Umidori asks if what Touma intends to with them. Touma replies that he will have them put into cold storage until the time technology has advanced enough to find a way for them to be truly saved. As Touma leaves, Shiage calls back to him, asking what he is going to do now. Touma replies that he will do the same thing as always: "No matter how many times I reach game over and no matter how many times I must pathetically hit continue, I will not stop moving forward."[29]
Abilities
Edit
Hamazura Shiage is a true level 0 with no esper abilites. As a result, if he wants to survive, he must think ahead and rely on other weaponry.
Firearms - He's demonstrated that he's considerably proficent with firearms. He was able to successfully shoot 3 people holding Rikou hostage while falling out of a helicopter.
Close Combat - He is shown to be a skilled close combatant in his fight against Touma in the Skill-Out Uprising. Shiage himself has stated that in order to fight with espers, Skill-Outs work out more than professional athletes in order to have a chance. [30]
Intelligence - He has constantly outsmarted higher level espers. An example of this is shown when he tricks Mugino into attacking a jet while he escaped, leaving her caught in an explosion.[31] He also showed as well to be a great tactician, even using himself as bait in battles.
Security Hacking - He has proven he has to get through security systems and locks by using a fiberscope on a connector at the bottom of his cell phone that he uses to send a small optical fiber thinner than somen into the keyhole to check the arrangement of the pins then, he uses the image of the inside of the keyhole displayed on his phone to use a number of wires to unlock the door.
Relationships
Edit
Komaba was one of Shiage's best friends during his days in Skill-Out and not only cared for him but also respected him as the leader of that organization.It's on his behalf that Shiage decided to protect Fremea Seivelun. He also participated in the stealing of ATM machines and was the one that lead the operation. It can be said that Shiage's philosophy of protecting the weak was influenced by him and Kamijou Touma.
Hanzou has been one of Shiage's best friends since his early days in Skill-Out and therefore cares about his progress and well-being. It have been stated that they had a lot of fun, along with Komaba Ritoku, stealing ATM machines where Hanzou was the one who came up with the planning. He was the one who gave Shiage the lady's gun he used to defeat Mugino Shizuri and is always encouraging him to come back to Skill-Out, but still, he respects his decision of not doing so.   
Takitsubo is Hamazura's girlfriend. They began dating after volume fifteen and have been together ever since. Hamazura fell in love with Takitsubo because she treated him kindly when he was an ITEM grunt, in contrast of the other members treated him like dirt. He has repeatedly proven his willingness to go to any length to protect her, including fighting the level 5 Mugino Shizuri.
Kinuhata was Hamazura's superior in the original ITEM, and one of his team members in the new one. They have been friends since the end of volume 15. Regardless of his status she always treats him like a lackey and enjoys teasing him.
The relationship between Shiage and Mugino is portrayed as one of evolution. At first, she only sees Shiage as a disposable grunt, therefore she only acknowledges his existence to mock him or to give him orders. Then after her defeat at his hands, she became obsessed with the idea of killing him to the point that she disregards her own well-being. This conduct finds its motive in the fact that a level 0 like Shiage beat an elite level 5 like her. This only changes when Shiage shows his concern for her as a friend and his desire to reform ITEM. It's from this point onward that Mugino acknowledges Hamazura as a colleague and true friend, although she still frequently mocks him.   
Character Art Design
Edit
Design evolution
Edit
Shiage was simply designed by Haimura "as someone to lose" to Touma, although, he did not consider that his role in the story might expand greatly later. Shiage is as well affected by Haimura's style change for the novels, having larger heads and smaller bodies.
For his appearance in the 3rd New Testament volume, Haimura had him wear the outfit hat he drew for him in Pixiv, along with Misaka Mikoto.
(Hamazura Shiage versus Kamijou Touma in SS1) "So that's what happened? We're all done for here. We're all going to get taken in by Anti-Skill and the guy at the center of it doesn't even know what's going on? My life, the life of Hamazura Shiage, is about to end. This is the finale... I thought I had at least gotten wrapped up in some conspiracy or been dealing with some genius tactician, but I wasn't even being tricked? Ha ha ha. Ha ha ha ha ha ha ha!!"
(Hamazura Shiage talking about Skill Out in SS1) "Level 0's like us can't live without doing this kind of thing! We get mocked wherever we go, and when we make a place for ourselves, it gets destroyed in the name of making the area look nice. With things like that, what path other than preying on others is there for a level 0?"
(Hamazura Shiage realizing that Touma was also a Level 0) "Come to think of it...you haven't used your power..."
(Hamazura Shiage talking about Komaba Ritoku in SS1) "Our level 0 leader, Komaba Ritoku, lived like that and he died earlier today. He died while trying to protect the weak! In the end, it just isn't that simple for us. When the dropouts in the back alleys try to do that kind of thing, we just get laughed at!!"
(Internal monologue in vol. 15) "Being the only guy in a group of girls is kind of awkward"
(To Takitsubo Rikou in Vol 15) "You don't need a card to drive: you need the skills."
(Hamazura Shiage while running away from an Esper in vol. 15) ""Ha ha!! Being a loser is the beeeeessssttt!!"
(Hamazura's thoughts after Rikou protects him from Kakine in Vol 15) "But I thought espers didn't care about the life of someone like me. I thought we were like a bunch of disposable convenience store umbrellas. So if I died, I wouldn't just be burnt to ash in a furnace and thrown away with the kitchen trash?"
(Hamazura Shiage talking to Mugino Shizuri about Takitsubo Rikou in vol. 15) "But she said she didn't want a selfish bastard like me to die. She's the kind of person who says things like that! Someone like her needs to be happy. It isn't people like you and me that should stand above everyone else. If we don't create a society where the kind idiots stand at the top guiding everyone else, this shitty world will never get any better!!"
(After defeating Mugino Shizuri in vol.15) "That was too easy, Level 5."
(Hamazura Shiage versus russian privatees in vol.20) "It's a cold day today... nice day for a barbecue."
(Hamazura Shiage to Digurv in vol.21) "I have no intention of having my life cut short and I'm not going to force your hand. I will live on and I will run as far away as I need to in order to do so. So believe in me just this once. Don't give up. What we hold within ourselves is not something cheap enough to just abandon because of a war."
(Hamazura Shiage to Acqua of the Back in vol.21)"You've managed to survive in these situations for such a long time. That time you saved me and my friends, it didn't seem like anything special to you, as that was the path you walked. So a guy like you will never be alone. Even if you don't think about it, there are several people relying on you. What will happen to them?"
'(Hamazura Shiage to Acqua of the Back in vol.21)"To die for the sake of the world, to die to protect others, who would accept such stupid excuses?!! They are unacceptable! The reason you fight is not to let those waiting for you to not be able to do anything other than cry!!" (...) Stand up, hero!" "STAAAANDD UPPPP!!!"
(Hamazura Shiage to Shizuri Mugino in vol.22) "To get back everyone together as ITEM, I'm willing to stake my life on it."
(Hamazura Shiage to Equ.DarkMatter member in vol. 22) "This is 'ITEM'. Don't go forgetting that even if you go to hell!"
(Hamazura Shiage to ITEM's backer in vol. 22) "Humans really are scary.As long as they can make the excuse that they are doing something to protect those they care about, they can do any kind of cruel thing. That's how I see it anyway. I'll be showing you just how cruel humans can be."
(Hamazura Shiage to a man in NT vol. 01) "Everyone has things I don't. No matter how much I struggle, I just can't obtain them and yet I still have a final goal that I want to grab no matter what. Be proud, hero. You are what I long to be."
(Hamazura Shiage to Kuro-nyan's threats NT vol. 03) ""Kyaaaaaahhhhh!!"
(To Rikou, from NT6) "...Takitsubo, can I be completely honest? This is a pain in the ass... But it means we can't overlook this."
(To Rikou, ibid) "I may have been stuck behind the scenes without anything important to do... But getting a shittyrole is no reason to slack off!!"
References
Edit
ITEM

Mugino Shizuri
Takitsubo Rikou
Kinuhata Saiai
Frenda Seivelun
Hamazura Shiage