GROUP
is a large underground organisation that is composed of several people and is controlled by
Academy City
.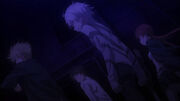 Referenced during the invasion of Academy City where Accelerator becomes it's newest recruit. They are later properly introduced during the Skill-Out uprising to deal with Komaba Ritoku's troublesome plans against the city.
GROUP was formed to take care of internal affairs of Academy City's dark Side, similar to ITEM, and more often than not, perform illegal acts for Academy City. Like other organisations such as ITEM, GROUP take orders from a person who only contacts them via telephone, though Accelerator seems to be contacted by their backer more often than the others.
After the events of Volume 15, GROUP remains the only underground organisation that remains intact out of the five that were introduced in the same novel.
After the events of Volume 19, Accelerator leaves GROUP in order to help an ailing Last Order.
After the war, the members of GROUP are freed of the dark side's grasp. If they will ever officially reunite as GROUP again remains to be seen.
There are four core members of the organization who does the field work during missions. They are composed of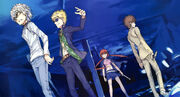 powerful
Espers
and
Magicians
, and were all blackmailed in some way to join in order to protect something important to them.
Field operatives
Edit
Other members
Edit
There are other members of the organization, such as the technical department which supports the organization by giving the members useful technical aid.[1] As well as a group that cleans-up and disposes evidence after missions.[2]
The organization is also composed of telepath-type espers as well as Powered Suit operatives.[3]
References
Edit