Fukiyose Seiri
Comments

0
1,300pages on
this wiki
Fukiyose Seiri

Personal Info
Name (Kanji)
吹寄 制理
Name (Romaji)
Fukiyose Seiri
Age
15-16
Gender
Female
Classification
Esper
Abilities
Ability Name
Unknown
Power Level
Unknown
Media
Voiced By
Ayumi Fujimura
Debuts
Novel
Volume 9
Manga
Index manga chapter 34
Anime
Index II Episode 8
Fukiyose Seiri (吹寄 制理 , Fukiyose Seiri ?) is Touma's classmate, Aisa's best friend, and often takes up roles of the class representative even though Aogami is the class representative.
Appearance
Edit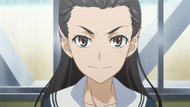 Seiri is a young girl in her mid-teens with a slender, yet solid build who has been described as rather tall for her age. Like
Kazakiri Hyouka
, she is considerably well-endowed for her age and has been noted to have a big forehead, furthermore she usually selects hairstyles which indirectly emphasize the size of her forehead to the point were one of her looks is called "Forehead deluxe"
[1]
. She has been noted for having considerate student look.
Personality
Edit
She dislikes people (namely Touma) who give up on their life and blame it on bad luck. It is debatable if she is tsundere towards Touma or only dislikes him because of his attitude towards life and school in general. It is hinted that she has feelings for Touma. She is mentioned as the girl who is "pretty but lacks sex appeal." Her nickname is "The iron wall girl". She is a health-product freak [2] and is frequently ordering different health products from television shopping channels. Touma is the only one who knows about her being a health product fan. [3] It should be noted that even though she gets interested in health products and such, she herself stated that she loses interest in them after using them a couple of times [4]
Her ESP abilities have yet to be revealed.
Fukiyose holds the unusual privilege of being the only girl that walked into Touma while he was changing instead of the other way around (albeit, Touma has walked into Fukiyose changing in another certain occasion). Even though in that opportunity Kamijou was "the victim" Fukiyose chose to beat him up in response to her embarrassment regardless of that.
She has been shown to posses several skills, being able to throw fast pitches and fork balls when playing baseball, being a fast runner, and being able to perform both Aikido and Judo throws quite swiftly. All of this broad knowledge in several disciplines comes from self training and self exercise following advices on whats healthy to your own body.
Chronology (Toaru Majutsu no Index)
Edit
She was a member of the committee of coordination for the schools and did her best to make sure the students enjoyed the games, but later during one of those games, she was almost accidentally killed by one of Oriana Thomson's flashcards which dried off her life energy [5]. She was saved by Touma who dispelled its effects. Thinking that the cause of her collapse was a sunstroke, she is later seen recovering with the help of Heaven Canceler [6], in the hospital where Touma usually ends up after getting hurt. After checking out of the hospital, she got a call from Tsukuyomi Komoe about Aisa being attacked and was shocked to hear it, although Komoe later told her that Aisa would be alright. Later, she would run into Touma while he was undressing, and she beat him up for it out of embarrassment even though he was the victim. The two would later argue about that incident while they were going to check on Aisa. [7]
After her introduction she becomes a pseudo regular member of the cast, more often than not playing the tsukkomi that hits the boke whenever Touma, Aogami and / or Tsuchimikado do something too stupid during class (this happens quite often). She can easily floor any of the three or the three of them at the same time with a single strike each, and Touma has commended the big strength of her trademark attack, a strong headbutt of which Touma is usually on the receiving end.
During volume 14, she tries to stop the "idiot trio" from doing something stupid but ends up getting in trouble as well.
Chronology (Shinyaku Toaru Majutsu no Index)
Edit
Homecoming Arc
Edit
Main article:Homecoming Arc
She reappears in volume 2 confronting Touma when he came back to Academy City, angry at him for disappearing while everyone at school was busy with the Ichihanaransai. She noticed that he reeked of alcohol and reprimended him for it. Later, she is told to leave Touma be for the time being by Birdway's men, and that explanations will be given later.
Ichihanaran Festival Arc
Edit
Main article:Ichihanaran Festival Arc
Seiri is the first person that Touma meets in Academy City after being returned by Ollerus, carrying supplies for the Ichihanaransai. After Touma had the nerve to ask what she is doing at the station where he is left off, Seiri attacks him with one of her bags, reminding him that he is the one who has the skipped the preparations for the festival. Seiri later uses the duct tape in her bag to subdue Touma and carry him back to school telling him that they are short handed, much to his remonstrations as Touma wants to see Index in their dorm. However, she ignores him.[8]
Seiri was apparently uncaring of Touma's well-being as she dragged him in the streets and later shoves him into their classrom, declaring him as a fugitive, before moving to her own station. As Aogami Pierce, Tsuchimikado Motoharu, and Kamijou Touma argue about perverted cultural festival events, Seiri yells at them to stop it.[9] Seiri later tells Touma that she'll need him to stay over tonight, much to Touma's dismay as he still wants to go back to his dormitory and see Index. Seiri then instructs him to buy some food for them, and gives him money for it.[10]
After Touma disappears to deal with Thor, Seiri demands to know where he has gone too, and asks Aisa where he is. She is later shocked by the fact that Touma has been arrested by Anti-Skill. Her rant however, was overheard by Misaka Mikoto, who decided to try and visit the school.[11]
Seiri later discusses the whereabouts of Touma after the escape of Fräulein Kreutune, angry that he would skip the preparations again, as he and Thor sneak into the school to finish their preparations against both GREMLIN and Ollerus' group.[12]
Character Art Designs
Edit
Design evolution
Edit
Haimura designed Seiri with the impression that she is a just a high school girl who looked completely normal with the exception of her huge breasts. As such, Haimura did not give her any hair decorations and other things that would make her stand out. This is carried on in her winter uniform design.
Seiri is affected by Haimura's deformed style change by volume 12, among most characters.
Fukiyose, Aogami, Tsuchimikado and Touma are considered the ones with the best motor skills within the class, the source for these thoughts is that they are always stirring up trouble.[13]
All of the members of the idiot trio are quite apt when it comes to brawling, however Fukiyose always manages to take them out with a single strike. While Seiri isn't implied to be weak, this probably stems from the fact that the trio doesn't fight back or isn't ready to fight back while they are in "baka mode".
It is known that when she gets fired up about something (such as organizing class events) she ties back her hair; slightly changing her hairstyle thus unintentionally revealing her big forehead.
(Said after seeing Touma collapsed, Volume 9) "I hate those who use misfortune as an excuse to live life so sloppily. Once you look so lethargic, everyone else will lose their motivation as well. So you better buck up for everyone's sake."
(Said after Touma discovers her love for health products, Volume 9) "So what? So what even if I have a bunch of creative conditioning apparatus?I always find them useful when I read the magazines and yet I find them ordinary when I get them. Does it matter to you whether I use it two to three times and stopped using them afterwards?"
(Said after being asked why she floored the Delta Force, Volume 12) "For the sake of world Peace!"
(Said to a Oyafune Sensei, Volume 14) "I was just trying to get these idiots to shut up!! Why did I have to be dragged down here along with them!?"
(Said to Kamijou Touma, Volume 14) "And before you ask: I won't let you see my notes."
(About Touma receiving a love letter from Seria) "God, please let that idiot Kamijou deal with it badly and get severely hurt as a result!"
References
Edit