Feng shui (風水(ふうすい), lit. Wind-water?) is a Chinese system of beliefs and principles that establishes to create harmony with one's surroundings through the proper arrangement of objects and the siting and construction of establishments.
In Toaru Majutsu no Index, Tsuchimikado Motoharu, is the only currently known practitioner of Feng shui, and is referred to as an expert in it, as part of being an Onmyoudou specialist.[1]
According to Motoharu, feng shui originated in China, and there were originally no one who was specifically an expert of Feng shui, as such, the Taoist priest would handle the aspects of arranging objects and other things, to find harmony with nature, this task is intented for the Onmyouji in Japan.
Principles
Edit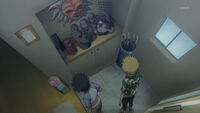 Feng shui is a magic system that focuses on the arrangement of things in a certain location to create a magic array for a spell that activates the moment the array is created, and its composition is dependent of its contents. The spell makes use of the energy (ch'i) of the world instead of the spellcaster's mana, as such, any person can create a spell using the principles of Feng shui.[2]
An apt analogy for this would be is that the power of the world is a generator, the spellcaster is a transformer, and the magic array is the circuitry, which is switches on the moment the magic array is created.[2]
Feng shui is explained by Idol Theory, as it still subscribes to the four elements, most specifically, its usage of the various colors, elements, cardinal directions, stars, and guardian deities, to find harmony with the world with the constructed magic array.
Chronology
Edit
Toaru Majutsu no Index
Edit
Angel Fall Arc
Edit
Main artice:Angel Fall Arc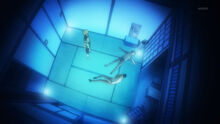 Kamijou Touya amasses thousands of souvenirs and charms, believing that it would bring his son, Touma, good luck. Although, incredibly innocuous on their own, Touya arranges the various charms according to the principles of Feng shui, making his home a temple, and activating the Grand Magic, Angel Fall, after leaving his house.[3]
Due to the danger posed by moving or destroying part of the magic array created by Touya, Motoharu, a feng shui expert, is forced to destroy Touya's house in order to stop Angel Fall.
External links
Edit
References
Edit