Etzali (エツァリ, Etsari?) is an Aztec magician who was originally a member of Return of the Winged One. He was sent to Academy City to monitor the growing Kamijou Faction. He is later defeated by Kamijou Touma himself and eventually joins GROUP.
Background
Edit
Etzali was a member of the magical Aztec organization known as Return of the Winged One and was a senior to fellow member Xochitl. A month before August 31st,[1] Etzali was sent to Academy City in order to judge if the growing Kamijou Faction was dangerous and if it would destroy the balance between the magic and science side. [2].
The radical actions of Kamijou Touma compel his organization to pit Etzali against the Kamijou Faction, his operation began when he was able to abduct Unabara Mitsuki and take his form, a week before August 31st and set his sights in Mikoto, with the objective of taking her form and sowing distrust into Kamijou and his peers. Even though he has to follows orders he disclosed that he did in fact fall in love with Mikoto. [2]
Etzali has described himself as someone that has a old hand in his Magic Cabal [3], and has proved such by knowing a lot of the internal politics of his former association.
Appearance
Edit
Etzali usually takes the form of Unabara Mitsuki. His true form though is that of a young man with dark skin, and black wavy hair.
Chronology
Edit
Toaru Majutsu no Index
Edit
Three Stories Arc
Edit
Main article:Three Stories Arc
Etzali first appears under the guise of Unabara Mitsuki – the grandson of the director of Tokiwadai Middle School, who has been reportedly stalking Misaka Mikoto for a week. During the morning August 31, Etzali's usual routine of following Mikoto is interrupted by the arrival of Kamijou Touma, who is forced by Mikoto to pretend to be a couple with her.
Etzali himself meets Touma, after Mikoto went away to buy beverages. Here, they discuss on Mikoto's personality and feelings (as well as having Etzali solve Touma's summer homework); because of this, Touma discovers that Unabara Mitsuki (Etzali) is truly serious about Mikoto. Their conversation is interrupted by the arrival of Mikoto, irritated that Touma would converse and actually get along with Mitsuki.
Later, after Touma convices Mikoto to stop acting as a couple, Etzali meets Touma again while he waits for Mikoto is off to buy food for Touma. However, Touma sees that a person similar looking to Mitsuki is running towards the establishment that Mikoto is in. Here, it is revealed that the one Touma is talking to is an impostor who uses an obsidian dagger to attack Touma. Seeing this Touma is forced to run and calls Index, who informs him that Etzali is an Aztec magician who uses a replica Spear of Tlahuizcalpantecuhtli, which reflects the light of Venus as an attack.
They later arrive in an abandoned construction site, where Touma is able to stop Etzali's attack for a while, destroying his Unabara Mitsuki form in the process, and demands answers from him. Here, Etzali tells Touma of the growing Kamijou Faction, an unstable yet influential group of espers and magicians who is allied with Touma. Etzali states that his organization has determined that the faction is too dangerous, and as such they tasked Etzali with destabilizing the group by pretending to be its members. Touma asks if all he said about Mikoto was a lie as well; to which Etzali responds if it is truly wrong to lie and deceive someone in order to protect them, to protect Mikoto. Etzali continues by saying that if Touma didn't cause too much trouble, he wouldn't have to deceive Mikoto in the first place.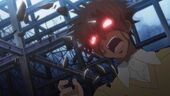 The battle continues, with Etzali saying that he is now Touma's enemy, to which Touma responds that he will break his illusion apart. Using his obsidian spearhead, Etzali tries to attack Touma, though missing and destroying several metal beams that held the building together. As the building collapses, Touma successfully destroys Etzali's obsidian spearhead, though Etzali is hit by several metal beams as the result of the collapse of the building. Touma is safe however; as Mikoto arrived just in time to use her electromagnetic powers to prevent the beams from hitting Touma.
With Etzali pinned down by the metal beams, Touma confronts him for one last time. Here, Etzali tells Touma that many more attacks will happen, not just on Touma but on Mikoto as well. Etzali pleads Touma, to protect Mikoto, to go wherever and whenever she needs help. Touma responds positively to this, to which Etzali smiles and states that his response is the worst possible he could give. All the while, Mikoto overhears this, and blushes at his response. [4]
Touma later references that he let Tsuchimikado Motoharu deal with the fallen Etzali.[5]
Tree Diagram Remnant Arc
Edit
Main article:Tree Diagram Remnant Arc
Touma references Etzali after rescuing Shirai Kuroko, as that "nameless person" who fell in love with Mikoto, and states to Kuroko that this is promise to him, to protect Mikoto and her world.[6]
Skill-Out Uprising
Edit
Main article:Skill-Out Uprising
In this arc it is revealed that Etzali is still within Academy city and is now an acting member of GROUP, he introduces himself to Accelerator and briefs him on his first assignment [7] . At the end of the novel it is revealed that Etzali was working behind the scenes with the objective of having the higher ups calling off Misaka Misuzu's termination order [8], also referencing the promise that Touma made to him. The novel also reveals that every member of GROUP is being blackmailed into being part of the team, with Etzali joining the organization in order to protect Mikoto from the shadows.
Battle Royale Arc
Edit
Main article:Battle Royale Arc
Initially Etzali sees himself in the need of posing as Yamate from BLOCK [9] and will filter information from BLOCK's activities to GROUP, however his main part in this arc is to face of his kouhai Xochitl who temporarily was working for MEMBER, Xochitl was tasked with exterminating Etzali for his desertion [10] and within her arsenal was a Grimoire which damaged her own body, Etzali was displeased to see in the front lines someone who is not suited for combat such as Xochitl, further more he was troubled that she was willing to forsake her own life in order to take him out.
He quickly surmised that to save Xochitl's life he needed to remove the Grimoire without damaging the host, for that he proceeded to read some the of contents of the book, since an original Grimoire would disclose its information to one who desired that information, he had a chance to save his Kouhai by having the Grimoire willingly select him as worthy of its knowledge [11]
After saving his Kouhai and at the end of the novel, Etzali and the rest of GROUP learn of the existence of DRAGON [12]
It is in this volume when finally his real name "Etzali" is revealed to the readers [10]
DRAGON Arc
Edit
Main article:DRAGON Arc
While he is visiting Xochitl at Heaven Canceller's Hospital the rest of GROUP arrives to over hear that he had a senpai-kouhai relationship with the Aztec magician who was after his life in Battle Royal. When Tsuchimikado overheard Xochitl calling Etzali "Onii-chan," he comments that Etzali is a lucky guy, having a sister-type girl that's not related to him, and it's unthinkable for him to go and try picking up girls (referring to Etzali falling in love with Mikoto) when he already has Xochitl. Xochitl for her part, looks troubled that Etzali is unwilling to drop his Unabara face and that he calls people from Academy City comrades.[3]
Etzali took part in GROUP's operations, however all of the members of the group had a hidden agenda: They wanted to gather information about DRAGON. Even more so when they learned the reason why they had been sent to eliminate Spark Signal who had learned some knowledge of DRAGON. After their mission he mentioned the concept of Dragon from the magic side to Accelerator and Musujime.[13]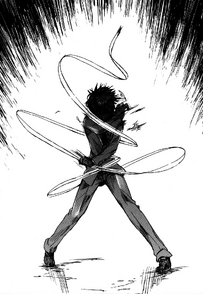 Later when he infiltrated the base of 
Shiokishi
of from the board of Directors disguised as Oyafune Monaka who had not hesitated at letting him rip off 10cm of skin from her arm, to make the charm using her skin as raw material.
[14]
 After destroying Shiokishi's power suit, Shiokishi called for
Minobe
 the leader of his other bodyguard group. To Etzali and his surprise they found the other group had been replaced by two people from
Return of the Winged One
:
Tecpatl
, the now leader of the organization and the now quasi-comatose
Tochtli
who was being used as "materials" for Tecpatl´s attacks, they had come to infiltrate Shiokishi's inner circle in hope of replacing themselves as him for the perpous of rooting out Etzali.
[15]
. Since Tecpatl uses a Grimoire to attack, Etzali chooses a similar course of action against this enemy than when he did in the Battle Royale Arc, however in this case Etzali didn't use the same care to gain the Grimoire from its host and as a result Tecpatl was killed. Etzali decides to use the Grimoire to heal Tochtli who had more than half of her bones used by Tecpatl at this point. After rejoining with GROUP, Etzali collapsed before
Aiwass
' presence, just like Tsuchimikado Motoharu and Musujime Awaki.
[16]
Shinyaku Toaru Majutsu no Index
Edit
Freshmen Arc
Edit
Main article:Freshmen Arc
Accelerator states at the beginning of Shinyaku volume 1 that his whereabouts, along with the whereabouts of the rest of GROUP are currently unknown, the Accelerator jokingly noted that he doesn't know Etzali's true name and face.
Homecoming Arc
Edit
Main article:Homecoming Arc
Etzali is seen visiting the hospital where Xochitl and Tochtli are recovering. He noticed that from "one moment to the other" surveillance on them was totally dropped for some reason or another. Tochtli jokingly notes that Etzali's presence and constant visits are indeed necessary to them as moral support [17] . While Etzali keeps his Unabara Mitsuki face on at all times due to preference, in the end Xochitl and Tochtli constant banter forced him to temporarily remove his mask else face Xochitl's wrath.
Lance of Gungnir Arc
Edit
Main article:Lance of Gungnir Arc
In the final recreation of the world by Othinus created specifically to break Touma's spirit, known as the Version_Omega world in-text, where several characters from the original world have been "saved" or have not experienced great tragedy, people from the magic side like nuns are allowed to enter Academy City, and seemingly have no complex against science. Etzali, Xochitl, and Tochtli are first seen by Kamijou Touma during his "last meal" as he decides on what method he should have himself killed. Here, Xochitl asks Etzali what the should do now, but he replies that she should ask Tochtli as she was the one who heard the commotion. Tochtli then complains on how Etzali is forcing it on her as she says that Xochitl is practically his little sister. It is unknown what commotion Etzali is referring to, but is likely the festival that is happening at that time.[18]
Abilities
Edit
He is a skilled magician from and a former member of the Aztec Organization.
Appearance Borrowing: Through a magic ritual using the flayed skin of a person, he makes it into a Charm (

護符

Gofu

?

, lit. Talisman, Charm) which allows him to mimic the appearance of the skin's owner. Once a charm is made he no longer needs to collect samples from his target and he can freely change between different appearances by creating several charms and alternate their usage as needed, he has hinted that 10 cm of the target's skin are needed to create the charm [14]. Etzali is quite "professional" when it comes to disguising and would normally study the behavior and characteristics of a person for at least a week before impersonating them [19].
Spear of Tlahuizcalpantecuhtli (

トラウィスカルパンテクウトリの槍

Torawisukarupantekūtori no Yari

?

), a replica of the spear possessed by the Aztec God of Venus and disaster which reflects the light from Venus, destroying anything the light falls upon. Since this power is classed as God-like level, humans can't handle the original because it can kill all people in the world that are receiving the light from Venus, so the replica has flaws.
The replica has the restriction that it can only target one objective at the time; it has been shown that Etzali can actually create more than one knife and thus destroying the replica will not mean that Etzali will lose the spell permanently. Etzali needs to use an obsidian knife that will function as a mirror to manipulate the light of Venus and thus he can't use the spell if the light of Venus does not make direct contact with the knife.
When the light of Venus is reflected from the Obsidian and hits an object, the object will become disassembled, having its individual parts intact however. However, due to the dagger's reflective nature, it has a low accuracy, making it hard for the wielder to hit targets from the distance.[20]
The dagger can only reflect and disassemble things at a set amount of time before being used again, as such it cannot fire attacks in rapid succession. The dagger and the light reflected is magical in nature, as such it can be negated by Touma's right hand.[21]
In the original novel, Etzali required to chant an incantation, though it seems to be inconsistent:

"The angle's set, connecting Venus, mirror, and the target. Focus the mana, chant the incantation, and the starlight will turn into a spear that can't be seen and pierce directly through the enemy!The symbol of Venus and disasters, the Spear of Tlahuizcalpantecuhtli."
Callendar Stone (

暦石

Koyomi Ishi

?

): Etzali also possesses two Aztec Grimoires, after defeating their owners in Volumes 15 and 19 and taking each off them. The special system that rules the function of those grimoires is known as 暦石 literally read as koyomi ishi or callendar stone.
Time related to Life and Death (

生と死に関する時間

Sei to Shi ni Kansuru Jikan

?

) : Has the combat function of countering against any enemy that holds a weapon, having them kill themselves. It also has a very powerful defensive function, as demonstrated when it enhanced his body to withstand the bullet from "Moon Rabbit". The Aztecs used two different forms of calendars at once and believed in the death and rebirth of the sun, this Grimoire is born from that concept. [11]
Moon Rabbit (

月のウサギ

Tsuki no Usagi

?

, lit. "Rabbit of the Moon"): Has the combat function of sniping. Uses the bones of rabbits to shoot out powerful bullets. The bones of the rabbit can be substituted by human bones, which can be purchased by obsidian and are strong enough to penetrate a shelter designed to protect against nuclear weapons. This Grimoire uses the legend of throwing rabbits at astral bodies as it's basis. [15]
Character Art Designs
Edit
Design evolution
Edit
Etzali was designed (as Unabara Mitsuki) in volume 5, but digital copies of it have been lost by Haimura, it can still be found in rainbow spectrum colors. By the SS volume where Etzali is reintroduced, he designed him differently, and have been affected by Haimura's change of style, with larger heads and smaller bodies for characters. Haimura states that he designed him to give off a feeling of not being able to understand he is thinking.
By volume 19 however, Etzali finally recieve a design for his true face, though Haimura states that he had some trouble due to his vague description in volume 5.
(To Touma) "It looks like nothing ever goes as planned... When you lie to deceive someone."
(To Touma)"Could you protect her? Protect Misaka-san? Run to her wherever and whenever... Promise me you'll protect her?"[2]
(To GROUP) "Well, that boy was carrying out his 'promise' to protect the world around someone I have feelings for, so I thought I should help out some myself. It seems I overworked my shoulder a bit"
(To Xochitl) "Damn it!! The organization I knew did horrible things, but not this horrible!"
(To Xochitl) "Things such as 'grimoires' aren't meant to be used as trump cards. Using things like these where their own powers are not fully understood when in a team will only lead to destruction… GROUP, where I belong to right now, if anyone tried something like that they would be probably be piled, beaten and killed off that way by everyone else"
(To himself) "(… From the looks of this, I'm really popular with these grimoire originals.)" -- After acquiring his second Grimoire. [22]
It is pointed in the novels that Etzali's charm not only alters the appearance of the user, but also his voice [23]. In the anime there it was no change between Unabara's voice and Etzali's voice.
References
Edit
GROUP

Tsuchimikado Motoharu
Accelerator
Etzali
Musujime Awaki
Return of the Winged One

Tecpatl
Etzali
Tochtli
Xochitl