Acqua of the Back
Comments

0
1,297pages on
this wiki
Acqua of the Back

Personal Info
Name (Kanji)
後方のアックア
Name (Romaji)
Kōhō no Akkua
Sorcery Name
Flere210 - One who changes the reason of tears
Gender
Male
Classification
Affiliation
God's Right Seat (Member)
Abilities
Ability Name
Divine Mother's Mercy (

聖母の慈悲

Seibo no Jihi

?

)
Media
Voiced By
Hiroki Tōchi
Debuts
Novel
Volume 13
Manga
n/a
Anime
Index II Episode 22
Acqua of the Back (後方のアックア, Kōhō no Akkua?), or William Orwell (ウィリアム=オルウェル, Wiriamu Oruweru?), is a side character of Toaru Majutsu no Index.
A member of God's Right Seat, his sorcery name is Flere210, "The one who changes the reason of tears" (その涙の理由を変える者, Sono Namida no Riyū o Kaeru Mono?). The name "Acqua" is derived from the Italian word for water.
Background
Edit
He was formerly a mercenary that operated mostly for the benefits of UK, taking jobs from the Royal faction and sometimes working with the Knights of England, but later changed his religion and joined God's Right Seat. He's also the only one who does not ignore the opinions of the Pope.
An example of his actions are the "England Third Princess Rescue Mission"[1], where he uses his role as a mercenary to step into any battlefield when the Knights of England are otherwise tied down by political issues and orders from the Royalty faction. His friend, The Grand Master of the Knights, was willing to give up his Family Crest and all that comes with it in order to accompany him and help save the then 14-year old 3rd princess, but was disabled by William from doing so. Saying that his own role as a mercenary means he can enter any battlefield, but he can't stop the same scenario from happening again, where one of the Royalty is discarded like a mere pawn, so looking at the long run the Grandmaster needs to keep his position as a Knight where he has access to the Royal faction and prevent something like this happening again.
Appearance
Edit
He is brown haired man who usually wears blue things which are related to the color of the symbol of God's Power.
Personality
Edit
A realist when it comes to combat, recognizing that there is only allies and enemies on the battlefield and shows no mercy when it comes to a battle. Outside combat he is an honorable and intelligent person. Because of his actions outside battle, being considerate to the victims he helps he is called a 'Sage' in some circles.
Like Touma, he also is true to his ideals, though his ideals are different to Touma's. As suggested by William's crest when he was designated to be a Knight, his goal is harmony between the four cultures (English, Irish, Dutch and Scottish) and three factions (Knights, Royalty and Anglican Church) of UK so they can perform at the best of their abilities, and believes by performing outside the system he himself can do things that any one of the factions cannot do when restrained by political pressure.
In addition, also like Touma, he values his friendship with others, though he won't allow that to get in the way on the battlefield. This is demonstrated when he finally defeated the Grandmaster in volume 18, saying though he have won he did not carry a blade that used to kill an old friend.
ChronologyEdit
Toaru Majutsu no IndexEdit
Academy City Invasion ArcEdit
Main article:Academy City Invasion Arc
His first appearance is at the end of this arc, when he picks up Vento after she is defeated by Touma. He tells Touma that the Invasion is over and the people affected by Vento's divine punishment would recover soon. However, when Touma presses the issue further, he tells Touma that he is a saint and that Touma should not even try to fight him, and he leaves. While leaving Academy City, he also receives a call from Terra regarding his next course of action.
Document of Constantine ArcEdit
Main article:Document of Constantine Arc
At the start, he was seen talking to Terra with the Pope. At the end, after Terra survived a blast caused by Academy City's troops, he killed Terra after finding out that Terra was using the life of "civilians" not related to the Roman Catholic Church on his magical experiments. [2]
Aqua of the Back ArcEdit
Main article:Aqua of the Back Arc
He was the antagonist in Volume 16, in which he defeated Touma and Itsuwa in a relatively q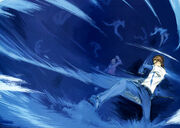 uick battle. He opts not to simply kill Touma right away. Instead, he chooses to give Touma one day to either cut off his right arm or die.
In spite of him being a Saint, his actions earned Itsuwa's hatred, and she swore to defeat him. She along with the other the Amakusa-Style Remix of Church members and Kanzaki Kaori engage Acqua in another battle. He was eventually defeated after Touma had taken him by surprise and both Touma and Kanzaki bought Itsuwa and the other Amakusa's time to use the "Saint Destroyer" to defeat him.
English Civil WarEdit
Main article:English Civil War
Later on, he appears again, but still weakened by the effects that created by Amakusa's "Saint Destroyer," his power was reduced to a ordinary Saint.
He participated in the English Civil war protecting Villian from being captured and executed by Carrisa and demonstrates why his magic name is "to change the reason of tears" - he saved Villian who was crying in despair, and she ends up crying in tears of happiness that someone actually is willing to save her regardless of the situation. He fights his old friend, the Knight Leader, and finally defeated him in the civil war. Later he, the Knight Leader, and Kanzaki Kaori fight together against Carrisa to end the civil war, along with many others supporting them.
After the civil war in England, he heads to Russia in order to stop Fiamma. He left a message for Villian before he left, which the Knight Leader twisted into a indirect way of proposing marriage for the 3rd princess.
World War III
Edit
Main article:World War III
In Russia he saves Hamazura Shiage from a privateer attack. Later, he sacrifices himself to reduce Archangel Gabriel's power down to 50% so Accelerator and Kazakiri Hyouka can fight evenly. As he lay dying Hamazura Shiage came across him and convinced him to not abandon his life, and live on for the people he has saved in times past who follow in his footsteps.
Other appearances
Edit
Video game appearances
Edit
Toaru Majutsu no Index PSP game
Edit
Main article:Toaru Majutsu no Index (PSP game)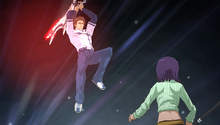 Acqua of the Back appears as a playable character in the game, and is only unlockable after finishing Kanzaki Kaori's route in the game. He is the final boss for Kamijou Touma's route, as well as Kanzaki Kaori.
Along with Stiyl Magnus, Acqua of the Back is one of the tallest characters in-game. He carries the sword Ascalon, which allows for great range but at the price of a terribly long set-up. Acqua of the Back's heavy attacks are water-based magic spells, which when activated requires the player to activate it again to be used. This unique feature, allows the player to delay the attack until the right time. This can be exploited, as Acqua of the Back can use all heavy attacks on the character at relatively the same time if timed properly, dealing great damage. Acqua of the Back also has an attack that draws an opponent closer using a purple lighted Ascalon.
Acqua of the Back is notable for having no other expression than a scowl in his 2d sprite during the talking parts of the game.
Abilities
Edit
He has many years of battle experience accumulated from his role as a mercenary and can perform maneuvers like blocking a physical attack without needing to see it, judging the distance and direction only by the wind pressure.
Divine Mother's Mercy (

聖母の慈悲

Seibo no Jihi

?

)

Although a member of God's Right Seat cannot use spells that are used by normal sorcerers, he is blessed with this condition which allows him to use spells that a normal human can use like runic magic as shown in volume 16 when fighting against the Amakusa Church, and later on Kanzaki, he demonstrated he can use runic magic similar to Stiyl's, though Acqua's runes are ones controlling water into various forms, as part of the powers from being part of God's Right Seat and aligning with Archangel Gabriel. Kanzaki notes he is just as capable as "The Power of God," Gabriel, when it comes to manipulating water, having experience in a battle with them both.

Some other spells he is capable of are vacuum cuts, avalanches, and his trademark technique as a mercenary where a layer of water is between his feet and the ground, allowing him to move in such a way that can't be predicted by opponents. After his defeat against the Amakusa Church, he can no longer use the Worship of Divine Mother spells.
Stigma (聖痕

Seikon (Sutiguma)

?

)

The ability to call upon God's power, endowing him with super-human capabilities. Divine Mother's Mercy nullifies the limiter of the body so that he could use 100% of said capabilities as a Saint. After the events of the vol. 22, Williams loses his power as a Saint being reduced to a normal magician.
Great Sword Ascalon (

聖剣アスカロン

Seiken Asukaron

?

)

Shown in the Volume 17, it was acquired it from the Astrological Surgery Brigade which was in debt with him, is a spiritual item created by an artist at the end of the 16th century based on the legend of the holy sword. It was created on the idea of calculating out what precisely would be needed to slay the 50 foot long "Dragon of St. George" from the legend if it had actually existed using only that one weapon. It is 3.5 metres long and weighs 200kg. It also possesses the following traits, though only one can be used at a time:
Red glow - an axe-like thick blade to cleave at the sinews of the evil dragon..
Blue glow - a razor-like thin blade to cut away at the fat of the evil dragon.
Green glow - a churchkey spike in the blade to tear off the scales of the evil dragon.
Yellow glow - Sa fretsaw wire nestled on the blade to disembowel the evil dragon.
Purple glow - a giant saw on the back to severe the bones of the evil dragon..
Pink glow - a hook spike attached to the pommel to pull out the fangs of the evil dragon.
White glow - a close-combat spike near the grip to gouge out the nerves of the evil dragon.

During his fight against the Knight Leader, all 7 of the above were nullified by "Thororm's Defense." After that, he removed the hilt that had a hidden blade embedded into the main blade, and can turn into a giant mace or club, and also has a hidden mechanism that can shoot a hidden dart. William used this to finally bypass Thororm's Defense to defeat the Knight Leader. As of Volume 22, after losing his abilities as a Saint, he can no longer wield Ascalon.
Character Art Design
Edit
Design evolution
Edit
Acqua of the Back's preliminary design was drawn after the release of volume 13. Acqua of the Back's design has evolved tremendously. Originally, Acqua of the Back wore blue and had blue hair, and his form was skinnier than the current design he has. Haimura states that he wanted to make Acqua of the Back look like a large man, and is the opposite of Accelerator.
Acqua's design was later finalized around the time of volume 15, giving him brown hair and a change of clothes, and a bulkier form. Haimura states that he wanted to do something different to Acqua from Terra and Vento, and as such added fantastical elements to his design, this is also carried towards Fiamma's design. By volume 17 and 18, Haimura once again redesigned Acqua a little bit to stand out more, giving him a more bulkier appearance, and according to his own words, now looks like an old rival and a friend.
The narrative from Volume 17, chapter 4, part 8 echoes the Volume 17 prologue, suggesting that William Orwell is just like St. George in terms of arriving just in time to save the damsel in distress.
Acqua is the only confirmed saint among God's Right Seat's members.
(To Touma in vol.13) "I am a Saint. Pick any unreasonable fight with me and I will shorten your life span."
(To Terra in Vol 14) "Just so you know, there is no way you will be chosen by God. I never thought you would remain deluded at this stage. Do you really think you belong anywhere but hell? God knows all. You can ask him for the details at the Final Judgment."
(To Knight Leader in vol.18) "I'm sorry to say that, I didn't bring a suitable blade for cutting an old friend."
References
Edit
↑

Toaru Majutsu no Index Volume 18 Chapter 3 Intermission 3